Growing demand for long-lasting, low-maintenance flashlights, as well as a growing inclination for new features and improved spotlights, is driving the global flashlight market forward.
The size of the global market for Flashlight is expected to reach USD 534.02 million by 2028, expanding at a compound annual growth rate (CAGR) of 2.86 %.
Covid-19 Impact & Market Status
The COVID-19 outbreak has disrupted economies and enterprises in a number of countries due to lockdowns, corporate closures, and travel bans. One of the key industries experiencing substantial disruptions as a result of the epidemic is the global electronics sector, which includes technological event cancellations, supply chain disruptions, and workplace closures. For instance, China is the world's largest supplier and industrial hub for raw materials to a variety of businesses. It is also one of the most severely affected countries.
The closure of major facilities and factories in key regions such as the Asia Pacific, North America, Europe, South America, and the Middle East and Africa is disrupting global supply chains and harming manufacture, delivery schedules, and sales of various items. All of these issues have had a detrimental impact on the electronics sector, and they will operate as a stumbling block to the expansion of numerous markets associated with this industry in the future months.
The Rechargeable Segment is accounted for the Maximum Revenue in the Predicted Period.
For greater power, a rechargeable flashlight commonly connects to an electrical outlet, obviating the need for solid-state batteries and charges. Outdoor pleasure and homeland security both benefit from rechargeable flashlights. There has been a big potential for producers in the industry due to better technology in flashlights.
The Residential Segment is likely to Rise with the Greatest Revenue in the Estimated Timeframe.
The residential segment is accounted for the leading position and is expected to lead the global industry. This segment is predicted to develop at a fast 6.8% CAGR, with a market value of over US$ 4.7 billion by the end of the forecast period. The industrial sector is also gaining traction, but it has a lower market worth than the residential sector.
The APAC region is likely to Rise with the Greatest Revenue in the Estimated Timeframe.
The flashlight market in the APAC region is likely to develop at a quick rate in the predicted timeframe. To obtain a competitive edge in the flashlight market, flashlight manufacturers in the Asia Pacific region are focused on investing in R&D operations to produce innovative and cost-effective lighting solutions.
For instance, LED headlamps are designed for hands-free use in outdoor activities like riding, hiking, hunting, and caving as well as in work-related applications including mining, line work, and construction. For this purpose, companies provide rechargeable, battery-powered, and power corded options. The expansion of the flashlight market in Asian nations is being fueled by advancements in lighting characteristics.
A rechargeable flashlight is one of the primary opportunities for the flashlight market. Incandescent flashlights are being phased out in favor of LED flashlights.
The global flashlight industry is growing due to its compact size as well as energy efficiency. Likewise, increased R&D spending has resulted in breakthroughs in LED flashlight form factors and functionality. The growing need for security and safety at industrial and commercial sites, as well as the rising frequency of power outages in distant places, are driving the global flashlight market. The global Flashlight market is anticipated to reach over USD 9.2 billion at a CAGR rate of 7.5% during the prediction period.
Flashlights are small, battery-operated electric lights that may be carried around with you. Incandescent light bulbs were originally used to power flashlights, but as the twenty-first century proceeded, LEDs (light-emitting diodes) began to supplant incandescent light bulbs due to their superior energy efficiency. The alkaline flashlight market was later affected by the arrival of rechargeable lithium-ion flashlights. Technology advancements have also resulted in the development of lighter, more efficient, and smaller spotlights. A variety of flashlights are currently available on the market for use by children at home, astronauts in space stations, deep-sea divers, industrial engineers, and others. Similarly, the introduction of low-quality lighting devices with short product lifespans, as well as the misconception that current lighting solutions are more expensive than fuel-based illumination, is generating bias among customers against the use of sophisticated flashlights. These factors have stifled the flashlight market's expansion to a large extent.
Ruggedness, waterproof and shockproof characteristics, extended lumen range, enormous battery, weapon mounting as well as eye strobing capabilities, and other factors, such as year-over-year increases in defense expenditures, push the adoption of flashlights among armed forces. However, changing raw material prices are a key stumbling block to the flashlight market's expansion. The demand for flashlights used in outdoor leisure activities like camping, hunting, diving, and fishing is growing as the young population embarks on more adventurous travels to experience nature. During night camping or trekking, flashlights are utilized for safety reasons. As a result, producers are concentrating their efforts on creating flashlights and headlamps with water-resistant characteristics and ergonomic designs that are suitable for hunting, camping, and other outdoor activities.
The increased expense of this equipment, which is endowed with the power to survive 30 minutes under water at a depth of 6'5" and is waterproof, lightweight, and durable in nature are some major restraints that may hinder the global market expansion. As a result, the market's drivers are also its limitations. Manufacturers have an interesting opportunity to undertake research and produce a tactical flashlight with a higher waterproofing quality than the current one. It is also being worked on to increase its lumen capacity.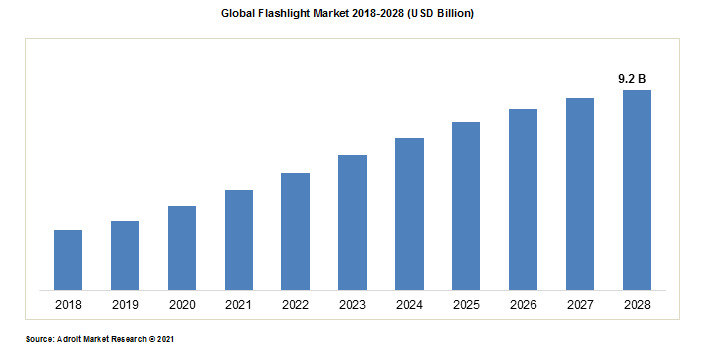 The global Flashlight market is fragmented with a number of key companies contending for market domination. Despite the fact that the majority of firms on the market are digitally sophisticated, they nevertheless want assistance in order to improve their offers and expand their operations. As a result, mergers and acquisitions are likely to attract a big number of healthcare providers and hospitals from throughout the world. Nite Ize Inc., SureFire, LLC, Streamlight Inc., Mag Instrument Inc., Dorcy International Inc., Pelican Products, Inc., Browning Arms Company, Bayco Products Inc., Energizer Holdings, Inc., and Larson Electronics LLC are some of the current industry participants. Manufacturers of the flashlights market are focusing on product updates by incorporating new lighting technology. With the increased acceptance of these technologies, battery endurance and longevity are projected to become the most important factors.
Latest Innovations in the Global Flashlight Market: a Snapshot
In May 2020, Bayco Products Inc. teamed with H&G Marketing to expand Bayco Products Inc.'s retail reach in the United States.
In 2020, Pelican Products, Inc. introduced the Pelican 3415M and 3415 LED, as well as the Pelican 3410M and 3410 (magnet) LED. The company is the world's largest versatile professional-grade flashlights manufacturer.
This global market research study's goal is to provide an in-depth examination of the global Flashlight market. The research analyses the market's growth potential, demographics, and capacity throughout the anticipated time period. This component assists in determining market size and forecasting market growth throughout the evaluation phase.
Flashlight Market Scope
| | |
| --- | --- |
| Metrics | Details |
| Base Year | 2020 |
| Historic Data | 2018-2019 |
| Forecast Period | 2021-2028 |
| Study Period | 2018-2028 |
| Forecast Unit | Value (USD) |
| Revenue forecast in 2028 | USD 534.02 million |
| Growth Rate | CAGR of 2.86% during 2021-2028 |
| Segment Covered | by Type, by Application, Regions |
| Regions Covered | North America, Europe, Asia Pacific, Middle East and Africa, South America |
| Key Players Profiled | SureFire,•LED Lenser,•Pelican,•NovaTac,•Maglite,•Eagle Tac,•Nite Ize,•Dorcy,•Four Sevens,•Streamlight,•Lumapower,•Princeton,•Supfire,•Fenix,•Nitecore |
Key Segments of the Global Flashlight Market
Type Overview, 2018-2028 (USD Billion)
Rechargeable
Non-rechargeable
Application Overview, 2018-2028 (USD Billion)
Residential
Industrial
Military
Others
Regional Overview, 2018-2028 (USD Billion)
North America
Europe
Germany
France
UK
Rest of Europe
Asia Pacific
China
India
Japan
Rest of Asia Pacific
South America
Mexico
Brazil
Rest of South America
The Middle East and South Africa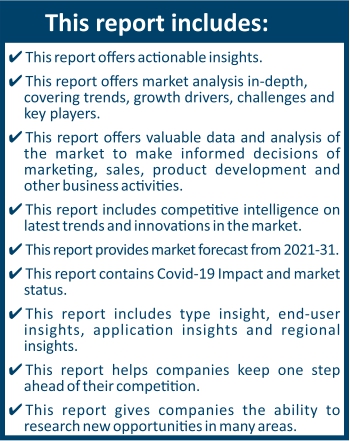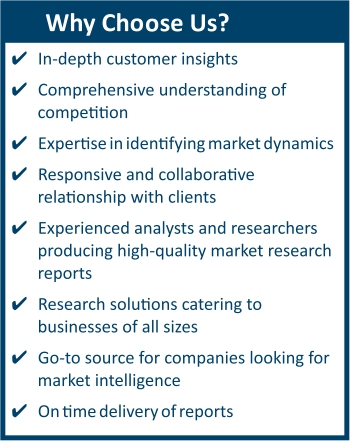 Frequently Asked Questions (FAQ) :
The flashlight market is studied from 2018 - 2028.
The flashlight market is growing at a CAGR of 7.5% over the next 7 years.
APAC region is growing at the highest CAGR over 2021- 2028.
Nite Ize Inc., SureFire, LLC, Streamlight Inc., Mag Instrument Inc., Dorcy International Inc., Pelican Products, Inc.