The global fish finders market is projected to be driven by the fast acceptance of Bluetooth, cellphones, and Wi-Fi. Furthermore, because fish finders are adaptable.
The size of the global market for Fish Finders is expected to reach $879.10 Million by 2030, expanding at a compound annual growth rate (CAGR) of 6.7%.
Covid-19 Impact & Market Status
The COVID-19 pandemic disrupted supply chain systems, since a number of fundamental equipment and consumables are significantly reliant on foreign imports. Moreover, the strict demand of governmental bodies to adhere to social distance requirements pushed businesses to function with a basic minimum of workers, resulting in a decline in the efficiency rate of the sectors. As a result, all of these problems harmed the Fish finders business.
Fixed & Standalone Fish Finders Will Propel The Fish Finders Market Growth
Fixed fish finders are widely used for a variety of applications, a fixed fish finder is a device that uses sonar to detect reflecting pulses of sound energy to locate fish underwater. A contemporary fish finder uses a graphical display to provide measures of reflected sound, enabling an operator to analyse the data to discover schools of fish, submerged trash, and the bottom of a body of water. Sport and commercial fisherman both utilise fishfinder gadgets. The fishfinder system, maritime radar, compass, and GPS navigation systems may all be integrated to a great degree with modern electronics.
An underwater transducer, known as a hydrophone, converts an electric pulse from a transmitters into a sound wave and sends it into the water. When a wave hits anything, such as a fish, it reflects back, revealing the object's size, composition, and shape. The frequency and strength of the pulse delivered determine the exact amount of what may be observed. The range to the item which reflected the wave may be calculated using the wave's speed in the water. Temperature, salinity, and pressure all influence the progress of noise through the water column (depth).
Radar, raster, and vector GPS maps, video, and SiriusXM satellite radio are all built-in to networked systems. Furthermore, many operation of the network fish finders may be controlled by Bluetooth/Wi-Fi and cellphones. They're mostly found in medium- and large-sized ships. All of these capabilities are projected to significantly boost the market for provision of adequate fish finders in the next years.
Commercial Fishing Will Dominate The Fish Finders Market
The Commercial fishing sector gained the highest revenue throughout the global fish finders market. Economic fishing is the capture of fishes for commercial gain, usually from natural fisheries. It offers a great volume of food to several nations across the world, but individuals who make a living from it must frequently follow fish far out into the ocean in difficult conditions.
The biggest fishing market are held by individual families as well as large businesses. Many commercial fishing companies have compromised the viability of their catch through fishing progressively down the food chain in order to respond to falling fish populations and growing demand. This causes alarm among fisheries professionals and scholars, who go on to argue that, as a result of these factors, the sustainability of marine ecosystems may be jeopardised.
In 2016, nearly 88 percent of the 171 million metric tonnes of fish captured were used for direct human consumption, accounting for about 151 million tonnes. In recent decades, this percentage has risen dramatically. The majority of the 12 percent used for non-food purposes (approximately 20 million million tonnes) has been lowered to fishmeal and cod liver oil (74 percent or 15 million tonnes) in 2016, with the remaining 5 million tonnes primarily used for direct feeding in aquaculture and livestock and fur animal raising.
APAC Region Is Dominating The Fish findersMarket Growth.
The fish finder market is dominated by China, India, and Japan. Fish finders have become more popular as even the fisheries market has grown, resulting in greater demand in nations like China and India. The fishery has raised understanding of the advantages of fish finders and also is expanding its offerings in these areas.
The global fish finders market is being fueled by higher living standards and expendable money. Fish food is a significant source of protein, hence rising global demand of fish products is boosting the fish finder market.
A fish finder is a device that detects fish underwater by identifying reflected sound energy pulses (sonar). A contemporary fish finder uses a graphical display to show measures of reflected sound, allowing an operator to spot schools of fish, underwater trash, as well as the bottom of a waterbody. Sport and commercial fisherman both utilise fish finder equipment. radar, GPS, autopilot, and a transducer are all included into the fish finder. Fish finders come in a variety of sizes, pricing ranges, and advanced functions.
Fishery and Oceans Canada oversees the aquaculture sector to safeguard fisheries and fish habitat under the Fisheries Act. The Act establishes standards for permitting, management, and preservation of fisheries, as well as pollution control. The following Fisheries Operate restrictions apply to aquaculture and act as roadblocks to the market's expansion while also protecting the environment.
The fishing market relies heavily on fish finders for both commercial and leisure fishing. By communicating ultrasonic waves into the sea and having received their introspection back to the recipient circuit on the boat, a sonar fish finder assists the user in detecting a fish school and offering various underwater data, such as water depth, dissemination of the fish school, as well as the condition of the seabed. When sonic or ultrasound waves hit an item, a portion of the waves are reflected back to the source fish school or seabed. This ultrasonic reflections characteristic is used by a fish finder and is known as Sound Navigation Ranging (SONAR).
Furthermore, current dynamic displays indicate depths, fish school, seabed, or other data in various hues, allowing users to detect its contoured structure beneath the vessel. All of these elements are favourable to the growth of the fish finders market.
Furthermore, modern recreational, yacht, and commercial boats have a network system that allows sailors to access GPS, fish finders, chartplotters, and C-maps from a single device. This enables users to view all information in one location, with many configurable options, reducing the need for several hardware installations. Government rules on authorized on shore and off shore fishing spots will be critical in preserving the biodiversity of nearly extinct fish. Fish finders, on the other hand, are employed in research-based geological investigations to verify the various terrains of contours utilising C-map, a networked system.
In the fish finders sector, leisure, professional fishing and commercial are the most common applications. Compressed High Intensity Radar Pulse (CHIRP) sonar, down image, side image analysis, and GPS are now available from major market rivals, catering to the combination of high-quality technology that allows competent anglers to discover fishing sites quickly. Fishers or anglers used this to invest days or weeks attempting to discover fish based on their gut emotions, which has created a rich fish finders business potential throughout the world.
A tiny electric motor spun a neon lamp attached upon that end of an arm around with a circular scale at a predetermined pace. Water depth was used to calibrate the circular scale. As the bulb approached the scale's zero point, the device was programmed to emit a wave of ultrasonic waves.
The fishfinder was developed when CRTs (Cathod Ray Tubes) were combined with the fathometer for commercial fisheries. The high power needs of a CRT took a back seat to the LCD Display in the early 1990s, and fishfinding fathometers made their way into the sports sectors. Many amateur fishfinders now come with colour LCD panels, built-in GPS, charting capability, and transducers. Sporting fishfinders now only lack the permanent record of the huge ship navigational fathometer, which is available in high-end systems that can also keep that record using the omnipresent computer.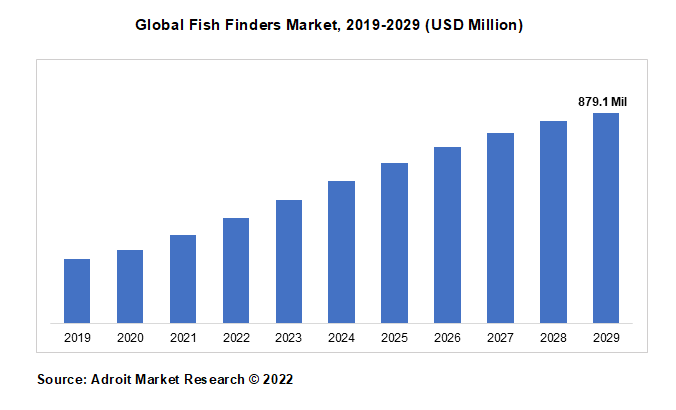 Key players in the global Fish Finders market include NorCross Marine Products Inc, Garmin Ltd.,Hule, Furuno Electric Co., Ltd., Humminbird Fishing Electronics & Mapping, NAVICO,Johnson Outdoors Inc., Deeper,FLIR Systems, and Samyung ENC among others.
These companies use a range of strategic planning to improve their position in the global Fish Finders market. These companies' main growth strategies include expansion, new product development, and cooperation in order to improve their product range and geographical presence to address the rising demand for Fish findersfrom emerging nations.
Latest Innovation in the Global Fish Finders Market: A snapshot
Humminbird Fishing Electronics & Mapping, located in the United States, is providing ice fishermen with greater mapping capabilities than ever before. Anglers will be able to construct personalised contour plots or maps on the ice thanks to the launch of AutoChart Live Ice. Finding a fishing place on a lake will no longer be a guessing game. This new product is anticipated to attract customers' attention and expand the company's consumer base.
The Panoptix series from Garmin features through-hull transducers for boats as well as forward-looking capability. Although in standard depth, it's front view mode reveals the seafloor front of the vessel at a distance of up to 90m. The scanner does have a 20° beam width and can capture images with reasonable quality at speeds up to 15 km/hr (8 knots)
Fish Finders Market Scope
| | |
| --- | --- |
| Metrics | Details |
| Base Year | 2022 |
| Historic Data | 2020-2021 |
| Forecast Period | 2022-2030 |
| Study Period | 2020-2030 |
| Forecast Unit | Value (USD) |
| Revenue forecast in 2030 | $879.10 Million |
| Growth Rate | CAGR of 6.7 % during 2022-2030 |
| Segment Covered | by Equipment Type, Region |
| Regions Covered | North America, Europe, Asia Pacific, South America, Middle East and Africa |
| Key Players Profiled | Brunswick Corporation, Deeper UAB, Furuno Electric Co. Ltd., Garmin Ltd., GME Holdings AE (GME Pty Ltd), Hule, Inc., Humminbird, Johnson Outdoors Inc., Lowrance, NorCross Marine Products, Inc., Samyung ENC, and Teledyne Technologies Inc. |
Key Segments of the Global Fish Finders Market
Equipment Type Overview, 2019-2029 (USD Million)
Application Overview, 2019-2029 (USD Million)
Recreational Fishing
Commercial Fishing
Professional Fishing
Others
Product Type Overview, 2019-2029 (USD Million)
Standalone
Combined
Networked System
Regional Overview, 2019-2029 (USD Million)
North America
Europe
Germany
France
UK
Rest of Europe
Asia Pacific
China
India
Japan
Rest of Asia Pacific
South America
Mexico
Brazil
Rest of South America
Middle East and South Africa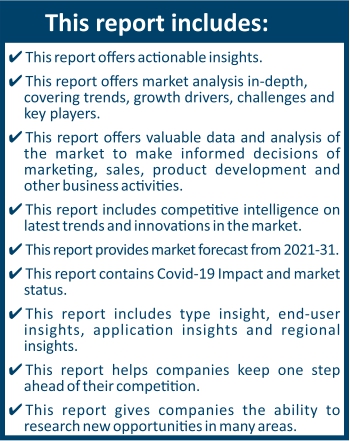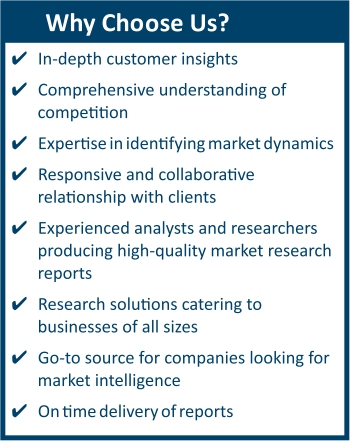 Frequently Asked Questions (FAQ) :
The market value of fish finders market in 2029 was USD 879.10 million.
The fish finders market is growing at a CAGR of 6.7% over the forecast period.
The application of the fish finders market Recreational Fishing, Commercial Fishing, Professional Fishing and other.
Asia Pacific region dominated the market for fish finders market and accounted for the largest revenue share.
The top companies that hold the market share in fish finders market are NorCross Marine Products Inc, Garmin Ltd.,Hule, Furuno Electric Co., Ltd., Humminbird Fishing Electronics & Mapping, NAVICO,Johnson Outdoors Inc., Deeper,FLIR Systems & among others.