A first-aid kit is a piece of medical equipment that is essential for providing instant healthcare assistance in case of a medical emergency. A first aid kit includes a variety of medical supplies that may vary depending on the application, practicality, and circumstance that users may encounter.
It's being expected that by 2027, the First Aid Kit market cap will hit US$ 27.4 Million at a CAGR growth of about 3.4%.
COVID-19 Impact & Market Status
Early in 2020, when COVID-19 first appeared, there was a severe increase in the need for medical supplies such PPE (personal protective equipment) kits that included masks, gloves, and safety glasses. Due to the huge rise in covid-related illnesses and fatalities, both healthcare professionals and the general public now have a greater demand for medical supplies. To cure a large number of infected populations, the demand for medical supplies went up. Devices supporting artificial respiration like oxygen generators, atomizers, life support machines, and monitors are widely used for primary clinical treatment. Manufacturers of such products have had a tremendous opportunity to capitalize and ensure frequent and sufficient supplies of personal protective equipment in the market. In conclusion, the COVID-1 influenced the first aid kits' demand positively and is likely to continue the same over the coming years.
The Prominence of common first aid kits among customers
As it is utilised in all first aid procedures, a popular form of first aid kit held a share of 60 percent in 2021. The majority of homes and companies favour common style first aid kits. Sterile eye dressings, alcohol-free cleansing wipes plasters, crêpe rolled bandages, sticky tape, gauze tweezers, scissors, dressings, safety pins, thermometer, cough syrup, insect bites and stings cream or spray, skin rash cream, painkillers, distilled water, antihistamine cream, and eyewash are all common first aid supplies. On the other hand, the demand for a Special type of first aid kit is also projected to grow at the CAGR of 5.5% over the projection year due to the hiking % of burn and snakebites cases in some regions.
Supremacy of the North American region in the global market
It is due to the growing number of road accidents and the availability of prominent participants in the market, The North American region held the largest market share of 36% in 2021. On the other hand, the Asia Pacific region is most likely to experience a robust demand growth in favour of first-aid kits over the forecast period. The demand for first aid kits is driven by a large number of road accidents t fatalities in countries like India and China.
The global demand for first aid kits is rapidly increasing due to consumer health concerns and the growing vigilance towards the essentiality of quick treatment under uncertain circumstances. The demand for the product has also increased due to the growing importance of speciality first-aid kits and their rapid acceptance across many sectors. The need for first-aid kits has also grown dramatically as a result of the introduction of kits for pets, emergencies, the military and other niche markets.
The surging need for first-aid kits at workplaces due to safety precautions and the well-being of employees has become aggressive, thus driving the growth of the first aid kit industry. For instance, first aid kits are ubiquitously utilized in commercial buildings and at construction sites, owing to greater hazardous accidents. Apart from this, the introduction of multiple first-aid training programs at schools, workplaces, playgrounds, etc., has generated consumer awareness propagating the essentiality of keeping first-aid kits, which further accelerated the demand for the kits. On the other side, the sports industry is also experiencing a huge demand for first-aid kits due to the rising risks of physical injuries to Athletes such as minor accidents during strenuous training and physical fitness activities, and muscle cramps. The demand for first-aid kits in the auto industry has skyrocketed due to the rising adoption of safety kits to follow safety regulations and rising instances of casualties during road accidents. For instance, the growing inclination towards pre-organized kits due to dynamic preferences of the consumer has led to the launch of brand-new products with varied coloured packs/compartments, thereby attracting a mass customer base. The development of the e-commerce sector has improved first aid kit availability and distribution, which has helped the market expand. Various technological developments and robust digitalization in multiple sectors are leading to the introduction of smart first-aid kits that enables un-trained civilians to access first medical assistance.
The prevention strategies taken up by world economies are creating a safe environment at home and offering education and training for using first aid at schools and workplaces. The most likely factor boosting market expansion over the projection period would be the rising number of burn cases around the world.
The demand for first aid kits is increasing as burn incidences occur more frequently while performing kitchen tasks. The market demand for first aid kits is also expected to be influenced by a number of public and private initiatives. Additionally, September 9th is recognised as World First Aid Day. It is an annual programme designed to raise awareness of first aid supplies and instruction. First aid awareness campaigns, school visits, and seminars about the necessity of first aid are all being carried out via social media with the hashtag #WorldFirstAidDay.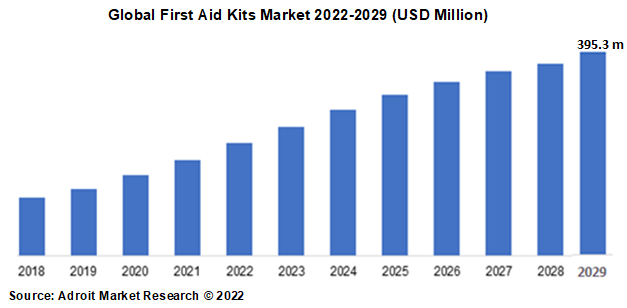 Some of the major players in the industry's competitive landscape have been identified, including 3M, AdvoCare Systems, Acme United Corporation, Certified Safety Manufacturing, Firstar Healthcare Co., Ltd., Cintas Corporation, Fieldtex Products Inc., Paul Hartmann AG, Johnson & Johnson Service, Inc., Honeywell International Inc., and Steroplast Healthcare, etc.
Latest trends in the Global First Aid Kits Market: A Snapshot
The increase in the awareness about the importance of keeping a first aid kit at places such as training schools, construction sites, organizations, etc is surging weighing up the demand for first aid kits across the globe.
First Aid Kit Market Scope
| | |
| --- | --- |
| Metrics | Details |
| Base Year | 2020 |
| Historic Data | 2018-2019 |
| Forecast Period | 2021-2027 |
| Study Period | 2017-2027 |
| Forecast Unit | Value (USD) |
| Revenue forecast in 2027 | US$ 27.4 Million |
| Growth Rate | CAGR of 3.4 % during 2021-2027 |
| Segment Covered | By First Aid Kit Type, Application,Regions |
| Regions Covered | North America, Europe, Asia Pacific, Middle East and Africa, South America |
| Key Players Profiled | Acme United Corporation, Johnson and Johnson, Inc., Advacare Pharma, Canadian Safety Supplies, Cintas Corporation, Certified Safety Manufacturing, Cramer Products, Dynamic Safety USA, Firetex Protective Technologies, Green Guard, Hartmann, Medline Industries |
Key Segments of the Global First Aid Kits Market
Product Type Overview, 2022-2029 (USD Million)
Common Type Kits
Specialtypekits
Design Overview, 2022-2029 (USD Million)
Material Overview, 2022-2029 (USD Million)
Fabric
Plastic
Glass
Others
Packaging Overview, 2022-2029 (USD Million)
Backpack
Bags
Boxes
Cabinet
Distribution Channel Overview, 2022-2029 (USD Million)
Hospitals And Clinics
Drug Stores
Online
Others
End-Use Overview, 2022-2029 (USD Million)
Healthcare
Military
Residential
Commercial
Industrial
Sports
Others
Regional Overview, 2022-2029 (USD Million)
North America
Europe

UK
Germany
France
Rest of Europe

The Asia Pacific

China
Japan
India
Rest of Asia Pacific

South America

Brazil
Mexico
Rest of South America

Middle East & Africa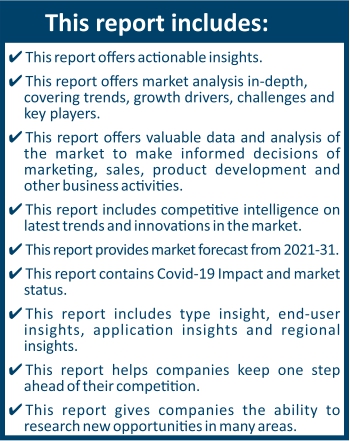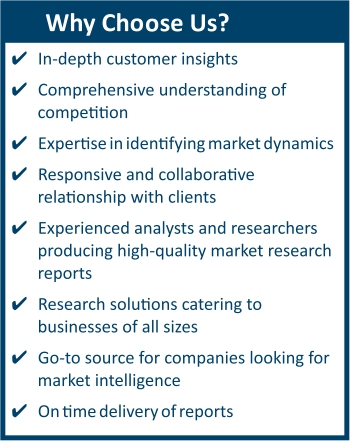 Frequently Asked Questions (FAQ) :
The market value of first aid kit market in 2029 was USD 395.3 million.
The first aid kit market is growing at a CAGR of 7.5% over the forecast period.
North America dominated the market for first aid kit market and accounted for the largest revenue share.
The top companies that hold the market share in first aid kit market are 3M, AdvoCare Systems, Acme United Corporation, Certified Safety Manufacturing, Firstar Healthcare Co., Ltd., Cintas Corporation, Fieldtex Products Inc., Paul Hartmann AG, Johnson & Johnson Service, Inc. & among others.
To get latest version of first aid kit market report can be obtained on demand from the website.