The marketplace for fire prevention devices there in oil, gas, and extractive industries is expected to increase significantly over the projected period.
It's being expected that by 2032, the Fire Alarm Systems market cap will hit US$ 53.15 Bn at a CAGR growth of about 6%.
Covid-19 Impact & Market Status
As the COVID-19 virus grows, regulatory agencies throughout the globe are being required to undertake strict shut downs and travel restrictions. Moreover, this has had a huge influence on the Fire Alarm Systems industry's growth.
The COVID-19 pandemic disrupted supply chain systems, since a number of fundamental equipment and consumables are significantly reliant on foreign imports. Moreover, the strict demand of governmental bodies to adhere to social distance requirements pushed businesses to function with a basic minimum of workers, resulting in a decline in the efficiency rate of the sectors. As a result, all of these problems harmed the Fire Alarm Systems business.
The Market For Fire Alarm Systems Will Be Driven By Heat Detectors
Heat detectors would have the greatest CAGR throughout the forecast period. Heat detectors are indeed the ideal choice when the ambient tempreature level is too hot or when temperature swings fast. Just a few examples are parking lots, mechanical rooms, storage facilities, and foodservice operations. Smoke detectors dominated the market in 2021, contributing for even more than 48 percent of total sales. Smoke detectors are widely used in places where a slow-burning fire might occur, such as homes and commercial buildings.
Smart or intelligent smoke detectors have been developed as a result of technological improvements, and they will be crucial in enhancing product sales. Moreover, for the past several years, the launch of novel goods with longer life spans and lower costs has helped keep the sector demand afloat. The fire alarm category comprises human calling point, visual, and audio alerts. The most popular part in 2021 was audible alarms. Because loud enough to be heard alarms are an important feature of any fire detection system because they may notify persons to either a potentially dangerous event, this industry would continue to dominate over the forecast period.
Commercial Gains The Highest Market Share In Fire Alarms Systems Market
Industrial, commercial, and residential locations all have fire alarm and detection systems. In 2021, the commercial category had the biggest revenue share of more than 45 percent, and this is expected to continue throughout the projection period. The obligation to comply with regulatory rules is growing, as is the need for fire protection systems in commercial buildings. The need for advanced fire detection system and alarm system is increasing even as number of commercial center expands. The residential construction industry is expected to increase at the fastest rate throughout the forecast period. Over the last several years, the installation of fire sprinkler systems in residential buildings has gained substantial popularity.
The residential segment is predicted to develop due to active efforts being carried out by numerous public safety groups and significant manufacturers of fire safety equipment, as well as rising awareness among end-users to ensure fire safety. Several statewide governments in India, for instance, demand fire security and safety in commercial properties. As a conclusion, growing demand is inextricably linked to the expansion of the commercial construction industry. As work from home became the new benchmark, the need for fire protection technologies with in the residential properties has grown. The rise in fire incidences in various regions has benefited the growth of this industry.
North America Region Is Dominating The Fire Alarm Systems Market Growth
North America was perhaps the most important regional market in 2021, contributing for roughly around 40 percent of overall sales. On either hand, the market reached maturation and that will continue to grow slowly over the forecast period. Asia Pacific is expected to be the fastest growing regional market in the next years. The region's expenditures in infrastructure development are providing chances for fire safety companies to expand. Developments in countries like China, Japan, India and Southeast Asia are driving regional market growth.
The lack of basic rules encouraging the implementation of fire safety measures, but at the other hand, might be a slight hindrance to an otherwise profitable sector. Fire safety regulations with regional or state defined goals are being prioritised by regional governments in Europe. Firefighter organisations in Germany, for instance, fire fighters are working on initiatives to boost the amount of smoke detectors and fire alarms put in residential areas. Fire departments have launched campaigns in history to disclose advice on how to properly install fire prevention systems. All of these activities are helping to build the regional market in numerous European nations.
The fire alarm system market is largely driven by increased fire safety system implementation in educational establishments and ened recognition among inhabitants for fire detection systems. The notion of fire alarm systems has emerged as a result of the fast growth of smoke detectors, as well as IoT and big data technologies, resulting in the rise of the smoke detector industry.
A smoke detector and detection system informs individuals when smoking, carbon monoxide, fire, or any other fire-related hazards are identified. It's intended to identify fire early on, giving people ample time to safely flee. This system connects detectors and alarms. The alarm system, but at the other hand, alerts the building's occupants and sends signals to the on-site or off-site personnel monitoring station. The fire alarm system includes heat detectors, smoke alarms, carbon monoxide alarms, multi sensor detectors, and human call point.
The implementation of fire prevention devices entails a significant upfront investment. This is due to technical complexity and the requirement for specialised tools to combat a fire scenario. As a result, suppliers must continually improve their products and developing technologies. Businesses are investing heavily to develop these sophisticated technology, raising the cost of purchase for businesses and organizations trying to protect valuable infrastructure from fire.
The notion of smart fire alarm systems has emerged as a result of the fast growth of smoke detectors, as well as IoT and big data technologies, resulting in the rise of the smoke detector industry. Smart smoke detectors may be programmed and connected to Wi-Fi networks in both households and businesses. These fire alarm systems give smoke detection alerts and simple operation via mobile devices, as well as convenient battery condition monitoring.
Integration of user interfaces when numerous solutions are employed in a control mechanism is a major difficulty for the fire alarm systems industry. Fire alarm protection systems can be more effective and cost-effective if they are connected directly into a centralised building management system, allowing information to be gathered from a single location and regulatory actions to be taken immediately in the event of an emergency.
The oil, gas, and mining sector comprises combustible gases like butane, crude oil, ,petroleum, as well as coal. Because these components are flammable, extensive fire prevention methods are employed in this vertical to prevent fires. To avoid mishaps, this industry requires very effective fire alarm safety and preventive systems. In the mining industry, cleaning agent fire control systems, dry chemical sprinkler systems, and water and foam sprinklers are all employed. Gas based reducing systems (Carbon dioxide, Inert, etcetera.) with sprinkler systems are used in the oil and gas business.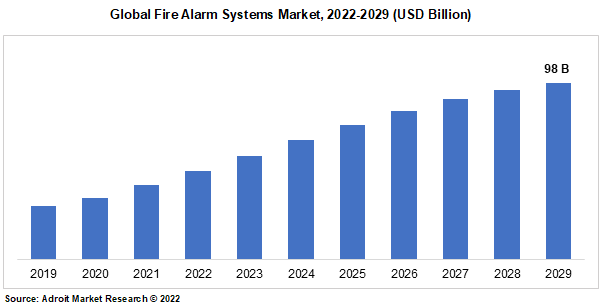 Johnson Controls International plc, Siemens AG, Honeywell International, Inc., Napco Security Technologies, Inc., Nittan Co., Ltd., Halma plc, United Technologies Corp., Robert Bosch GmbH, Eaton Corp., and others are key participants in the worldwide Fire Alarm Systems market.
Research and development operations will aid corporations in developing sophisticated items that use cutting-edge technologies in order to stay ahead of the competition. In especially in emerging areas, the regional approach emphasises cost-effectiveness, obtaining regional contracts, and building a local sales network. Offering after-sale services to guarantee that the installation fulfil the safety and operating criteria will be another go-to-market priority. Vendors want to provide auxiliary services, new goods, and coaching and assistance for choosing the best product for a certain application. All of these OEM measures will help them stay afloat in a competitive global environment.
Latest Innovation in the Global Fires Alarsm Systems Market: A snapshot
Eaton's device is the first low-current visual alarm device to fulfil the EN54-23 standard. With ATEX-certified equipment from MEDC and UL-certified sounders from Wheelock, Eaton's comprehensive portfolio, which includes Cooper, Fulleon, JSB, and Menvier, means that one out of every five Fire Notification devices deployed is an Eaton product. Whatever your industry or application,
Connected Fire Panels are now available from Johnson Controls. OpenBlue is in charge. Customers may use our Linked Fire Panels solution to verify the system status of any connected 4007ES, 4010ES, and 4100ES Fire Alarm Control Panel from a single site (FACP). Cloud-based remote visibility and supplementary annunciation provide facility managers with real-time access into their systems' health and performance, even when they are offsite, with mobile push notifications rapidly alerting users to an alarm or difficulty situation. Facility managers can trust that they have access to their building's systems, whether it's through a smartphone while commuting or a laptop when working from home.
Fire Alarm Systems Market Scope
| | |
| --- | --- |
| Metrics | Details |
| Base Year | 2022 |
| Historic Data | 2021-2022 |
| Forecast Period | 2022-2032 |
| Study Period | 2021-2032 |
| Forecast Unit | Value (USD) |
| Revenue forecast in 2031 | US$ 53.15 Bn |
| Growth Rate | CAGR of 6 % during 2022-2031 |
| Segment Covered | By Product, by Type, Regions |
| Regions Covered | North America, Europe, Asia Pacific, South America, Middle East and Africa |
| Key Players Profiled | Johnson Controls International Plc., Honeywell International Inc., Napco Security Technologies Inc., Nittan Co. Ltd., Siemens AG, Halma Plc., United Technologies Corp., Robert Bosch GmbH, Eaton Corporation |
Key Segments of the Global Fire Alarm Systems Market
Type Overview, 2022-2029 (USD Billion )
Flame Detectors
Smoke Detectors
Heat Detectors
Application Overview, 2022-2029 (USD Billion )
Commercial
Industrial
Residential
Regional Overview, 2022-2029 (USD Billion )
North America
Europe
Germany
France
UK
Rest of Europe
Asia Pacific
China
India
Japan
Rest of Asia Pacific
South America
Mexico
Brazil
Rest of South America
Middle East and South Africa
Frequently Asked Questions (FAQ) :
The market value of fire alarm systems market in 2029 was USD 98 billion.
The fire alarm systems market is growing at a CAGR of 7.2% over the forecast period.
North America dominated the market for fire alarm systems market and accounted for the largest revenue share.
The top companies that hold the market share in fire alarm systems market are Johnson Controls International plc, Siemens AG, Honeywell International, Inc., Napco Security Technologies, Inc., Nittan Co., Ltd., Halma plc, United Technologies Corp & among others.
The base year for the report is 2021 in fire alarm systems market.