Fibrinogen is a glycoprotein which is involved in the blood clotting process. The fibrinogen is transformed into fibrin using enzymes like thrombin. This enzyme leads to blood clotting to prevent excess bleeding. The fibrin prevents bleeding through the blood vessels. Fibrinogen concentrate is used in treating bleeding problems in patients who lack congenital fibrinogen. The Deficiency of Congenital Fibrinogen is an inherited disorder where the blood body clotting ability gets degraded over time due to the deficiency of fibrinogen protein.
The size of the global market for Fibrinogen Concentrate is expected to reach USD 4.19 Billion by 2028, expanding at a compound annual growth rate (CAGR) of 6.1%.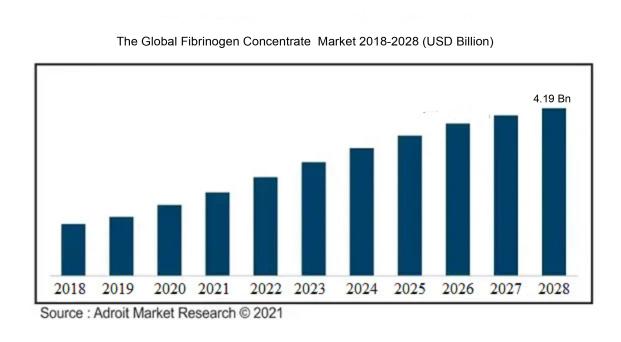 COVID-19 Impact & Market Status
The unprecedented outbreak of Covid-19 in early 2020 posed several challenges to the healthcare sector across all the regions. It adversely affected the growth of the fibrinogen concentrate market as only essential and emergency healthcare services were being provided in the hospitals amid the pandemic and thus, influenced the overall market growth for a short period followed by the worldwide shutdown which led to supply chain disruptions across the world.
Early Coagulation Therapy Holds Promising Potentials to Improve Survival Rate of Patients
A surge in fatality rates is being caused by the complexity of trauma-induced coagulopathy in severely damaged masses and individuals with bleeding disorders upon admission to the emergency department (ED). To diminish mortality rates, companies are boosting their production units to ensure the instant availability of products. Early and effective coagulation therapy holds significant growth prospects to improve the survival span of patients. In the extremely dynamic and complex setting of acute pre-hospital trauma care, demand for fibrinogen concentrate products has been rising over time.
Fibrinogen Concentrate Can Help Lower Bleeding Risk and Transfusion Needs
Patients who have haemorrhages are dying in considerable numbers within the first hour of their admission to the hospital. There has been a strong emphasis on haemostatic resuscitation in pre-hospital settings and on the battlefield. Therefore, manufacturers are tapping into revenue avenues in such innovative and underrated applications. Fibrinogen concentrate is efficient in lowering transfusions of blood products and increasing the survival period of patients post severe trauma. Stakeholders and researchers are most likely to work together to gather data from randomised controlled trials to determine how fibrinogen concentration affects bleeding propensity and transfusion needs.
North America is Expected to Hold a Significant Share in the Market and this is Expected Remain the Same in the Forecast Period
The North American region is expected to hold a huge market stake in the global fibrinogen concentrate market owing to the growing cases of bleeding disorders and the expanding population of geriatrics. Acquired haemophilia is a rare autoimmune disorder which is generally predominant in the geriatric population. As per reports, around 2 people per 1,000,000 are suffering from haemophilia in the United States.
Fibrinogen concentrate, which is purified and lyophilized human plasma fibrinogen, is a well-liked replacement for conventional supplies of fibrinogen. It is a naturally occurring blood protein that is essential to the coagulation process. For many years, fibrinogen concentrate has been utilised extensively. It is highly recommended for treating bleeding complexities and acquired coagulation disorders in numerous countries across the globe as it fundamentally improves the firmness of blood clot and minimizes the requirement for postoperative transfusion. The Fibrinogen concentrate can either be derived from plasma or recombinant. Additionally, it is frequently used to treat afibrinogenemia and dysfibrinogenemia. The in-depth research is being carried out by skilled researchers across the globe to expand the application of Fibrinogen Concentrate scope to use for conditions like haemorrhage resuscitation. Hence, this is likely to add to the revenue % of the market.
Over the course of the forecast period, a number of important factors are anticipated to drive market growth, including rising demand for fibrinogen concentrates to treat congenital deficiencies, an increase in the incidence of bleeding disorders,an increase in R&D activities to develop new treatments for bleeding disorders, an increase in preference for fibrinogen concentrate over fresh-frozen plasma, and an increase in the number of fibrinogen product approvals globally. Additionally, it is anticipated that the growing number of cutting-edge and innovative treatments for bleeding disorders under development would support the market's revenue expansion.
Fibrinogen concentrates' clearance and the introduction of new products are both expected to play a significant role in the market's growth. But adverse reactions to fibrinogen concentrate, such as arterial, nausea, dyspnea, thrombosis, and others, are projected to restrain the market's expansion to some amount throughout the forecast period.
Furthermore, the key participants of the global fibrinogen concentrate market are inclining more toward developing advanced fibrinogen concentrates to treat the bleeding incidences in patients with congenital fibrinogenaemia. Hospitals, ambulatory surgery centres, and other healthcare systems can buy items and receive treatments simply thanks to manufacturers in the fibrinogen concentrate market.
CSL Behring, Baxter, LFB Group, ProFibrix BV (The Medicines Company), Johnson & Johnson (Ethicon), Shanghai RAAS, Hualon Biological Engineering, Jiangxi Boya Bio-Pharmaceutical, Harbin Pacific Biopharmaceutical, and green cross are key players in the worldwide fibrinogen concentrate market.
Fibrinogen Concentrate Market Scope
| | |
| --- | --- |
| Metrics | Details |
| Base Year | 2022 |
| Historic Data | 2018-2019 |
| Forecast Period | 2022-2028 |
| Study Period | 2018-2028 |
| Forecast Unit | Value (USD) |
| Revenue forecast in 2028 | USD 4.19 Billion |
| Growth Rate | CAGR of 6.1 % during 2018-2028 |
| Segment Covered | By Type, Applications, Regions |
| Regions Covered | North America, Europe, Asia Pacific, Middle East and Africa, South America |
| Key Players Profiled | CSL Behring, Baxter, Johnson & Johnson (Ethicon), LFB Group, ProFibrix BV (The Medicines Company), Shanghai RAAS, Jiangxi Boya Bio-Pharmaceutical, Hualan Biological Engineering, Harbin Pacific |
Major Trends in Global Fibrinogen Concentrate Market: A Snapshot
According to a study, a human fibrinogen concentrate was discovered to offer effective therapy to patients with fibrinogen deficiency. Therefore, as the cases of bleeding disorders are growing, the prominence of fibrinogen concentrate is widening. Moreover, the harmless and efficient factor is also adding to the growth of the fibrinogen concentrate market.
The time-sensitive and critical environment of pre-hospital trauma care is causing a rise in the early administration of fibrinogen concentrate among humans. This assists in preventing early depletion of fibrinogen and accelerates rapid blood clot initiation and clot stability.
Key Segments of the Global Fibrinogen Concentrate Market
Type Overview (USD Billion)
Application Overview (USD Billion)
Congenital Fibrinogen Deficiency
Surgical Procedures
End User Overview (USD Billion)
Hospitals
Ambulatory Surgical Centres
Others
Regional Overview (USD Billion)
North America
Europe

UK
Germany
France
Rest of Europe

The Asia Pacific

China
Japan
India
Rest of Asia Pacific

South America

Brazil
Mexico
Rest of South America

Middle East & Africa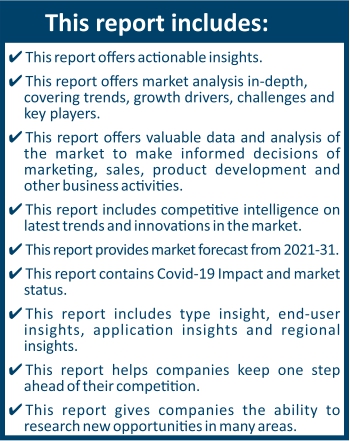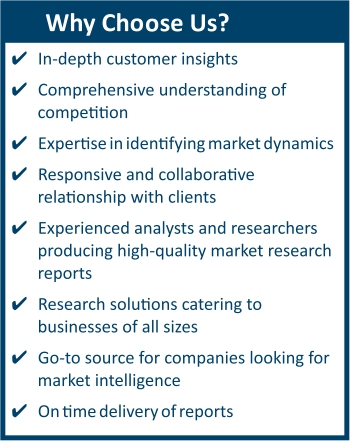 Frequently Asked Questions (FAQ) :
The market value of fibrinogen concentrate market in USD 4.19 Billion by 2028
The fibrinogen concentrate market is growing at a CAGR of 6.1% over the forecast period.
The application of the fibrinogen concentrate market Hospitals, Ambulatory Surgical Centres and other.
North America dominated the market for fibrinogen concentrate market and accounted for the largest revenue share.
The top companies that hold the market share in fibrinogen concentrate market are CSL Behring, Baxter, LFB Group, ProFibrix BV (The Medicines Company), Johnson & Johnson (Ethicon), Shanghai RAAS, Hualon Biological Engineering, Jiangxi Boya Bio-Pharmaceutical, Harbin Pacific Biopharmaceutical & among others.