Fats and oils are organic substances that are an important element of the diet and have a variety of uses in a variety of sectors.
Covid-19 Impact & Market Status
The global supply and demand for fats and oils has moved as a result of the coronavirus outbreak, with increased pricing volatility. According to the top vegetable oils producers in the region, such as Wilmar International and Mehwah Group, palm oil, which is the most widely produced type of oil in the world, has suffered as demand has dropped around the world, trade has been disrupted, and production has been hampered in Indonesia and Malaysia. Efforts were being undertaken in various countries to keep the market stable. Exports to China fell by 57 percent in January 2019-2020, according to the Indonesian Palm Oil Producers Association (GAPKI). Governments in countries including India, China, and the United States granted exemptions to the sector, allowing them to operate at a reduced capacity during the lockdowns. The continuity of operations allowed these organizations to mitigate the significant damage as manufacturing continued.
In 2020, the outbreak of Coronavirus illness (COVID-19) acted as a major brake on the fats and oils manufacturing sector, as supply chains were disrupted by trade restrictions and demand fell as a result of government lockdowns around the world. COVID 19 is a virus that causes common cold symptoms such as nausea, cough, and trouble breathing. The virus was initially discovered in Wuhan, Hubei Province, People's Republic of China, in 2019 and has since spread throughout Western Europe, North America, and Asia. Food and beverage industries rely on domestic and foreign sources for raw materials. Because many governments imposed restrictions on the transportation of products across borders and within countries, firms were forced to suspend production owing to a scarcity of raw materials. The reduction was further aided by limitations on the sale of non-essential products and the fear of contamination through manufacturing facilities. However, because the shock was a "black swan" incident unrelated to current or structural flaws in the business or the global economy, it is projected that the fats and oils manufacturing market would recover over the forecast period.
Demand for packaged foods is increasing
The rising demand for packaged goods has resulted in an increase since it is more convenient for customers to buy them, and they also trust packaged foods with company labels when purchasing them. These products are unaffected by external manipulation and are simple to use. People are moving their eating patterns away from traditional foods and toward urban packaged foods. Consumers are being informed about new product launches as well as their USP by packaged foods. People's growing understanding of good nutrition has led to an increase in customer preference for packaged foods, which has fueled the global specialty fats and oils market.
Chocolate consumption is on the rise
The market's expansion is being fueled by rising demand and appreciation for dark and organic chocolates. In the chocolate industry, specialty fats and oils are commonly utilized as ingredients. Dark chocolates are expected to grow in emerging countries due to their composition, which will have an impact on the expansion of the chocolate industry and seasonal sales. Chocolate is the most consumed confectionery product in the world due to its numerous health benefits, and many companies are now developing sugar-free and organic chocolate items to cater to the health-conscious urban populace. Additionally, chocolate eating has physiological benefits. For example, a specialty fat used in chocolate manufacture, cocoa butter, can firm and set on the surface of a cake and provide a smooth mouth feel.
Dairy products with low fat content are in high demand
With increased health consciousness, people are adopting healthier lifestyles, which have resulted in a demand for low-fat dairy products. The current obesity pandemic has the potential to encourage the consumption of low-fat dairy products while simultaneously making consumers more skeptical of cheese and cream consumption. Increased investment in dairy research and development is enhancing product innovation and assisting in the development of new low-fat dairy products. The rise of the yoghurt food sector is generating a lot of activity, which is indirectly increasing demand for low-fat dairy products.
North America controls the majority of the market
The Asia-Pacific region includes growing economies like China and India, which are the world's greatest consumers of fats and oils. China, India, and the European Union are the largest users of palm oil, with none of them producing crude palm oil and relying on imports to meet their needs. Despite being a major user, Indonesia is the world's largest producer of palm oil, overtaking Malaysia. On a worldwide scale, the United States leads Asian countries in soybean production and is the world's top producer.
Due to chemical qualities at normal temperature, fats are usually solid, and oils are liquid. The rising use of high grade edible oils / cooking oils is one of the primary drivers driving the fats and oil market's rise.
The global fats and oils industry is estimated to be USD 22.91 billion in 2028, with a CAGR of 7.6% over the forecast timeframe. Furthermore, fats and oils are used as a sustainable manufacturing process in many processing industries such as lubricants, paints, and paper, which is one of the prospects for the fats and oil market in the projected period of 2021 to 2028.
Regulations relating to the labeling of fats and oil goods, as well as an increase in health concerns, are constraining the fats and oil industry, however high intensity competition might be a challenge for the fats and oil market.
This fats and oil market report details recent developments, trade regulations, import-export analysis, production analysis, value chain optimization, market share, impact of domestic and localized market players, analyses opportunities in terms of emerging revenue pockets, changes in market regulations, strategic market growth analysis, market size, category market growths, application niches and dominance, product approvals, product launches, geographic distribution, and market share.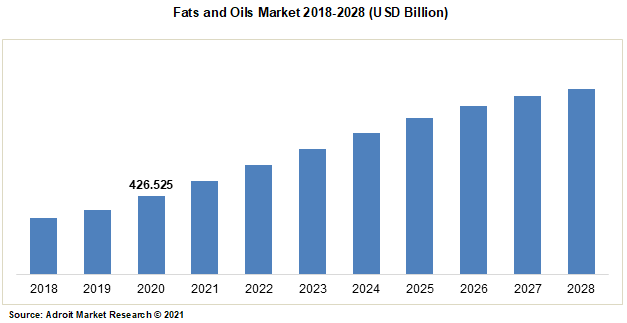 In the retail chain, major worldwide market participants offer a diverse selection of fats and oils items. The Asia Pacific region is home to some of the world's most well-known palm oil producers. Companies that produce soybean oil dominate the North American market. Associated British Foods PLC (UK), Archer Daniels Midland Company (US), Bunge Limited (US), and Wilmar International Limited are the leading firms in the fats and oils market (Singapore). The top players used a variety of strategies to stay competitive in the fats and oils market, including expansions, mergers and acquisitions, and new product releases.
Latest Innovations in the Fats and Oils Market: a Snapshot
Nature fresh, Cargill's INC's homegrown brand in India, expanded its presence into the premium health oil category with the launch of Nature Fresh Acti Heart in October 2018.
Bunge Loaders Croklaan opened a new edible oil processing facility in China in July 2019. The company will be able to address the growing demand for plant-based speciality oils and fats components in China's food and restaurant industries as a result of this advancement.
In February 2019, AAK bought Mass Refinery B.V., a Dutch company, to expand capacity, support existing production facilities, and facilitate future expansion. For the food business, Mass Refinery B.V. specialises in toll refining of vegetable oils and fats.
Fats and Oil Market Scope
| | |
| --- | --- |
| Metrics | Details |
| Base Year | 2020 |
| Historic Data | 2018-2019 |
| Forecast Period | 2021-2028 |
| Study Period | 2018-2028 |
| Forecast Unit | Value (USD) |
| Revenue forecast in 2028 | USD 22.91 billion in 2028 |
| Growth Rate | CAGR of 7.6% during 2021-2028 |
| Segment Covered | By Type, By Application, Regions |
| Regions Covered | U.S, Germany, Russia, Rest of Europe, Rest of Asia-Pacific, South Africa, |
| Key Players Profiled | Associated British Foods PLC (UK), Archer Daniels Midland Company (US), Bunge Limited (US), and Wilmar International Limited are the leading firms in the fats and oils market (Singapore). |
Key Segments of the Fats and Oils Market
Vegetable oil
Oilseed oil
Animal oil
By Application:
Foods
Feed
Industrial
Source
Vegetable
Animal
By Region
U.S
Germany,
Russia,
Rest of Europe,
Rest of Asia-Pacific,
South Africa,
Rest of Middle East and Africa
Frequently Asked Questions (FAQ) :
The global fats & oils market size is estimated to USD 22.91 billion by 2028, recording a CAGR of 7.6% by 2028.
The fats & oils market is segmented into Type, Application, Form and Region.
The key market players include Associated British Foods PLC (UK), Archer Daniels Midland Company (US), Bunge Limited (US), and Wilmar International Limited.
To get latest version of fats & oils market report can be obtained on demand from the website.