Global Ethernet Storage Fabric (ESF) is expected to witness market revenue of USD 4.3 billion with and annualized growth rate of 12.9% in forecast years from 2021 to 2028. The increasing demand of enterprise mobility to leverage cost efficiency and rise in ethernet storage fabric adoption is driving the global ethernet storage fabric market.
In addition to this, demand for high bandwidth performance in enterprise data centers, growth in virtualization technologies, and digital revolution in industry verticals including healthcare, BFSI, education etc is also boosting the global ethernet storage fabric market. However, complex storage network, connectivity issues, dearth of trained professionals, customers hesitant to shift from traditional to modern technologies may act as key factors depriving the global ethernet storage market growth.
Furthermore, the increasing awareness of benefits of esf furniture, growing adoption of new technologies, technical upgradations addressing the connectivity issues, technical training programs to the employees are anticipated to be the growth opportunity to the global Ethernet storage fabric market.
An ethernet storage fabric (ESF) speed and flexibility of a network and enables network storage in a fast and efficient way. The ESF is designed to deliver high performance network connectivity, with lowest latency, and zero packet loss. The ESF has unique form factors and storage features. The ESF is well suited for high storage and hyperconverged infrastructures.
The market players across the world, to stay competitive are coming up with advanced features thereby transforming the organizational and cloud data centers. The market players are developing high-speed connectivity solutions, ESF switches, and adapters. Moreover, they are heavily investing in research and development for providing affordable price range yet high-performing products with new features. This is attracting more customers to their products leading to increased revenue and profitability in the market.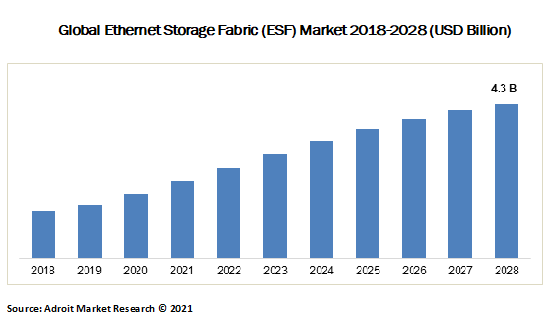 Few leading competitors currently working in the global Ethernet Storage Fabric Market are Edgecore Networks, E8 Storage, Argo Technologie SA, Apeiron Data Systems, Vicinity, H3C Technologies CO., Limited, D-Link, Lenovo Group, Allied Telesis Holdings K.K., Fujitsu, Microsemi Corporation, Fortinet, Cisco Systems Inc., Dell Technologies Inc., Intel Corporation, Hewlett Packard Enterprise, Arista Networks, Juniper Networks, Huawei Technologies, and Mellanox Technologies among all other leading players including the new entrants and the well-established firms. The companies are mostly from the countries including Taiwan, US, Switzerland, China, Japan, and Israel.
Key Segments of the Global Ethernet Storage Fabric (ESF) Market
Product Type Overview, 2018-2028 (USD Billion)
Application Overview, 2018-2028 (USD Billion)
Aerospace
Manufacturing and Processing
Oil and Gas
Power and Utilities
Mining
Regional Overview, 2018-2028 (USD Billion)
North America
Europe
Germany
UK
France
Rest of Europe
Asia Pacific
China
Japan
India
Rest of Asia Pacific
South America
Brazil
Mexico
Rest of South America
Middle East and Africa
Reasons For Study
To offer a comprehensive coverage of the most important topics in ethernet storage fabric.
To provide an unmatched and comprehensive details about the market and the future growth opportunities.
To put forth the lucrative markets for ethernet storage fabric (ESF)
To provide solutions to create an effective market positioning strategy.
To determine competitors' uniqueness by comparative study.
What is Included in the Report?
Latest trends (drivers, challenges, constraints, opportunities) shaping the market.
Target markets that market players should focus for investment and developments.
Forecasted and current growth rates of individual segments aforementioned.
Study of the competitive environment, applications, and Product Types of the ESF furniture.
Who Should Buy This Report?
The market players that seek major statistics, in-depth insights on global and regional competitors.
Individuals interested in the industry looking for market assistance and future direction for the ESF market.
Ethernet Storage Fabric is witnessing increased market demand as it is positively impacting the industry verticals including telecommunications, government, aerospace, healthcare and others. Moreover, it offers long-term benefits, ranging from reduced improved efficiency, network storage, better connectivity, cost efficiencies, high speed, scalability, simplified management over traditional network technologies.
These major influencers are driving the global Ethernet Storage Fabric market. Moreover, rapidly evolving technology landscape, changing consumer preferences for achieving operational efficiency, growing demand for enterprise mobility, rapid shift of industry verticals in rate of preferences are aggravating the global Ethernet Storage Fabric market.
As a result, the small and medium along with the large enterprises are adopting advanced data centre management services. This is bolstering the growth of the ESF furniture in the market. Ethernet Storage Fabric approaches is offering thrice return on investment to the providers as well as the end customers which is propelling its use in the market.
Product Type Segment
The ESF hardware accounted for major market share of global Ethernet storage fabric market as it delivers fastest storage networking, high performance, end-to-end smart interconnection, more security, one-time investment, etc thereby driving the growth of hardware Ethernet storage fabric.
Application Segment
The aerospace industry held the highest revenue and is expected to gather maximum market growth in the forecast years 2021-2028. The speed and flexibility and high performance network connectivity are some key benefits of ESF provided to the aerospace industry.
The North American region is anticipated to dominate the market as ESF Furniture has become significant for the companies in the region. The region acquired highest market revenue in 2020 owing to the presence of prominent ESF companies like Fortinet, Microsemi, Dell, Intel, etc. The region dominates the market as it is widely known for providing advanced and high performance ESF hardware and software services. Additionally, the region has been greatly investing in cloud technologies opening new growth opportunities in the region. Moreover, organizations in the region are shifting from conventional network storages to advanced network devices and solutions. The countries US and Canada have contributed greatly to the market.