The increase in demand for renewable fuels is what is driving the worldwide ethanol gasoline industry. Another significant element propelling the expansion of the ethanol-gasoline market is the growing government support for the use of biofuels. Additionally, it is anticipated that throughout the course of the projected period, demand for ethanol gasoline would increase due to rising fuel prices and the desire to reduce carbon emissions. Additionally, the market for ethanol gasoline is anticipated to develop rapidly with the advent of new ethanol production technology. Additionally, it is projected that the market would rise in the near future due to the growing demand for environmentally friendly fuels like ethanol gasoline.
To encourage the use of renewable energy sources and lower greenhouse gas emissions caused by the burning of fossil fuels, the ethanol-gasoline market is crucial. Offering an alternate market for agricultural products can also aid in the reduction of air pollution, the creation of jobs, and the stimulation of rural economies. Additionally, it might lessen reliance on foreign oil imports and boost energy security. Additionally, users can save money by using ethanol-blended gasoline since it is less expensive than conventional gasoline.
The fuel known as ethanol gasoline is produced using corn and sugar cane, two renewable resources. It emits fewer greenhouse emissions and has a smaller carbon footprint than regular gasoline. Additionally, by lowering smog-forming emissions, it can aid in bettering air quality. E10 fuel, which includes 10% ethanol and 90% gasoline, is commonly made by blending ethanol gasoline with conventional gasoline. There are also fuels with higher ethanol content, such as E15 and E85. Flex-fuel vehicles, which can run on either gasoline or ethanol, can use these higher-ethanol mixtures.
The global ethanol gasoline market is projected to grow at an estimated 8.5% CAGR from 2021 to 2031, from a value of USD 101.9 billion in 2021 to USD 176.8 billion by 2031.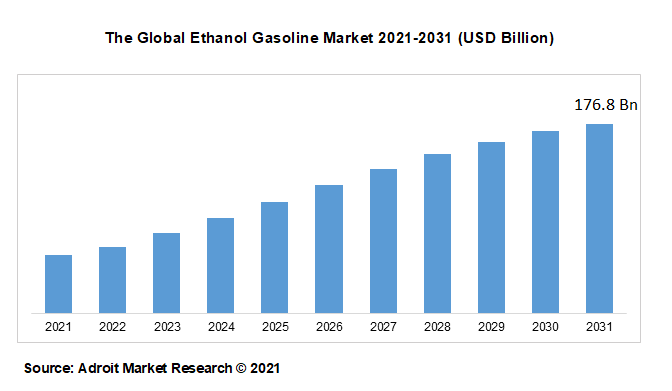 Due to the growing demand for clean fuel sources in many nations, ethanol gasoline has a substantial market share in renewable energy. Some of the key factors propelling the growth of this market globally include the growing trend toward bio-based fuels, various government regulations and initiatives surrounding the use of ethanol-blended fuels, and increased investments in ethanol-based fuel research.
The absence of blending infrastructure is the main problem limiting the expansion of the ethanol-gasoline market. Fuel retailers must have access to blender pumps that can blend the two fuels in order to sell gasoline that has been blended with ethanol. Unfortunately, the availability of these pumps is limited, which restricts the ability of retailers to sell gasoline that has been blended with ethanol. Additionally, many drivers do not know the advantages of ethanol-blended gasoline and are therefore unlikely to look for stores that sell it. Government regulation is another important market constraint. The maximum amount of ethanol that can be blended into gasoline is strictly regulated in several nations. Because fuel merchants may be reluctant to invest in blending infrastructure if they are only permitted to sell a certain percentage of ethanol-blended gasoline, these laws may limit the market's potential for expansion.
Finally, economics also contributes to the limitation of market expansion. Since ethanol often costs more than gasoline, fuel retailers could be hesitant to pass those costs on to customers in the form of higher pump pricing. Further reducing market potential, reduced crude oil costs have made gasoline more affordable and competitive with ethanol. But greater public and governmental understanding of the advantages of alternative fuels, together with improvements in blending infrastructure, might give the ethanol-gasoline industry a boost.
POET LLC, Green Plains Inc., Flint Hills Resources LP, Pacific Ethanol Inc., Archer Daniels Midland Company (ADM), Valero Energy Corporation, The Andersons Inc., and Royal Dutch Shell plc are a few of the key companies active in the worldwide ethanol gasoline business. A substantial portion of the expansion of the global market is also being contributed to by other top businesses like Petrobras, CropEnergies AG, Cargill Incorporated, Bayerische Motoren Werke AG (BMW), Cosan S.A., Abengoa Bioenergy SA, E. I. du Pont de Nemours and Company.
Segment Analysis
The E10 Category Segment emerged as the Most Lucrative Type
Market segments for ethanol-based gasoline include E10, E20 and Above, and Others. E10 makes up the majority of the market and is the largest of these segments. It is a mixture of 10% ethanol and 90% gasoline that is compatible with the majority of modern motor vehicles. Aside from geography, additional variables that can be taken into account when dividing the market into segments include consumer age and gender, socioeconomic status, user behaviour and preferences, etc.
The Most Prominent Application is the Automotive Segment
The ethanol gasoline market is segmented into two categories based on applications: automotive and others. The Ethanol Gasoline Market's largest share of these is accounted for by the Automotive category. Passenger automobiles, light commercial vehicles, and large commercial vehicles are all part of this sector. Off-road vehicles like ATVs, UTVs, and recreational boats are included in the Others sector.
The North American Region to render Ample Financing Opportunities
The ethanol gasoline market is segmented geographically into North America (the United States, Canada, and Mexico), Europe (France, Germany, Italy, Spain, and the United Kingdom), Asia Pacific (China, India, Japan, South Korea), Latin America (Brazil, Argentina), and the Middle East and Africa (South Africa Saudi Arabia). Because of the rising demand for ethanol-blend gasoline from the automobile industries in nations like the US and Canada, North America is anticipated to dominate this market. Additionally, the US accounts for around 75% of global ethanol-blend gasoline consumption, making it a viable market for suppliers and producers of the fuel.
COVID-19 Impact and Market Status
The market for ethanol-based fuel has been significantly impacted by the COVID-19 epidemic. The pandemic is predicted to cause a significant fall in the market in 2020. The market is anticipated to bounce back in 2021 and resume growing in 2022. The COVID-19 pandemic's impact on decreased demand for vehicle fuels is the primary cause of the sudden reduction in the market for ethanol-based gasoline. Government-imposed lockdowns have significantly reduced travel and transportation, which has resulted in a fall in the demand for vehicle fuels. Additionally, as people cut back on spending, the economic downturn brought on by the epidemic has decreased demand for automobile fuels.
Recent Developments in the Ethanol Gasoline Market
• In comparison to February 2020, US ethanol gas output grew in March by 1.3% to 958 million gallons. The Renewable Fuel Standard (RFS) programme will be expanded by the United States Environmental Protection Agency (EPA), allowing for the 2020 blend of 15 billion gallons of conventional renewable fuels like ethanol into gasoline and diesel.
• The EPA announced modifications to the RFS programme in June 2020 that will enable greater use of renewable fuels, including ethanol, in transportation gasoline. By 2022, it is anticipated that the new regulation will have increased domestic biofuel consumption by nearly 11 billion gallons annually.
• The World Trade Organization (WTO) found in Brazil's favour in its lawsuit against US ethanol subsidies in October 2020, finding that US tariffs on imports of Brazilian-produced ethanol had been established unlawfully. Brazil can now export ethanol to the US market in quantities up to 750 million gallons without paying any duties. Since it might result in reduced costs and more competition in the US market for ethanol-blended gasoline, this might have substantial effects on US producers and consumers.
Ethanol Gasoline Market Scope
| | |
| --- | --- |
| Metrics | Details |
| Base Year | 2022 |
| Historic Data | 2020-2021 |
| Forecast Period | 2022-2030 |
| Study Period | 2020-2030 |
| Forecast Unit | Value (USD) |
| Revenue forecast in 2030 | USD 176.8 billion |
| Growth Rate | CAGR of 8.5 % during 2021-2030 |
| Segment Covered | Type, Application, Regions |
| Regions Covered | North America, Europe, Asia Pacific, South America, Middle East and Africa |
| Key Players Profiled | POET LLC, Green Plains Inc., Flint Hills Resources LP, Pacific Ethanol Inc., Archer Daniels Midland Company (ADM), Valero Energy Corporation, The Andersons Inc., and Royal Dutch Shell plc |
Key Segment of Global Ethanol Gasoline Market
By Type Overview 2021-2031, (USD Billion)
• E10
• E20 and Above
• Others
By Application Overview 2021-2031, (USD Billion)
• Automotive
• Others
By Region Overview 2021-2031, (USD Billion)
North America
• USA
• Canada
Asia Pacific
• China
• India
• Japan
• Rest of Asia Pacific
South America
• Mexico
• Brazil
• Rest of North America
Europe
• Germany
• France
• UK
• Rest of Europe
Middle East and Africa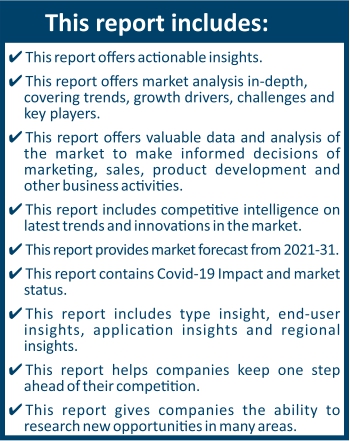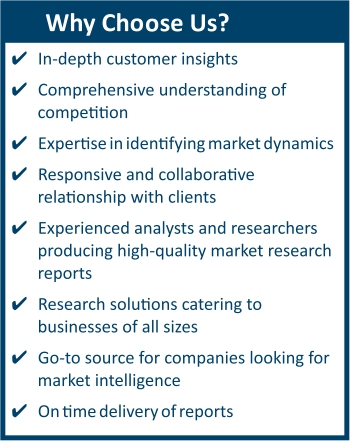 Frequently Asked Questions (FAQ) :
Ethanol Gasoline Market is projected to reach USD 176.8 billion by 2031, growing at a CAGR of 8.5