The increasing trend of video games is projected to magnify growth in the global Esports Market
Covid-19 Impact & Market Status
The report offers an exhaustive overview of the business dynamics and new investment strategies that are being adopted by business leaders across countries and regions to overcome the acute challenges and financial instabilities that have emerged in the post pandemic times.
The report highlights some of the best industry strategies and practices that are adopted by the players across local and global markets. Ever since the Covid-19 broke out in 2019, it has spread aggressively, resulting in rapid declaration by the WHO affirming Covid-19 as a global pandemic and an emergency.
The impact of the pandemic is widespread and the aftermath is well pronounced, gravely affecting the global Esports chip market. The sudden pandemic and its implications have posed significant challenges such as travel bans, quarantines, and lockdowns.
These developments are hampering operations resulting in supply chain breaches, stock market inefficiencies, and vendor chaos. These are constantly interfering with the normal functioning of industries.
Ever since the outbreak of the global crisis, impact on upstream, downstream, and midstream industries have been appalling. The report delivers a quick ready-to-deploy approach to counter such crisis and steer the global Esports market towards steady growth and systematic progression.
Amidst the pandemic, aligning with new dynamics, global Esports market has been witnessing new dynamics which are further necessitating new business models and approaches to recoup growth and revenue streams.
In this report, inquisitive business players would be provided with sufficient guidelines regarding business transformation, integral to sustain stiffening competition in the pandemic and beyond pandemic era global Esports market.
Esports for Media Rights segment to Sustain the Highest Revenues, Followed by Tickets and Merchandise
The worldwide esports sector benefits tremendously from media rights. Fans may now follow live esports events from all across the world thanks to easy access to communication technology. Media companies pay astronomical sums of money to have the exclusive right to broadcast live streaming of major sporting events. Most esports organisers' primary source of money in recent years has been the selling of broadcasting and media rights. The proceeds from the sale of media rights are used to fund big athletic events, repair stadiums, and contribute to the grassroots development of esports. On ther hand, the Tickets and Merchandise segment is anticipated to grow at the significant CAGR over the forecast period.
Offline Esports application Segment to be the Most Lucrative
Online Esports application is likely to witness maximum adoption in the forecast timeline owing to the growing popularity of esports. Other potential drivers driving market expansion include an increase in Offline users, a surge in demand for high-speed data connectivity, and an increase in demand for value-added gaming services. These factors are estimated to boost the growth of Offline segment in Esports market.
APAC to Sweep the Largest Revenue Streams Followed by North America
APAC is the largest contributor to this market, followed by Europe and then North America. In Asia, the presence of nations like China and India, with their massive subscriber bases and constantly shifting regulatory and competitive landscapes, has raised demand for Esports systems. North America, on the other hand, is confronted with the challenges of a deregulated telecom sector.
Further, applications such as the Media Rights is one of the fastest growing segment in application which in turn is favoring rampant expansion of the global Esports market across regions such as North America and Asia Pacific. Consumer preferences for enhanced customer service with real-time billing experience is expected to gain traction in the global Esports market.
Growing awareness about esports is expected to offer new opportunities in the global Esports market
The esports industry's popularisation has aided in the growth of esports investment and income. Because of the social aspect of live broadcasting and gameplay, esports has soared to new s. Fans have a direct connection to the players and teams on video gaming-specific streaming sites like Twitch and YouTube Gaming, while more mainstream social media has allowed those connections to blossom. Certain esports groups, like as FaZe Clan, are aggressively going into areas such as retail, giving their companies greater prominence than if they had only focused on esports. Esports teams have owners, franchises, endorsement deals, financial prizes from tournament winnings, and more, just like regular professional sports teams, all of which contribute to their annual revenue and total valuation. When the epidemic passes, esports leagues will most likely restart their efforts to grow their viewership by conducting live gameplay with regional esports teams in a manner that resembles traditional sports leagues. Esports market is projected to grow USD 7,131.8 million by 2028 at a CAGR of 25.1% during 2021-2028.
Despite a minor growth dip owing to Covid-19 implications, the global Esports market is expected to recoup growth and register a CAGR over the forecast period.
The market is growing due to increased audience reach and engagement activities, significant investments, increased live streaming of games, and improved infrastructure for league events. Game creators, gamers, influencers, and event organisers have all benefitted from the industry's professionalisation. Because of the growing popularity of gaming competitions, outstanding international prize pools, streaming profits, and one-to-one sponsorships, millennials are contemplating esports as a professional vocation. Furthermore, institutions and colleges are launching dedicated esports curricula in order to train skilled professionals.
The esports degree programme has begun at Shenandoah University in Virginia, Becker College in Massachusetts, and Ohio State University. More than 100 high schools in the United States have begun esports programmes in addition to regular soccer and other games. Academic schools, in addition to sponsoring sports programmes, are now providing scholarships to players to help them flourish. The best six players will get scholarships from the University of California, Irvine. The market's expansion has been limited by a lack of tournament infrastructure and a small number of organisations. In recent years, such restrictions have resulted in fewer cash streams for athletes and team owners. Riot Games, on the other hand, developed the League of Legends for North America and Europe in 2017, giving the tournament a more regimented style. Activision Blizzard, Inc. later launched the Overwatch League in 2018, providing the necessary infrastructure and monetization for esports tournaments.
The evolving gaming scene has spurred market expansion even more. The gaming industry's cornerstones include Fortnite, Dota2, Counter-Strike: Global Offensive and Overwatch, and League of Legends. The video gaming industry is fast evolving from a casual pastime to a professional career option. Massive esports events captivate millions of viewers in the same way that traditional sports do. As a result, these competitions are attracting sponsors and investors from global businesses to celebrities, resulting in overcrowding and live broadcasting. Because of factors such as growing acceptance of advanced gaming technology, changing entertainment preferences among consumers, rising income levels, and expanding demand for mobile gaming, the market for online games is developing at a healthy rate. Increased smartphone adoption and improved internet access have resulted in a significant increase in the number of gamers.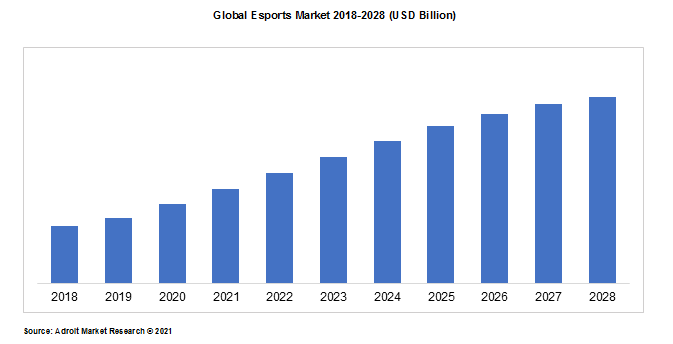 The major players of the global Esports market are Modern Times Group, Activision Blizzard, FACEIT, Total Entertainment Network, Gfinity, Turner Broadcasting System, CJ Corporation, and Valve Corporation.
The Esports market is a rapidly progressing industry and is characterized to have industrial frontliners as well as aspiring new players aiming to penetrate into the aggressive competitive landscape across global and local markets. Additionally, various new and aspiring players are improving their product lines and upgrading technological capabilities to improve revenue streams amidst Covid-19 impact.
Latest Innovations in the Global Esports Market: a Snapshot
In July 2021, Modern Times Group has acquired leading word games developer PlaySimple and discloses pro forma figures for its gaming vertical.
Esports Market Scope
| | |
| --- | --- |
| Metrics | Details |
| Base Year | 2020 |
| Historic Data | 2018-2019 |
| Forecast Period | 2021-2028 |
| Study Period | 2018-2028 |
| Forecast Unit | Value (USD) |
| Revenue forecast in 2028 | USD 7,131.8 million |
| Growth Rate | CAGR of 25.1% during 2021-2028 |
| Segment Covered | Type, Application, Regions |
| Regions Covered | North America, Europe, Asia Pacific, Middle East and Africa, South America |
| Key Players Profiled | Modern Times Group, Activision Blizzard, FACEIT, Total Entertainment Network, Gfinity, Turner Broadcasting System, CJ Corporation, and Valve Corporation. |
Key Segments of the Global Esports Market
Type Overview, 2018-2028 (USD Billion)
Media Rights
Tickets and Merchandise
Sponsorship and Direct Advertisement
Publisher Fees
Application Overview, 2018-2028 (USD Billion)
Regional Overview, 2018-2028 (USD Billion)
North America
Europe
Germany
France
UK
Rest of Europe
Asia Pacific
China
India
Japan
Rest of Asia Pacific
South America
Mexico
Brazil
Rest of South America
Middle East and South Africa
Frequently Asked Questions (FAQ) :
The forecast period of esports market is 2021-2028.
The global esports market was valued at $7,131.8 million in 2028.
Modern Times Group, Activision Blizzard, FACEIT, Total Entertainment Network, Gfinity, Turner Broadcasting System, CJ Corporation, and Valve Corporation are the top players in esports market.
To get latest version of esports market report can be obtained on demand from the website.