EPDM Granules, commonly known as Ethylene Propylene Diene Monomer, is a rubber granules compound made up of unique polymers that provide flexibility and UV resistance. It has shown to be an excellent product for shoe outsoles. It combines great quality, weather resilience, and exceptional flexibility
The global EPDM Granules market is projected to reach USD 1.2 billion by 2030, growing at a CAGR of 4.5%
Covid-19 Impact & Market Status
Because of the COVID-19 epidemic, the EPDM market shrank dramatically in terms of volume. During the pandemic, the EPDM market was hurt by supply disruptions and a reduction in end-use industries. Because of the pandemic, the raw material necessary for manufacturing EPDM has decreased owing to a decrease in crude oil & gas exploration activities. End-user sectors such as automotive also reported lower output in the 1st three quarters of 2020 compared to previous years. The downturn in the economy from end-use industries hurt EPDM manufacturing even further. Sales were much higher in some of the particularly most affected areas.
Automotive Segment to excel the market growth of EPDM Granules
The automotive industry is the major use for EPDM. EPDM market accounts for almost half rubber used in automobiles industry. It is utilised in automobiles as gaskets, weather stripping seals, as well as other components. The sector accounts for about 49 percent of the EPDM market. The segment, however, is likely to recover throughout the projection period. Furthermore, the shift toward electric and hybrid vehicles will provide up new prospects for EPDM manufacturers.
Asia Pacific will be at the top of the leader board in the EPDM Granules market
The EPDM market was dominated by APAC, followed by North America. During the projection period, the usage of EPDM is predicted to expand the most in the APAC region. The revival of the automobile sector in India and Southeast Asian nations is driving the market in this area. Global automakers are spending in APAC region to construct manufacturing units and expand their market involvement. China is a key vehicle market and the world's largest importer of EPDM. The Chinese automotive sector will be influenced by the availability of New Energy Vehicles to lower carbon footprint, which will boost EPDM demand throughout the projection period.
China slapped anti-dumping taxes on EPDM imports from the United States and the European Union in 2020. Anti-dumping taxes are imposed when items are hitting the market at prices lower than the usual value of the item. Because of the low cost of imported goods, domestic companies were suffering. Although anti-dumping duties will have an impact on global corporations, they will benefit Chinese domestic companies.
EPDM Granules are high-quality rubber compositions. Furthermore, it is manufactured under regulated settings using the most robust and long-lasting idea. EPDM rubber granules are commonly utilised in the creation of playground flooring utilising the wet pour method and for multi-purpose applications. As a result, the optimum solution for sports facilities is a predetermined elastomer for all types of outdoor applications.
The EPDM Granules market is going to be of worth USD 4.3 billion at a CAGR of 7.41% during 2022-2029.
Humid poured rubber granules provide a smooth and safe surface for children's outdoor play spaces. It is made of virgin rubber gr?nul? and polyurethane binder to form a seamless surface. Furthermore, and maybe most crucially, wet ?our rubb?r could be simply erected around challenging places, such as existing playground equipment.
EPDM is a polymeric rubber that may be manufactured in granules, making it simpler to use. EPDM granules may be treated at reduced temperatures, enabling you to produce the same goods for less money. EPDM granules are widely used in a variety of sectors, including coatings, elastomers, and rubbers. It is a flexible elastomer, which means it may be heated, stretched, or moulded. It may be used to manufacture lightweight and flexible items like as rubber gloves or gaskets for various applications such as pipe sealing.
The EPDM granules market is expected to grow at a quicker CAGR during the projected period. The rising need for electrical insulation, particularly in the construction industry, is driving market expansion. EPDM polymer is a polymeric material that is commonly used to insulate electrical lines and cables. Factors such as increased building activity and growing adoption of insulation system in the area are driving the market.
EPDM Granules are a form of polymeric material that is utilised in a range of applications for various reasons. One reason for this is because it may be readily moulded into the form of the containers in which it would be utilised. Furthermore, the substance is resistive to extreme heat, and acids, and at the same time it is non-hazardous.
The key driver of the EPDM Granules market is strong EPDM demand, which leads to the industry's robust expansion. The current advances in the automotive industry have resulted in a growth in demand for EPDM. Because of the requirement for EPDM in the automotive industry, the automotive industry has developed as one of the key drivers of demand for EPDM. EPDM is widely utilised in the automobile industry, particularly as a barrier and adhesive.
Since 2018-19, the automobile industry has been shrinking. The slowing economy, higher pollution requirements, a lack of semiconductor chips, and a trend away from owning a car were all factors in the fall. Because of the pandemic, demand for automobiles will fall even further in 2020. Asia has a big car market. More than half of worldwide vehicle production is produced in this region. The automobile industry's technical advancement and innovation will benefit the market. Although the automotive industry in China initially decreased because to COVID-19, car manufacturing rebounded in the following month for the same time. The market's desire for new-energy cars has surged. The Asian automobile sector is projected to rebound, with China's automotive industry leading the way.
The technical movement in the car industry toward electric vehicles is accelerating. Environmental sensitivity and a growing adoption for zero-emission automobiles are two reasons driving development. The EV sector in India is expected to expand at a 44 percent CAGR. In compared to internal combustion engines, the advent of electric vehicles will result in a change in car parts. An EV lacks a gasoline and engine system. As a result, the overall weight of rubber utilised in EV is lower than in ICE. EPDM is used in EV wire insulation for rapid charging technologies. EPDM is also utilised in such vehicles for thermal insulation.
EPDM demand is determined by end-use sectors like as transport and manufacturing. The EPDM market is experiencing oversupply as a result of increased manufacturing capacity in the United States and Asia. Due to fluctuations in end-user demand, firms are cutting EPDM output. EPDM has been most often seen in the automotive sector. The fall in automotive production lowered demand for EPDM. Lower demand and prices for EPDM were also caused by cheaper EPDM from Middle Eastern nations.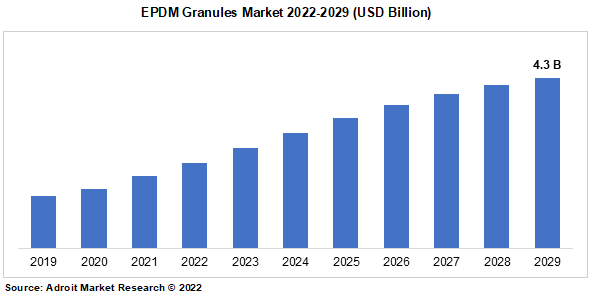 The key market players in the EPDM Granules market includes Exxon Mobil Corporation, Sumitomo Chemical Co. Limited, PetroChina Company Limited, Miroad Rubber, Fairmont Industries, Sparton Enterprises, etc
EPDM Granules Market Scope
| | |
| --- | --- |
| Metrics | Details |
| Base Year | 2020 |
| Historic Data | 2018-2019 |
| Forecast Period | 2021-2028 |
| Study Period | 2018-2028 |
| Forecast Unit | Value (USD) |
| Revenue forecast in 2028 | USD 4.3 billion. |
| Growth Rate | CAGR of 7.41% during 2021-2028 |
| Segment Covered | Type, Application, Regions |
| Regions Covered | North America, Europe, Asia Pacific, South America, Middle East and South Africa |
| Key Players Profiled | Exxon Mobil Corporation, Sumitomo Chemical Co. Limited, PetroChina Company Limited, Miroad Rubber, Fairmont Industries, Sparton Enterprises & among others. |
Key Segments of the EPDM Granules Market
Type Overview, 2022-2029 (USD Billion)
Application Overview, 2022-2029 (USD Billion)
Flooring
Automotive
Construction
Others
Regional Overview, 2022-2029 (USD Billion)
North America
Europe

UK
Germany
France
Rest of Europe

Asia Pacific

China
Japan
India
Rest of Asia Pacific

South America

Brazil
Mexico
Rest of South America

Middle East & Africa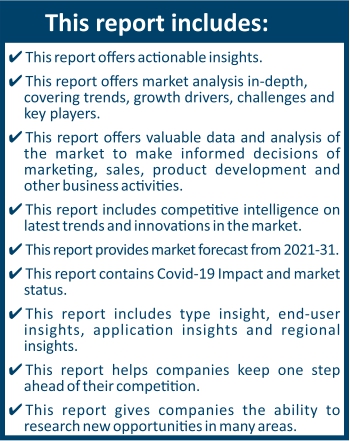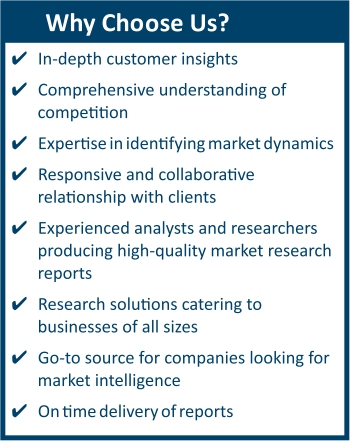 Frequently Asked Questions (FAQ) :
The market value of EPDM granules market in 2029 was USD 4.3 billion.
The EPDM granules market is growing at a CAGR of 7.41% over the forecast period.
The application of the EPDM granules market flooring, automotive, construction and other.
Asia-Pacific dominated the market for EPDM granules market and accounted for the largest revenue share.
The top companies that hold the market share in EPDM granules market are Exxon Mobil Corporation, Sumitomo Chemical Co. Limited, PetroChina Company Limited, Miroad Rubber, Fairmont Industries, Sparton Enterprises & among others.