The global environmental water testing market revenue stood at USD 3.48 billion in 2018 largely as a result of factors such as deteriorating river water and groundwater resources and the consequent surge in the number of preventive government policies and initiatives.
The global Environmental Water Testing market worth 33,237.9 by 2032, growing at a CAGR of 6.4%
The Global Risk Report (GRR) of the World Economic Forum listed water crises as one of the top five impact risks for eight consecutive years. It is anticipated that securing water for food and economic activity is going to get more difficult over the course of time. As economies evolve, their patterns of water consumption are shifting and general demand is rising dramatically to satisfy the requirements of food production, thirsty manufacturing and other sectors, thermal power plants and homes. However, in relation to supply-side cuts due to climate change effects and the above-mentioned ecosystem degradation, water supplies are often affected by bad leadership, pollution and over-consumption. Robust solutions tackling the water security challenge are crucial for everyone, from businesses and public policymakers to the general public and the international community. The emergence of public-private partnerships are expected to provide solutions to complicated and interrelated risks, responding with innovation and urgency to manage the 'less for more' challenge of increased demand and reduced supply. Such steps are expected to further expedite the growth of the global environmental water testing market during the forecast period.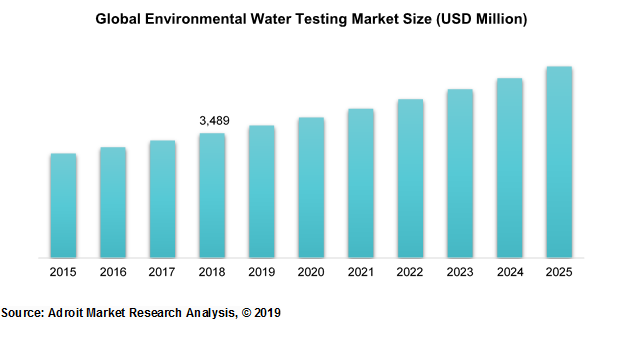 Environmental Water Testing Market Scope
| | |
| --- | --- |
| Metrics | Details |
| Base Year | 2022 |
| Historic Data | 2021-2022 |
| Forecast Period | 2022-2032 |
| Study Period | 2021-2032 |
| Forecast Unit | Value (USD) |
| Revenue forecast in 2032 | US$ 33,237.9 Mn |
| Growth Rate | CAGR of 6.4 % during 2022-2032 |
| Segment Covered | Product Type, End User, Sample Type, Test Type, Regions |
| Regions Covered | North America, Europe, Asia Pacific, South America, Middle East and Africa |
| Key Players Profiled | SGS SA (Switzerland), Eurofins (Luxembourg), Intertek (UK), Bureau Veritas (France), ALS (Australia), TÜV SÜD (Germany), Asure Quality (New Zealand), Merieux (US), Microbac (US) |
Key segments of the global environmental water testing market
Test Type Overview, 2015-2025 (USD million)
TOC
pH
DO
Conductivity
Turbidity
Heavy Metals
Nitrate and Phosphate
Product Type Overview, 2015-2025 (USD million)
Handheld
Portable
Bench top
Application Overview, 2015-2025 (USD million)
Laboratory
Industrial
Environmental
Government
Others
End User Overview, 2015-2025 (USD million)
Environmental
Home & Drinking Water Suppliers
Bottled Water Suppliers
Waste Water Treatment Organizations
Hospitals
Diagnostic Laboratories
Others

Government Agencies
Groundwater Testing
Farm water Testing
Regional Overview, 2015-2025 (USD million)
North America
Europe

Germany
UK
Italy
France
Nordic Countries
Rest of Europe

Asia Pacific

China
India
Japan
South Korea
Australia
Rest of Asia-Pacific

Latin America

Brazil
Argentina
Rest of Latin America

Middle East & Africa

Saudi Arabia
South Africa
Rest of Middle East & Africa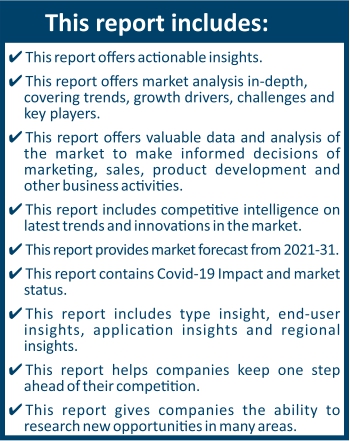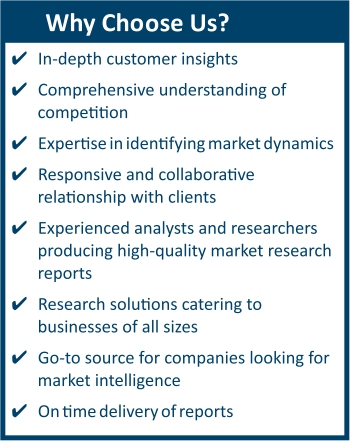 Frequently Asked Questions (FAQ) :
The market value of environmental water testing market in 2025 was USD 5.35 billion.
The environmental water testing market is growing at a CAGR of 6.4% over the forecast period.
The application of the environmental water testing market Laboratory, Industrial, Environmental, Government and other.
The physical, chemical, biological and microbiological properties of the water are considered a measure of the quality of the water. Water quality monitoring offers empirical evidence supporting health and environmental decision-making. Testing water sources is a critical step for anyone in or impacted by the water industry — from public organizations seeking to control waters to protect themselves from environmental and health hazards, to homeowners seeking to guarantee that their water is secure for use. Water must be screened frequently, whether for water plant or business / home, or a pubic municipality, to maintain the source safe and free of potential health / environmental hazards. The type and frequency of the required test will depend on the distinctive parts particular to the water source in question. Factors such as local and federal laws, place, climate / weather, facilities, agriculture and even the required amount of identification can affect the required water test. The market for the environmental water testing is receiving a tremendous impetus from the growing public private partnerships across the globe as well as rising investments from corporate firms to maintain a sustainable environment.
Carbon Disclosure Project (CDP), an organization in the United Kingdom supports companies and cities to disclose the environmental impact of major corporations. According to their CDP Global Water Report 2017, which tracks corporate action on water security, around 2,025 companies provided data regarding their efforts in managing and governing freshwater resources. Companies around the globe have woken up to the need of water security and have beefed up their investments in improving the water crisis. In 2017, companies committed approximately USD 23.4 billion across more than 1000 projects in order to tackle the severe problem of water security.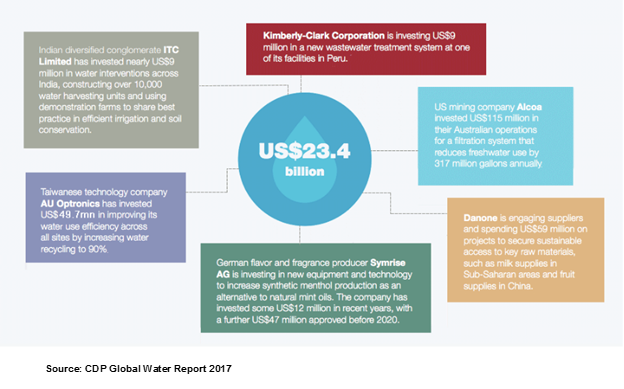 The increasing investments in ensuring water security has been a major driver in the environmental testing market. Technological advances such as the use of electronics and the development of multiparameter testing tools help transform the industry. The industry has come a long way from using a single tool to assess each parameter to multi-parameter instrumentation growth and internet water quality measurement, tracking and control systems. Innovation around product simplicity and user-friendliness will assist stimulate end-user acceptance.
The global environment water testing market segmented on the basis of test types was dominated by the TOC accounting for nearly 30% of the overall market in 2018. Total organic carbon (TOC) in an aqueous system is a measure of the complete carbon content in organic compounds. It has become a significant parameter for monitoring general concentrations of current organic compounds. TOC is an analytical technique that helps institutions comprehend whether the water they are using is adequately pure for their procedures. All water includes some carbon materials, no matter how pure. Many of these products are brought into the water during purification and manufacturing from the water source, or from equipment and structures.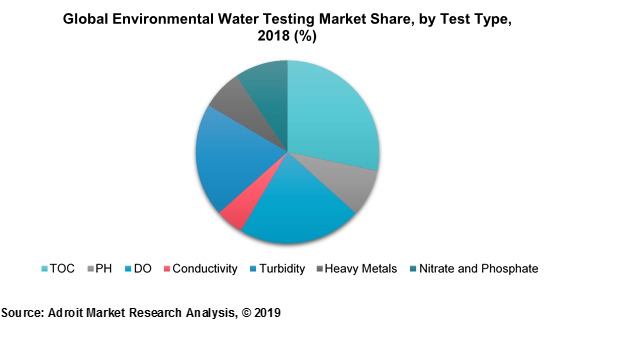 As seen in many formal analytical methods today, TOC is a common analytical technique in water quality testing. TOC is recognized by European Pharmacopoeia (EP), the United States Pharmacopoeia (USP), and Japanese Pharmacopoeia (JP), for water for injection (WFI) and purified water. In the biotechnology sector, TOC has also discovered wide acceptance to help in validation clean-in-place (CIP) processes. Concentration levels of TOC can be used to monitor these cleaning processes successfully. This has led to the growing demand for the segment and is expected to drive the segment in the foreseeable years.
Asia and the Pacific are the global water insecurity hot spot. The International Institute for Applied Systems Analysis estimates that by 2050 up to 3.4 billion individuals may be living in Asia's water-stressed regions. In addition, Afghanistan, China, India, Singapore, and Pakistan will have the lowest water availability per capita. Recent similar study on climate change predictions and water security by the Massachusetts Institute of Technology reinforces the potential for population growth and industrialization to exacerbate water access issues with climate change further aggravating the issue. China and India will have different drivers for water pressure (owing to differing paces of industrialization and population growth) but will undoubtedly be the hot spots of the region with their huge populations. The region is already at greatest danger due to water-related calamities, including storms, floods, and droughts. Asia has endured half of the estimated worldwide financial costs of disasters in particular over the previous 20 years: about $53 billion annually. Countries like the Philippines are experiencing more intense than more frequent extreme occurrences. Likewise, there is an increase in the amount of hot days and warm nights and it is expected that this will continue. Such changes along with limited data availability and weak resource management is expected to further aggravate water security.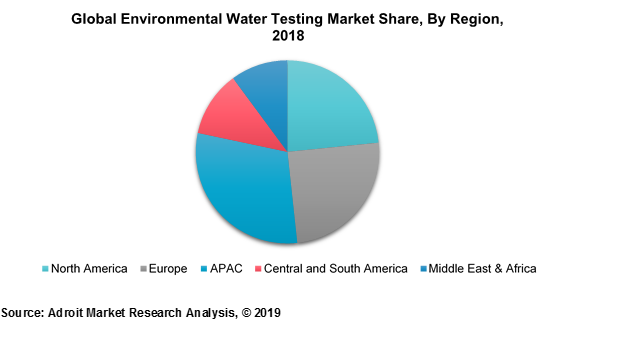 This has led to Asia Pacific being the largest market for environmental water testing market, accounting for approximately 30% of the overall market in 2018. China led the Asia Pacific environmental water testing market and was valued at approximately USD 380 million in 2018. According to the Ministry of Natural Resources, groundwater resources have been better conserved, more skilled wells have been established throughout China that can test water quality. The Ministry of Water Resources ' recent information indicates that the groundwater supply of the country was 101.7 billion cubic meters in 2017, 16.8 percent of the total water supply. However, an environmental study published in May by the Ministry of Ecology and Environment stated that in 2017 more than 60% of groundwater was classified as bad quality. Big data and cloud platforms have also been set up to enable the wells to send the outcomes to the surveillance center automatically and immediately.