The global enterprise information archiving market was valued at USD 4,574.2 million in 2018. Enterprise information archiving (EIA) platforms incorporate consumer messaging content archiving tools and solutions like e-mail, instant messaging, SMS and social media information for public and enterprise. This also encompasses many types of content, such as data stored in systems for enterprise file synchronization and sharing (EFSS), images, website content, and speech. EIA tools provide features such as domain-specific data reductions, retention management, indexing of domain, and e-discovery and classification tools.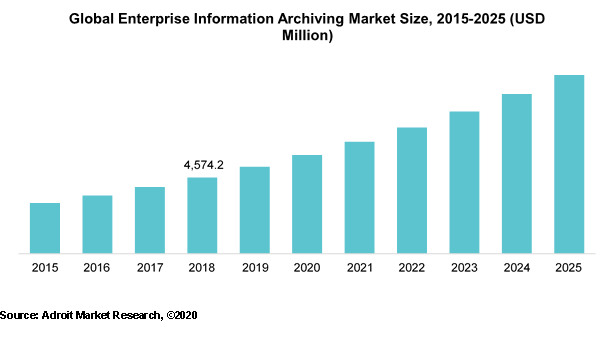 Enterprise information archiving emerged as a concept because organizations were forced to find ways to deal with their dramatically increasing volumes of unstructured data. Earlier, organizations used to only hold structured data, which was mostly archived for regulatory purposes but hardly ever needed to be accessed afterwards. It was very much a "set-and-forget" situation which began to change with the adoption of digital technologies across the board. Today unstructured data such as email, documents, images and videos sum up to 80% of data held by an enterprise. Data both structured and unstructured is now actively accessed for longer periods not just for regulatory purposes but for all kinds of real-time advanced analytics. Enterprises are also witnessing an increase in demand for universal data access from employees across the board so they can take data driven decisions.
The global enterprise information archiving market has been segmented based on content type, organization size, deployment, end-user, and region. Based on content type, the global enterprise information archiving market is categorized into email, database, social media, instant messaging, and web. On the basis of organization size, the global enterprise information archiving market is segmented into small and medium enterprise, and large enterprises. Based on deployment, the enterprise information archiving market is classified into cloud, and on premise. Based on end user, the enterprise information archiving market is segmented into media and entertainment, healthcare, BFSI, education, retail and ecommerce, government and defense, manufacturing, and others
Key players operating in the global enterprise information archiving market include Atos SE, Barracuda Networks, Inc., Bloomberg Finance LP, Commvault Systems, Inc., Global Relay Communications, Inc., Google LLC, Hewlett Packard Enterprise Development LP (HPE), IBM Corporation, Microsoft Corporation, Mimecast, Proofpoint, Inc., Smarsh Inc., Veritas Technologies LLC, and ZL Technologies, Inc. among others
Key Segments of the Global Enterprise Information Archiving Market
Content Type Overview, 2015-2025 (USD Million)
Email
Database
Social Media
Instant Messaging
Web
Organization Size Overview, 2015-2025 (USD Million)
Small and Medium Enterprises
Large Enterprise
Deployment Overview, 2015-2025 (USD Million)
End-users Overview, 2015-2025 (USD Million)
Media and Entertainment,
Healthcare
BFSI
Education
Retail and Ecommerce
Government and Defence
Manufacturing
Others
Regional Overview, 2015-2025 (USD Million)
North America
Europe

Germany
United Kingdom
France
Rest of Europe

Asia Pacific

China
Japan
India
Rest of Asia Pacific

Central and South America

Brazil
Mexico
Rest of Central and South America

Middle East & Africa
Reasons for the study
An average cost of a data breach is $3.8 million and the maximum fine for non-compliance with GDPR is 4% of the annual turnover or €20 million, whichever is higher. The rising pressures on enterprises to comply with regulations have led to the increased demand for enterprise information archiving.
The huge amount of data required to be maintained by enterprises is also accelerating the adoption of enterprise information archiving platforms.
What does the report include?
The study on the global enterprise information archiving market includes qualitative insights such as drivers, restraints, challenges and opportunities
Additionally, the market has been evaluated using the Porter's Five Forces analysis
The study covers qualitative and quantitative analysis of the market segmented on the basis of content type, organization size, deployment, and end-users. Moreover, the study on enterprise information archiving market provides similar information for the key geographies.
Actual market sizes and forecasts have been provided for all the above-mentioned segments
The study includes the profiles of key players operating in the market with a significant global and/or regional presence
Who should buy this report?
The report on the global enterprise information archiving market is suitable for all the players engaged in the development of enterprise information archiving solutions.
Venture capitalists and investors looking for more information on the future outlook of the global enterprise information archiving market
Consultants, analysts, researchers, and academicians looking for insights shaping the global enterprise information archiving market
Businesses which are particularly in regulated or public sectors have obligations to not only capture and preserve records of communication and decisions but also to find and produce them when regulators, auditors, legal teams, customers, or citizens make requests. Enterprise information archiving can be defined as technologies that migrate digital information (in the form of structured data, application data, documents, files, email, content, or social media) from source systems into a repository, retaining the information for a specified period. Enterprises with compliance obligations invest in archiving technologies to meet externally imposed requirements to capture, preserve, and retrieve data, content, and/or communications. Archiving technologies can also help them meet internal policies for records retention or knowledge capture and preservation. Application or decommissioning projects also drive archiving investments, keeping older data available even as its source system is migrated or shut down. With the right archiving platforms, technology, security, and compliance decision makers can achieve the following:
Perform faster search and discovery
Regulated businesses and those in litigious industries are under pressure to search, filter, analyze, and export or share their data. Expanding data privacy and protection laws will increase this. Archiving buyers demand data visualization tools and analytics to weed through large volumes of data and review it.
Exceed governance and compliance goals
Automated capture of email, messaging, or social media, with related metadata, ensures consistent retention policies that rely less on user-driven tagging. Financial services firms often require proactively supervised communication, and vendors are responding with analytics to detect violations.
Lay a foundation for analytics and insights
Analytics, data visualization, and machine learning in archiving platforms reveal use cases beyond basic governance and compliance. These tools can tag content and analyze it for a broad set of knowledge discovery use cases, identifying patterns of information use and exchange.
The global enterprise information archiving market segmented based on content type was dominated by email segment and accounted for nearly 43% in 2018. E-mail archiving is a way of storing, securing and accessing the data and information used in such e-mails later. Companies must protect their data security, because the loss of data can have significant consequences for the company. Email archiving system on-site enables businesses to implement a tool on-site for the archiving of business records. Cloud-based archiving approach enables company records to be retrieved from cloud, which guarantees cost efficiency savings. E-mail archiving provides options for e-mail archiving with the company e-mail servers that contribute to long-term stored data.
Vendors provide ingestion capabilities for common email platforms and messaging services (such as instant messaging, chat, SMS, video, or voice). The primary drivers for adoption are legal discovery, internal or external investigations, or regulatory compliance. Vendors may also provide personal archive apps to support end user needs for easy, searchable access to historical communication. Multitenant software-as-a-service (SaaS) is the dominant deployment model. These product innovations adopted by the vendors are proving to be the major factors driving the growth of the email segment in global enterprise information archiving market.
The global enterprise information archiving market segmented based on region was dominated by North America, generating nearly 40 % share of the overall market size in 2018.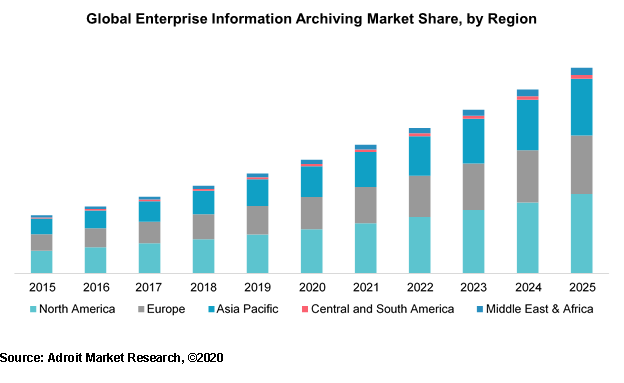 Due to its fast adoption of enterprise information archiving technologies, North America dominated the market. The region has been highly responsive to emerging technologies such as artificial intelligence (AI) convergence technology, cloud technology and mobile technology in conventional enterprise IT solutions. The key reason for growth in this area is the existence of strict regulations and standards for various industries.
Europe is another region with tremendous growth opportunities for the market. With regulations such as GDPR, organizations that have been holding data in proprietary formats on tapes and using multiple archiving vendors for long-term retention are finding that they essentially do not know how much personal data they hold and where it is. The scope of personal data defined by GDPR is much wider. Accessing the data in order to modify, obfuscate, redact or delete specific records is a huge and time-consuming challenge across these siloes. Thus, the adoption of enterprise information archiving platforms is growing in this region.