The size of the global market for English Language Learning is expected to reach $69.62 billion by 2029, expanding at a compound annual growth rate (CAGR) of 9.5%.
Globally, English has become the preferred language of choice for international communication in a variety of domains. To learn, study and understand this globally accepted language, essential skills are required to be possessed by the language learner. English is a core element of the schools, colleges, and other educational institutions, businesses, general communication requirements and etc. English is the language is international business, science, research, education system, etc. Over around 80% of academic journals are written completely in English. However, regardless of the increasing prevalence of English language in the workplace, there has been relatively very little in-depth research into the English language skills necessary by the employers in various types of industries and countries in the world. Thus, to overcome this gap, English language learning and upgrading English language skills is been carried out widely. As a result of this, the English language learning market is an emerging market and will observe a huge growth in the forecast period.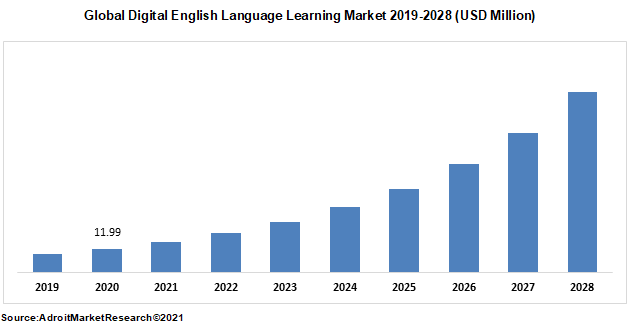 The digitalization of the education industry has added to multiple digital learning platforms that offer English language learning techniques and practices. Learners of the language can either opt for online discussion programs or English language learning courses available in the market. Most digital English language learning solutions depend on artificial intelligence. This integration of artificial intelligence helps in developing customized English language learning solutions and tracking learner's progress. Also, it assists in integrating data from different sources and producing content that is customized for a learner. Likewise, Chatbot supports in easing conversation with a student through artificial intelligence and assists interactive leaning. While a substantial number of national and foreign organizations are formed in the English Language Training industry, new suppliers or current suppliers have a broad array of possibilities to broaden their global presence. English language inevitably plays a significant role in the growth of an individual and the amount of skills required to learn it is relatively small, which itself indicates a need gap which may be bridged by various service providers.
English Language Learning Market Scope
| | |
| --- | --- |
| Metrics | Details |
| Base Year | 2021 |
| Historic Data | 2019-2020 |
| Forecast Period | 2022-2029 |
| Study Period | 2019-2029 |
| Forecast Unit | Value (USD) |
| Revenue forecast in 2029 | $ 69.62 billion |
| Growth Rate | CAGR of 9.5% during 2021-2029 |
| Segment Covered | ndividual learners, educational institutes, government bodies, and corporate learners, Regions |
| Regions Covered | North America, Europe, Asia Pacific, South America, Middle East and Africa |
| Key Players Profiled | Cambridge University Press (U.K.), New Oriental Education & Technology Group Inc. (China), Houghton Mifflin Harcourt Company (U.S.), McGraw-Hill Education, Inc. (U.S.), Duolingo Inc. (U.S.), Berlitz Corporation (U.S.), Busuu Online S.L. (Spain), Babble GMBH (Germany), Linguistica 360, Inc. (U.S.), Mondly (Romania), ELSA Corp. (U.S.), FluentU (A part of Enux Education Limited) (China), Memrise Inc. (U.K.), Mango Languages (U.S.), Rosetta Stone Ltd. (A part of IXL Learning, Inc.) (U.S.), Inlingua International Ltd. (Switzerland), Sanako Corporation (Finland), Transparent Language, Inc. (U.S.), and Open Education LLC (U.S.). |
Key Segments of the Global English Language Learning Market
Type Overview, 2018-2028 (USD Billion)
Digital
Thorough books
In person course
Application Overview, 2018-2028 (USD Billion)
For kids and teens
For adults
For business
For education and tests
Regional Overview, 2018-2028 (USD Billion)
North America
Europe

UK
Germany
France
Rest of Europe

Asia Pacific

China
Japan
India
Rest of Asia-Pacific

Middle East and Africa

UAE
South Africa
Rest of Middle East and Africa
South America

Brazil
Rest of South America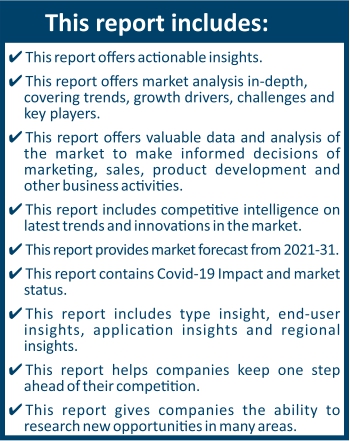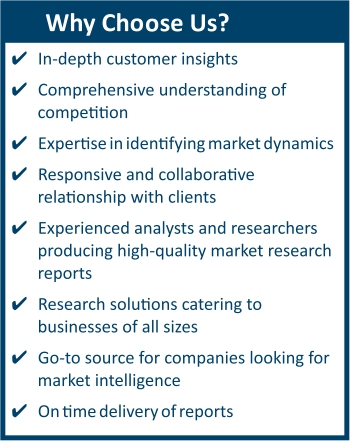 Frequently Asked Questions (FAQ) :
The market value of digital english language learning market in 2028 was USD 30.69 million.
The digital english language learning market is growing at a CAGR of 18% over the forecast period.
The application of the digital english language learning market Academic and Non-academic and other.
Asia Pacific dominated the market for digital english language learning market and accounted for the largest revenue share.
The top companies that hold the market share in digital english language learning market are Berlitz Languages, EF Education First, Sanako Corporation, Inlingua, Mifflin Harcourt, Pearson ELT Houghton & among others.
Companies seeking a single source provider for all e-learning scenarios are introducing cloud-based HR systems. Companies also are migrating rapidly to cloud language training to benefit from cloud technology, decrease training expenses, develop global projects and increase the productivity of their employees.
Leaders recognized possibilities for contract workers and consultants-such as offering English training and examinations for global corporations, governments or specialized sectors, creating and enhancing partnerships or connections with universities and schools abroad and locally.
However, in the context of the possible effects of external variables and activities on the English learning marketplace, any development projections or identification of possibilities need to be considered. These potential risks notwithstanding the future for international English Language education appears to be bright although likely to be characterized by a high level of competition for demand, which may mean further change in the future global English Language landscape.
Taking many elements into account, the absence of foreign language abilities is the reason why bad cross-border communication outcomes in the loss of productivity of the workers, pressure on HR and training organisations in big worldwide businesses and public administration also need worldwide metrics to evaluate quality and cost of training.
Application Segment
In terms of quantifying the demand for English due to population and age changes (and an increase in the amount of individuals who have studied English at college or dropouts), the total amount of prospective learners in seven European nations that shows an eventual decrease. The prediction indicates a tiny rise in the amount of elderly individuals who want to know or enhance their English – this is due to fewer skilled individuals in elderly communities (in many nations elderly adults have not been taught English at all or have not been taught especially well) and a cohort impact where elderly individuals have more time and willingness to learn English (e.g. travel, visiting relatively). In terms of figures, as a result of population shift, the percentage of young and adolescent students (main and secondary school age) will fall. It takes a long time to roll through initiatives to enhance norms in state education systems and has a beneficial effect on the adult population's level of skills. Demand from young learners will continue because, according to the employers and expert linguists interviewed, mainstream schools do not produce school leavers with the necessary linguistic skills or proficiency levels high enough for the workplace.
The global English language learning market is dominated by China, following by U.S. and Europe respectively. Other than this, the demand is, exceeding supply for various significant players in Asia, which is met either via Transnational Education (foreign qualifications delivered locally) and domestically through private providers which are either locally or foreign owned, thus potentially supporting the growth of private English Language organisations.
Innovative use of technology has further extended UK service providers ' range of possibilities. A fresh section of digital and online coaching is gaining ground and is quickly altering the learning dynamics from the traditional chalk and talk teaching technique. However, there are bottlenecks in the form of absence of seamless internet connectivity, particularly in larger cities, as well as absence of IT infrastructure to support the same.
A powerful trend has been to reduce the age at which kids in college begin to learn English. Governments in many nations (Greece, Poland, France, Italy, Spain and Romania) have reduced this to the first year of compulsory main schooling (generally five to six years of age) and English is progressively being taught in government pre-schools (three to five years of age) in Spain and France. National governments have also mandated kids to learn English for longer–many are now studying English.
Brexit is not seen as a major threat, although its complete effect is still unknown. The primary drivers of English demand are bigger than the UK. English is the language of the USA and the language that emerging large economies are using to engage with the world–this is far more important to the future demand for English in Europe than Brexit. The demand for English will stay high over the timeframe focused on in this study.
Within the English language learning space, increasingly, there is a need being felt for setting up common globally acceptable standards and assessment protocol for creating common set of competencies. The key driver for this is based on the proposition that, in order to become increasingly competitive globally, India will look to supply skilled manpower to the world and this will necessitate the creation of new training interventions for internationally acceptable certifications. English language learning space plays a very crucial role of an enabler in increasing the employability value of individuals and this will be the motivating factor for the Indian government to set up a regulatory framework for this segment.
China's response towards English is always positive, despite demographic changes in the U.S. between English and Spanish speakers, English remains the U.S. language and the global economy. While Spanish is widely spoken, there is presently no Spanish-speaking country with sufficient global economic weight. Despite the economic dominance of Germany, German is seen as sufficiently challenging and unused around the world.
Europe and North America hold the dominant position with more than 50% of the English language learning market. However, the main uncertainties are the worldwide economic scenario and the demand and supply gap is crucial during the coming years, and thus the global English language learning market is projected to show modest growth.
The major players of the global english language learning market are Babbel, Busuu Ltd, Cambridge University Press, Cengage Learning Holdings, Duolingo, Ef Education First, Elsa, Corp, Houghton Mifflin Harcourt, and McGraw-Hill Education, Inc., and more. The english language learning solution market is fragmented with the existence of well-known global and domestic players across the globe.