The global Engineered Stone market size is expected to reach close to USD 55.1 Billion by 2029 with an annualized growth rate of 5.29% through the projected period.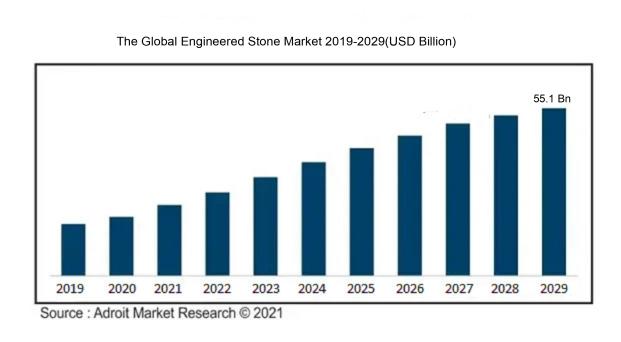 Covid-19 Impact & Market Status
The ongoing COVID-19 pandemic has disrupted global supply lines, forcing major economies to postpone construction projects around the world. As a result, both the residential and non-residential markets have seen a decline in demand for engineered stone goods. However, if pandemic limitations and international trade restrictions are relaxed in 2022, the situation is anticipated to improve, restarting the industry's development trajectory.
However, exorbitant costs and the deterioration of produced stone due by UV exposure may limit the market's expansion. Because of the production process's usage of polymeric resin, which is not UV stable and may result in the rock's discolouration, engineered stone costs more than natural stone, which restricts the market's ability to grow.
The construction segment is accounted for the highest market
The global engineered stone market is segmented into tiles, blocks, and slabs based on the product. The engineered stone market's tile sector is anticipated to have the greatest growth between 2022 and 2029. This rise could be attributed to their availability in a variety of colours, shapes, and sizes, as well as their flexibility to adapt to the needs of the application and the needs of the consumer. Because they are composed of 94 percent crushed leftover stone from quarries, they are also healthy for the environment. They are in great demand and driving segment expansion because of how simple they are to install and how long-lasting they are.
The global engineered stone market is segmented into countertops and flooring based on application. From 2022 to 2029, the engineered stone market's countertops category is predicted to grow at the fastest rate. The product's popularity stems from its stain-resistant properties, as well as the fact that it is less expensive than natural stone slabs and offers greater variation in terms of shape, design, colour, and texture. They're also non-porous and extremely safe, as well as robust, tough, stain/scratch proof, and heat resistant, ensuring that the surface stays spotless and propelling segment expansion.
North American region is accounted for the highest market share
From 2022 to 2029, North America (the United States, Canada, and Mexico) will dominate the global engineered stone market. Market expansion is fuelled by the country's expanding construction sector, rising demand for energy-efficient construction solutions, and the presence of important players in the region.
Additionally, it is anticipated that the Asia Pacific region (India, Malaysia, Singapore, China, Japan, and the Rest of Asia Pacific) would have the fastest growth in the global market for engineered stones between 2022 and 2029. This is due to an increase in maintenance and remodelling operations, as well as an increase in the number of materials used in the building and decorating of residential and non-residential interiors.
High-end engineered stones are employed more frequently in architectural applications including kitchen flooring, countertops, and façade tiles, among others. Between 70 and 95 percent of these compounds are distributed as granules over a cement, ceramic, and polymer resin substrate.
The engineered stone market is developing due to increased demand for eco-friendly products, rising desire for an aesthetically acceptable and durable substitute to natural stones, and rising demand for fancy countertops.
The market will be driven by the use of engineered stone for window frames, kitchen counters and ceramic tile applications during the forecast period, as well as a growing market for eco-friendly and sustainable construction products for a range of applications, including residential construction projects.
From the 1980s through the early 2000s, Italy held the top position in the manufacture of engineered stone goods, notably engineered marble. The expansion of the Chinese economy has significantly impacted the market, since China now has the most manufacturers and produces the most overall. There are reportedly more than 100 companies producing synthetic stone in China alone.
The non-porous nature of engineered stone, as opposed to the porous nature of natural stone, which allows germs to enter cracks and crevices, makes it easier to clean fast and easily, which is propelling market expansion. Furthermore, even after the sealer has worn off, the engineered stone's surface will be stain-resistant. This material can keep its attractive appearance for longer than granite, marble, or sandstone, resulting in increased market growth.
Engineered stone is an especially enticing investment because it is frequently less expensive than natural stone alternatives. Its maintenance-free characteristics, in contrast to other tabletop materials such as marble and granite, are propelling the market ahead. Engineered stone also comes in a variety of hues and patterns, giving it a natural appearance while maintaining the quality and stiffness of real stone. During the projected period, the ability of engineered stone to withstand shipping and configuration requirements will drive market expansion.
The top major firms in the engineered stone market were identified through secondary research, and their market shares were calculated by primary and secondary research. With a significant number of minor competitors operating globally, the global Engineered Stone Market is fragmented. Zhongxun, OVERLAND, UVIISTONE, Sinostone, Bitto(Dongguan), Polystone, Meyate, Gelandi, Qianyun, Blue Sea Quartz, Baoliya, and others are among the firms mentioned in the market research report.
Major Developments and Innovation in Engineered Stone Market: A Snapshot
Ibrido, the latest generation of engineered stone products from Smart Stone, aims to raise the bar for ethically made surfaces. The Ibrido Collection, the first low silica surface to hit the market, increases surface aesthetics and product integrity using Smart Stone's unique NexGen formulation in conjunction with cutting-edge hybrid print technology. Ibrido (pronounced rebirth) is a game-changer in the engineered surfaces sector, made up of only 28 percent silica and 56 percent recycled material.
Galaxy Granite and Marble, Inc., a stone manufacturer and installer, offers high-quality custom granite worktops for kitchens and bathrooms. To assure a level of precision in all of their natural and engineered stone countertops, an experienced team of specialists uses the newest in state-of-the-art gear. Galaxy Granite's thorough and methodical design and installation procedure, according to reps, enables them generate a distinct direction during each stage of manufacturing.
Engineered Stone Market Scope
| | |
| --- | --- |
| Metrics | Details |
| Base Year | 2022 |
| Historic Data | 2019-2020 |
| Forecast Period | 2022-2029 |
| Study Period | 2019-2029 |
| Forecast Unit | Value (USD) |
| Revenue forecast in 2029 | USD 55.1 Billion |
| Growth Rate | CAGR of 5.29 % during 2019-2029 |
| Segment Covered | Product Type, End User, Regions |
| Regions Covered | North America, Europe, Asia Pacific, South America, Middle East and South Africa |
| Key Players Profiled | fragmented. Zhongxun, OVERLAND, UVIISTONE, Sinostone, Bitto(Dongguan), Polystone, Meyate, Gelandi, Qianyun, Blue Sea Quartz, Baoliya, and others |
Key Segments of the Global Engineered Stone market
Product Type Overview (USD Billion)
Remodelling
New Construction
End User Overview (USD Billion)
Kitchen Countertops
Facades
Flooring
Others
Regional Overview (USD Billion)
North America
Europe

UK
Germany
France
Rest of Europe

MEA

Kingdom of Saudi Arabia (KSA)
South Africa
United Arab Emirates (UAE)
Rest of MEA

APAC

Australia and New Zealand (ANZ)
Japan
China
Rest of APAC

South America

Brazil
Mexico
Rest of South America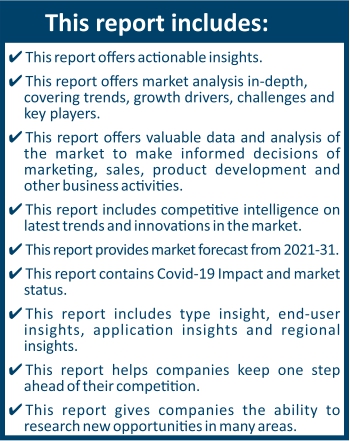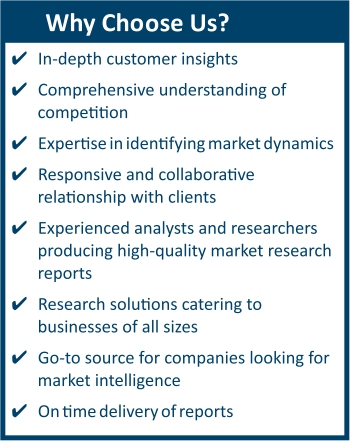 Frequently Asked Questions (FAQ) :
The market value of engineered stone market in 2029 was USD 56 billion.
The engineered stone market is growing at a CAGR of 11.3% over the forecast period.
North America dominated the market for engineered stone market and accounted for the largest revenue share.
The top companies that hold the market share in engineered stone market are Zhongxun, OVERLAND, UVIISTONE, Sinostone, Bitto(Dongguan), Polystone, Meyate, Gelandi, Qianyun, Blue Sea Quartz, Baoliya & among others.
To get latest version of engineered stone market report can be obtained on demand from the website.