The world of electron beam (EB) accelerators has seen a growth in the past few years, with different types of EB accelerators being used in various industries.
Drivers of the Electron Beam (EB) Accelerators Market
1. Growing demand for EB accelerators from the medical and research sectors: The use of electron beams in the medical industry has been increasing rapidly due to their ability to provide precise doses of radiation for cancer treatment. This is resulting in a surge in demand for electron beam accelerators from both the medical and research sectors.
2. Increasing applications in industries such as automotive and aerospace: Electron beam accelerators are used in a variety of industrial applications, including welding, surface treatment, coating, and dielectric testing. This is driving up the demand for these devices in the automotive and aerospace industries.
3. Technological advancements: The development of new technologies such as ultra-vacuum chambers, high-power electron sources, and digital data acquisition systems has made EB accelerators more efficient and reliable than ever before. This is creating more opportunities for growth in this sector.
4. Government support: Governments around the world are providing financial support for the development of EB accelerator technology, which is leading to more investment in this sector and increased demand for these products.
Advantages of the Electron Beam (EB) Accelerators Market
•The electron beam technology has been in use for a long time and is quite reliable, robust and cost-effective compared to other technologies.
•It provides high accuracy and repeatability in terms of producing high quality products.
•It can be used for a range of applications such as welding, hardening, annealing and coating.
•It offers higher precision and better control over the process parameters, thus providing more efficient product manufacturing processes.
Market Value and CAGR of the Electron Beam (EB) Accelerators Market (2021-2032)
The market Value and CAGR of the Electron Beam (EB) Accelerators Market is expected to reach US$ 4,777.8 Million by 2032, registering a CAGR of 7.2% during 2021-2032.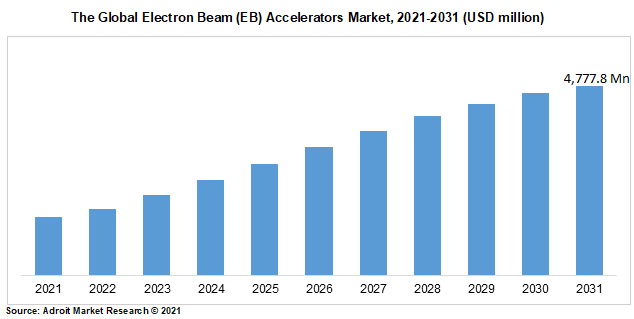 Moreover, government initiatives to encourage electron beam technologies such as developing infrastructure and research & development activities are expected to further fuel market growth over the forecast period.
Challenges of the Electron Beam (EB) Accelerators Market
1. High Capital Costs: EB accelerators are a relatively expensive technology, requiring large investments in terms of capital costs for installation and operation. This may limit the adoption of EB accelerators in some applications.
2. Limited Operational Reliability: EB accelerators are prone to failure due to their complex designs and components such as electron guns, vacuum systems and high-voltage supplies. This can lead to increased downtime and reduced operational reliability for users.
3. Complexity of Maintenance: The maintenance of EB accelerators is also quite complex and requires specialist expertise in order to ensure optimal performance. This complexity can increase the cost of ownership and limit the uptake of these devices in certain markets.
4. Limited Application Range: The current range of applications that can be served by EB accelerators is still quite limited. This lack of versatility has hindered the growth potential for this market, as many potential customers may not see an immediate return on investment for an EB accelerator purchase or installation.
Key Players of the Electron Beam (EB) Accelerators Market
Siemens Healthiness (Germany), Canon Medical Systems Corporation (Japan), Elekta AB (Sweden), General Electric Company (U.S.), IBA Group (Belgium), Prothom International Corporation (U.S.), Merion Medical Systems, Inc. (U.S.), and Nordson SI Co., Ltd. (Japan).
Segment Analysis
The most demanded product of the Electron Beam (EB) Accelerators Market is expected to be the linear accelerator, which is a type of EB accelerator. Linear accelerators are commonly used to treat cancer by propelling high-energy electrons into the tumour. These electrons eliminate the problematic cells while sparing nearby healthy tissue. This type of accelerator is also used in industrial applications such as creating medical isotopes and imaging devices, as well as non-destructive testing (NDT) for inspecting components and materials.
The Electron Beam (EB) Accelerators Market is driven by increasing demand for advanced medical treatments and technologies, rising demand for radiation therapy in cancer treatment, and growing research activities in the field of particle physics. The application of electron beam accelerators includes medical, industrial, research & development, and other applications such as material processing and surface modification.
The electron beam accelerators market is segmented based on end user into healthcare providers & institutes, pharmaceutical companies & laboratories, government organizations & research institutes, semiconductor manufacturers, others (including automotive industries). Healthcare providers & institutes are expected to lead the market in the end user segment
By Region, North America is expected to lead the global electron beam accelerators market due to increasing use of EB accelerators in medical treatments, rising investments in healthcare infrastructure, and technological advances. Asia Pacific is expected to witness significant growth rate over the next few years due to growing demand for EB accelerators in medical and other industrial applications.
Impact of Covid-19
The outbreak of COVID-19 has led to a decrease in demand for EB accelerators from the medical sector, as elective procedures have been postponed or cancelled. However, the food industry and industrial sectors have seen an increase in demand for EB accelerators, as EB sterilization is an effective method of preventing the spread of pathogens.
Key developments in the Electron Beam (EB) Accelerators Market
In January, 2020, the US Department of Energy awarded $7 million to develop a new electron beam accelerator technology that could revolutionize medical imaging. The goal is to create a low-cost, easy-to-use device that can be used in hospitals and clinics around the world.
In April 2020, researchers at the University of Tokyo demonstrated a new approach to accelerate electrons using laser light. This technique is expected to reduce costs and improve efficiency in particle accelerators used for medical imaging and other applications.

Electron Beam (EB) Accelerators Market Scope
| | |
| --- | --- |
| Metrics | Details |
| Base Year | 2021 |
| Historic Data | 2020-2021 |
| Forecast Period | 2022-2031 |
| Study Period | 2021-2031 |
| Forecast Unit | Value (USD) |
| Revenue forecast in 2031 | US$ 4,777.8 Million |
| Growth Rate | CAGR of 7.2 % during 2021-2031 |
| Segment Covered | By Type, By Application, End Users, Regions |
| Regions Covered | North America, Europe, Asia Pacific, Middle East and Africa, South America |
| Key Players Profiled | Siemens Healthiness (Germany), Canon Medical Systems Corporation (Japan), Elekta AB (Sweden), General Electric Company (U.S.), IBA Group (Belgium), Prothom International Corporation (U.S.), Merion Medical Systems, Inc. (U.S.), and Nordson SI Co., Ltd. (Japan). |
Key Electron Beam (EB) Accelerators Market
By Type Overview 2021-2031, (US$ Million)
• Low and Mid Energy EB Accelerator
• High-Energy EB Accelerators
By Application Overview 2021-2031, (US$ Million)
• Medical
• Food Industry
• Industrial
By End-User Overview 2021-2031, ($ Billion)
• Manufacturing companies
By Region Overview 2021-2031, ($ Billion)
North America
• USA
• Canada
Asia Pacific
• China
• India
• Japan
• Rest of Asia Pacific
South America
• Mexico
• Brazil
• Rest of North America
Europe
• Germany
• France
• UK
• Rest of Europe
Middle East and Afric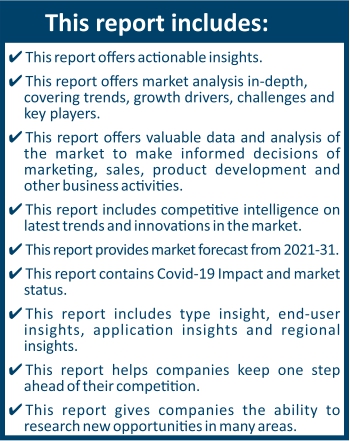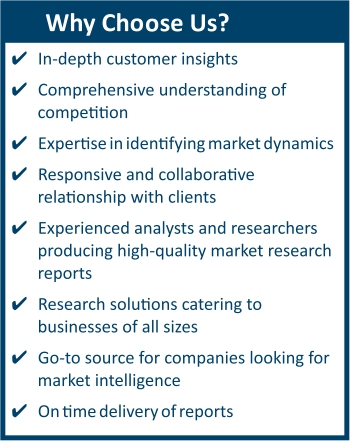 Frequently Asked Questions (FAQ) :
Electron Beam (EB) Accelerators Market is projected to reach reach US$ 4,777.8 Million by 2031, growing at a CAGR of 7.2%