The global electrical steel market revenue exceeded USD 21.0 billion 2019 and is expected to grow with a CAGR of 6.5% from 2019 to 2025. Increasing assets in infrastructure sector with rapid urbanization is helping the electrical steel market to significantly grow.
Electrical steels are the most commonly used soft magnetic material for power applications, see. Electrical steel consists of grain-oriented as well as non-oriented electrical steels. They are practical materials for the generation, transmission and delivery of electrical energy and electrical equipment.
Grain-oriented electrical steels (GOES) are the most important materials for transformation and energy delivery. GOES is based on FeSi alloys of 3.0 to 3.5 wt percent of Silicon. They are distinguished by excellent magnetization behavior and low values of significant magnetic losses in one direction. The thickness of grain-oriented electrical steels is usually between 0.23 mm and 0.35 mm. The key purpose of the research work in the field of grain-oriented material is to enhance the magnetization behavior and to reduce the importance of the different magnetic losses as well as to minimize the manufacturing effort. The processing steps and their parameters are modified in order to achieve at the end a Goss texture for excellent magnetization action and a large gain area with a reasonable amount of movable domain walls. Non-grain-oriented electrical steels are the most widely used material in all soft magnetic materials. Non-oriented electrical steels are practical materials for the production of electricity as well as for the application of electrical energy in electrical machinery and components. The range of FeSi steels for non-oriented electrical steels consists of FeSi steels with 0.3 to 3.2 wt percent of Si and other additions. The thickness of the fully formed material varies from 0.35 to 0.65 mm, lately just below 0.35 mm. There is no alternative source for FeSi-based non-oriented electrical steels except FeCo, which is too costly for power applications.
Electrical steel is used in electrical devices for active parts that shape magnetic circuits because of the material hax``s low iron loss and thus superior magnetizing properties. The standard electrical layer has a thickness of 0.5 mm and has a final form with a piercing operation. Piercing creates significant deformations and residual stress on the thin region of the cut sheet. Deformations and pressures disrupt the magnetic properties of the electrical layer and result in further losses as the iron loss decreases upon penetration.
Key Segments of the Global Electrical Steel Market
Product Overview, 2015-2025 (USD Million) (Kilo Tons)
Grain Oriented

Non Grain-Oriented
Application Overview, 2015-2025 (USD Million) (Kilo Tons)
Transformers

Motors

Inductors
End-Use Overview, 2015-2025 (USD Million) (Kilo Tons)
Energy

Automotive

Manufacturing

Household Appliances
Regional Overview, 2015-2025 (USD Million) (Kilo Tons)
North America
Europe

Germany
Spain
United Kingdom
France
Rest of Europe

Asia Pacific

China
Japan
India
Rest of Asia Pacific

Latin America

Brazil
Mexico
Rest of Latin America

Middle East & Africa
Reasons for the study
Key factors affecting market dynamics
Increasing urban population proliferate the demand for electrical steel
High consumption rate of electrical steel in transformers and motors
What does the report include?
The study on the global electrical steel market includes qualitative insights such as drivers, restraints, challenges and opportunities
Additionally, the market has been evaluated using the Porter's Five Forces analysis
The study covers qualitative and quantitative analysis of the market segmented on the basis of application, end-use industry, and product type. Moreover, the study on electrical steel market provides similar information for the key geographies.
Actual market sizes and forecasts have been provided for all the above-mentioned segments
The study includes the profiles of key players operating in the market with a significant global and/or regional presence
Who should buy this report?
The report on the global electrical steel market is suitable for all the players across the value chain including raw material suppliers, distributors, suppliers and end-use industries
Venture capitalists and investors looking for more information on the future outlook of the global electrical steel market
Consultants, analysts, researchers, and academicians looking for insights shaping the global electrical steel market
Rising investment in infrastructure construction and growing urbanization is expected to fuel business growth in electrical steel. These materials are used in transformers, electricity, and high-speed cars due to their ability to minimize energy consumption, increased performance, reduced carbon dioxide emissions, and lack of hysteresis in high-speed electric motors. Growing urbanization and technical developments, along with rising customer disposable income, would further drive business development in the energy sector.
The increase in demand for services has resulted in rising energy use per capita, thus promoting an improvement in consumer demand. In several nations, regulatory regulations aim to reduce carbon dioxide emissions and have implemented transformer laws that have strengthened the product with improved manufacturing core properties. If used in electronic equipment the gradual loss of electrical energy due to hysteresis is economic and can impact the workability of steel. Thanks to their unique properties including high permeability, effective magnetic forces, high power density, and longevity, these materials reduce energy loss.
However, it is unable to satisfy the dynamic specifications of precision and performance. During cutting, bending and punching operations, a large amount of mechanical stress is produced which reduces magnetism and reduces the original magnetic effect. Such goods do face a number of technical and safety restrictions that can impede market development.
The global electrical steel market has been segmented based on application, end-use industry, type and region. Based on type, the global electrical steel market is categorized into grain oriented and non-grain oriented. Grain-oriented electrical steel demand is likely to register significant gains over 6.2% CAGR by 2025. It increases the performance of the transformers by increasing output and raising the weight of the machinery. These products produce huge grain sizes that help minimize hysteresis degradation, are energy sensitive steel and are commonly used in transformers and generators. Rising global demand for energy and fast growth in the power sector will further boost demand for fuel products.
Grain-oriented electrical steel market growth from large power transformers would see gains of approximately 6.5 percent in the projected timespan for their high power output and long-distance electricity delivery with low energy losses. Growing electricity market and rising global programs for the use of green energy sources are expected to fuel business growth.
Non-grain-oriented electrical steel industry demand from power generators reached over 2.5 billion in 2019, due to the growing demand for electricity, insufficient delivery of gas, and a shortage of proper grid infrastructure. Such goods are used as back-ups for power generation for residential, commercial, and industrial use. Increasing demand for high-quality electricity, growth in the telecommunications, oil & gas, and retail industries are expected to increase commodity production.
The global electrical steel market is expected to grow with the highest share in the region of North America However, the other regions are also anticipated to grow over the forecasted period namely the Europe, Asia Pacific, Latin America and Middle East & Africa.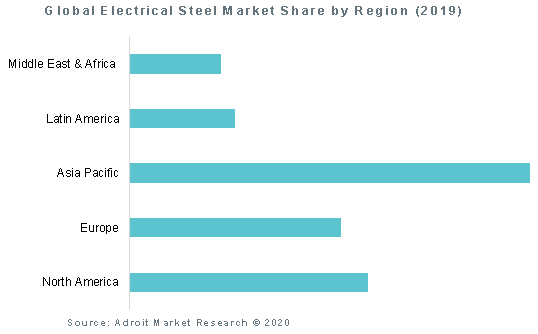 In the region of North America, especially in Canada, Mexico electrical steel market size is poised to exceed USD 8.2 billion by 2025 owing to the growing demand for automotive and electric vehicles in the region. Such goods ensure zero energy consumption, improve system performance, and boost the fuel economy of the automotive industry. Rising urban growth, increased electric car sales and the desire of increasing manufacturer for steel components would help to fuel regional demand.
Europe led by Germany, the United Kingdom, France, Italy, and Spain can expect gains of close to 6.6% over the projected timeframe Cross country usage will be powered by increased energy use, restoration and improvement of the grid network, as well as by growing demand for electronics. The use of steel in the manufacture of motors, power generators and many other transformers would enhance market growth in the area.