The global Electric Hoist market is anticipated to increase at a 5.3% CAGR to reach value US$ 4,283.2 Mn in 2031
The electric hoist market is likely to be worth more than USD 5.7 billion, as the market continues to expand at a CAGR of 7.3% over the projected period 2021-2028. Because of the constantly growing applications in the automotive and transportation industries, the worldwide electric hoist market is expected to develop. Several manufacturers are looking for technologically tailored solutions to satisfy a wide range of material handling needs in end-use sectors.
Rapid developments in the construction industry as a result of new and retrofit building activities in various growing countries are a major factor driving the growth of the electric hoist market. Companies are introducing new features such as the S-series and M-series electric hoist variants, which are new opportunities to assist expansion in the electric hoist industry.
The S-series, which was recently introduced, employs a synthetic rope, and provides higher lifting performance as well as longer service life. Through a customer portal, M-series cranes give real-time data and information, enhancing utilization visibility and maintenance needs thus bolstering growth probabilities in electric hoist market. On the contrary however, the lack of professional technicians to operate hoists and overhead cranes has become a key problem that will limit the worldwide electric hoist market's growth in the future years.
An electric hoist is an appliance which is powered through electricity to simplify tedious jobs such as lifting heavy objects, changing positions of bulky objects to avert any accidents of the workforce within an industrial set-up. Electric chain hoist and electric wire hoists are widely utilized in industries such as manufacturing, construction, maritime, logistics, and others. Electric hoists with improved automation and powering options are also being introduced by some market participants. They have simplified the difficult process of carrying large items and equipment. These hoists are available in a broad variety of sizes, making them even more flexible. Hoists are highly suggested for lifting applications since they are simple to operate and manage, with zero compromise in work output. Electric hoists can easily lift weights up to 15 feet in the air.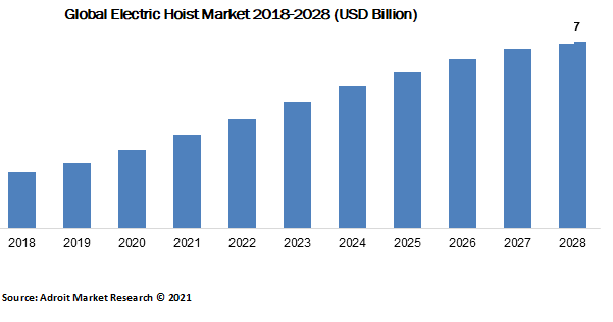 Electric Hoist Market Scope
| | |
| --- | --- |
| Metrics | Details |
| Base Year | 2020 |
| Historic Data | 2018-2019 |
| Forecast Period | 2021-2028 |
| Study Period | 2018-2028 |
| Forecast Unit | Value (USD) |
| Revenue forecast in 2028 | USD 5.7 billion |
| Growth Rate | CAGR of 7.3% during 2021-2028 |
| Segment Covered | Type, Application, Regions |
| Regions Covered | North America, Europe, Asia Pacific, Middle East and Africa, South America |
| Key Players Profiled | Ingersoll-Rand plc, Hitachi Industrial Equipment Systems Co. Ltd., SIGMA Hoist Company Pvt Ltd, Konecranes Oyj, and Columbus McKinnon, KITO Group; Reva Limited, Komatsu Limited, ABUS Kransysteme GmbH; Terex Corporation, Liftking, and SWF Krantechnik GmbH, and other smaller ones |
Key Segments of the Global Electric Hoist Market
Type Overview, 2018-2028 (USD Billion)
Electric Wire Hoist
Electric Chain Hoist
Others
Application Overview, 2018-2028 (USD Billion)
Construction
Automotive
Energy
Aerospace
Transportation
Others
Regional Overview, 2018-2028 (USD Billion)
North America
Europe
France
UK
Germany
Rest of Europe
Asia Pacific
China
Japan
India
Rest of Asia Pacific
South America
Brazil
Mexico
Rest of South America
Middle East and Africa
Reasons for the study
To get an understanding of the current and future conditions of the electric hoist market in both established and emerging regions.
To highlight the top electric hoist market, including their company biographies, product portfolios, market share, and revenue analyses.
The research assists in realigning business strategy by highlighting electric hoist market goals.
What does the report include?
• The top regions of the market, SWOT analysis, opportunities, and dangers to the market development are all covered.
• To research the market value, different applications, product types, and production capacity.
• Emphasize the potential of the firm, its import-export status, production, and cost analysis.
Who should buy this report?
• This report will help every stakeholder in the electric hoist industry.
• Government agencies, regulatory bodies, policymakers, and enterprises interested in investing in electric hoist market trends
• Managers in the electric hoist industry who want to share current and anticipated global market data.
• Researchers, strategy managers, and government organizations seeking market data to direct future activities.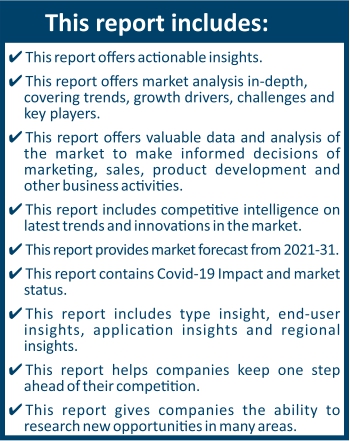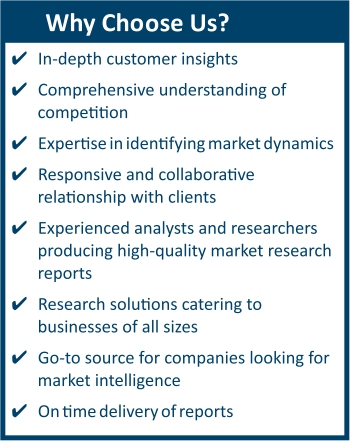 Frequently Asked Questions (FAQ) :
The electric hoist market is growing at a CAGR of 7.3% over the forecast period.
The Global electric hoist market is Segmented on the Type, Application, Regions
The application of the electric hoist market Aerospace, Transportation, Automotive, Energy, Construction, and Others
Robust growth indications in end-user sectors such as construction, automotive, and others have had a favorable influence on electric hoist industry size in recent years. For instance, major residential building projects in Asia Pacific nations like India, as well as government attempts to improve public infrastructure, would drive product demand for simple and quick material handling applications.
To work, hoists require specialized gears. Electric hoist producers have a challenge since they may not have the capacity to build their own gearboxes and must rely on third-party suppliers. When a gearbox fails to work properly, it can cause catastrophic harm. For instance, imagine an electric host pulling a 3-ton object and the gear breaking. Furthermore, if the wire rope is not constructed of robust material, too much weight may cause the wire rope to snap and create accidents. Such issues might stifle the expansion of the electric hoist industry.
High dependability, efficient performance, and extremely low failure rates are expected to drive the growth of the electric chain hoist and electric wire hoist market in the coming years. The fast expansion of new and retrofit building activity in the BRIC countries has propelled the construction sector forward. Construction equipment use is expected to rise in tandem with new projects and development plans. Because of their performance, dependability, and strength, overhead cranes are widely employed in construction operations, thus proving beneficial for the growth of electric hoist market.
Type Segment
In the earlier years, the electric wire hoists market accounted for more than 80% of total revenue. Wire hoists are electrically operated and may be adjusted based on weight capacity. To place the objects over the bridge beam of suspended cranes, a trolley is most commonly used. Wire hoists are commonly employed in the manufacturing industry because they have a high lifting capacity and a short lifting time.
Application segment
The automotive and transportation category had a substantial market share of more than 20% in the previous years and will continue to expand considerably till the conclusion of the projection period. Increased automobile manufacturing in both established and emerging nations will drive the worldwide electric hoist market over the forecast period.
The Asia Pacific electric hoist market accounted for a sizable proportion earlier and is expected to dominate the worldwide market throughout the projected period as well. The Asia Pacific regional market growth is largely driven by increased investment for infrastructure building operations, particularly in rapidly expanding countries such as India and China. Additionally, growing urbanization activities are anticipated to be significant drivers boosting the need for electric hoists in the foreseeable years. The North American electric hoist market had the second biggest share, and it is expected to expand at a healthy pace during the whole forecast period, owing to increased industrialization.
Harrington Hoists, KITO CORPORATION, SWF Krantechnik, Columbus McKinnon Corporation, Reva Industries Ltd., and Hitachi Industrial Equipment Systems Co. are some of the main companies covered in the electric hoist industry. Businesses are focusing on product innovation and development to grow their consumer base. Furthermore, major corporations are adopting a merger and acquisition strategy in order to expand their global market sales.