With the economy improving, manufacturing activity expanding, and a hopeful government strategy, demand for energy is increasing steadily. Governments all across the world are implementing a number of innovative policies, including improving the present distribution system and providing power 24 hours a day, seven days a week. The production, distribution, use, and exchange of energy are also projected to change quickly given the continued improvement of technology and the associated spending in the power producing industry.
Covid-19 Impact & Market Status
The market for electric fuses has grown less rapidly since the COVID-19 pandemic's start. This slowdown is mostly the outcome of economic contractions caused by a stop in investments from a variety of end-use sectors. For instance, the continued effects of the COVID-19 epidemic are still unknown in the mining sector; nonetheless, the problem is negatively affecting supply chains and commodity demand every day. Significant price decreases have been witnessed across important commodities, although prices in certain cases stay passive. For instance, although demand for iron ore and gold has climbed, demand for thermal and metallurgical coal has fallen.
With the increasing COVID-19 cases throughout the world, mining market growth has been limited since mining businesses do not have authority to run their mines at full worker strength. According to current market projections, the mining industry will take around 2-3 years to recover. With global mining activity declining, so has the demand for electric fuses.
Due to the global closure and supply chain delays, the spread of COVID-19 is expected to harm the profitability of firms that manufacture electric fuses. Furthermore, due to a lack of supply, the cost of sourcing raw materials is projected to rise, causing order closures to be delayed.
Power Fuses and Fuse Links Segment to be the Largest contributor in the Electric Fuse Market
Transmission and distribution networks, transformer, circuit, and motor protection, as well as commercial and industrial uses, are the sources of the power fuse and fuse link's applications. These electric fuses are composed of a silver, copper, or tin alloy, and the chamber of the fuse links is often filled with boric acid since it has a cheap refill cost and works well with transformers and distribution systems. The fuse linkages are built with a high rupturing capacity to ensure that electricity flows according to certain specifications.
Asia Pacific expected to hold the Largest Market size during the forecast period
Consumption of electrical devices and circuit protection equipment is anticipated to increase in the area in 2019 as a result of increased grid investments, particularly in developing nations like China and India. The International Energy Agency estimates that from 2000 to 2019, coal-based power output increased by an average of 9.8% a year in Southeast Asia, making up nearly one-third of the region's total energy mix.
This area consumes the most solar energy, and nations like India and China are pushing the renewable energy sector. These elements are projected to propel the electric fuse market in the Asia Pacific region.
The transformation in human existence is heavily attributed to electricity. It is crucial to contemporary human existence, and it is impossible to fathom life without it. Electricity is utilised in many facets of our daily life, such as lighting rooms, running fans, and home appliances such as refrigerators, AC's, and washing machines. However, the safety and dependability of electronic devices are crucial.
Electricity is often credited for transforming human existence. Electricity is utilised in many facets of our daily life, such as lighting rooms, operating fans, and domestic appliances like refrigerators, air conditioners, and washing machines. Meanwhile, the safety and dependability of electronic devices are crucial. An electric fuse is required for safe operation as well as to avert any fire hazards caused by a short circuit.
Non-electric energy sources were previously employed by IC engines, fossil fuel-based boilers, and furnaces, among other things. Industries are electrifying at a rapid pace in order to transition to a low-carbon future and ensure reliable operations. This trend is especially visible in developed regions such as Europe and North America. Even in other regions, businesses have started electrifying in an effort to cut costs, leading to bigger expenditures overall. By electrifying, businesses may save energy and administrative costs while meeting sustainability goals.
With the economy improving, industry activity expanding, and optimistic government policies, electricity consumption is increasing steadily. Governments throughout the world are putting in place many cutting-edge measures, such as 24x7 power with maximum power producing capacity and upgrading current distribution infrastructures. Furthermore, with further technological improvement and investment in the power generating industry, power production, transmission, distribution, and trade are projected to evolve quickly. From an anticipated USD 3.5 billion in 2021, the worldwide electric fuse market is expected to grow to USD 5.6 billion by 2029, at a CAGR of 5.8%. The primary reasons for the expansion of the electric fuse market are increased investments in the building industry due to increasing urbanisation and growing preference for electric fuses within construction projects.
A fuse is an electrical device that protects electrical components from excessive current. If the current flow is suddenly increased, the fuse melts then separates. It is utilised in both low and high voltage installations for overloading and short circuit protection. Some of the benefits of having an electrical fuse include no maintenance, a shorter working period than a circuit breaker, and the ability to terminate short circuit current without creating noise or smoke. Electric fuses are a critical component of the electrical infrastructure system. Increased power consumption, particularly in distribution and transmission networks, drives up demand for electric fuses throughout the anticipated period.
Because MCBs and MCCBs are more trustworthy, reusable, sellable, responsive, and have a superior interface, residential and commercial end users have considerably moved from utilising electric fuses to these circuit protection devices in the low voltage sector. Because most businesses throughout the region are going toward automation, there is a high need for smart technologies including MCBs and MCCBs, as well as relays.
A vast quantity of data is required to plan and construct technology for a power supply network. Government interference, environmental clearances, and long government approval procedures all contribute to grid expansion project delays. Numerous distribution and transmission projects in Europe have been examined for historical patterns on 5- and 10-year network development projects. These delays lengthen the time required to complete network expansion plans and reduce demand for electrical fuses. Disruptions in grid expansion projects make electric fuses manufacturers' production planning extremely difficult. Electric fuses are not reusable and need to be changed when the filament melts due to overheating. The widespread deployment of sophisticated technologies like circuit breakers and vacuum interrupters, which provide greater safety and dependability, is projected to hamper the expansion of the electric fuse industry.
If the current power system isn't enlarged and updated, planned power generating capacity will probably strain it. In order to safeguard feeder and distribution lines against transient short circuits that might result in protracted power outages and guarantee customers' dependable supply continuity, electric fuses are primarily installed in medium-voltage substations. In the near future, it's expected that the market for electric fuses will grow as a result of ongoing upgrades to the protection of feeder lines and existing substations.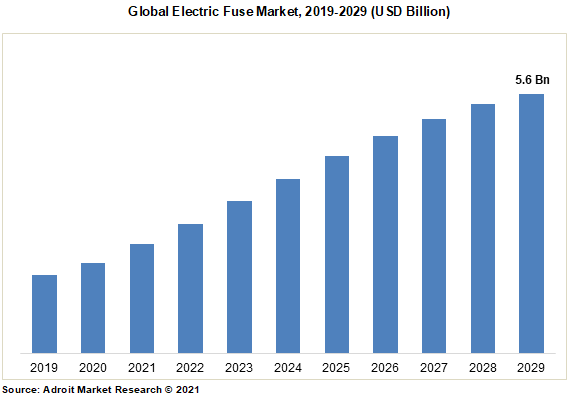 Siemens, ABB, Eaton, Emerson, Legrand, General Electric, Schneider Electric, Littelfuse, Inc., Mersen, Bel Fuse Inc., Hubbell Incorporated, and Schurter are among the most important enterprises involved in the production of electric fuses. To maintain market expansion, these players are putting effort into creating strategies including product development, mergers and acquisitions, partnerships, and collaborations.
Latest Innovations in the Global Electric Fuse Market: a Snapshot
In January 2019, Mersen announced the launch of the Class RK1 Reducer Fuses product line. The newly constructed device is suitable for industrial facilities and differs from ordinary fuses in terms of efficiency, sturdiness, and arc flash reduction characteristics.
Mersen bought FTCap, a capacitor development and manufacturing company, in May 2018. The firm seeks to expand its electrical system product offering. With this purchase, Mersen hopes to better serve the needs of high-performance electrical systems by expanding its selection of laminated busbars, cooling devices, and high current fuses.
Electric Fuse Market Scope
| | |
| --- | --- |
| Metrics | Details |
| Base Year | 2021 |
| Historic Data | 2019-2020 |
| Forecast Period | 2022-2029 |
| Study Period | 2019-2029 |
| Forecast Unit | Value (USD) |
| Revenue forecast in 2029 | USD 5.6 billion. |
| Growth Rate | CAGR of 5.8 % during 2021-2029 |
| Segment Covered | Type, Voltage, End Use, Regions |
| Regions Covered | North America, Europe, Asia Pacific, South America, Middle East and Africa |
| Key Players Profiled | ABB, Eaton, Emerson, Legrand, General Electric, Schneider Electric, Littelfuse, Inc., Mersen, Bel Fuse Inc., Hubbell Incorporated, and Schurter |
Key Segments of the Global Electric Fuse Market
Type Overview, 2019-2029 (USD Billion)
Power Fuse and Fuse Links
Distribution Cutouts
Cartridge and Plugs Fuse
Others (Capacitor fuses, dropout fuses, battery fuses and fuse pullers)
Voltage Overview, 2019-2029 (USD Billion)
Low Voltage
Medium Voltage
End Use Overview, 2019-2029 (USD Billion)
Residential
Commercial
Industrial
Utilities
Transportation
Regional Overview, 2019-2029 (USD Billion)
North America
Europe
Germany
France
UK
Rest of Europe
Asia Pacific
China
India
Japan
Rest of Asia Pacific
South America
Mexico
Brazil
Rest of South America
Middle East and South Africa
Frequently Asked Questions (FAQ) :
The market value of electric fuse market in 2029 was USD 5.6 billion.
The electric fuse market is growing at a CAGR of 5.8% over the forecast period.
The top companies that hold the market share in electric fuse market are Siemens, ABB, Eaton, Emerson, Legrand, General Electric, Schneider Electric, Littelfuse, Inc., Mersen, Bel Fuse Inc., Hubbell Incorporated, and Schurter & among others.