The process of creating and delivering content to students can be totally revolutionized by using software designed specifically for use in educational settings. This "smart" content is very easy to modify, publish, and reuse for students of all different ages and generations. Digital content typically includes built-in tests that teachers are able to use to test and track the progress of their students. This added benefit of teacher oversight is one of the many advantages of using digital content. The expansion of the education software industry is anticipated to be driven by the numerous benefits supplied by various educational software.
Covid-19 Impact
Because of the COVID-19 problem, the way of learning saw a new turn. One of the significant shifts that have occurred in the EdTech and innovative classroom industries is the rise of distance learning. The operations of several industries are transitioning away from face-to-face interactions and toward digital platforms. Students are increasingly gravitating toward digital learning ideas delivered via digital platforms as a response to social distance conventions. As a result of the fact that everyone has come to terms with the new standard and that digitization is reaching its pinnacle, it is anticipated that the need for education technology and solutions will increase over the next few years.
Asia Pacific will dominate the Global Education Software Market
It is anticipated that the market of education software in Asia Pacific would experience rapid expansion in the years to come. Because of the increasing number of people who have access to the internet, online learning and remote education are gaining ground in the education industry across the Asia Pacific region. The area has the biggest student population, which, combined with the rapid development of technology, has led to an increase in the demand for eLearning and other forms of remote education.
The School Segment will see a stable growth in the period of interest
Recent advances in computer technology have made it possible for virtually all academic tasks to be carried out in an automated fashion. Because of this, a notion that appeared to have merit at the time has evolved into a circumstance in which it is highly doubtful that future generations would be able to carry out even the most fundamental cognitive processes without the assistance of technology.
The Game Based Segment will dominate the Global Education Software Market
According to the findings of the study, gaming helps trigger the production of feel-good hormones like dopamine and serotonin. As a result, game-based learning is anticipated to give higher rates of retention for online education providers. Because we live in an information age, there is a wealth of knowledge to be found on the vast majority of topics from which students can choose to concentrate their studies. Students spend years studying the same or very similar topics, which might become tedious after a while. Gamification and game-based learning both make the learning process more enjoyable for students and make it easier for teachers to keep their attention. The game-based learning system gives points, badges, or both to some of the student's more minor achievements. This not only encourages the student to put more effort into their studies, but it also enables the student to track their progress and compare their scores with those of their peers.
It is anticipated that the size of the global Education Software market will reach 9212.22 Million US Dollars by 2029, up from 4437.19 Million US Dollars in 2022, at a CAGR of 11.0% over the period 2022-2029.
Education software and applications are tools that have been developed specifically for the goal of teaching and education, and these technologies can be used in traditional classroom settings as well as by individual consumers. This industry includes everything from programs for language learning, such as Duolingo, to software for managing classrooms, such as Blackboard and Moodle. In addition to these businesses that are focused on education, many of the top technology corporations in the world have entered the market.
Oracle, Microsoft, and SAP all hold major market shares within the industry. Paper-based assignments and submissions are becoming increasingly obsolete as a result of the increasing prevalence of technology in global business and research. In response to this trend, universities around the world have begun to adopt increasingly technology-focused learning techniques in order to prepare students for professional life better. The potential user base for educational software platforms is continually expanding as a result of the growing number of students who successfully complete their degrees each year.
The communication between all parties is facilitated by instructional software in the form of discussion boards, portals, and other types of interactive components. The children and their parents have access to a variety of resources that facilitate easy communication with the many authorities and educators. It is anticipated that the education software market will be driven by this component of education software.
A wide variety of instructional software was developed with the intention of accumulating all of the relevant information in one spot. A better level of control and more accurate data extraction can be achieved by combining all of the connected data into a single piece of software.
These insights can be used by administrators and educators to inform instructional strategies and administrative policies at lower and higher levels. This, in turn, is anticipated to lead to a rise in the use of software, which will, as a result, lead to an increase in the growth of the education software industry.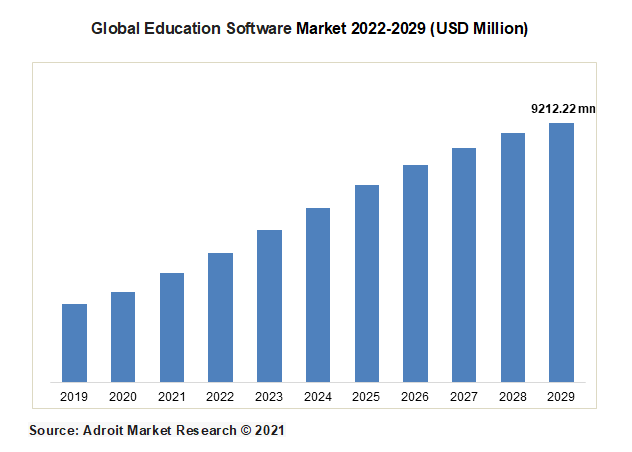 A number of the most important companies in the world's education software market are SAP, Microsoft, SEAS, Neusoft, Brainchild, Oracle, Wisedu, MediaNet Solutions, Kingsoft, Edupoint, ZFSoft, and Merit Software.
Recent Development
A primary contributor to the expansion of the industry is the rising popularity of digital classrooms in tandem with increased knowledge of their benefits.
The increasing prevalence of internet-enabled gadgets in the educational sector. Adoption of eLearning solutions, as well as expanding use of artificial intelligence (AI) and machine learning (ML) that can adapt to the students' varying levels of competence.
The potential customer base for educational software is expanding as a result of the increased number of students who successfully complete their degrees each year.
Education Software Market Scope
| | |
| --- | --- |
| Metrics | Details |
| Base Year | 2021 |
| Historic Data | 2019-2020 |
| Forecast Period | 2022-2029 |
| Study Period | 2019-2029 |
| Forecast Unit | Value (USD) |
| Revenue forecast in 2028 | USD 9212.22 Million |
| Growth Rate | CAGR of 11.0 % during 2021-2028 |
| Segment Covered | Type, Application, End User, Regions |
| Regions Covered | North America, Europe, Asia Pacific, Middle East and Africa, South America |
| Key Players Profiled | SAP, Microsoft, SEAS, Neusoft, Brainchild, Oracle, Wisedu, MediaNet Solutions, Kingsoft, Edupoint, ZFSoft, and Merit Software |
Key segments in 'Global Education Software Market'
By Type, 2019-2029 (USD Million)
By End-User, 2019-2029 (USD Million)
Educational Institutions
Coaching Institutes
Others
By Application, 2019-2029 (USD Million)
Distance Education
Household Education
School Application
Game Based
Others
By region, 2019-2029 (USD Million)
North America
Europe

France
Spain
Italy
Germany
Greece
Holland
Poland
The UK
The UK
Switzerland

Asia-Pacific

Japan
Malaysia
China
India
Thailand
Indonesia
South Korea
Singapore

South America

Argentina
Portugal
Venezuela
Paraguay
Colombia
Brazil
Peru
Uruguay
Frequently Asked Questions (FAQ) :
The market value of education software market in 2029 was USD 9212.22 Million.
The education software market is growing at a CAGR of 11.0% over the forecast period.
The application of the education software market Distance Education, Household Education, School Application, Game Based and other.