The growing incidence rate of cardiac disorders demanding the need for constant monitoring, financing to hospitals to better patient care, and industry players' focus on creating error free and improved workflow capacity devices are driving the global ECG (electrocardiogram) monitoring equipment market.
It's being expected that by 2029, the ECG (Electrocardiogram) Monitoring Equipment market cap will hit USD 11.83 billion at a CAGR growth of about 23.9%.
Impact of Covid-19 on the Market
As the COVID-19 virus grows, regulatory agencies throughout the globe are being required to undertake strict shut downs and travel restrictions. Moreover, this has had a huge influence on the ECG (Electrocardiogram) Monitoring Equipment industry's growth.
The COVID-19 pandemic disrupted supply chain systems, since a number of fundamental equipment and consumables are significantly reliant on foreign imports. Moreover, the strict demand of governmental bodies to adhere to social distance requirements pushed businesses to function with a basic minimum of workers, resulting in a decline in the efficiency rate of the sectors. As a result, all of these problems harmed the ECG (Electrocardiogram) Monitoring Equipment business.
Monitoring Equipment Will Propel The Global ECG (Electrocardiogram) Monitoring Equipment Market Growth
Monitoring equipment led the ECG equipment market in terms of revenue in 2014, with over USD 2,400 million in revenue. Low-power circuit advances allowed for the creation of better, more accurate, more portable gadgets. The demand for this category has grown due to technological developments in monitoring devices including wireless systems, algorithms, and greater communication capabilities.
The monitoring devices enable hospital information systems to be networked across several sites for real time patient data and rapid diagnosis. AliveCor gained FDA approval for over-the-counter usage in April 2014. At a cost of less than USD 12.0, this personalised ECG provides monitoring, data collecting, including transmit the information to a family doctor or purchasing a consultation.
Researchers at Scripps Translational Science Institute (STSI) decided in January 2014 that ZIO Patch was the next level of cardiac rhythm monitoring. Because two weeks' worth of data was collected and evaluated, the new iRhythm technique outperformed cumbersome holter monitoring.
The Hospitals and Clinics Segment Will Be The Leading Segment In The Global ECG (Electrocardiogram) Monitoring Equipment Market Growth
In 2019, the hospitals and clinics sector led the market for ECG equipment , accounting for more than 43.0% of total revenue. The increased occurrence of cardiac arrhythmias as well as the growing use of Holter monitoring systems in hospitals are driving this growth.
During the projection period, the outpatient facilities segment is predicted to grow at a CAGR of 6.2 percent. The market is growing due to technological improvements, a change in focus toward ambulatory centres for treatment, and the availability of improved portable technologies such as ECG equipment for outpatient ECG monitoring. Demand for these devices is rising in ambulatory centres for reliable assessment of cardiac arrhythmias, since they allow for quick transfer of data relevant to outpatient operations.
North America Followed By APAC Region Are Dominating The ECG (Electrocardiogram) Monitoring Equipment Market Growth
In 2014, the ECG device market in North America accounted for around 42% of total sales. This is due to technical advancements and increasing research funding. InfoBionic, a US-based startup, and Safeguard Scientists raised USD 8 million in August 2015 to commercialise Mome Kardia. Mome Kardia is a cloud-based remote health monitoring system which may be donned around the neck.
Furthermore, North American industry companies are increasing its footprint in other emerging countries in order to gain significant market share. For example, iNeedMD Holdings, Inc. entered a distribution arrangement with Clifton Africa Ltd. in October 2015. The USD 1.5 million distribution arrangement is for a year. Because of technical breakthroughs such as implantable heart monitors, Europe is catching up to North America. Medtronic debuted the FDA-approved Reveal LINQ in February 2014. Reveal XT has been enhanced to provide three years of patient cardiac monitoring having 20% more data capacity than the prior version.
The burgeoning sector is mostly due to Asia's ageing population and rising prevalence of cardiovascular ailments. Miracor Medical released the PiCSO Impulse System in Asia in September 2015, with Medical Technology Est. as a distributor.
The growing elderly population is also predicted to help the global ECG (electrocardiogram) monitoring equipment market develop.
Electrocardiogram (ECG) measures the electrical signals from the heart. This is the most significant test for cardiac rhythm interpretations, myocardial ischemia and infarct identification, long QT syndromes, preexcitation, atrial anomalies, pericarditis, ventricular hypertrophy and other disorders. The ECG testing is a painless and noninvasive process that reveals abnormal cardiac rhythms. There are four distinct types of ECG devices that may be used to assess how the heart works in the body when it is subjected to particular conditions or activities.
The shift in medical practise from acute intervention to preventative care has aided the market for ECG diagnostic care tremendously. As a result, early identification for tailored therapy is critical, which the ECG gadget may assist with. Doctors and paramedics in Roseville implemented a cutting-edge 12-lead ECG in February 2015, and the equipment is expected to save patients time in obtaining care from the moment they are admitted. Aside from either the shift in trend toward preventative treatment and technological innovation, several industry companies and organisations are investing in speedier diagnosis to improve patient care.
Chronic illnesses have become a major source of sickness throughout the world, putting a great deal of pressure on the healthcare sector to embrace new medical care paradigms and improved healthcare facilities, which is driving up demand for new technology furthering the development of global ECG monitoring equipment market.
Cardiovascular disease is among the most frequent health conditions worldwide, and it is the primary cause of mortality. ECG examinations are performed on those who are susceptible to the variables that cause heart disease in order to prevent the problem of heart disease. Patient monitoring devices have grown in popularity in recent years as a result of greater awareness of CVD and their ease of use and prompt findings.
The global ECG monitoring equipment market growth is projected to be hampered by the inadequacy of wearable ECG devices. According to a study introduced in April 2019 from Harvard Medical School, 30 percent of wearable gadgets produce incorrect data. Furthermore, as compared to traditional lead ECGs, portable ECG devices provide limited information, which is projected to impede market development.
Furthermore, increased investment in the development of new technologies is projected to help the global ECG monitoring equipment market expand. For example, Biotricity Inc., a diagnostic medical and consumer health technology business, received $6 million in December 2019 for FDA submission for its patch solution, which will be a technological breakthrough with in the field of Holter monitoring, during the first six months of 2020.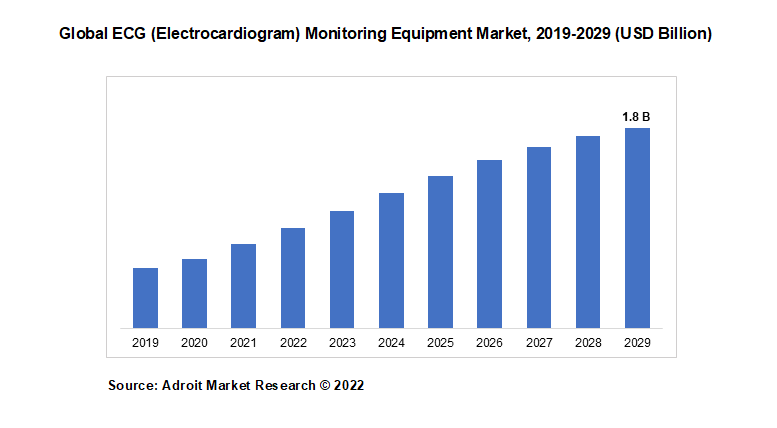 GE Healthcare, CardioComm Solutions, Inc., Philips Healthcare, AliveCor, VivaLNK, Schiller AG, Nihon Kohden and Johnson & Johnson are some of the major participants in the ECG equipment industry. CardioComm Solutions, Inc. released HeartCheck PEN in May 2015. With Android and Apple devices, this Bluetooth wireless connection pen might be used to collect data. In March 2015, Philips also introduced the Efficia ECG100, a low-cost cardiograph that aids in enhancing patient care and lowering healthcare expenditures. Over the projection period, technological developments and a change in trend toward preventative care are likely to make this business profitable.
These companies have used a range of strategic planning to improve their position in the market. These companies' main growth strategies include expansion, product development, and cooperation in order to improve their product range and geographical presence to address the rising demand for ECG (Electrocardiogram) Monitoring Equipment from emerging nations.
Latest Innovation in the Global ECG (Electrocardiogram) Monitoring Equipment Market: A Snapshot
AliveCor will launch KardiaCare, a virtual subscription service that will assist customers analyse their cardiac data, monitor risk factors, detect symptom triggers, and assess the impact of lifestyle adjustments, in July 2020.
Similarly, VivaLNK, a China-based supplier of connected health systems for in patient and offsite patient monitoring, got FDA approval for its Continuous ECG platform, which consists of recyclable wearable ECG sensors and an accompanying software development kit, in January 2020.
ECG (Electrocardiogram) Monitoring Equipment Market Scope
| | |
| --- | --- |
| Metrics | Details |
| Base Year | 2021 |
| Historic Data | 2019-2020 |
| Forecast Period | 2022-2029 |
| Study Period | 2019-2029 |
| Forecast Unit | Value (USD) |
| Revenue forecast in 2029 | USD 11.83 billion |
| Growth Rate | CAGR of 23.9 % during 2021-2029 |
| Segment Covered | type, Aplication, End User, Regions |
| Regions Covered | North America, Europe, Asia Pacific, South America, Middle East and Africa |
| Key Players Profiled | Medtronic (U.S.), Koninklijke Philips N.V (Netherlands), OMRON Corporation (Japan), Dexcom, Inc (U.S.), Abbott (U.S.), Masimo (U.S.), General Electric Company (U.S.), Bio-Beat (U.S.),VitalConnect (U.S.), Preventice Solutions, Inc (U.S.), Contec Medical Systems Co Ltd. (Japan), ten3T Healthcare (India), Fitbit, Inc (U.S.), Huawei Technologies Co., Ltd (China) |
Key Segments of the Global ECG (Electrocardiogram) Monitoring Equipment Market
Type Overview, 2019-2029 (USD Billion)
Monitoring Equipment
Holter Monitoring Systems
Event Monitoring Systems
Stress Testing Systems
End User Overview 2019-2029 (USD Billion)
Hospitals & Clinics
Ambulatory Facilities
Regional Overview, 2019-2029 (USD Billion)
North America
Europe
Germany
France
UK
Rest of Europe
Asia Pacific
China
India
Japan
Rest of Asia Pacific
South America
Mexico
Brazil
Rest of South America
Middle East and South Africa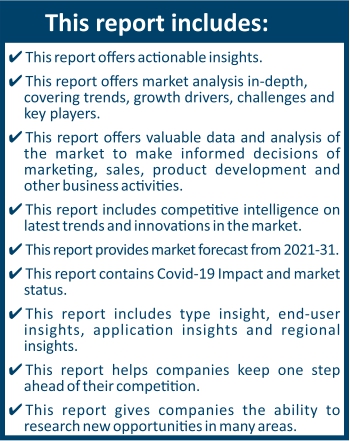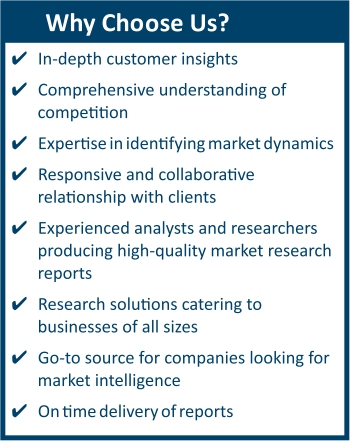 Frequently Asked Questions (FAQ) :
The market value of ECG monitoring equipment market in 2029 was USD 1.84 billion.
North America dominated the market for ECG monitoring equipment market and accounted for the largest revenue share.
The top companies that hold the market share in ECG monitoring equipment market are GE Healthcare, CardioComm Solutions, Inc., Philips Healthcare, AliveCor, VivaLNK, Schiller AG, Nihon Kohden & among others.
To get latest version of ECG monitoring equipment market report can be obtained on demand from the website.
The base year for the report is 2021 in ECG monitoring equipment market.