The E-beam Sterilization Market offers a number of advantages. High efficacy, affordability, environmental friendliness, and versatility.
A cost-effective method of sterilising and disinfecting food, pharmaceutical, and medical equipment is what the E-beam Sterilization Market needs to fill. Using high energy electrons to penetrate the object being sterilised and kill any bacteria or harmful organisms without leaving toxic residues, e-beam sterilisation is a safe and economical technique. This method has been proven to be very effective in the medical field because it can quickly and effectively remove harmful pathogens from pharmaceuticals, food products, and medical equipment. In comparison to conventional sterilisation techniques like heat or chemical treatment, e-beam sterilisation also provides a more environmentally friendly option. The need for this kind of technology increases along with the demand for hygienic and sterile goods.
The E-beam Sterilization Market offers a variety of benefits, including The destruction of microorganisms and their genetic material is guaranteed by the safe and dependable e-beam sterilisation technology, resulting in the production of high-quality, safe products. E-beam sterilisation is a cost-effective solution for many industries because it doesn't require any additional heat or chemicals. It offers a quick and efficient method of sterilisation, ensuring prompt release of sterile goods onto the market.
Due to its minimal operator involvement and ability to process large volumes of product quickly and effectively, this technology is relatively simple to use. Real-time monitoring of the e-beam procedure ensures that all product parameters are met during processing and that the finished product satisfies all standards for sterility and safety. Due to its extreme adaptability, the user can change settings to suit the requirements of each individual application without compromising on quality or safety standards.
The market for e-beam sterilisation was estimated to be worth USD 9.7 billion in 2020 and is projected to reach USD 15.1 billion by 2031, growing at a CAGR of 6.9% over the forecast period of 2021–2031.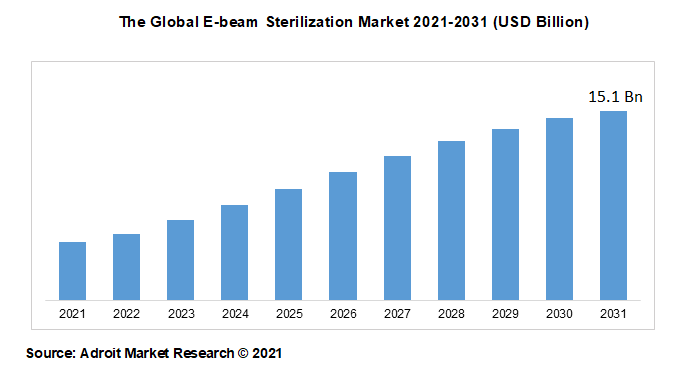 The market for e-beam sterilisation is fueled by factors like rising public concern over medical device and product safety and hygiene, rising demand for food safety, improved cost and time effectiveness, and expanding application potential in the medical sector.
A global industry called ""E-beam Sterilization Market"" creates equipment and parts for the use in sterilising food, medical devices, and other items with an electron beam. In place of conventional sterilisation methods like autoclaving or UV radiation, this procedure is an effective substitute. The demand for e-beam sterilisation from medical device manufacturers, who are seeking a more dependable and economical way to produce sterile products, is expected to grow steadily over the coming years.
The E-beam Sterilization Market is being driven by a number of factors. These include the expanding need for sterile goods across a variety of industries, which has been a key factor in the market for E-beam sterilization's expansion. E-beam sterilisation aids in preserving product quality and safety. There is an increased demand for safe, hygienic, and pathogen-free food items as concerns about food safety are growing. This has helped the market for E-beam sterilisation expand because it offers a dependable method of decontaminating food items and safeguarding them from contamination. The market has advanced significantly as a result of technological developments in E-beam sterilisation methods.
In comparison to older methods like chemical sterilisation and radiation techniques, newer technologies enable more effective sterilisation processes that decrease cost and time of operations. One of the main industries driving this market is the medical sector, which necessitates safe and hygienic products that can be used without endangering patients or staff or risking contamination. The E-beam Sterilization Market is constrained by and faces challenges due to the use of E-beams for sterilising surgical instruments, implants, and implant components.
A significant obstacle to the market's expansion is the high capital costs associated with purchasing, setting up, and running E-beam sterilisation equipment. E-beam irradiation is also significantly more expensive than other sterilisation techniques currently in use, like ethylene oxide (EO) or gamma irradiation. The market participants are facing significant difficulties due to the implementation of strict regulatory requirements in various nations. Additionally, receiving regulatory authority approval from organisations like the USFDA is a time-consuming and expensive process, which further inhibits market expansion.
Due to its high efficacy rate in eradicating bacteria, viruses, and other microorganisms from surfaces and products, E-beam irradiation technology is currently primarily used for medical and pharmaceutical products. However, due to the high water content of food items, it does not guarantee complete microbial destruction, which limits its application in the food and beverage industry.
Steris Corporation (U.S.), Advanced Sterilization Products Services, Inc. (U.S.), STERRAD Sterilization Systems (Germany), Toshiba Corporation (Japan), Nordion, Inc. (Canada), Belimed AG (Switzerland), Anderson Products, Inc. (U.S.), Getinge AB (Sweden), Matachana Group (Spain), and Sanosil International AG are some of the key players, manufacturers, and vendors (Germany).
The market for e-beam sterilisation is divided into two segments: service and equipment. The service segment is growing based on type. In 2019, it is anticipated that this Service segment will hold the largest market share for e-beam sterilisation. The service segment is anticipated to be driven by the growing use of e-beam sterilisation as a substitute for other sterilisation methods like gamma and ethylene oxide. Additionally, during the forecast period, the growing use of e-beam sterilisation services in the pharmaceutical and medical device industries is anticipated to fuel the growth of this segment.
According to application, the medical device segment commands the largest market share in the e-beam sterilisation market, which is divided into Medical Device, Pharmaceuticals, Foods, and Others. Medical Device has the largest market share within this sector. The global e-beam sterilisation market in the medical device segment is anticipated to grow as a result of the increasing use of disposable medical devices and instruments due to their affordability and increased patient safety.
Additionally, the pharmaceutical and food industries' expanding use of e-beam sterilisation technology is bolstering market expansion.
Using region analysis, North America currently holds the majority of market share. Latin America, the Middle East & Africa, North America, Europe, Asia-Pacific, and the E-beam Sterilization Market are the segments. Due to the region's healthcare sector's rising demand for high-quality and secure medical products, North America is predicted to dominate the global E-beam sterilisation market. This market's expansion is also being fueled by the presence of notable players in the area and advantageous government regulations. In contrast, the Asia Pacific region is predicted to have one of the fastest revenue growth rates because of the growing government support for the construction of healthcare infrastructure in nations like China and India.
Impact of COVID-19 and Market Situation for E-Beam Sterilization
The market for e-beam sterilisation has been significantly impacted by the COVID-19 outbreak. As a result of the COVID-19 outbreak, fewer people are in need of e-beam sterilisation services and tools. This is because many nations have implemented lockdown measures, which have caused factories and other manufacturing facilities to close. Additionally, the outbreak has had a significant negative impact on the transportation of goods. As the economies of various nations begin to recover from the pandemic in 2021, the market for e-beam sterilisation is anticipated to increase. However, it is anticipated that it will take some time for the market to recover to its pre-pandemic level.
Recent Developments in the E-beam Sterilization Market
• In 2019, the E-beam Sterilization Market is anticipated to grow more quickly as a result of technological advancements and the growing use of e-beam sterilisers in healthcare facilities.
• In 2021, several e-beam sterilisation providers will enter into strategic collaborations with pharmaceutical companies to expand their product portfolio and gain a competitive advantage. Manufacturers are heavily investing in research and development activities to develop advanced e-beam sterilisers with high efficiency and accuracy. For instance, Covalent Associates and Pfizer Inc., a major player in the market, entered into a strategic partnership to create cutting-edge e-beam sterilisation systems for Pfizer's products.
E-beam Sterilization Market Scope
| | |
| --- | --- |
| Metrics | Details |
| Base Year | 2022 |
| Historic Data | 2021-2022 |
| Forecast Period | 2022-2031 |
| Study Period | 2021-2031 |
| Forecast Unit | Value (USD) |
| Revenue forecast in 2031 | USD 15.1 billion |
| Growth Rate | CAGR of 6.9 % during 2022-2031 |
| Segment Covered | by Type, By End User, By Application , Regions |
| Regions Covered | North America, Europe, Asia Pacific, South America, Middle East and Africa |
| Key Players Profiled | Steris Corporation (U.S.), Advanced Sterilization Products Services, Inc. (U.S.), STERRAD Sterilization Systems (Germany), Toshiba Corporation (Japan), Nordion, Inc. (Canada), Belimed AG (Switzerland), Anderson Products, Inc. (U.S.), Getinge AB (Sweden), Matachana Group (Spain), and Sanosil International AG are some of the key players, manufacturers, and vendors (Germany). |
Key Segments of the E-beam Sterilization Market
By Type Overview, 2021-2031 (USD Billion)
• Service
• Equipment
By Application Overview, 2021-2031 (USD Billion)
• Medical Device
• Pharmaceuticals
• Foods
• Others
By Regional Overview, 2021-2031 (USD Billion)
North America
• U.S
• Canada
Europe
• Germany
• France
• UK
• Rest of Europe
Asia Pacific
• China
• India
• Japan
• Rest of Asia Pacific
South America
• Mexico
• Brazil
• Rest of South America
Middle East and Africa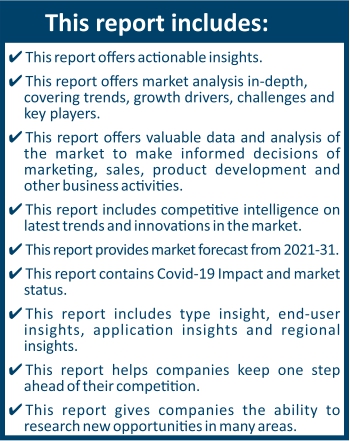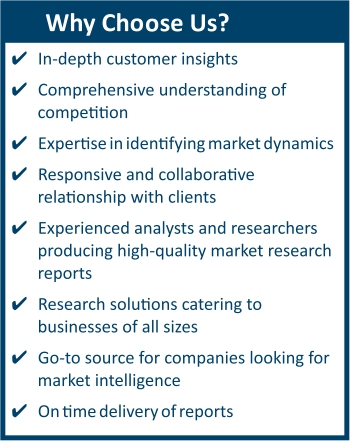 Frequently Asked Questions (FAQ) :
E-beam Sterilization Market is projected to reach USD 15.1 billion by 2031, growing at a CAGR of 6.9%