Growing awareness of the numerous health advantages associated with eating high-quality, organic duck meat has driven demand in the global duck meat industry
The global Duck Meat market is expected to develop USD 4.6 billion by 2027, at a compound annual increase in price (CAGR) of 6.2% throughout the forecast period.
Covid-19 Impact & Market Status
Globally, the COVID-19 outbreak has had a profound impact on people's life. Every company will have to battle this forced recession on two fronts: the economy and health. Given the enormous financial costs of the global economic crisis, there are worries that the recovery phase could stretch well into the first quarter of the next year. Our research indicates that the COVID-19 era had a positive impact on market growth both before and after it. Duck meat's health advantages are a major driver of market development, yet considerations such as the growing popularity of vegan diets may limit market expansion.
The Fresh Duck Meat Segment is accounted for the faster growth
The market share of fresh duck meat will grow significantly during the projection period. The market would grow throughout the anticipated period due to the increased accessibility of fresh duck meat through supermarkets, hypermarkets, convenience stores, and other distribution channels.The segment's main drivers are higher discretionary income levels and high demand for protein-rich foods.
The Asia Pacific region is likely to Rise with the Greatest Revenue
During the projected period, APAC will provide the most prospects for growth in the duck meat market. According to our analysis, the region will account for 74% of worldwide market growth and will continue to dominate the industry through 2029. In APAC, Japan, China, and Malaysia are the most important markets for duck meat. The market in this region will grow at a faster rate than the market in MEA. "During the forecast period, increased health consciousness, the convenience is given by processed meats, and the expansion of fast-food chains will drive the duck meat market growth in APAC," experts predict.
The global duck meat industry is likely to rise in the next years as more efforts are made to generate totally lab-grown meat employing new and developing technology in the field of molecular agriculture.
Duck meat has lower fat content than chicken breasts, but it still packs a punch in terms of flavor and nutrition. The market is seeing tremendous expansion as a result of increased duck meat output. Owing to its high myoglobin level and poultry categorization, duck is classified as white meat. As a result, the duck might be classified as red meat by culinary standards. In addition, the market's demand is fuelled by the convenience with which it can be found in grocery stores and supermarkets. The growing demand for fresh duck meat and processed duck meat is due to greater knowledge of the health advantages connected with duck meat intake.
The growing health benefits of duck meat are also one of the main factors driving market expansion. However, factors like the rising popularity of the vegan diet could impede market growth. Industry growth will also be fueled by key duck meat market advancements such as the development of lab-grown meat employing cellular agriculture.
Unlike traditional meat-production methods, the eco-friendly method does not need the slaughter of animals. The market for duck meats has been growing steadily over the past few years, and it is anticipated that throughout the forecasted period, it would expand significantly. Products containing duck meat are a mixture of fresh and processed duck flesh. This breed of poultry has excellent taste. Duck flesh is high in protein, niacin, iron, zinc, phosphorus, riboflavin, vitamin B-6, thiamine, vitamin B-12, folate, and magnesium, with lesser levels of vitamin B-12, folate, and magnesium.
Processed duck meat is made up of fresh processed duck meat and frozen duck meat, and it has a lot of nutrients. It has a huge range of applications across the foodservice sector. Duck meat is available in both fresh and processed forms on the global market for duck meat. In order to fulfill the increased worldwide demand for duck meat, many vendors in the global duck meat market are expanding their manufacturing capacity. Due to the easy and wide availability of duck meat products worldwide as a result, the global duck meat sector has seen an increase in sales in recent years. Furthermore, as compared to traditional ways of animal husbandry and meat production, these new methods, which are regarded as more ecologically friendly since they do not entail the slaughter of animals for meat, are gaining popularity. In the coming years, these new developments are projected to propel the worldwide duck meat market's rise.
The market is anticipated to grow during the forecasted period as a result of rising meat consumption and rising demand for nutrient-dense meat. This rising trend in protein intake is likely to create a number of possibilities for meat processors and food firms to invest in alternative meat proteins, such as cultured meat, in order to meet customer demand. This has prompted a number of big suppliers to increase their manufacturing capacity in order to fulfill the rising demand. As a result, the market now offers a diverse range of product options.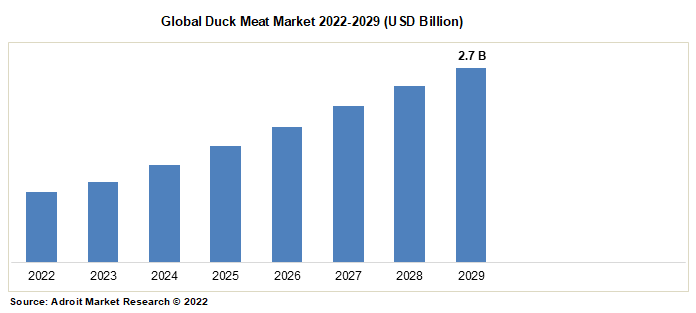 The market research examines the competitive landscape of the global duck meat market in depth. The business intelligence study examines the main players in the global duck meat market's assets, services, margins, product offers, production capacity, price, and revenue. AJC International, Charoen Pokphand Foods, New Hope Liuhe, Shandong New Hope Liuhe Group, Pepe's Ducks, and Maple Leaf Farms are among the leading players in the global duck meat market.
Latest Innovations in the Global Duck Meat Market: a Snapshot
• In April 2022, Upside Foods received $400 million in a Series C round, bringing its worth to more than $1 billion and accelerating the commercialization of its cultured meat products, according to the company. Upside received funding from Temasek and Abu Dhabi Growth Fund and hopes to utilize it to create a commercial production plant and make its cultured meat accessible to American consumers later this year, subject to regulatory permission.
Duck Meat Market Scope
| | |
| --- | --- |
| Metrics | Details |
| Base Year | 2020 |
| Historic Data | 2018-2019 |
| Forecast Period | 2021-2027 |
| Study Period | 2017-2027 |
| Forecast Unit | Value (USD) |
| Revenue forecast in 2027 | USD 4.6 billion |
| Growth Rate | CAGR of 6.2 % during 2021-2027 |
| Segment Covered | By Type, By Category, Regions |
| Regions Covered | North America, Europe, Asia Pacific, Middle East and Africa, South America |
| Key Players Profiled | Pepes ducks ltd (Austalia), Shandong New Hope Liuhe Group Ltd. (China), Courtin Hervouet (France), COOPERATIVE FOIE GRAS DE CHALOSSE (France), Charoen Pokphand Foods (Thailand), TCH Group (US), Luv-a-Duck (Australia), Lu Canard (Mexico), Ferme Uhartia (France) |
Key Segments of the Global Duck Meat Market
Product Overview, 2022-2029 (USD Billion)
Fresh Duck meat
Processed Duck Meat
End-User Overview, 2022-2029 (USD Billion)
Retails
Foodservices Commercial
Distribution Channel Overview, 2022-2029 (USD Billion)
Specialty Stores
Online Retail
Supermarkets & Hypermarkets
Others
Regional Overview, 2022-2029 (USD Billion)
North America
Europe
Germany
France
UK
Rest of Europe
Asia Pacific
China
India
Japan
Rest of Asia Pacific
South America
Mexico
Brazil
Rest of South America
The Middle East and South Africa
Frequently Asked Questions (FAQ) :
The market value of duck meat market in 2029 was USD 2.7 billion.
The duck meat market is growing at a CAGR of 2.8% over the forecast period.
Asia Pacific dominated the market for duck meat market and accounted for the largest revenue share.
The top companies that hold the market share in duck meat market are margins, product offers, production capacity, price, and revenue. AJC International, Charoen Pokphand Foods, New Hope Liuhe, Shandong New Hope Liuhe Group, Pepe's Ducks & among others.
The base year for the report is 2021 in duck meat market.