The method of printing on textiles utilizing hydrophilic ink jet technology is known as direct-to-garment printing (DTG). A platen generally holds the clothing in place while the print inks were jetted or sprayed onto to the fabric by the 3d printer of a DTG printer
The value of the DTG Printing Machine market is projected to grow to USD 6.65 billion with an estimated CAGR of 12.1% by 2030
COVID-19 Impact
COVID-19 has a wide range of implications, and its effects can be seen in a variety of industries and businesses across the globe. The COVID-19 outbreak had a detrimental influence on the textile industry as well. Long- and short mobility constraints around the world greatly impeded the labor-intensive and globally networked organisation. The worldwide health crisis accompanying government responses at the start of 2020 resulted in a drop in production and significant interruption of textile supply networks, resulting in cross-regional spillovers.
Digital textile printing equipment market share is split down by types, application, equipment type, and region. Direct-to-garment and direct-to-fabric are the two sorts of markets. The market's application categories include textiles and clothing, advertising, home furnishings, and others. The market is further split into Single Pass and Inter machines based on machine type. The geographic split or assessment of each sector includes America, Eu, Global, as well as the Entire world.
Geographical Analysis
North America is projected to hold the greatest market share due to numerous sectors, technological innovation, and robust infrastructure. The market of digitally textile printing machines is expected to grow due to rising per capita income and fast changing fashion trends. Asia Pacific is expected to grow significantly, with a steady increase in market share, due to rising disposable income and improved awareness of new fashion and trends. In addition, the demand for unique and creative patterns, as well as environmentally acceptable materials and colours, is projected to move the digital textile printing machine sector forward.
DTG printers employ aqueous fabric inks (wet chemistry), which require a particular curing method. Because D2 dyes are water-based, they are appropriate for printing on natural textiles such as jute, flax, cotton, and linen. The garment is also typically pre-treated before printing. The pre-treatment entails injecting a high-temperature liquid into the custom t-shirt, which causes it jacket's threads to sit nicely. The pre-treatment also helps water-based inks adhere to the cloth better. This is especially critical when printing on dark garments with white ink.
The global DTG printing machine market is expected to grow at a Rate of 10.1 percent from 2022 to 2029, from $ 212.2 million to USD 612.7 million. A digital textile robot is a piece of machinery that prints graphics or designs directly into fabric or clothes using inkjet technology. The design and graphics are created using software, and then the fabric is chosen. After that, the fabric is sprayed with colour in the form of minute droplets, and the print is finished. The print lot is then heated and baked to ensure that the graphic design remains permanent and does not wash away.
Furthermore, when customers lose interest in audio and video advertisements, advertisements have become more expensive while simultaneously failing to increase sales. Promotional activities also have a direct positive effect on growth of electronic textile printing gear and may drive impulse purchases. Digital textile technology is often preferred for the manufacture and printing of sales advertising material such as banners or displays.
Furthermore, digital textile printing equipment generates greater pictures featuring good clarity, glossy graphics, or eye-catching graphics when contrasted to digital gravure print, which is commonly used to print advertising banners. The fashion industry is evolving and modernising, and current fashion trends are better understood. Furthermore, an increase in expendable cash, as well as technological improvements and infrastructure development, are expected to boost the growth of digital textile printing systems on the market.
Other reasons projected to drive market expansion include the ecologically favourable background of cyber textile, as well as changes in lifestyle and improving living standards. However, high initial expenses are recognized and variable costs are expected to restrict the industry for digital garment production equipment. In addition, global electronic textile equipment market is expected to see increased demand of new and innovative patterns with colour schemes in the nearish term, as well as a growing desire for super fast productivity.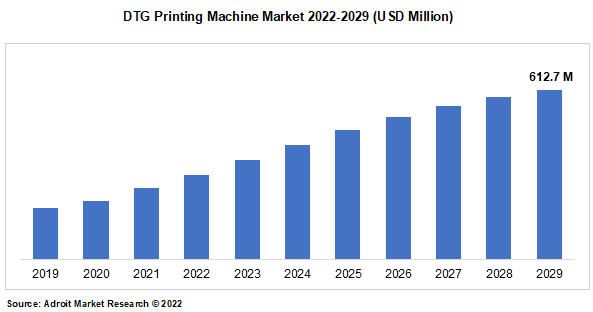 Some of the companies that are profiled in this report are Epson, Kornit, Mimaki, Brother, RICOH, Impression Technology/Pigment.Inc, and OmniPrint.
Recent Developments in the Global DTG Printing Machine Market:
Delta Apparel introduces an on-demand printing service. M&R's new equipment enables the Top 40 supplier to print, package, and dispatch custom orders within 24 hours of receipt, enhancing Delta's partnership with global sports apparel platform Fanatics.
DTG Printing Machine Market Scope
| | |
| --- | --- |
| Metrics | Details |
| Base Year | 2020 |
| Historic Data | 2018-2019 |
| Forecast Period | 2021-2028 |
| Study Period | 2018-2028 |
| Forecast Unit | Value (USD) |
| Revenue forecast in 2028 | USD 612.7 million. |
| Growth Rate | CAGR of 10.1% during 2021-2028 |
| Segment Covered | Type, Application, Regions |
| Regions Covered | North America, Europe, Asia Pacific, South America, Middle East and South Africa |
| Key Players Profiled | Epson, Kornit, Mimaki, Brother, RICOH, Impression Technology/Pigment.Inc, and OmniPrint & among others. |
Key Segments of the DTG Printing Machine Market
Type Overview, 2022-2029 (USD Million)
Direct-to-garment
Direct-to-fabric
Application Overview, 2022-2029 (USD Million)
Regional Overview, 2022 -2029 (USD Million)
North America
Europe
Germany
France
UK
Rest of Europe
Asia Pacific
China
India
Japan
Rest of Asia Pacific
South America
Mexico
Brazil
Rest of South America
Middle East and South Africa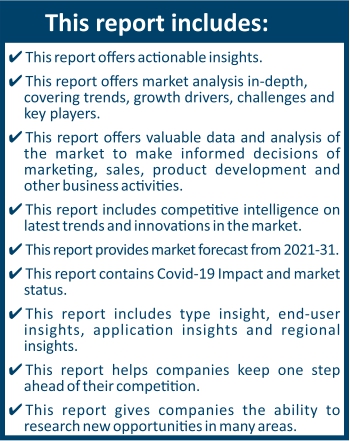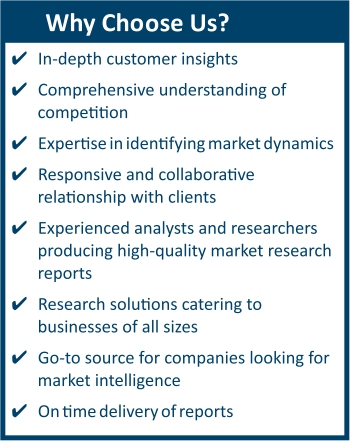 Frequently Asked Questions (FAQ) :
The market value of DTG printing machine market in 2029 was USD 612.7 million.
The DTG printing machine market is growing at a CAGR of 10.1% over the forecast period.
The application of the DTG printing machine market Garment, Decor, Industrial and other.
North America dominated the market for DTG printing machine market and accounted for the largest revenue share.
The top companies that hold the market share in DTG printing machine market are Epson, Kornit, Mimaki, Brother, RICOH, Impression Technology/Pigment.Inc, and OmniPrint & among others.