Rapid urbanization and increasing industrialization, are creating a greater demand for laundry equipment. Also, the modernization of laundromats is driving double-drum washer sales due to their efficient performance.
Furthermore, the rise in disposable income among consumers has resulted in increased demand for sophisticated residential washing machines, thus creating a high demand for the double-drum washer market.
The Need for the Double Drum Washer Market is growing rapidly due to technological advancements in the industry. The double drum washer is a type of washing machine that uses two, intermeshed drums to clean clothes more efficiently.
The driving force behind the increasing popularity of the double-drum washer is that this type of washer is designed to make laundry day easier and more efficient for consumers. It provides a superior cleaning experience with two drums that rotate in opposite directions, allowing for more effective scrubbing of garments and fabrics. The double drum also has a larger capacity, which means fewer loads per cycle, saving time and energy.
Furthermore, this type of washer offers greater control over the wash cycle, giving users the ability to customize settings to their needs. Finally, it is more affordable than other types of washers on the market today, making it an attractive option for many households.
During the period 2021–2031, the market for double drum washers is anticipated to expand at a CAGR of 6.5%.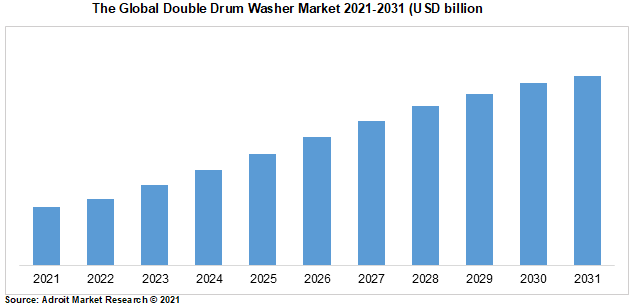 This growth is attributed to the increasing demand for double drum washers from residential, commercial, and industrial customers due to their advanced features such as energy efficiency, low water consumption, and others. Additionally, it is anticipated that accelerating urbanisation and growing disposable incomes in developing nations would fuel market expansion.
The high cost of the product and the presence of alternative products in the market are some of the restraining factors in this market. The double drum washer is a relatively new product and, as such, its pricing may be higher than that of more traditional washing machines. The lower price points of alternative washing machine types may also influence consumers to choose them.
Furthermore, consumers may not be familiar with the advantages of this type of appliance, which could limit its adoption rate.
Several Key Market Players in the Double Drum Washer Market are making their presence felt in the global market. These include Haier Group, Samsung Electronics Co., Ltd., LG Group, Whirlpool Corporation, Electrolux AB, and Robert Bosch GmbH. These companies have been focusing on offering innovative products, technological advancements, and strategic partnerships to gain a competitive edge.
Segment Analysis
The Super energy-saving segment will hold the highest market share
Due to its capacity to lower energy consumption and deliver cost effectiveness, the Super Energy Saving category is anticipated to have the biggest market share over the projection period. It is because of these features that this type of double drum washer is most preferred in commercial and industrial applications.
The Commercial segment is expected to witness the highest growth
Due to rising demand from many industrial verticals, including laundry and dry cleaning, automotive, hotel, etc., the commercial segment is anticipated to have the fastest growth throughout the projection period. The double drum washer market size is estimated to grow over the forecast period due to its growing applications in various industries. The increasing awareness about green technologies and eco-friendly products is also driving the market for double drum washers.
The Residential segment will remain Atop
Due to rising sales of double-drum washing machines among homes, the residential sector is anticipated to dominate the market throughout the projected period. It is because of their capacity of washing large loads at a time and their energy efficiency.
North America is expected to be the most lucrative
In terms of value, North America is anticipated to hold the greatest share of the double drum washer market. This is mainly attributed to technological advancements, increased demand for energy-efficient products, and growing disposable incomes of consumers in this region. It is because of these factors that the US and Canada are expected to be among the most lucrative markets for the Double Drum Washer market during the forecast period.
Covid-19 Impact & Market Status
The double drum washer market has experienced a significant shift in the past year due to the COVID-19 pandemic. The effects of the pandemic have been felt across industries, including the washing machine industry, where demand for double drum washers has decreased. This decrease in demand is primarily due to the lockdowns imposed in many countries, which caused people to stay indoors and reduce their need for replacing their appliances. Furthermore, travel restrictions have limited international trade and caused supply chain disruptions, leading to a decrease in the production of double drum washers.
Additionally, manufacturers are facing financial difficulties as well as labour shortages due to social distancing guidelines. All these factors have had a negative impact on the double drum washer market, resulting in decreased sales and revenue.
However, despite this decline in sales, it is expected that the industry will experience an upturn in growth once economies around the world start recovering from the pandemic. As economies open up and people begin returning to their regular routines, there will be an increased demand for washing machines and other home appliances.
Moreover, with more businesses reopening and people returning to work, manufacturers will have access to more resources such as labor and capital that can be used for production. Additionally, governments are offering several incentives to revive businesses and encourage local manufacturing, which could benefit the double drum washer market.
Latest Innovations in the Double Drum Washer Market: a Snapshot
• LG Electronics launched an artificial intelligence-enabled washing machine in March 2021 to achieve ideal outcomes.
• In September 2020, Samsung introduced a series of front-load washing machines with Q-Rator technology that are powered by artificial intelligence. The new advanced AI technologies in washing machines are deployed to provide users with ease and to efficiently offer flawless laundry.
Double Drum Washer Market Scope
| | |
| --- | --- |
| Metrics | Details |
| Base Year | 2022 |
| Historic Data | 2021-2022 |
| Forecast Period | 2022-2031 |
| Study Period | 2021-2031 |
| Forecast Unit | Value (USD) |
| Revenue forecast in 2031 | US$ NA |
| Growth Rate | CAGR of 6.5 % during 2021-2030 |
| Segment Covered | Type, Application, By End-use, Regions |
| Regions Covered | North America, Europe, Asia Pacific, South America, Middle East and Africa |
| Key Players Profiled | Haier Group, Samsung Electronics Co., Ltd., LG Group, Whirlpool Corporation, Electrolux AB, and Robert Bosch GmbH. |
Key Segments of the Double Drum Washer Market
Type Overview, 2021-2031 (USD Billion)
• Super Energy Saving
• General Energy Saving
Application Overview, 2021-2031 (USD Billion)
• Commercial
• Household
End- Use Overview, 2021-2031 (USD Billion)
• Residential
• Commercial
• Industrial
Regional Overview, 2021-2031 (USD Billion)
North America
• U.S
• Canada
Europe
• Germany
• France
• UK
• Rest of Europe
Asia Pacific
• China
• India
• Japan
• Rest of Asia Pacific
South America
• Mexico
• Brazil
• Rest of South America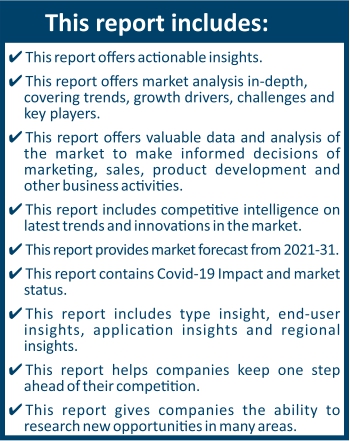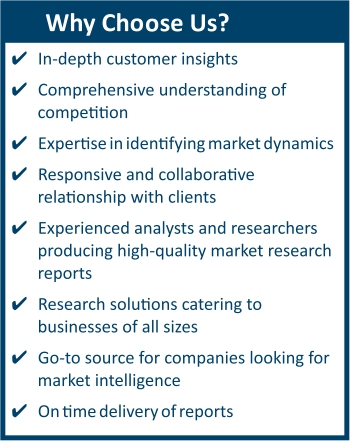 Frequently Asked Questions (FAQ) :
The global Double Drum Washer market size is expected to reach USD Million in 2031.