Increasing adoption of use-and-throw cups to magnify growth in Global Disposable Cups Market
Covid-19 Impact & Market Status
The report offers an exhaustive overview of the business dynamics and new investment strategies that are being adopted by business leaders across countries and regions to overcome the acute challenges and financial instabilities that have emerged in the post pandemic times.
The report highlights some of the best industry strategies and practices that are adopted by the players across local and global markets. Ever since the Covid-19 broke out in 2019, it has spread aggressively, resulting in rapid declaration by the WHO affirming Covid-19 as a global pandemic and an emergency.
The impact of the pandemic is widespread and the aftermath is well pronounced, gravely affecting the disposable cups market. The sudden pandemic and its implications have posed significant challenges such as travel bans, quarantines, and lockdowns. The lockdown gravely affected the disposable cups market as restaurants, malls, and offices were shut down, reducing the demand for disposable cups globally.
These developments are hampering operations resulting in supply chain breaches, stock market inefficiencies, and vendor chaos. These are constantly interfering with the normal functioning of industries.
Ever since the outbreak of the global crisis, impact on upstream, downstream, and midstream industries have been appalling. The report delivers a quick ready-to-deploy approach to counter such crisis and steer the disposable cups market towards steady growth and systematic progression.
Amidst the pandemic, aligning with new dynamics, disposable cups market has been witnessing new dynamics which are further necessitating new business models and approaches to recoup growth and revenue streams.
In this report, inquisitive business players would be provided with sufficient guidelines regarding business transformation, integral to sustain stiffening competition in the pandemic and beyond pandemic era global disposable cups market.
Disposable Cups for Food Retail to Sustain the Highest Revenues
Owing to the immense potential of disposable cups globally backed by benefits such as use-and-throw, environment friendly, and reducing water wastage, disposable cups are being preferred over their steel counterparts. Besides residential purposes, disposable cups are being vastly used in the retail segment.
The e-commerce industry is growing at a very fast rate, which is driving the growth of the disposable cups market globally. The growing number of supermarkets, malls, and huge food stores are resulting in an increase in usage of disposable cups, mainly paper disposable cups. Retail stores are majorly using disposable cups in their take-away food and beverages which reduces their cost and are safe and convenient.
Paper Disposable Cups to be the most Lucrative
Paper disposable cups are gaining huge popularity and is accountable for more than 50% sales of disposable cups. These cups are ideal for serving food & beverages and can even be used to serve hot drinks such as coffee or tea. The increasing intolerance of the use of single-use plastic is driving the paper disposable cups market. These help in reducing a nation's carbon footprint and are, thus, attracting government approval globally against the use of plastic disposable cups.
APAC to Sweep the Largest Market Share Followed by North America
Asia Pacific region is a lucrative regional market for the disposable cups market as countries such as China are one of the largest producers of disposable cups. Several frontline companies are established in China and therefore the region is one of the leading regional markets for disposable cups market. Increasing population and rising disposable income among the people are also few of the factors for its major adoption in countries like India and China.
North America is projected to increase at a CAGR of 6.5% over the forecast period in the disposable cups market. The rise in North America, especially the United States, is accounted mainly for the increase in on-the-go food & beverages.
Quick Service Restaurants (QSR) and rising disposable income to offer new opportunities in the disposable cups market
Disposable cups are witnessing a huge increase in demand globally especially after the spread of the novel coronavirus which emphasizes on sanitation and sanitization. Disposable cups are use-and-throw cups that are not only cheap to use but also prevent the spread of pathogens from one person to another.
Steel glasses, mugs, and steins require to be washed every single time and demand care and hard work. The same is not required in disposable cups as a new pack can be opened, used, and thrown every time. One might see disposable cups kept with the water containers in offices and hospitals.
Despite a minor growth dip owing to Covid-19 implications, the disposable cups market is expected to recoup growth and register over USD 21.75 billion by 2028 ticking at a CAGR of 7.5%.
With urban and sub-urban facing shortages in water capacity, the need for disposable cups is only going to increase. Water shortage has been reported in various metropolitan cities globally and is a major issue. Governments are taking steps to reduce the wastage of water and one small way is to promote the use of disposable cups.
The demand for disposable cups is expected to rise in the forecast period as the sense of convenience and the demand for comfort rise in the market. The use of disposable cups is also being seen in small and big social gatherings and celebrations and parties to account for the huge number of guests in the party.
Categorized by type, disposable cups are made in plastic and paper. The limiting factor of disposable cups is that both these types are harmful to the environment. Plastic, being a non-recyclable material, is detrimental to the environment with nations and governments worldwide banning its use.
The ban of plastic led to innovation in the disposable cups market with manufacturers shifting to paper disposable cups. Being made using paper they are environment friendly, majorly. Even paper disposable cups are made using a thin layer of plastic to make them waterproof. This becomes a major limiting factor in its widespread adoption. Australia stated that about 600,000 kilos of plastic waste from disposable cups end up in landfill each year.
However, this introduced the new concept of reusable disposable cups to ensure waste management and cut throwaway plastics. These not only reduce the use of plastic disposable cups but also decrease a nation's dependence on plastic water bottles which are 100% non-recyclable.
The primary aim of disposable cups is to provide comfort to households and restaurants from washing utensils and saving water. Over the years, as the concept is spreading globally, manufacturers are innovating to minimise the use of plastic even in the paper disposable cups.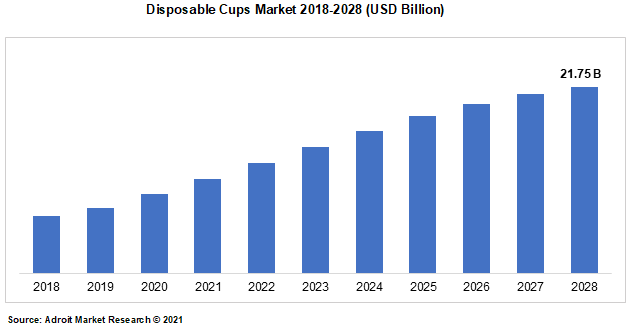 The major players of the disposable cups market are WestRock Company, Genpack LLC, ConverPack Inc., Berry Global Group Inc., Dart Container Corporation, Hugtamäki Oyj, Greiner Packaging International GmbH, Octane Ecowares Pvt. Ltd and Swan International.
The disposable cups market is a rapidly progressing industry and is characterized to have industrial frontliners as well as aspiring new players aiming to penetrate into the aggressive competitive landscape across global and local markets. Additionally, various new and aspiring players are improving their product lines and upgrading technological capabilities to improve revenue streams amidst Covid-19 impact.
Latest Innovations in the Disposable Cups Market: A Snapshot
In July 2019, a new double-walled 100% sustainable hot cup was launched by Huhtamäki Oyj to add in its Bioware® compostable range. This will aid the company to reduce the plastic consumption worldwide
In April 2021, a new sustainable r-PET cups for beverages were launched by Greiner Packaging International GmbH. It was accommodated with economic, environmental and social considerations.
Disposable Cups Market Scope
| | |
| --- | --- |
| Metrics | Details |
| Base Year | 2020 |
| Historic Data | 2018-2019 |
| Forecast Period | 2021-2028 |
| Study Period | 2018-2028 |
| Forecast Unit | Value (USD) |
| Revenue forecast in 2028 | USD 21.75 billion |
| Growth Rate | CAGR of 7.5% during 2021-2028 |
| Segment Covered | Type, End-User, Application, Regions |
| Regions Covered | North America, Europe, Asia Pacific, South America, Middle East and South Africa |
| Key Players Profiled | WestRock Company, Genpack LLC, ConverPack Inc., Berry Global Group Inc., Dart Container Corporation, Hugtamäki Oyj, Greiner Packaging International GmbH, Octane Ecowares Pvt. Ltd and Swan International. |
Key Segments of the Disposable Cups Market
Type Overview, 2018-2028 (USD Billion)
End-User Overview, 2018-2028 (USD Billion)
Institutional
Retail
Residential
Application Overview, 2018-2028 (USD Billion)
Regional Overview, 2018-2028 (USD Billion)
North America
Europe
Germany
France
UK
Rest of Europe
Asia Pacific
China
India
Japan
Rest of Asia Pacific
South America
Mexico
Brazil
Rest of South America
Middle East and South Africa
Frequently Asked Questions (FAQ) :
The Disposable Cups market is estimated to reach USD 21.75 Billion by 2028
Key factors that are driving the disposable cups market growth include Increasing adoption of disposable cups to serve hot and cold beverages in quick service restaurants is likely to drive their demand in the coming years
According to the Disposable Cups industry analysis, North American countries like the US, Mexico, and Canada hold the maximum market share of the global Disposable Cups market.