The growth of the digital money market is driven by increased digitization & automation, reduced shipping costs and transfer time, as well as increased acceptance of banking and financial services.
Impact of Covid-19
The COVID-19 epidemic is anticipated to own a positive impact on market growth. Movements and other restrictions have led to a rise within the adoption of digital transfer methods, and regulatory reforms were announced to push the employment of digital payments. The widespread adoption of digital payments in developing countries has led to a dramatic increase within the adoption of e-wallet payments in exchange for cash. additionally, the employment of mobile services has been steadily growing between low-income and middle-income economies.
Financial institutions use a transparent and data-driven ecosystem to come up with revenue to expand their business networks and supply their clients with lower transaction costs. because the coronavirus (COVID-19) continues to spread worldwide, there has been a growing need for digital remittance solutions to transfer funds to regions more efficiently and quickly. additionally, a range of technological solutions, like the introduction of real-time banking technologies to boost Instant Payment Service (IMPS), contribute to promote growth.
Outward Digital Remittance Accounted for Biggest Market Share
Outward Digital Remittance is calculated with the biggest market share for 2020 and is predicted to grow at a really high CAGR of 14.07% during the forecast period. a part of the exports are expected to steer the market and have a big share of worldwide revenue by 2020. Financial institutions and banks help immigrants send money to their families on time and in an exceedingly secure way. Banks and financial institutions round the world are focused on providing low cost and expanding their customer base. Remittances include two payment methods: non-commercial exchange and DD issuance of foreign currency, moreover as the other kind of payment. Remittances are sent through a secure banking network, which reduces the chance of fraud and loss to both the sender and therefore the recipient.
Money Transfer Bagged the Highest Market Revenue
Money Transfer Operators are ranked with the biggest market share and are expected to grow at the best CAGR of 13.39% at the time of forecasting. Transfer operators control the industry by 2020, accounting for the majority of world revenue. Money transfer companies can often offer lower transfer costs than banks. additionally, these transfer companies offer the identical level of reliability and security as banks. one in every of the largest benefits to money transfer companies is that the speed at which remittances are sent. External institutional trade has traditionally been controlled by banks and governments, although this is often changing rapidly.
Individuals Account Poised For Rapid Market Growth
Based on Finishing Processes, the market is split into two groups for immigrant workers, their own businesses, small businesses, and others. Individuals account poised for rapid market growth. The private sector led the market and had the most important share of world revenue by 2020. New products and services are being developed extensively to facilitate the utilization of economic client accounts. additionally, the growing global movement is probably going to encourage workers to use digital resources to transfer money home. within the interim, the human sector is predicted to grow because of the growing use of smartphones and therefore the internet worldwide. due to the high number of fund activities performed by immigrants studying or working in many countries, the end-use sector is anticipated to keep up its dominance during speculation.
APAC To Secure A Dominant Position in Forecast Years
The Asia Pacific regional market is predicted to emerge because the fastest growing regional market during the forecast period. many voters from the Asia Pacific region send billions of dollars each year to their foreign partners or business partners and families. Increased acceptance of banking and financial services within the region is anticipated to further the expansion of the regional market within the forecast period. Economies like China and India are heavily focused on the adoption of mobile banks, cashless payments, and mobile payment solutions, thus contributing to the expansion of the regional market. the rise in competition from new entrants, plus a rise within the number of shoppers, is anticipated to make opportunities for growth within the regional market within the forecast period.
Increased cross-border transactions and rapid growth in the adoption of mobile banks are expected to stimulate market growth in the forecast period.
Owing to benefits such as speed, convenience, lower transfer rates, and transparency, digital remittance is experiencing rapid adoption as opposed to traditional remittance models thus fostering remarkable progress in global digital remittance market.
The factors such as entry of digital-first money transfer organizations, low fixed costs leading to spurred competition and intense digitization, private sector initiating digitizing remittance, streamlined regulatory environment, simplified licensing process is boosting the global digital remittance market.
In addition, management systems that encourage all financial institutions to be more transparent and improve the rich data environment and partners boost market growth. However, an absence of information and guidance could be a major think about preventing people from choosing a digital money transfer mode. Increased access to financial services like basic bank accounts among recipients and increased internet usage provide opportunities for market growth.
Significant growth within the banking, financial services and insurance (BFSI) industry worldwide is one in every of the key factors in shaping the market. additionally, the widespread acceptance of digital and automatic payments and transfer solutions provides an incentive for market growth.
Advantages such as competitive exchange rates, lower fees, better transparency, faster speed, lower costs encourage further adoption of digital remittance and the trend is accelerated by covid-19 pandemic. These factors collectively influence thumping growth of global digital remittance market ensuring an overall market value of 58.56 Bn USD by 2028 with an annualized growth rate of 15% through the forecast span, 2021-2028.
Remittances are defined because the way of life gone by migrant workers returning home. Although, digital outflows are of these cross-border transfers made online by such people. Remittances, similarly, include transfers between residents and non-citizens likewise as remittances sent from temporary workers from other countries to their home country. It plays a serious role within the financial ecosystem today. Although total remittances weakened by 2020, digital outflows emerged significantly and still provide significant benefits to people who can like them. Digital remittances are the same as the private e-commerce version, as there seems to be no have to visit the shop or office personally to initiate the transfer.
Transferring digital remittances requires an online browser or application, compatible with mobile, tablet, or computer applications. There should even be a digital funding mechanism. additionally, over the past few years, digital remittances have gained momentum from the arrival of digital transfer organizations (MTOs), and established MTOs have responded by quickly introducing digital implementation and funding capabilities.
Increasing demand for secure, secure and fast cross-border transactions is a very important propulsion that's expected to spice up the expansion of the digital securities industry worldwide.
However, high transfer fees, poor exchange rates, lesser flexibility, restrictive regulatory environment, social and economic challenges for migrants are some key factors hampering the global digital remittance market.
Furthermore, the increasing demand for digital remittances to receive payments from customers will have a positive impact on market growth. Also, the rise in penetration of smartphones as well as the growing number of digital-savvy customers choosing digital remittances is anticipated to be growth opportunity to the global digital remittance market.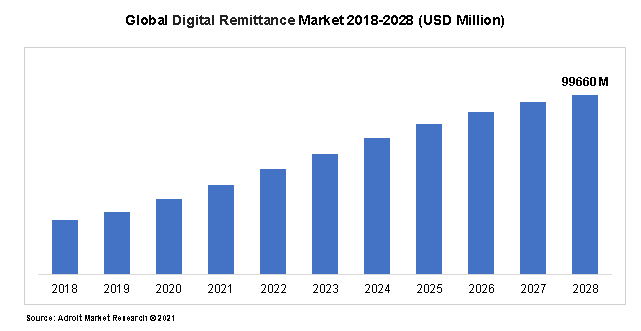 The major players in global digital remittances market are MoneyGram, Ripple, TransferWise, Azimo Limited, Remitly, WorldRemit, SingX Pte Ltd, Ria Financial Outward Remittance, Western Union (WU), Flywire, and InstaReM among others.
Latest Innovations in Global Digital Remittance Market: A Snapshot
International Money Express Inc on March 03, 2022, recently launched new and enhanced, world class Digital Remittance App named Intermex for mobile devices.
Digital Remittance Market Scope
| | |
| --- | --- |
| Metrics | Details |
| Base Year | 2020 |
| Historic Data | 2018-2019 |
| Forecast Period | 2021-2028 |
| Study Period | 2018-2028 |
| Forecast Unit | Value (USD) |
| Revenue forecast in 2028 | USD 58.56 Billion |
| Growth Rate | CAGR of 15 % during 2021-2028 |
| Segment Covered | Type, Channel, End-user, Regions |
| Regions Covered | North America, Europe, Asia Pacific, Middle East and Africa, South America |
| Key Players Profiled | MoneyGram, Ripple, TransferWise, Azimo Limited, Remitly, WorldRemit, SingX Pte Ltd, Ria Financial Outward Remittance, Western Union (WU), Flywire, and InstaReM among others. |
Key Segments of the Global Digital Remittance Market
Type Overview, 2018-2028 (USD Billion)
Inward Digital Remittance
Outward Digital Remittance
Channel Overview, 2018-2028 (USD Billion)
Banks
Money Transfer Operators
Online Platforms
Others
End-User Overview, 2018-2028 (USD Billion)
Migrant Labor Workforce
Low-income Households
Small Businesses
Others
Regional Overview, 2018-2028 (USD Billion)
North America
Europe
Germany
France
UK
Rest of Europe
Asia Pacific
China
India
Japan
Rest of Asia Pacific
South America
Mexico
Brazil
Rest of South America
Middle East and South Africa
Frequently Asked Questions (FAQ) :
The global digital remittance market size is expected to reach USD 58.56 Bn by 2028
The digital remittance market is growing at a CAGR of 15% over the forecast period.
The base year for the report is 2020 in digital remittance market.
Asia Pacific dominated the market for digital remittance and accounted for the largest revenue share.
The top companies that hold the market share in digital remittance market are MoneyGram, Ripple, TransferWise, Azimo Limited, Remitly, WorldRemit, SingX Pte Ltd, Ria Financial Outward Remittance, Western Union (WU), Flywire, and InstaReM among others.