The global digital diabetes management market was valued at USD 6,960.0 million in 2019 and is expected to grow at a CAGR of 22.9% over the forecast period. Increasing prevalence of diabetes, technological advancements, and increasing penetration of digital platforms especially across emerging economies are anticipated to fuel market growth of the global digital diabetes management market.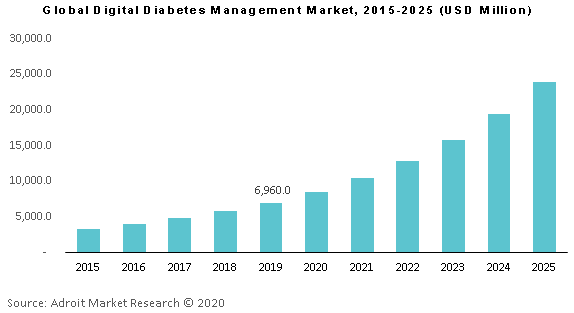 Key players serving the global Digital Diabetes Management market include Abbott, Medtronic, B. Braun Melsungen AG, F. Hoffmann-La Roche Ltd., BD, Dexcom, Inc., Ascensia Diabetes Care Holdings AG, Lifescan, Inc., Glooko, Inc., Tandem Diabetes Care among other prominent players.
Key segments of the global digital diabetes management market
Product & Services Overview, 2015-2025 (USD Million)
Devices
Digital Diabetes Management Apps
Data Management Software & Platforms
Services
Type Overview, 2015-2025 (USD Million)
Wearable Devices
Handheld Devices
End User Overview, 2015-2025 (USD Million)
Home Care Settings
Diabetes Clinics
Academic & Research Institutes
Others
Regional Overview, 2015-2025 (USD Million)
North America
Europe

Germany
United Kingdom
France
Spain
Rest of Europe

Asia Pacific

China
Japan
India
Rest of Asia Pacific

Central and South America

Brazil
Mexico
Rest of Central and South America

Middle East & Africa

GCC
Rest of Middle East and Africa
Reasons for the study
The purpose of the study is to give an exhaustive outlook of the global digital diabetes management industry
The overall segmentation of Digital Diabetes Management market, especially key segments are thoroughly studied.
Presence of major players and their wide product portfolio across developed countries is anticipated to further boost the growth of digital diabetes management market
What does the report include?
The study on the global digital diabetes management market includes analysis of qualitative market indicators such as drivers, restraints, challenges and opportunities
Additionally, the market competition has been evaluated using the Porter's five forces analysis
The study covers qualitative and quantitative analysis of the market segmented on the basis of applications, product, technology and end user. Moreover, the study provides similar information for the key geographies.
Actual market sizes and forecasts have been provided for all the considered segments
The study includes the profiles of key players in the market with a significant global and/or regional presence
Who should buy this report?
The report on the global Digital Diabetes Management market is suitable for all the players across the value chain including raw material suppliers, digital diabetes management device providers, medical device manufacturers, distributors, suppliers and retailers
Venture capitalists and investors looking for more information on the future outlook of the global digital diabetes management market
Consultants, analysts, researchers, and academicians looking for insights shaping the global digital diabetes management market
Digital health technology and health applications are rapidly evolving to help people manage their diabetes. There are various health-related applications available on smartphones and other portable devices to help people with diabetes who need to take either lifestyle changes or adjustments to the medicine in response to glucose monitoring. However, to standardize how mobile health applications are checked & regulated for patient safety, legislation & standards have not kept pace with the emerging sector. The evidence available on the safety and efficacy of mobile health applications remains limited, particularly for diabetes.
Mobile applications designed to monitor health & wellbeing in the U.S. & Europe are largely unregulated unless they fulfill the criteria of medical devices for diagnostic purposes. International bodies, including the International Medical Device Regulators Forum and the World Health Organization, have made headway in classifying various forms of digital health technology and incorporating digital health technology into the medical device market.
The digital diabetes management market has enormous potential, given that over 2.5 billion individuals use smartphones and approximately 0.5 billion people are currently using mobile-based applications for the management of diet and chronic diseases. Currently, several applications are stand-alone; however, there is a growing demand for integration and increased automation of data collection and algorithm-based response. Adroit Market Research anticipates that as this trend gain momentum, the landscape of digital diabetes management applications is likely to transform towards greater integration.
Based on type, the global digital diabetes management market is segmented into handheld devices and wearable devices. In the year 2019, wearable devices accounted for the majority of the market share. This is attributed to the advancement in the technology and growing preference for wearable devices in comparison with handheld devices.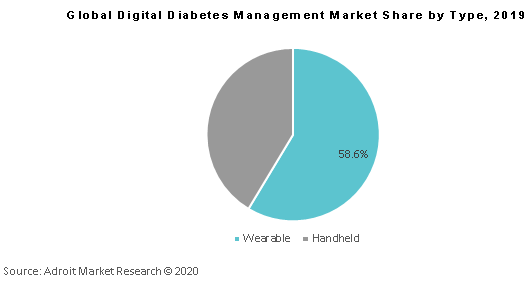 North America dominated the global digital diabetes management devices market in the year 2019 owing to the presence of a large patient pool suffering from diabetes. According, to the American Diabetes Association in the year 2018, 34.2 million Americans were having diabetes which equates to 10.5% of the total population. The percentage of Americans age 65 and older remains high, at 26.8%, or 14.3 million seniors (diagnosed and undiagnosed). Furthermore, annually there is an increase of 1.5 patients diagnosed with diabetes. Adroit Market Research further predicts that the favorable reimbursement scenarios over the forecast period will fuel market growth.
Asia Pacific region, on the other hand, is anticipated to witness the highest CAGR over the forecast period owing to growing healthcare facilities, rising government expenditure towards the betterment of healthcare facilities, rising healthcare awareness among the general public. The digital diabetes management market is anticipated to proliferate at a rapid pace across emerging economies of China and India owing to growing digitization trends and growing healthcare e-commerce sector across the region among other contributing factors.