Because of the widespread usage of baby diapers across the world, demand for baby diaper machines is expanding. Diaper machines have a higher manufacturing speed and a greater feeling of production.
The Diaper Machine Market is expected to reach US$ 418 Million during the forecast period at a 1.6% CAGR.
Covid-19 Impact & Market Status
The breakout of the COVID-19 pandemic has had a significant impact on practically every industry. Regulatory agencies all across the world are compelled to enforce stringent lockdowns and travel bans as the COVID-19 epidemic spreads. Furthermore, this has had a significant impact on the expansion of the diaper machine industry.
The supply chain systems were interrupted as a result of the COVID-19 epidemic, as a number of basic equipment and commodities are heavily reliant on imports from other nations. Furthermore, the stringent command of governing authorities to obey social distance standards compelled enterprises to operate with a minimum staff, resulting in a fall in the sectors' output rate. As a result, all of these problems harmed the Diaper Machine business.
Automatic Diaper Machine Is To Propel The Global Market Growth
In terms of revenue, the automatic diaper machine had the most use case in the industry. A diaper machine is a mechanical device that assists in the manufacture of infant diapers. It can be entirely automated or semi-automated, and it has been known to eventually replace manual labour, creating a more efficient. The automated diaper machine is a minimally invasive surgical and trimming machine for making baby diapers out of a base material.
A complete automatic diaper machine is a mechanical device that can cut, mould, and package diapers from start to finish. When compared to the manual production processes, it also has the potential to produce massive volumes in a short amount of time and produces consistent output with no or little defects at all times. Automated equipment that can complete by itself all stages of diaper production.
Whereas, a semi-automated baby Diaper Machines are used to make baby diapers that include top sheet, absorbing pads, and rear sheets. These machines use a hydration system to add sealants to the diapers elements before to assembly. A trimming unit is positioned on the back side of a semi-automatic baby diaper machine. The semi automatic will need labours to produce the finished product that adds more time in order fulfilment and in result is not that efficient.
Due To Rising Demand Of Diaper, The Pull Up Design Would Be The Leading Segment In Global Market
The Pull up design is the most sought and oldest design of a diaper & it has been dominating the diaper industry for more than a decade, not only in the baby diaper market but also in the adult diaper market the pull up design is prevailing, the design works just because of its simplicity and comfort, the design also helps the gel or the absorbent present in the diaper to be into close contact so that there is less leekage the design invariably helps to soak & dry and promotes less or even no leekage at times. Other design like brief is also common in adult diapers since that helps to address the target market correctly & it is easier to wear , another major reason for adoption of briefs is the psychology of the customer is also satisfied, since the brief resembles to an underwear and not a typical diaper, in the adult diaper section this is the best design since the application and usage is very easy and not much cumbersome for the geriatric population.
Above 1000 Units Per Minute Output Capacity Gains The Largest Market Share In Global Diaper Machine Market
Diapers are mostly made with wood pulp, paper and plastic & the diapers usually do not expire over the period of time however on an average the manufacturers recommend 2 years of expiry on a diaper. Due to this quality the most preferred output capacity is above 1000 units since diapers are not really expire and it is a product that has maximum return customers and consumers are very loyal to their brand since at the end it is affecting the long term health of their baby, hence these factors always keep up the demand for diapers, the manufacturers also do enjoy or leverage the concept of economy of scale, in a single production run the maximum they produce the lower the cost they can bring for their product hence maximum manufacturers opt for the high capacity of output so that they can achieve operational and profit excellence.
Europe Region Will Dominate The Diaper Machine Market Growth
Due to the introduction of new diaper units produced in the region, Europe is likely to have a prominent position in the worldwide adult diaper machines market. For example, on May 6, 2020, Biosphere Corporation opened a diaper manufacturing factory in Ukraine for adults and newborns. Each month, the plant is projected to generate 18,000,000 diapers. The business also gave the first 300,000 diapers to hospitals and other persons in need.
Asia Pacific is also a developing market, with manufacturers establishing new manufacturing facilities in the area. In 2017, for example, Nobel Hygiene Pvt Ltd. In Nashik, Maharashtra, the company opened a new production facility. By opening additional production plants, the business hoped to produce roughly 20 lakh diapers every day.
The need for baby diaper machines is predicted to rise as the world population grows and the number of infants born increases. With the rising number of newborn newborns, need for baby diaper machines is likely to rise throughout the predicted period.
From 2021 to 2029, the worldwide baby diaper machine market is estimated to grow at a CAGR of 4.6 percent, from USD 857.9 million in 2020 to USD 1.3 billion in 2029.
The growing number of nuclear families, as well as working women's desire for easy infant care goods, has increased the consumption for baby diaper machines. Adult diapers, feminine napkins, and underpads, among other things, can be made on baby diaper machines. Adult incontinence goods, such as adult diapers and panty shields, are often used by adults who have bladder incontinence or urinary control illness. Adults experiencing from ailments such as dementia, diarrhoea, and others frequently utilise this medicine.
The worldwide baby diapers machine market is expected to develop as the world's population ages and as the number of newborn newborns rises. For example, the ageing population in the United States is predicted to increase by more than 80% between 2020 and 2050. In addition, between 2018 and 2029, the number of newborn babies increased by 4.3 percent. Furthermore, an increase in patients with diseases such as diarrhoea, dementia, gastro, and others, that increases demand for underpads, diapers, panty shield, and other products that protect against urine inflow. The worldwide baby diapers machine market is fueled by such reasons.
In comparison to males, women are more likely to utilise stress urinary products. The urethra is unable to manage the pressure and avoid leaking, which is a typical urine inflow issue. The worldwide baby diapers machine market is growing because to a rise in women suffering from stress urinary illnesses. According to the Urology Care Foundation (UCF), roughly one out of every three women has a problem with stress urinary illness. Furthermore, the number of women using urine diapers in the United States was 18.3 million in 2010 and is anticipated to rise to 28.4 million by 2050.
However, the high cost of baby diaper machines, as well as raw material price fluctuations, are expected to stifle expansion. The marketplace On the other side, technological advancements are expected to give attractive market development prospects. Desire for diaper packaging machines is likely to rise as the market for baby diaper machines is driven by the demand for more modern production technologies. One of the economic restraints on the expansion of diaper machines is the expense of the diaper. Because of the cost factor, the market concentrates on the existence of a few notable competitors. Furthermore, market instability in raw material sales, import taxes, and other factors contribute to higher rates, which limit the expansion of the baby diaper machine market.
Every year, around 140 million women give birth, according to the World Health Organization (WHO). India and China are expected to have the largest diaper demand due to increased birth rates, providing significant momentum towards the diaper machine market in the future years. According to the National Bureau of Statistics of the People's Republic of China, China had 14.65 million births in 2019. Due to the rising number of employed women and expendable money in Asia Pacific, the region accounts for a considerable portion of worldwide infant diaper sales.
Aside from that, increased acceptability of adult diapers owing to the increase frequency of bladder-related health conditions among the ageing population is expected to enhance adult diaper adoption throughout the projected period. According to the WHO, the global population of people over 60 is predicted to reach 2 billion by 2050, with low- and middle-income nations accounting for over 80% of the senior population. In Japan, 30 percent of the population is above the age of 60. Adult diapers are essential to sustaining adequate hygiene and aged care in the old population who are experiencing bladder leaks owing to weakness of the bladder and pelvic muscles. Diaper adoption has also risen internationally due to expanded distribution systems and the simple availability of a variety of brands. As a result, the diaper machine industry is growing faster than the need for diapers.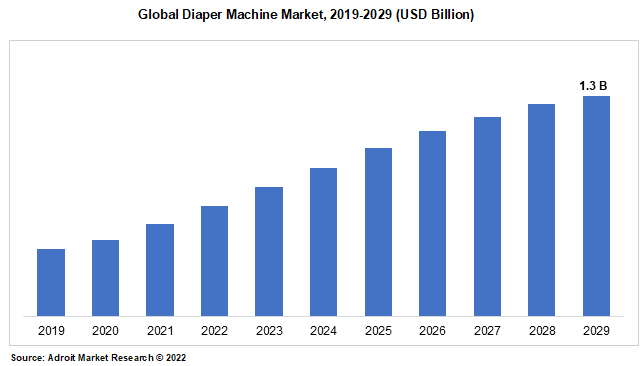 Key players operating in the global diaper machine market include Cellulose Converting Solutions SpA, Procter & Gamble (Fameccanica Data S.p.A.), Quanzhou Niso Industry Co. Ltd., SANI Group (SANIMAC SRL), Wangda Industrial Co. Limited, Welldone (China) Industry Limited, ZUIKO Corporation, HAINA Intelligent Equipment International Holdings Limited (Jinjiang HAINA Machinery Co Ltd), Anqing Heng Chang Machinery Co. Ltd., and RML Machinery & Services SA. and others.
Companies are discovering that if they want to thrive in this fragmented and highly competitive sector, they must invest extensively in research and development. This is the only way they'll be able to build the long-term competitive edge they'll require to be financially and economically viable.
Many smaller enterprises in the sector may lack the financial resources required to spend extensively in R&D on their own. They're making up for it by purchasing and merging with other successful firms in the field. They expand their whole resource pool, particularly in terms of financial and human capital. These businesses now have the resources, expertise, and research to do the extensive research and development that will be required.
Latest Innovation in the Global Diaper Machine Market: A snapshot
Pampers Pure Protection Hybrid Diapers are developed for parents who desire a diaper that produces less waste but yet want the comfort and protection of a disposable diaper. Pampers developed Pampers Pure Protection Hybrid Diapers, the first part-reusable, part-disposable diapering solution. The Pure Prevention Hybrid Diaper is made with Pampers' proven technology and offers better dryness and leak protection while using 25% less disposable materials.
Quanzhou Niso Industry Co.,Ltd has introduced the Ynk450-Hsv, a fully automatic high-speed baby diaper production machine that can produce four different sizes of diaper and has a high qualifying rate.
Diaper Machine Market Scope
| | |
| --- | --- |
| Metrics | Details |
| Base Year | 2020 |
| Historic Data | 2018-2019 |
| Forecast Period | 2021-2028 |
| Study Period | 2018-2028 |
| Forecast Unit | Value (USD) |
| Revenue forecast in 2028 | USD 1.3 billion. |
| Growth Rate | CAGR of 4.6% during 2021-2028 |
| Segment Covered | By Type, By Design, By Output Capacity, Regions |
| Regions Covered | North America, Europe, Asia Pacific, South America, Middle East and South Africa |
| Key Players Profiled | Cellulose Converting Solutions SpA, Procter & Gamble (Fameccanica Data S.p.A.), Quanzhou Niso Industry Co. Ltd., SANI Group (SANIMAC SRL), Wangda Industrial Co. Limited, Welldone (China) Industry Limited & among others. |
Key Segments of the Global Process Analyzer Market
By Type Overview, 2019-2029 (USD Billion)
Fully Automatic Diaper Machine
Semi Automatic Diaper Machine
By Design, 2019-2029 (USD Billion)
By Output Capacity, 2019 – 2029 (USD Billion)
Less than 500 units per minute
Between 500 to 1000 units per minute
Above 1000 units per minute
Regional Overview, 2019-2029 (USD Billion)
North America
Europe
Germany
France
UK
Rest of Europe
Asia Pacific
China
India
Japan
Rest of Asia Pacific
South America
Mexico
Brazil
Rest of South America
Middle East and South Africa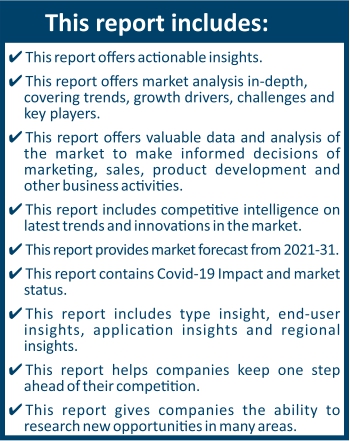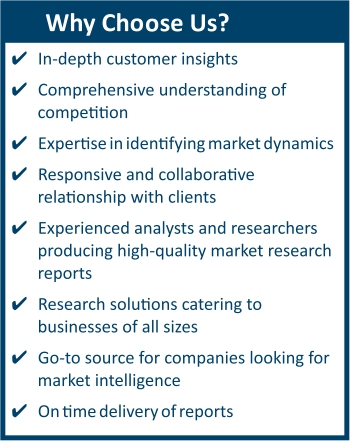 Frequently Asked Questions (FAQ) :
The market value of diaper machine market in 2029 was USD 1.3 billion.
The diaper machine market is growing at a CAGR of 4.6% over the forecast period.
Europe dominated the market for diaper machine market and accounted for the largest revenue share.
The top companies that hold the market share in diaper machine market are Cellulose Converting Solutions SpA, Procter & Gamble (Fameccanica Data S.p.A.), Quanzhou Niso Industry Co. Ltd., SANI Group (SANIMAC SRL), Wangda Industrial Co. Limited, Welldone (China) Industry Limited & among others.
To get latest version of diaper machine market report can be obtained on demand from the website.