One of the primary factors driving the worldwide depression medications market is the rising prevalence of social anxiety and depression as a result of rising work pressure and hectic schedules.
Covid-19 Impact & Market Status
Because an increasing number of people suffering from mental diseases are turning to prescription pharmaceuticals like benzodiazepines and antidepressants, the COVID-19 pandemic is expected to have an impact on the overall expansion of the depression meds sector.
The global Depression Drugs market size is expected to reach close to US$ 20 Bn by 2029 with an annualized growth rate of 4% through the projected period.
Furthermore, governments in a number of countries have implemented lockdowns as a precautionary step to prevent the spread of the novel coronavirus, resulting in a significant increase in demand for anti-anxiety medications.As a result, the antidepressant drugs industry is expected to have a large impact during the COVID-19 crisis, given the increasing frequency of melancholy and anxiety among the global population as a result of the pandemic. The number of antidepressant prescriptions skyrocketed in the first two quarters of 2020, and this tendency is expected to continue in the post-pandemic era.
North America, Europe, Asia Pacific, South America, and the Middle East and Africa make up the global depression medicine market. In 2019, the worldwide depression medicine market was dominated by North America. Europe was the next to follow. The depression medications industry in North America is driven by the release of new drugs to treat depression and the high prevalence of mental disease in industrialised countries such as the United States. From 2020 to 2028, the depression medications market in Asia Pacific is expected to grow at a faster rate than in other regions. The rise in frequency of depressive disorders and increased awareness about depression therapy in the Asia Pacific region are driving the growth of the depression medications market.
Because of improved awareness about anxiety disorders and depression therapy supplied by mental healthcare organisations, growing online sales of CNS stimulants, and increasing acceptance of depression medications, the market in this region is expected to grow.
The market for serotonin-norepinephrine reuptake inhibitors (SNRIs) is predicted to be the largest. Sales of SNRI are predicted to increase by 2X throughout the projection period.
The global depression medications market is being driven by increased awareness of mental disease and available therapies. Many people have a misunderstanding about mental illness.
Depression is a mental illness marked by a lack of pleasant feelings, a persistently low mood, and a slew of cognitive, physical, behavioural, and emotional signs and symptoms. It is diagnosed by identifying the symptoms and checking the medical history of the patient. It is then treated with antidepressants, which regulate the patient's mood and emotions by balancing the activity of neurotransmitters in the brain, such as serotonin. These medications can help with anxiety, seasonal affective disorder, and dysthymia symptoms.
According to the World Health Organization (WHO), depression is one of the leading causes of disability, impacting over 264 million people around the world. The increased prevalence of mental disorders such as social anxiety and depression is one of the primary reasons driving the growth of the depression drugs market.Apart from that, the increase in instances of coronavirus illness (COVID-19) has caused widespread dread, worry, and concern among the general public. Furthermore, because governments in some countries have imposed complete lockdown and are supporting the use of social distancing techniques, a substantial percentage of the population's daily routine has been disrupted, significantly impacting individuals' mental health. Another key growth-inducing element driving the sales of depression medications is this tendency. In addition, the development of improved approaches for producing antidepressants with fewer side effects and longer-term results, as well as increased adoption of new treatments, are projected to drive market growth in the future years.
Patients are hesitant to undergo pharmaceutical therapy owing to fear and lack of understanding about the medication therapy, therefore side effects connected with depression drugs are predicted to be a factor negatively affecting market growth to some level. Other side effects such as nausea, sexual dysfunction, anxiety, and insomnia also impede medicine uptake, limiting market growth.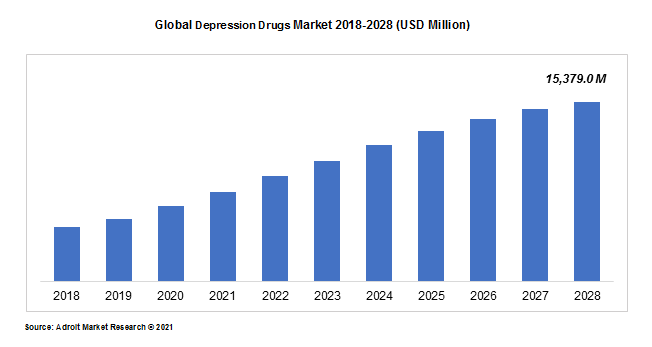 The major players of Depression Drugs Market are Otsuka Pharmaceutical, Eli Lilly and Company, Pfizer, AstraZeneca, Bristol-Myers Squibb, Novartis, GlaxoSmithKline, Allergan, Takeda Pharmaceutical Company, Zhejiang NHU Company Ltd, Johnson & Johnson, Sebela Pharmaceuticals and others.
Major Developments in Depression Drugs Market:
According to statistics, traditional antidepressant medicines and treatments have a low success rate, with only approximately 40% of patients recovering. As a result of these concerns, academics, scientists, and pharmaceutical corporations have been seeking for novel approaches to improve the efficacy of major depressive disorder treatments
.In the last several years, advances in the neuroscience of depression have opened up new anxiety disorders and depression treatment options. In addition, market participants in the existing mental health pharmaceuticals business are constantly focused on the development of novel non-pharmacologic and pharmacologic remedies.
The market is expanding as demand for tricyclic antidepressants rises, sales of selective serotonin reuptake inhibitors (SSRIs) rise, and antidepressant use rises.
In the creation of novel drugs, treatments, and cures, a growing number of global research projects are contributing. The total expansion of the depression medications sector is expected to be influenced by research and development efforts.
The market expansion in China is likely to be driven by increased R&D spending by the government and market participants, the development of innovative drugs for anxiety and depression-related disorders, and rising demand for branded antidepressants.
In June 2021, Sumitomo Dainippon Pharma Co., Ltd and Nippon Chemiphar Co., Ltd announced a combined research and development collaboration as well as a clinical research agreement for the new antidepressant candidate NC-2800.
Depression Drugs Market Scope
| | |
| --- | --- |
| Metrics | Details |
| Base Year | 2022 |
| Historic Data | 2021-2022 |
| Forecast Period | 2022-2031 |
| Study Period | 2021-2031 |
| Forecast Unit | Value (USD) |
| Revenue forecast in 2031 | US$ 20 Bn |
| Growth Rate | CAGR of 4 % during 2022-2031 |
| Segment Covered | By Drug Type, By Drug Class, By Disease, Regions |
| Regions Covered | North America, Europe, Asia Pacific, South America, Middle East and Africa |
| Key Players Profiled | Johnson and Johnson, Sebela Pharmaceutical Inc., Takeda Pharmaceutical Company Ltd., GlaxoSmithKline, Novartis AG, Allergan USA Inc., AstraZeneca, Pfizer Inc., Eli Lilly and Company, Otsuka Pharmaceutical Co. Ltd., Alkermes Plc, Bristol Myers Squibb Co., H. Lundbeck, Teva Pharmaceutical Industries Ltd. |
Key Segments of the Depression Drugs Market
By Type
Generic Drugs
Branded Drugs
By Distribution
Hospital Pharmacies
Retail Pharmacies
Online Pharmacies
others
By Disorder
Depressive Disorder
Obsessive- Compulsive Disorder
Panic Disorder
Others
By Region
North America
Europe

UK
Germany
France
Rest of Europe
Asia Pacific

China
Japan
India
Rest of Asia Pacific

South America

Brazil
Mexico
Rest of South America

Middle East & Africa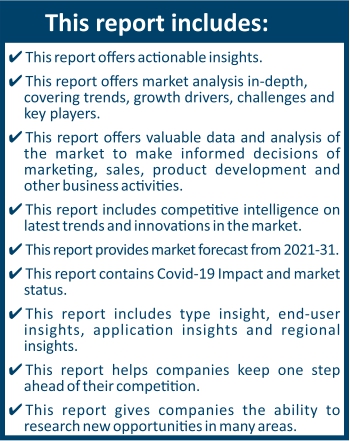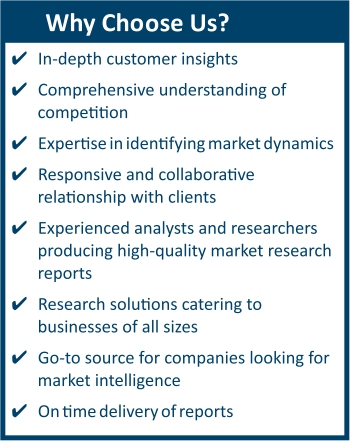 Frequently Asked Questions (FAQ) :
The global depression drugs market size is expected to reach US$ 15,379.0 million by 2028.
North America dominated the market for depression drugs market and accounted for the largest revenue share.
The base year for the report is 2020 in depression drugs market.
The top companies that hold the market share in depression drugs market are Otsuka Pharmaceutical, Eli Lilly and Company, Pfizer, AstraZeneca, Bristol-Myers Squibb, Novartis, GlaxoSmithKline, Allergan, Takeda Pharmaceutical Company, Zhejiang NHU Company Ltd, Johnson & Johnson.
To get latest version of depression drugs market report can be obtained on demand from the website.