The global Dental Crowns & Bridges market size is expected to reach close to by 2029 with an annualized growth rate of 5.90% through the projected period.
When it comes to the technology used to treat and diagnose tooth disorders, the dentistry business has a continual rate of advancement. Availability of all natural looking crowns is gaining attraction for consumers. A crown or cap is a dental restoration that strengthens or improves the appearance of a tooth by covering the exposed surface. A dental bridge is used to replace one or more lost teeth. It consists of a false tooth or teeth bonded to crowns on both sides to provide support.
The global dental crowns & bridges market size is valued over USD 3.0 billion in 2020. This can be ascribed to the increase in prevalence of oral diseases along with rapidly growing geriatric population across the globe. Besides, growing demand for cosmetic dentistry, and advancements in CAD/CAM technology is also the key factor driving the market growth for dental crowns & bridges.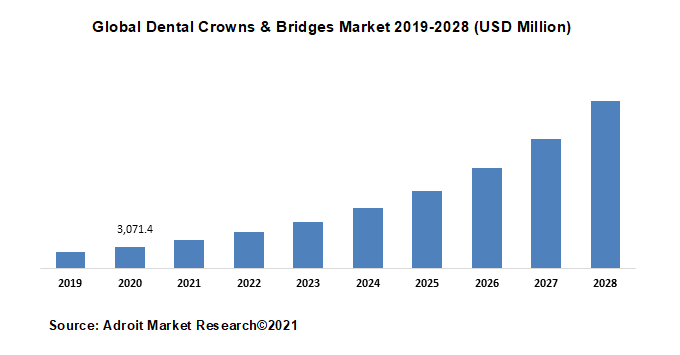 Dental Crowns & Bridges Market Scope
| | |
| --- | --- |
| Metrics | Details |
| Base Year | 2020 |
| Historic Data | 2018-2019 |
| Forecast Period | 2021-2028 |
| Study Period | 2018-2028 |
| Forecast Unit | Value (USD) |
| Revenue forecast in 2028 | USD 3.0 billion |
| Growth Rate | CAGR of 7.4% during 2021-2028 |
| Segment Covered | Product, Material, Regions |
| Regions Covered | North America, Europe, Asia Pacific, South America, Middle East & Africa |
| Key Players Profiled | dental crowns & bridges market are Straumann, 3M, Ivoclar Vivodent, Dentsply Sirona, and Nobel Biocare Services AG. |
Key Segments of the Global Dental Crowns & Bridges Market
Product Overview, 2019-2028 (USD Million)
Material Overview, 2019-2028 (USD Million)
Regional Overview, 2019-2028 (USD Million)
North America
Europe
UK
Spain
Germany
Italy
France
Rest of Europe
Asia Pacific
China
Japan
India
South Korea
Australia & New Zealand
Rest of Asia Pacific
South America
Brazil
Mexico
Argentina
Rest of South America
Middle East and Africa
Middle East
Africa
Rest of Middle East and Africa
Reasons for the study
The purpose of the study is to give an exhaustive outlook of the global dental crown and bridges industry.
Impact of increased demand for cosmetic dentistry on dental crown and bridges market. Major companies are therefore striving to offer innovative solutions coupled with the latest technological advancements to address the increasing demand.
Global medical tourism is witnessing exponential growth due to several factors such as low treatment options, break from daily routine, tourism led by treatment
What does the report include?
The study on the global dental crowns & bridges market includes qualitative factors such as drivers, restraints, and opportunities
Additionally, the market has been evaluated using the PEST analysis.
The study covers a qualitative and quantitative analysis of the market segmented based on product, and material. Moreover, the study provides similar information for the key geographies.
Actual market sizes and forecasts have been provided for all the above-mentioned segments.
The study covers the competitive landscape of existing/prospective players in the dental crowns & bridges industry and their strategic initiatives for product development.
Who should buy this report?
This study is suitable for industry participants and stakeholders in the global dental crowns & bridges market. The report will benefit every stakeholder and executives of dental insurance companies.
Managers within the dental crowns & bridges industry looking to publish recent and forecasted statistics about the global dental crowns & bridges market.
Government organizations, regulatory authorities, policymakers, and organizations looking for investments in trends of the global dental crowns & bridges market.
Analysts, researchers, educators, strategy managers, and government institutions looking for insights into the market to determine future strategies.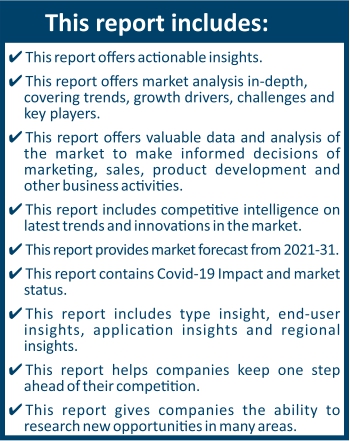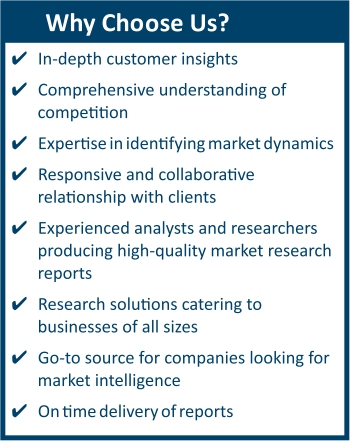 Frequently Asked Questions (FAQ) :
The dental crowns & bridges market is expected to grow at a CAGR of 7.4% during 2021-2028.
Europe dominated the market for dental crowns & bridges market and accounted for the largest revenue share.
The major players are Straumann, 3M, Ivoclar Vivodent, Dentsply Sirona, and Nobel Biocare Services AG.
To get latest version of dental crowns & bridges market report can be obtained on demand from the website.
The dental crowns & bridges Market is Segmented on the Product, Material and Geography.
The dental industry is marked with steady development rate when it comes to the technology used for treatment and diagnosis of dental problems. Every dentist practicing today encounter at least one patient daily seeking information regarding cosmetic dentistry. Availability of all natural looking crowns is gaining attraction for consumers.
Appearance has become one of the essential part of the culture in many of the countries. Change in definition of ageing has changed from past few years. 40 is no longer considered as middle aged. Advancements in medical technologies is also helping the baby boomers to accept changes within the market to live a healthy and happy life.
Over time, numerous associations and government agencies have taken several steps to support, promote and develop wellness and dental tourism. In Asia, which is a hub for medical tourism, associations between the governments and non-governmental bodies are growing. For instance, after realizing the potential of medical tourism among international tourists, the Ministry of Tourism of India formulated certain guidelines to promote India as a holistic tourism destination. The government is offering varied tourism products throughout the year and therefore, enhancing the growth of the market.
To attract international patients, several regions have emphasized on providing access to high quality technology at nominal prices. In certain cases, the high value of currency makes medical services more expensive in comparison with neighboring countries. For instance, there is a significant difference in dental treatment prices between Malaysia, Thailand and India. In Thailand, the development of the country with government support as a medical hub has been established through the prime minister's special committee. The ministry of public health has drafted a 2nd strategic plan in order to enhance the growth of Thailand's health services for international patients.
In Philippines, the medical tourism market emerged in 2004 with the help of government initiatives. Furthermore, the government launched Philippines Medical Tourism Program (PMTP) to enhance the growth of the market. Many associations across the globe are made up of organizations from all around the world and are working together to improve healthcare and provide high-quality care for international patients. These initiatives are expected to provide opportunities for the growth of the dental tourism market over the next few years.
Numerous dental clinics are unaware about the basic concepts of dental tourism and marketing. In such cases, creating awareness and improving knowledge of dental tourism development through marketing activities will help attract more dental tourists consequently driving the growth of the market. Clinics and hospitals should rely on strategic marketing rather than the traditional advertising channels using uniquely customized dental newsletters, dental postcards, brochures and social media content which will be marketed globally. Marketing activities also include highlighting the unique features of a country which distinguishes themselves from other destination. Additionally, connecting, networking and building communities of clinics will help in driving the growth of the market.
Product Segment
Based on product, the market is bifurcated into crowns and bridges. In 2020, the crowns segment accumulated the maximum market share and it is likely to continue its dominance throughout the forecast years. Large number of single tooth restoration procedures happening across the globe is key factor for crowns dominating the market. Emergence of CAD/CAM systems as well as 3D printing in dental industry has benefited the dental technicians to improve the fitting, size, compatibility of previously molded crowns. Reduction in preparation time of crowns owing to skipping of steps such as impression making and cleaning is expected to benefit the crown segment as chair time is expected to reduce in future enabling dentists to perform more number of restorations in given time.
Material Segment
Material-wise, the market is segmented into ceramic and metal. The ceramic segment seized the maximum market share in 2020 and it is likely to maintain its place throughout the forecast years. Natural look of ceramic crowns compared to metal crowns has been a major selection criteria for patients undergoing prosthetic treatment. All ceramic crowns have emerged as a standard replacement for porcelain-fused-to-metal type (PFM) of crowns. Previously, PFM crowns were industry standard when it came to tooth replacement but since last 4 decades, patient preference towards all ceramic crowns has increased pertaining to its higher aesthetic appeal.
Advancements in terms of new materials coming up in the market coupled with launch of new equipment's such as 3D printers for dental application is expected to spur the demand for ceramic materials in coming years. Recently in January 2018, Porimy launched ceramic 3D printer in China. The equipment is one of a kind to get medical device registration certificate for 3D printing of ceramic dentures. Such launches are expected to increase the uptake of ceramic materials in dental applications in near future.
Asia Pacific is likely to grow at a lucrative 8.2% CAGR through the forecast years 2021-2028. Increasing geriatric population coupled with increased spending by millennials on aesthetics is expected to drive the sales of dental crowns ad bridges in coming years. Rising demand for dental implants within the region on account of increasing awareness of new products as well as technologies within the market is increasing patient's knowledge and is expected to increase the penetration of implants in highly populous countries.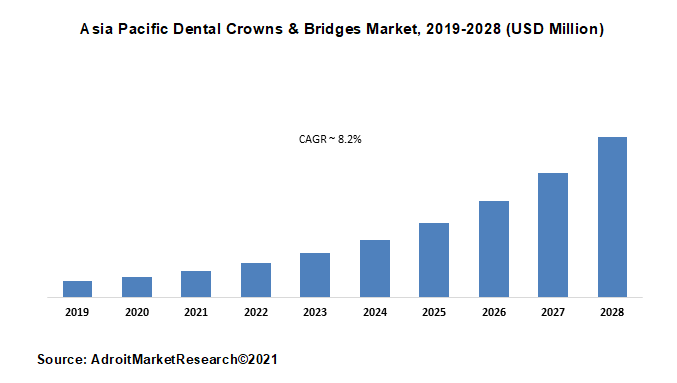 The rate at which geriatric population is increasing within Asia Pacific is high compared to other regions. According to the estimates given by United Nation Population Fund, 1 out of 4 individual within the continent will be aged over 60 creating a large potential market for dental crown and bridges manufacturers as well as dentists. Additionally, from 2010-2050, population over 60 years is expected to grow 3 times to reach 1.3 billion. Such demographic changes is expected to drive the regional demand in coming years.
Furthermore, Asia Pacific is the busiest host for medical tourism and has led the medical tourism market for over a decade. Dental tourism is one of the major healthcare services offered at low cost in Asia Pacific. Chief destinations for dental tourism in the region include India, Thailand, Malaysia, South Korea and Philippines. Such trends are expected to fuel the demand for dental crowns and bridges for domestic population as well as medical tourists.