The market for daytime running lights is expanding due to a number of causes. The increased attention to accident prevention is one of the key drivers of this market's rise. The requirement for these lights is being driven up by strict rules governing car safety mechanisms, such as the requirement for DRLs in European nations. Increasing customer awareness of the advantages of DRLs and the expanding trend of customisation and customisation in the automotive sector are two more significant drivers. In the upcoming years, this industry is anticipated to increase as a result of increased disposable incomes and shifting lifestyles in emerging economies. Additionally, the market is receiving a lot of support from consumers' increased desire for daytime running lights made of LEDs.
Daytime Running Lights (DRLs) are necessary since they increase a vehicle's visibility during the day and at night and also make it easier for other drivers to see the car from a distance. By making it simpler for many other motorists to see a location of a vehicle on the road, DRLs can also assist prevent accidents. Additionally, DRLs can aid in lessening the glare from approaching headlights, improving a driver's ability to see the roadway in front of them. DRLs can also increase fuel efficiency by cutting down on the duration of time that the headlights are already on.
The purpose of daytime running lights (DRLs) is to improve a vehicle's visibility throughout the day. DRLs are typically mounted on a car's front and turn on anytime the engine is running. DRLs may occasionally be built within the headlamp assembly. DRLs are used to increase a vehicle's visibility to other drivers, particularly during times of low light like dawn or dusk. DRLs can lessen the likelihood of accidents by improving how easily other drivers can see your car. DRLs can also increase your own vision when riding, making it simpler to spot oncoming traffic and other obstructions in the road. The availability and display of data in an easily readable format have increased demand for daytime running lights. The primary aim of daytime running lights is safety since they aid in preventing collisions or accidents on highways or roads, particularly when visibility is poor or limited.
The market for daytime running lights is anticipated to reach USD 4.21 billion by 2031, growing at a CAGR of 7.2% between 2021 and 2031 from an estimated USD 2.71 billion in 2021.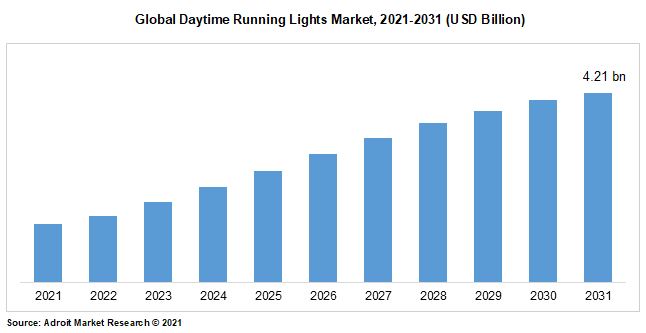 The strict international laws governing vehicle safety are the main reason propelling the daytime running light market's expansion.
Government regulations that are too strict impede market expansion. In several nations, Daytime Running Lights (DRLs) are required, and there are stringent requirements for their use. Additionally, the price of installation is relatively costly, which can prevent the market from expanding. The devices also have a high maintenance cost, which could provide a barrier to the market's expansion for Daytime Running Lights (DRLs). The market is anticipated to expand in the future, though, as a result of stricter government rules and growing public awareness of road safety.
Some of the key players profiled in the report include Huawei Technologies Co., Ltd., IBM Corporation, ADLINK Technology Inc., Advantech Co., Ltd., Dell EMC Corporation (Dell Technologies Inc.), Nippon Telegraph and Telephone Corporation (NTT Communications Corporation), HPE Development Company L.P., Microsoft Corporation, Nokia Networks Oyj (Alcatel-Lucent), PTC Inc., Riverbed Technology Inc., Schneider Electric SE (AVEVA Group plc), Arm Limited (SoftBank Group Corp.), Orange SA, Siemens AG (Siemens Industry Software GmbH), and Vmware Inc. These companies are well-established in the industry and are constantly working to create new, cutting-edge items to meet shifting consumer expectations.
Segment Analysis
The Halogen Segment emerged as the Most Lucrative Type
The market is divided into two groups based on types: LED and Halogen. Due to their low cost, increased durability, and ease of maintenance, halogen lamps are frequently employed as headlamps in cars. Additionally, even when running at lower voltages, they produce strong light and have a long lifespan. In comparison to incandescent bulbs, they also use less energy and produce less heat.
The Most Prominent Application is the Passenger Cars Segment
The market is divided into three categories based on application: passenger cars, light commercial cars, and heavy commercial cars. Given the rising need for higher fuel efficiency and low CO2 emissions in passenger cars, the Passenger Cars sector is predicted to develop with the biggest market share throughout the forecast period. This will increase the need for effective powertrains that can deliver high voltage levels with fuel efficiency throughout the course of their lifetime. As a result of their capacity to deliver strong torque at different engine speeds and increase fuel efficiency, hybrid electric vehicles (HEVs) are anticipated to be widely adopted in passenger cars.
The North American Region to render Ample Financing Opportunities
The market is divided into North America, South America, Asia Pacific, Europe, and the Middle East & Africa on the basis of region. The North American region is anticipated to have the largest market share of these over the projection period. The rising need for software development and mobile applications is the main driver of growth in this region. Additionally, industrialised nations like the US and Canada have demonstrated a greater uptake of edge computing technologies across a number of sectors, including manufacturing, logistics, retail, healthcare, and the life sciences.
COVID-19 Impact and Market Status
The COVID-19 epidemic has significantly impacted the global automotive sector. Vehicle manufacturing and sales have decreased as a result of the worldwide lockdown imposed by different governments. The market for car daytime running lights has thus been negatively impacted. The market is anticipated to experience positive development during the projection period, nonetheless, as a result of the gradual lifting of lockdown restrictions and the revival of economic activity. Additionally, it is anticipated that market participants would concentrate on offering cutting-edge goods and services that satisfy consumer demands and legal requirements.
Recent Developments in the Daytime Running Lights (DRLs) Market
• Hella introduced a new generation of cutting-edge DRLs in March 2019 to increase the scope of its day-running light lineup.
• Hella introduced the G5 LED Daytime Running Lights (DRL) to the European market in 2020. An energy-efficient, 5-watt high-output LED provides light for the new DRL.
• Hella introduced Max Vision Beam Technology for its most recent generation of daytime running lights in September 2020 to give drivers a better vision of the road in front of them.
• New LED daytime running lights with cutting-edge characteristics were introduced by Hella in April 2021. The new DRLs give drivers a better view of the road in front of them.
• A new generation of LED daytime running lights from Hella with improved safety features was introduced in May 2021. The new DRLs offer increased safety in low light circumstances and a better view of the road ahead for drivers.
Daytime Running Lights Market Scope
| | |
| --- | --- |
| Metrics | Details |
| Base Year | 2022 |
| Historic Data | 2020-2021 |
| Forecast Period | 2022-2031 |
| Study Period | 2020-2031 |
| Forecast Unit | Value (USD) |
| Revenue forecast in 2031 | UUSD 4.21 billion |
| Growth Rate | CAGR of 7.2% during 2021-2031 |
| Segment Covered | Type, Application, Regions |
| Regions Covered | North America, Europe, Asia Pacific, South America, Middle East and Africa |
| Key Players Profiled | Huawei Technologies Co., Ltd., IBM Corporation, ADLINK Technology Inc., Advantech Co., Ltd., Dell EMC Corporation (Dell Technologies Inc.), Nippon Telegraph and Telephone Corporation (NTT Communications Corporation), HPE Development Company L.P., Microsoft Corporation, Nokia Networks Oyj (Alcatel-Lucent), PTC Inc., Riverbed Technology Inc., Schneider Electric SE (AVEVA Group plc), Arm Limited (SoftBank Group Corp.), Orange SA, Siemens AG (Siemens Industry Software GmbH), and Vmware Inc. |
Key Segments of the Daytime Running Lights (DRLs) Market
Type Overview, 2021-2031 (USD Billion)
• LED
• Halogen
• Others
Application Overview, 2021-2031 (USD Billion)
• Passenger Cars
• Commercial Vehicles
Regional Overview, 2021-2031 (USD Billion)
North America
• U.S
• Canada
Europe
• Germany
• France
• UK
• Rest of Europe
Asia Pacific
• China
• India
• Japan
• Rest of Asia Pacific
South America
• Mexico
• Brazil
• Rest of South America
• Middle East and South Africa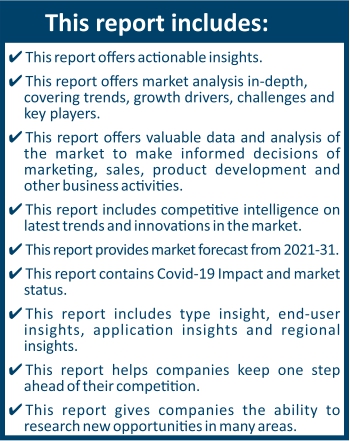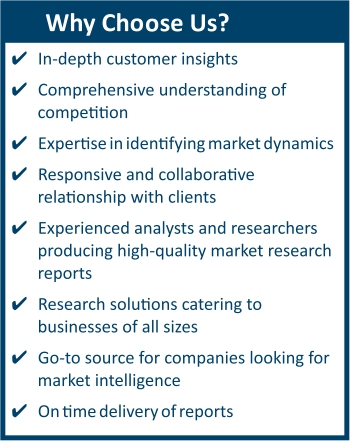 Frequently Asked Questions (FAQ) :
Daytime Running Lights (DRLs) Market is projected to reach USD 4.21 billion by 2031, growing at a CAGR of 7.2%