The global date syrup market has been expanding with high revenue in recent years and is anticipated to expand beyond 514 USD million at a CAGR of 5% over the forecasted period. The rise in commercial date syrup consumption, as well as diabetes patients' preference for date syrup, is driving the global date syrup market's expansion. However, the availability of many substitutes and buyers' lack of product awareness limits the market to some extent. Production of organic date syrup, on the other hand, as well as updated packaging and processing, provide new prospects in the future years, paving new growth opportunities in the global data syrup market.
Date syrup, made from dried dates, adds a deep depth to meals. Although it is rather expensive, it is marketed as a better, more nutritional and more cost-effective alternative to brown sugar. Date molasses or date honey is another name for this thick, black, and very sweet fruit syrup produced from dates. It is commonly used for cooking in parts of North Africa and the MEA.
Data syrup is a flexible natural sweetener that may be substituted for molasses, sugar, or syrup. Dates include vitamins, potassium, and fiber, making date syrup a healthy alternative and driving development in the worldwide date syrup market.
Date syrup provides potential in the food sector for the development of novel liquid goods such as yogurt drinks, juice blends, and other beverages. It is also employed in the fermentation of sweet syrup liquid/pulp in spirits, wines, and vinegar.
According to the latest research studies by the international Diabetes Federation, diabetes is a chronic ailment and is diagnosed when natural insulin production capabilities of the body is disturbed due to ailing pancreas. Alternatively, even if insulin production is normal, the body fails to utilize that, also leading to diabetes.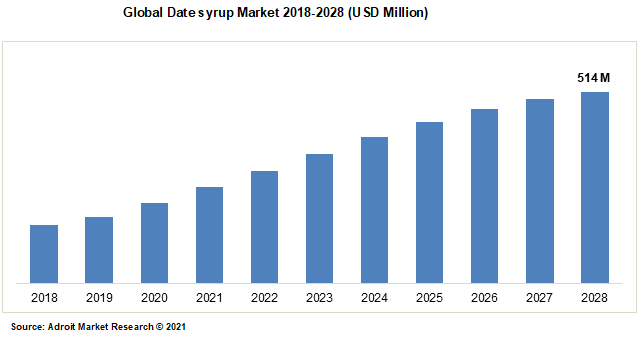 The prominent players of the global date syrup market are IBM (US), Synopsys (Canada), Checkmarx (Israel), SecureWorks (US), Rapid7 (US), WhiteHat Security (US), Micro Focus (UK),Veracode (US), and McAfee (US). The overview, financials, revenue created, R&D investment, market potential, new market initiatives, company strengths and weaknesses, geographical presence, product launch, application dominance, and product width and breadth are among the information covered. The data presented above is only relevant to the firm's emphasis on date syrup.
Key Segments of the Global Date syrup Market
Product Type Overview, 2018-2028 (USD Million)
End-User Overview, 2018-2028 (USD Million)
Distribution Channel Overview, 2018-2028 (USD Million)
Specialty Stores
Business to Business
Supermarket/Hypermarket
Online Sale Channels
Regional Overview, 2018-2028 (USD Million)
North America
Europe
France
UK
Germany
Rest of Europe
Asia Pacific
China
Japan
India
Rest of Asia Pacific
South America
Brazil
Mexico
Rest of South America
The Middle East and Africa
Reasons for the study
The study investigates significant changes in the global date syrup industry, as well as organic and inorganic growth strategies.
The industrial chain structure of the industry, raw material costs, manufacturing base, and marketing channel analysis are all included.
It investigates probability, mergers and acquisitions, as well as analyst perspectives and opinions.
What does the report include?
The research includes a review of the key drivers, limitations, and possibilities, as well as an evaluation of their effect on growth prognosis of the global date syrup market.
Current and future date syrup market trends are thoroughly investigated in order to evaluate overall attractiveness and discover profitable trends in order to get a firmer footing in the global market.
Porter's Five Forces study demonstrates the importance of consumers and suppliers in the global date syrup business.
Who should buy this report?
Strategy managers, researchers, and government agencies seek market data to help in the planning of future operations.
Managers in the global date syrup business who want to talk about current and future global market statistics.
Frequently Asked Questions (FAQ) :
Date syrup market is estimated to reach USD 514 million by 2028.
The CAGR of date syrup market is 5%.
The segments of date syrup market are conventional date syrup and organic date syrup.
Kindly raise an inquiry through the chat box and our business executive will get in touch with you with the details on the purchase options.
The key players operating in the date syrup industry include Lion Dates Impex Pvt Ltd., Hain Celestial Group, Belazu Ingredient Company., Just Date Arat Ratinkhosh Co., Company PJS., Al Foah, Galil Foods, Syrup, Sahara Dates, and Ario Co.
The global increase in the number of diabetes patients is a serious issue, with about 463 million people, or one in every eleven adults (20-79 years), suffering from diabetes. The number is true to developments in 2020, and the number of patients suffering from diabetes is further poised to rise over 700 million by 2045.
Furthermore, more than half of individuals diagnosed with diabetes are from poor and middle-income nations, and diabetes affects one out of every five people aged 65 and older. Consuming dates or date syrup as a sugar substitute may therefore assist diabetic patients in regulating their sugar levels, resulting in the market expansion of date syrup.
However, the industry confronts severe competition from the availability of other goods such as, but not limited to, corn syrup, maple syrup, chocolate syrup, molasses, honey, coconut sugar, and agave nectar to mention a few. Because of the inherent sweetness derived from the maple tree, maple syrup is one of the most frequent and popular syrups or natural sugar replacements are chosen by customers. Furthermore, there is a growth in the intake of this syrup.
Chocolate syrup and honey are two other typical sweeteners that are utilized and sold in a variety of retail formats. As a result, the availability of a huge number of date syrup alternatives impedes the date syrup market's development.
Product Type Segment
The conventional segment is accounted for the date syrup market in 2020 and is likely to continue to do so throughout the prediction period. Because production and availability are higher in this sector, conventional date syrup is the global market leader.
End-User Segment
The commercial segment is accounted for the highest revenue in 2020, and it is anticipated to maintain its dominance all over the estimated period owing to the growth of the foodservice industries.
Distribution Channel Segment
Due to growing consumption in the commercial segment, the business-to-business distribution channel held the greatest market share of the global date syrup market in 2020, making it the industry's leading distribution channel.
Europe sustained the highest growth and revenue profits in the global data syrup market in the year 2020. Furthermore, due to its high consumer health consciousness and understanding of the benefits of date syrup consumption, the area is at the forefront.