Widespread prevalence of digestive problems, particularly lactose intolerance, has increased the global demand for probiotic-fermented dairy products.
Covid-19 Impact & Market Status
COVID-19 is expected to have a significant influence on the Food Enzymes Market since the current pandemic has highlighted the need for safe, healthy, and nutritious eating. In addition, the key competitors in the dairy enzymes industry have started to develop their products for cross-border ingredient sales. R&D and sales teams are also streamlining supply chains for raw material distribution.
During the COVID-19 epidemic, food component manufacturers faced major hurdles in meeting the increased demand for food enzymes, such as shifting tastes and preferences. During the pandemic, a sudden and unexpected surge in demand for functional foods left producers, suppliers, and retailers scrambling to assure a steady supply of raw ingredients on the market. Disruptions in the supply chain between nations during the pandemic lockdown proved difficult for the market.
The Microbial Rennet Type is Likely to Develop at the Top Rate in the Coming Future
The microbial rennet segment type is projected to rise at the quickest revenue throughout the mentioned timeframe. Because the enzyme generated by the bacterium is not sourced from animals, microbial rennet is considered vegetarian-friendly. Microbial rennet is also less costly than animal rennet.
The Cheese Segment is Likely to Grow with the Greatest Share throughout the Forecast Period
In 2020, the cheese segment is predicted to rise with the greatest proportion across the globe. Throughout the cheese-making process, many microorganisms, including Irpex, Aspergillus oryzae, and Rhizomucor pusillus, are utilized to synthesize rennet. To speed up the curdling process, most cheesemakers add lactic acid, rennet, or plant-based enzymes extracted from fig leaves, wild artichokes, melons, or safflowers. Enzymes are taken from young ruminants in addition to plants and microorganisms.
The Animal & Microorganism Segment is Projected to Grow with the Maximum Share throughout the Forecast Period
In 2020, the animal & microorganism segment is likely to hold for highest revenue for the worldwide market. Because of the extraction method, they are the most common source of dairy enzymes chosen by producers. Furthermore, when compared to plant-sourced dairy enzymes, extensive research on microbes is simpler and more cost-effective.
The Asia Pacific Region is Likely to be Elevated Growth Potential Market for the Market in the near Future
As its economic significance has risen over the recent decade, the APAC region is likely to be the fastest-growing industry for dairy enzymes in the projected period. The primary nations contributing to the region's increasing demand for dairy enzymes are India and China. The region's increased industrialization over the years, followed by advances in the food and beverage industries, has created new potential for the dairy enzyme market. The region's economic expansion, along with rising demand for healthful dairy products, is likely to drive future growth.
Yogurt, both traditional and drinkable, has grown in popularity among consumers, as there is a greater desire for natural probiotic remedies for digestive health.
Dairy enzymes are enzymes that are added to milk to make yogurt, cheese, and other milk products. Dairy enzymes serve various important tasks, such as coagulants in the production of cheese and as bioprotective enzymes in the improvement of the safety and shelf life of dairy products.
Dairy enzymes like proteases, lipases, lactase, and catalase have a wide range of dairy uses. Rennets or rennin, a combination of pepsin and chymosin obtained mostly from microbial and animal sources are used in the cheese manufacturing process, especially in the initial step for milk coagulation. The global dairy enzymes market is predicted to rise with 735 US$ million at a CAGR of 7.18% throughout the forecast timeframe.
Several types of proteases are being used to expedite the ripening of cheese and to change milk proteins in order to reduce the allergenic properties of cow milk-based products designed especially for newborns. Dairy enzymes are also utilized to modify milk's functional qualities. Lipase is used to create lipolytic flavors in cheese during the ripening process. The key elements that support demand are dietary trends in healthy snacking and hydration behaviors. Furthermore, an increased understanding of the benefits of individualized dietary solutions aids in long-term growth.
The increased consumption of yogurt, cheese, and other dairy products in developing nations is propelling the industry. With increasing market rivalry, staying ahead in the dynamic dairy business need the greatest technology and experience to be adaptable, efficient, and profitable. The growing demand for dairy-infused processed goods is also driving market sales. With the increased worry over lactose intolerance, dairy enzymes are increasingly being used in low-lactose products.
The growing frequency of digestive diseases has increased the global demand for fermented milk products. Probiotics are a driving force in the thriving digestive health products industry, and individuals of all ages utilize them.
The growing customer preference for digestive health-related items has kept probiotic food products on the market. Other major elements that are boosting the sales of fermented dairy products across different countries include the continued trends of healthy hydration and healthy eating. As a result, market growth will accelerate.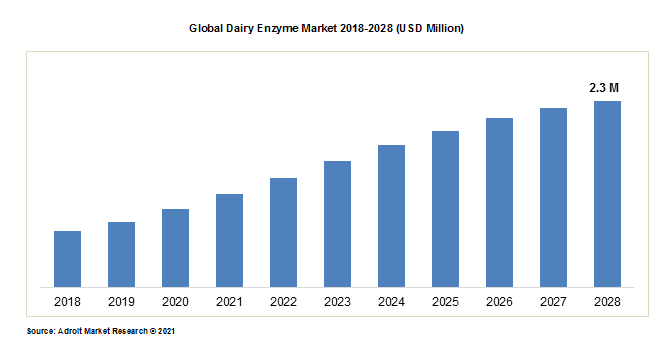 The usage of dairy enzymes has profited from the rising market competition as well as advancements in knowledge and technology in the dairy business. The worldwide dairy enzymes market is highly fragmented, with several global and regional participants. To stay up with the competition, active firms are involved in new product development, growth, and acquisitions. Some of the main players are increasing their worldwide reach by purchasing overseas producers. DowDuPont, Chr. Hansen, Novozymes, Kerry Group, DSM jointly account for more than half of the market. These companies are well-known in North America and Europe. They also have production facilities and a robust distribution network in these locations.
Latest Innovations in the Global Dairy Enzyme Market: a Snapshot
In May 2020, DuPont Nutrition & Biosciences Company explored its fresh bonlacta enzyme lactose-free dairy business in North America. This product has enabled process improvement and much-needed cost reduction, permitting the production of a diverse variety of lactose-free dairy products at extremely competitive prices.
In March 2020, Novozymes released Saphera Fiber, a new lactase enzyme used to improve fiber content while lowering sugar in both fermented and non-fermented dairy products.
The research report investigates the market environment, technological innovation, competitive landscape, current market trends, government policy, historical data, technical progress in related industries, and upcoming technologies, as well as market opportunities, challenges, risks, and market barriers.
Dairy Enzyme Market Scope
| | |
| --- | --- |
| Metrics | Details |
| Base Year | 2020 |
| Historic Data | 2018-2019 |
| Forecast Period | 2021-2028 |
| Study Period | 2018-2028 |
| Forecast Unit | Value (USD) |
| Revenue forecast in 2028 | 735 US$ million |
| Growth Rate | CAGR of 7.18% during 2021-2028 |
| Segment Covered | Type, Source, Application, Region |
| Regions Covered | North America, Europe, Asia Pacific, Middle East and Africa, South America |
| Key Players Profiled | DowDuPont, Chr. Hansen, Novozymes, Kerry Group, DSM jointly |
Key Segments of the Global Dairy Enzyme Market
Type Overview, 2018-2028 (USD Million)
Chymosin
Lipase
Microbial rennet
Lactase
Others
Source Overview, 2018-2028 (USD Million)
Plant
Animal & microorganism
Application Overview, 2018-2028 (USD Million)
Milk
Yogurt
Ice cream & desserts
Infant formula
Cheese
Whey
Others
Regional Overview, 2018-2028 (USD Million)
North America
Europe
Germany
France
UK
Rest of Europe
Asia Pacific
China
India
Japan
Rest of Asia Pacific
South America
Mexico
Brazil
Rest of South America
The Middle East and South Africa
Frequently Asked Questions (FAQ) :
The global dairy enzyme market is poised to grow at a CAGR of around 7.18% by 2028.
The verticals assessed in the market research report are milk, ice cream & desserts, whey, cheese, yogurt, infant formula.
The key manufacturers are DowDuPont, Chr. Hansen, Novozymes, Kerry Group, DSM jointly
Asia Pacific Region is projected to rank higher in terms of market share than other regions of the global market for dairy enzyme.