Rising application of cyclodextrins in food manufacturing as food additive for different purposes is driving the global cyclodextrins market.
The global Cyclodextrin market size is expected to reach close to USD 390 million by 2029 with an annualized growth rate of 5.5% through the projected period.
COVID-19 Impact and Market Status
The global cyclodextrin market was severely hampered by the COVID-19 contagion, which has hampered the expansion of different sectors. The foodservice, as well as the cosmetic or personal care businesses experienced severe slowdown in sales. Cyclodextrin has become a prominent component in the food preparation and cosmetics and beauty industries, resulting in cyclodextrin use is being restricted during the pandemic. The cyclodextrin industry was also hampered by trade restrictions and supply chain interruptions. The manufacturing for cyclodextrins has been hampered by the closure of many factories in European Union, Asia, and other regions. However, since lockdown restrictions have removed and businesses are regaining momentum the global cyclodextrin market growing.
Alpha-Cyclodextrin Segment Continued To Grow With And Upward March
The global cyclodextrin market is classified into alpha-cyclodextrin, beta-cyclodextrin, gamma-cyclodextrin, and cd derivatives on the basis of type. Among these, the alpha-cyclodextrin segment accounted for highest market value due to increased demand for alpha-cyclodextrin across industries like food and cosmetics.
The Food and Drinks Segment Opening Up Varied Opportunities for Market Players
The global cyclodextrin market is classified into food & drinks, pharmaceuticals, and cosmetic on the basis of application. Among these, the food and drinks segment witnessed more demand for cyclodextrin. The demand for cyclodextrin increased as the number of food manufacturing companies grew, as did the intake of dietary products including such mayonnaise and whipped cream. Because cyclodextrin is also utilised in medicine, demand for it is projected to increase in the future as the pharmaceutical industry grows. Cyclodextrin is used in the cosmetic industry to improve the product's stability and solubility. As a result, cyclodextrin is commonly utilised in cosmetics. The increasing beauty awareness and grooming trend around the world is driving up cosmetics and personal care products usage, which is expected to drive up prices for cyclodextrin.
North America Poised for Rapid Market Growth
Because of the larger use of cyclodextrin in numerous end-use sectors in the region, North America has a significant cyclodextrin market share. Cyclodextrin is in high demand, particularly in the personal care products industries in the United States. Because of its propensity to retain odour, cyclodextrin is being used by major personal care manufacturers. Europe is also a major producer of cyclodextrin, which is utilised in a variety of applications. Furthermore, cyclodextrin's utilisation in the pharmaceutical business is growing in the region. The worldwide cyclodextrin market is expected to grow at a fast pace in developing countries like South Asia and East Asia, addition to higher demand by consumer goods makers and increased use in pharmaceuticals.
Changing climate has become a serious global concern. All potential strategies to lessen the consequences of climate change and preserve the environment are welcomed by scientists and international leaders. Cyclodextrin can also help safeguard the environment by reducing the number of harmful compounds produced during industrial production. After the presence of cyclodextrin s, trichlorfon, a poisonous substance, may be poisoned, and ninety percent of the hazardous components can be eliminated. Furthermore, combining environmental toxins with -Cyclodextrin has been demonstrated to be an efficient way to minimise toxic substance release into the atmosphere. The growing use of cyclodextrin to reduce carbon emissions presents a growth potential for the global cyclodextrin market.
Cyclodextrins are a type of cyclic oligosaccharide that comprised of a macrocyclic ring with glucose units connected by 1,4 glycosidic linkages. Through enzymatic conversion, they are made from starch. They feature a hydrophobic interior cavity with such a hydrophilic exterior and are homogeneous, quasi, and crystallized.
Glucopyranosyl units are linked by -(1,4) linkages in cyclic oligosaccharides called cyclodextrins. Alpha-cyclodextrin, beta-cyclodextrin, & gamma-cyclodextrin are the three main types of cyclodextrin. Beta-cyclodextrin is indeed a widely utilised cyclodextrin inside a multitude of scenarios.
Cyclodextrins are commonly utilised as a food ingredient in the food business. In food, cyclodextrin is primarily used to stabilise tastes. Inclusion complexes can also be formed by cyclodextrins. Cyclodextrins are dietary fibres found in foods. These are also used to make oil-in-water emulsions in mayonnaise and other similar goods. Cyclodextrins have such a glycemic index and help to lower food's glycemic index. Cyclodextrins are also utilised to keep serum lipids and body weight under control.
Cyclodextrins are active health fitness or food supplements with anti-diabetic and anti-obesity properties. Cyclodextrins are most commonly found in cholesterol-free foods. In only certain carotenoid food colourants, beta-cyclodextrin has been demonstrated to increase solubility in water, en colour, and improve light stability.
Due to the changing lifestyles and tight work schedules, the global working age population is failing to reach their daily dietary requirements. This aspect is causing a variety of problems for customers. Increased consumer awareness of personal health and well-being is predicted to increase customer reliance on dietary supplements. That, in turn, is projected to boost need for cyclodextrins in near future anticipated to be a growth opportunity to the global cyclodextrin market.
However, cost, limited release in an application and their selective inclusion are some primary weaknesses that are hampering the global cyclodextrins market. Furthermore, growing use of cyclodextrins in food manufacturing as food additives for different purposes is anticipated to be a growth opportunity the global cyclodextrins market.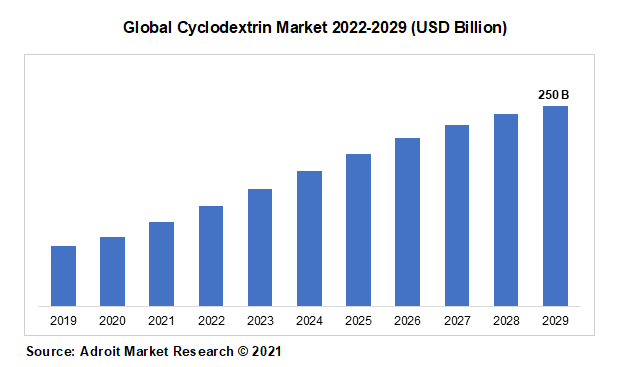 The major players in global cyclodextrin market are Shandong Xinda, Ashland, Roquette, Nihon Shokuhin Kako, Ensuiko Sugar Refining, and Wacker among others.
Cyclodextrin Market Scope
| | |
| --- | --- |
| Metrics | Details |
| Base Year | 2020 |
| Historic Data | 2018-2019 |
| Forecast Period | 2021-2027 |
| Study Period | 2017-2027 |
| Forecast Unit | Value (USD) |
| Revenue forecast in 2027 | USD 390 million |
| Growth Rate | CAGR of 5.5 % during 2021-2027 |
| Segment Covered | By Type, by Application, Regions |
| Regions Covered | North America, Europe, Asia Pacific, Middle East and Africa, South America |
| Key Players Profiled | Cyclolab, Merck KGaA, Shandong Xinda Biotechnology Co., Ltd., Zhonglan Industry Co., Ltd., Wacker Chemie AG, Roquette Frères, Ottokemi, Central Drug House, Zibo Qianhui Biological Technology Co., Ltd., and Salvavidas Pharmaceutical Pvt. Ltd., among others. |
Key Segments of Global Cyclodextrin Market
Type Overview, 2022-2029 (USD Billion)
Alpha-cyclodextrin
Beta-cyclodextrin
Gamma-cyclodextrin
CD Derivatives
Application Overview, 2022-2029 (USD Billion)
Food & Drinks
Pharmaceuticals
Cosmetic
Regional Overview, 2019-2029 (USD Billion)
North America
Europe
Germany
France
UK
Rest of Europe
Asia Pacific
China
India
Japan
Rest of Asia Pacific
South America
Mexico
Brazil
Rest of South America
Middle East and South Africa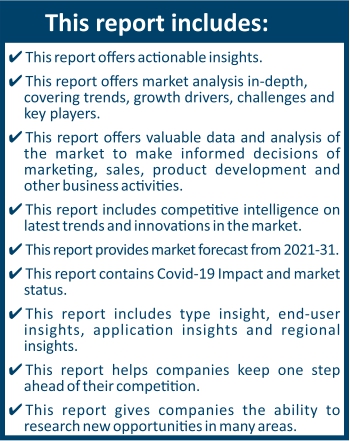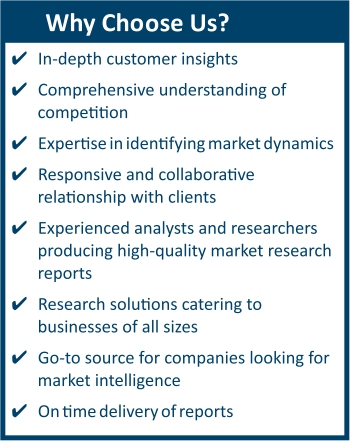 Frequently Asked Questions (FAQ) :
The market value of cyclodextrin market in 2029 was USD 250 billion.
The cyclodextrin market is growing at a CAGR of 3.8% over the forecast period.
The application of the cyclodextrin market food & drinks, pharmaceuticals, cosmetic and other.
North America dominated the market for cyclodextrin market and accounted for the largest revenue share.
The top companies that hold the market share in cyclodextrin market are Shandong Xinda, Ashland, Roquette, Nihon Shokuhin Kako, Ensuiko Sugar Refining & among others.