Cycling apparel is made up of a variety of gears and garments that help cyclists increase their comfort and performance. The cycling clothing market is developing due to an increasing number of people taking up cycling as a pastime and a growing percentage of the population adopting healthier lives, resulting in increased engagement in sports and fitness activities and also because of its benefits, like the ability to draw moisture away from the body, reduce air resistance, and stretchability among others.
The global Cycling Apparel market is projected to reach USD 5007.4 Million by 2028, growing at a CAGR of 6.7%
Covid-19 Impact & Market Status:
Bicycling's popularity is on the rise as people place a greater emphasis on physical fitness. The pandemic of COVID-19 has expedited this tendency, with demand for cycling equipment soaring and moving the market forward. Major companies are increasing demand for cycling apparel by creating appealing and original cycling clothes and accessories, resulting in market growth. Cycling's appeal as a recreational and adventure sport is expected to expand, as is the demand for adaptive cycling clothing. Furthermore, throughout the forecast period, technical advancements and innovations targeted at boosting the comfortability of cycling apparel are likely to move the market forward.
Due to the large per capita ownership of bicycles in Europe, the continent is likely to be the leading region in the cycling gear market. As a result, the region's demand for cycling-related products has remained consistently high. This region's countries, such as the Netherlands, the United Kingdom, and Sweden, have the most bicycles, which has fueled the regional market's rise.
Because of the product's basic quality and price, amateur segment is to be the greater market. Furthermore, these garments offer some characteristics seen in professional gear at a lesser cost, which is driving up demand.
Jersey, is expected to be the most dominant segment because it can reduce air obstruction, readily remove sweat through the outer fibre, and keep the body cool even in hot weather.
The male market is expected to be larger due to the higher number of guys who participate in cycling and the greater number of cycling championships held for men.
The worldwide cycling apparel market is predicted to rise at a CAGR of 18.68 percent to USD 23930.9 million by 2029.
The growing popularity of cycling competitions around the world has increased the use of cycling clothing and attracted more people to the sport. Furthermore, the greater introduction of cycling to children at a young age is assisting in market growth. Producers are also creating new styles to accommodate the increased demand for children's clothes. Furthermore, the popularity of cycling in tourist hotspots around the world helps goods sales because cycling about and discovering new places is an enjoyable pastime for visitors.
Furthermore, the development of luminous smart cycling clothing is providing a significant prospect for market expansion. Because it has the potential to shine in the dark, this clothing will be able to help prevent mishaps that may occur at night. One of the market's driving forces is the growing popularity of cycling as a hobby or a form of exercise for staying fit and healthy. Rising sports-related marketing on television, print media, and social media, such as BMX, cycle speedway, and mountain biking, also help to increase gear purchases. Furthermore, because there is a surge in interest in cycling sports, local or state officials holding a cycle marathon for the general public to participate boosts goods sales. Furthermore, the health benefits of cycling, such as bone strengthening, body fat reduction, stress reduction, and other benefits, have increased cycling activity and, as a result, product demand.
The lack of understanding of the benefits of wearing adequate clothing when riding a bicycle, on the other hand, is acting as a stumbling block to the market's growth.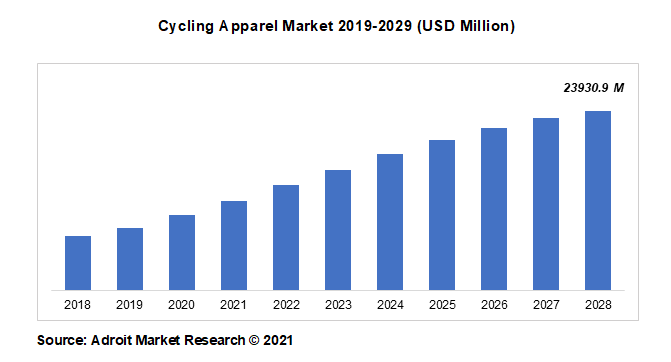 The major market players of Cycling Apparel are Nike.Inc, Valcismon S.p.A, Specialized Bicycle Components, Inc., adidas AG, Rider Sportsfashion L.L.C. (Jakroo) among others.
Major Developments in Cycling Apparel Market:
Nike, Inc. (NYSE: NKE), one of the market's biggest firms, debuted the Nike SuperRep Cycle in May 2020. The product is designed specifically for indoor cycling and is the company's first step into the industry. A support arc on the medial side of the shoe keeps feet secure when doing side-to-side combos or "Figure 8s" out of the saddle. During sweaty bike activities, the shoe improves ventilation around the toes and combats the issue of heavy and moist shoes.
Endure, a cycling apparel brand established in the United Kingdom, was acquired by Pentland in March 2018. Endura's distribution network will be expanded as a result of the acquisition, as will its client reach and scope.
LE Col developed the Hors category cycling jersey in 2019 to expand its product line, which features innovative four-way stretch fabric with exceptional ventilation for the user.
Assos introduced rain gloves in 2019 to keep hands warm and dry. For road riding, these rain gloves include a flat palm and discretely printed grippers, as well as improved ergonomics and fewer seams.
Cycling Apparel Market Scope
| | |
| --- | --- |
| Metrics | Details |
| Base Year | 2020 |
| Historic Data | 2018-2019 |
| Forecast Period | 2021-2028 |
| Study Period | 2018-2028 |
| Forecast Unit | Value (USD) |
| Revenue forecast in 2028 | USD 23930.9 million |
| Growth Rate | CAGR of 18.68 % during 2021-2028 |
| Segment Covered | Product, End User, Regions |
| Regions Covered | North America, Europe, Asia Pacific, Middle East and Africa, South America |
| Key Players Profiled | Nike.Inc, Valcismon S.p.A, Specialized Bicycle Components, Inc., adidas AG, Rider Sportsfashion L.L.C. (Jakroo) among others. |
Key Segments of Cycling Apparel Market
By Product
By End User
By Region
North America
Europe

UK
Germany
France
Rest of Europe
Asia Pacific

China
Japan
India
Rest of Asia Pacific

South America

Brazil
Mexico
Rest of South America

Middle East & Africa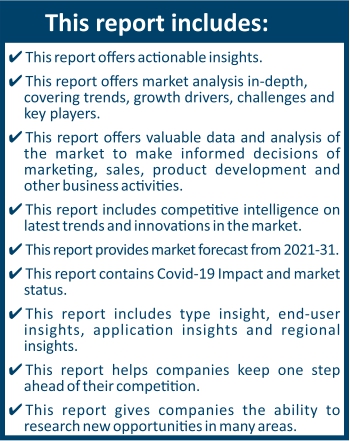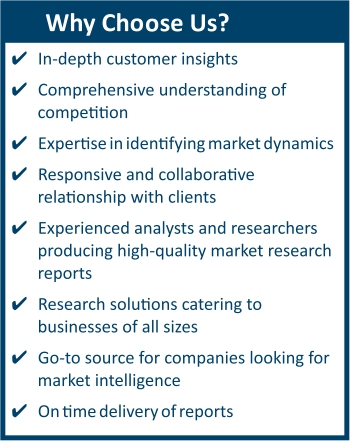 Frequently Asked Questions (FAQ) :
The market value of cycling apparel market in 2029 was USD 23930.9 million.
The cycling apparel market is growing at a CAGR of 18.68% over the forecast period.
Europe dominated the market for cycling apparel market and accounted for the largest revenue share.
The top companies that hold the market share in cycling apparel market are Nike.Inc, Valcismon S.p.A, Specialized Bicycle Components, Inc., adidas AG, Rider Sportsfashion L.L.C. (Jakroo) & among others.
The base year for the report is 2021 in cycling apparel market.