Smaller sizes and lighter weights of current sensing resistors can be used in applications where space is limited, such as consumer electronics
Covid-19 Impact & Market Status
Because of growing investments in consumer electronics, greater manufacturing of electric and hybrid vehicles, and the rise of the building automation sector, the sensor business has seen extraordinary growth over the last decade. COVID-19, on the other hand, has inflicted a serious blow to the sector, causing both supply and demand to plummet at the same time. In the short term, this has resulted in a decrease in demand for semiconductors used in automobiles and consumer devices. Furthermore, because the backend procedures of creating current sensors, assembling, and testing are significantly more labor-intensive than wafer fabrication and front-end activities, there could be a significant bottleneck if demand grows. Also, even when demand picks up and every link in the supply chain has the necessary inventory and capacity to support it, getting parts to their destinations on time will be a logistical difficulty.
The global Current Sensing Resistor market is projected to reach USD 5 billion by 2030, growing at a CAGR of 9%
Currently, organisations such as Pololu Corporation are supplying the sensors in place of present sensors for important requirements, such as combatting the coronavirus. Also, as the COVID-19 virus epidemic disrupted supply chains in India, automakers and electronic products manufacturers in India were paying exorbitant rates to fly down spares and components from China and South Korea as of March 2020, but the shipment rate has since declined.
Because of rising investments in renewable energy and the rapid adoption of electric vehicles, the market for battery-powered systems is expanding. Battery-powered systems can assist both solar and wind energy systems. As a result, the increasing number of renewable energy projects around the world is expected to propel the Current Sensing Market forward over the forecast period.
Asia Pacific is predicted to increase at the quickest rate during the projection period. Asia Pacific is one of the most important regions for the automobile industry, thanks to expanding passenger vehicle manufacturing and sales in nations like China, Japan, and South Korea. The Asia Pacific market for current sensors is being driven by the automotive industry's increased adoption of isolated current sensors for electric and hybrid vehicles.
The Current Sensing Market has a profitable growth opportunity with the increasing industrial production of hybrid and electric automobiles. Because hybrid and electric vehicles are more digitally connected than traditional automobiles, they are gaining appeal. They also reduce the usage of fossil fuels like gasoline and diesel, as well as global warming and environmental impact, while improving fuel economy.
Benefits such as minimal loss of voltage and superb precision to augment user adoption
Devices that measure the flow of electric current in an alternating or direct current (AC/DC) circuit are known as current sensing resistors. They can be used to calculate voltage, power dissipation, and other electrical current-related data. Current sensing resistors are devices that divide voltage into current output, which is measured. They are used to measure tiny currents in battery systems or power supply so that voltages and currents can be managed efficiently.
The current sensing resistor business is currently more advanced in foreign industrial developed countries, with the world's large enterprises primarily located in the United States, Taiwan, and China. Meanwhile, international corporations have more mature equipment, greater R&D capabilities, and a higher technical level. However, international firms' production costs are rather expensive, and when compared to Chinese companies' manufacturing costs, foreign companies are at a disadvantage. As the production technology of China's current sensing resistor manufacturers improves, their proportion of the international market grows, and their competitiveness in the international market improves.
The Current Sensing Market is growing due to the increasing use of current sensors in industrial automation and technological advances. The global Current Sensing Market is being driven by the increasing development of consumer electrical products. Furthermore, the growing use of battery-powered systems and a growing emphasis on renewable energy are propelling market expansion.
Although the increased usage of current sensors in automated cars, communication devices, consumer electronics, and healthcare devices has increased shipments, price reductions have severely slowed sales growth. This is partly due to fierce rivalry among the growing number of sensor manufacturers. While the lower ASP is positive for buyers, it means that profit margins for suppliers are shrinking. The average selling price (ASP) lowers as a result of the extreme pricing pressure, limiting revenue growth in the highly competitive Current Sensing Market.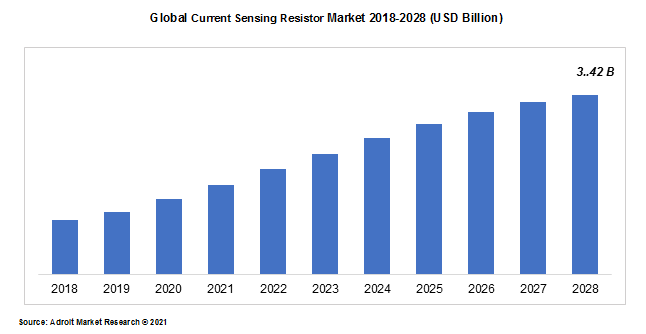 The major players of Current Sensing Resistor Market are Yageo, VISHAY, Bourns, TTÂElectronics, ROHM, Viking, Cyntec, Susumu, Panasonic, Samsung, Ohmite, KOAÂSpeer, Crownpoc, TOKEN, TA-IÂ, Walter, Caddock
Major Developments in Current Sensing Resistor Market:
Infineon Technologies AG (FSE: IFX / OTCQX: IFNNY) have released its first automotive current sensor, the new XENSIVTM TLE4972, in October 2021. For precise and steady current measurements, the coreless current sensor employs Infineon's well-proven Hall technology. Due to its compact design and diagnosis modes, the TLE4972 is well suited for xEV applications such as traction inverters used in hybrid and battery-driven vehicles, as well as battery main switches.
Allegro MicroSystems (US) expanded its Coreless Current Sensor Portfolio in March 2021 by introducing the ACS37610, a new coreless Hall-effect current sensor with higher accuracy and sensitivity, additional fault detection capabilities, and user programmability for demanding automotive and industrial systems.
Showa Denko K.K., a manufacturer of a wide portfolio of petrochemical chemicals and electronic materials, sold its neodymium magnet alloy research and development business to TDK Corporation (Japan) in November 2018. This acquisition paved the way for the development of novel, high-performance, and high-quality neodymium magnets, as well as the building of a highly efficient production system to satisfy the growing market demand.
In March 2019, TDK Corporation (Japan) collaborated with the Graduate School of Medical and Dental Sciences of Tokyo Medical and Dental University (TMDU) to develop highly accurate magnetic sensors and measuring devices to replace existing superconducting quantum interference device (SQUID) sensors. These devices use high-sensitivity magnetoresistive (MR) components to monitor the magnetic field distribution of the heart in real time.
Current Sensing Resistor Market Scope
| | |
| --- | --- |
| Metrics | Details |
| Base Year | 2022 |
| Historic Data | 2020-2021 |
| Forecast Period | 2022-2030 |
| Study Period | 2020-2030 |
| Forecast Unit | Value (USD) |
| Revenue forecast in 2030 | USD 5 billion |
| Growth Rate | CAGR of 9 % during 2022-2030 |
| Segment Covered | By Type, By Technology, By Application , End-use, Region. |
| Regions Covered | North America, Europe, Asia Pacific, South America, Middle East and Africa |
| Key Players Profiled | Allegro MicroSystems, Inc., Honeywell International Inc., Infineon Technologies AG, Omron Corporation, TDK Corporation, Melexis, TAMURA Corporation, Texas Instruments Incorporated, STMicroelectronics N.V., and LEM International SA. |
Key Segments of the Current Sensing Resistor Market
By Type
Thick Film
Thin Film
Metal Plate
By Application
Through hole
SMD-SOLDER
Bolt- on To A Chassis
By Region
North America
Europe

UK
Germany
France
Rest of Europe
Asia Pacific

China
Japan
India
Rest of Asia Pacific

South America

Brazil
Mexico
Rest of South America

Middle East & Africa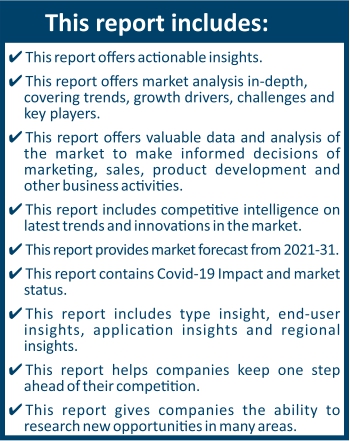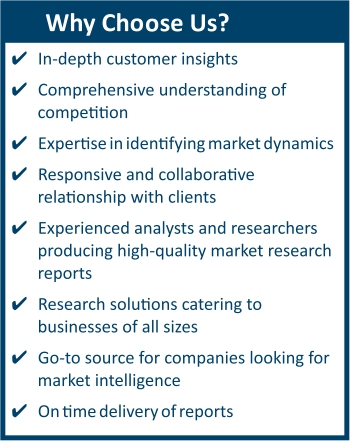 Frequently Asked Questions (FAQ) :
The global current sensing resistor market size is expected to reach USD 3.42 billion by 2028.
The current sensing resistor market is growing at a CAGR of 9.14% over the forecast period.
The application of the current sensing resistor market are through hole, smd-solder, bolt-freeon to a chassis & others.
Asia Pacific dominated the market for current sensing resistor market and accounted for the largest revenue share.
The top companies that hold the market share in current sensing resistor market are Yageo, VISHAY, Bourns, TTÂElectronics, ROHM, Viking, Cyntec, Susumu, Panasonic, Samsung, Ohmite, KOAÂSpeer, Crownpoc, TOKEN, TA-IÂ, Walter, Caddock.