Growth in the number of start-ups and crowdfunding platforms are a few market drivers for the Global Crowdfunding Market. Capital donations for social causes empower people and fulfill their charities through crowdsourcing platforms which drive the demand for the global market.
The global Crowdfunding market is projected to reach USD 42.93 Billion by 2028, growing at a CAGR of 16.4%
Covid Impact & Market Status
The Covid-19 pandemic suddenly led to a growth in the global market for funding organizations, people, and communities to survive the virus outbreak. Many companies launched online platforms to raise funds and donations for NGOs, charities, and social campaigns. India has raised over INR 100CR for financial support for the people in need.
Crowdfunding Market Trends
Seed capital funding through online crowdfunding platforms is contributing to the development of the economy which is reward-based crowdfunding. Seed capital funding is raised in the early stages of the company and has the potential to generate larger revenue. Additionally, raising funds for small-scale projects through these online platforms is proving to be beneficial and get recognition for the same.
Technology and Product-based Segments Expected to Drive the Global Market
Based on the industries, technology and product-based segments are said to hold a high market share during the forecast period. The cultural and healthcare sectors are followed by these two. The increase in the use of emerging technology like AI and machine learning is the main reason for global market growth. Rapid use of internet facilities and growing awareness about these crowdfunding platforms has increased market growth. Geographical regions have seen a growth in their economy due to increasing applications of technology.
Regional Insights on the Global Crowdfunding Market
Europe is said to be accounted for the highest market growth. The number of start-ups in Europe is increasing and expanding in different European Nations. This is happening due to the increasing adoption of the crowdfunding system. Asia Pacific is said to grow with a high CAGR and the influence of social media is supporting the systems. North America is assessed to expand at a rate of 4.8% annually. The United States of America has start-ups that account for 17.5% of the population which has resulted in huge opportunities for the country. However, the Asia Pacific market is expected to be the highest annual market with an increase in rapid usage of social media influences and multiple initiatives.
The need for kickstarting your start-ups or social campaigns is the reason why the need for crowdfunding is increasing day by day.
Crowdfunding has its advantages like zero fees to raise funds, pitching a business idea online through platforms, and tracking your progress with the investors to help promote your brand. Crowdfunding helps you receive guidance on your idea from business experts. Crowdfunding is exceptionally the best alternative to finance your business rather than bank loans and traditional funding. It is one of the unchallenging ways to raise funds with no additional fees.
Crowdfunding is a big part of industries like technology, healthcare, cultural sectors, and product-based companies. After the Covid-19 pandemic, these companies resorted to crowdfunding for the working and development of their services and products. Kickstarter, GoFundMe, Patreon, Crowdcube, and Crowdfunder are a few of the websites used for crowdfunding.
Understanding your market audience, choosing an appropriate platform/website for your financing, reaching out to influencers, and creating websites are a few advantages for the Global Crowdfunding Market for driving the market growth.
The Crowdfunding Global Market is expected to reach 27.96 billion during the forecast period at a 13.66% CAGR. Europe is the most dominated region in the global market. North America and the countries in the Asia Pacific are expected to be the potential market dominators after Europe. Europe accounts for 45% of the global market revenue. This is due to the adaption and active participation of the countries in crowdfunding. The growing number of platforms and support of social media enabled the crowdfunding market to grow in the future.
Crowdfunding is defined as the process of gaining small or huge amounts of donations for start-ups and SMEs. Donations and charities are also a part of crowdfunding. The investor decides to participate in crowdfunding based on marketing strategies and the influence of the receiver towards the cause. Crowdfunding involves various sales models like P2P lending, equity investments, reward-based crowdfunding, and hybrid model. These models are pushing the crowdfunding market to grow. Crowdfunding has always been popular for raising funds for creating new prototypes, R&D, and the development of innovative products. It eliminates the middlemen like banks and venture capitalists.
One of the factors responsible for the market growth is the increase in start-ups and SMEs as it helps fund business that faces budget issues or financial challenges. Online platforms for crowdfunding have generated funds that generated global market growth. These factors have made remarkable progress in the global market and provided opportunities for the market players.
Crowdfunding platforms are not only used for financing but also for marketing. The price strategy is determined by marketing tests. The online platforms offer opportunities like pre-purchasing products from start-ups for testing and seeing the potential for investing. Crowdfunding creates opportunities for entrepreneurs to raise funds for and run their business operations. The presence of social media is a crucial factor for the promotion of the organizations and reaching the target audience.
However, the Crowdfunding Market faces challenges like trust issues, building interest, and choosing the right platform for raising funds. A new business with no records is hard to trust for the investors and they need to generate enough credibility and branding. The failure to do so could hinder the market growth. Additionally, choosing the right kind of platform is necessary as it holds a competitive advantage over other market players.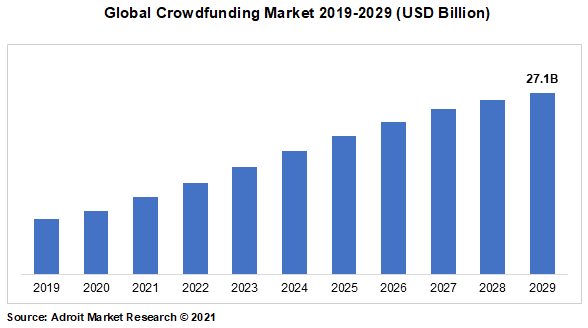 The major market players in the Global Crowdfunding Market are Crowdfunder, RocketHub, IFunding, GoFundMe, Teespring, Crowdcube, Wefunder, Patreon, and Kickstarter.
Latest Innovations in the Global Crowdfunding Market: A Snapshot
BuildHer, a crowdfunding online platform based in the UK, launched its services for women in Kenya to launch businesses and lead them towards financial freedom, gender equality promotion, and changed attitudes in the construction industries.
Several companies have started campaigns to help start-ups and SMEs increase business and revenue and fight the Covid-19 pandemic and enter the global market.
Crowdcube has started its business operations in France to help its start-ups and raise its technological bar. This initiative was taken back in May 2022.
Companies have launched crowdfunding platforms and helped entrepreneurs fund organizations for cleaning water bodies and reducing pollution harming the environment.
Crowdfunding Market Scope
| | |
| --- | --- |
| Metrics | Details |
| Base Year | 2020 |
| Historic Data | 2018-2019 |
| Forecast Period | 2021-2028 |
| Study Period | 2018-2028 |
| Forecast Unit | Value (USD) |
| Revenue forecast in 2028 | USD 42.93 Billion |
| Growth Rate | CAGR of 16.4% during 2021-2028 |
| Segment Covered | Type Outlook , Regions |
| Regions Covered | North America, Europe, Asia Pacific, Middle East and Africa, South America |
| Key Players Profiled | Kickstarter PBC (US), Indiegogo Inc. (US), GoFundMe Inc. (US), Patreon (US), Fundable LLC (US), Crowdcube Limited (UK), GoGetFunding (UK) |
Key Segments of the Global Crowdfunding Market
Deployment Model Overview, 2019-2029 (USD Billion)
Industry Overview, 2019-2029 (USD Billion)
Technology
Product-based
Healthcare
Cultural sector
End Use Overview, 2019-2029 (USD Billion)
Donation
Equity Crowdfunding
Reward-based Crowdfunding
Others
Regional Overview, 2019-2029 (USD Billion)
North America
Europe
Germany
France
UK
Rest of Europe
Asia Pacific
China
India
Japan
Rest of Asia Pacific
South America
Mexico
Brazil
Rest of South America
The Middle East and South Africa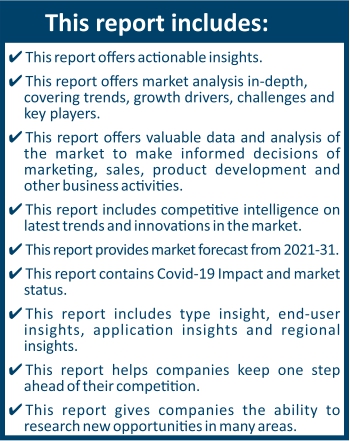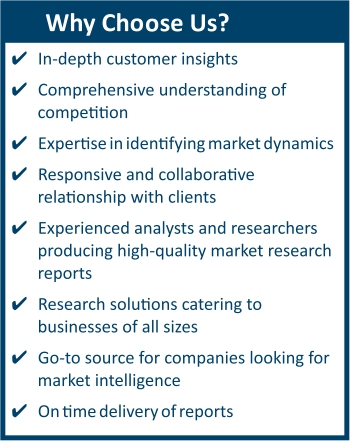 Frequently Asked Questions (FAQ) :
The major players are Crowdfunder, RocketHub, IFunding, GoFundMe, Teespring, Crowdcube, Wefunder, Patreon, and Kickstarter.
To get latest version of crowdfunding market report can be obtained on demand from the website.
The base year for the report is 2019 in crowdfunding market.