Cross country ski is a type of skiing wherein skiers navigate across snowy terrain utilising their own agility, abilities, and manoeuvring techniques instead of ski lifts or other types of assistance. Governments throughout the world are working on growing their travel industry businesses in order to strengthen their economies. Rising infrastructure, advancements in the travel and tourist industry, and increasing consumer spending are projected to drive market for cross country skiing equipment throughout the projection period.
The size of the global market for Cross Country Ski Equipment is expected to reach USD 8.867 billion by 2028, expanding at a compound annual growth rate (CAGR) of 3.3%.
When contrasted to other retail channels, specialist retailers will sell the most cross country skiing equipment. Aside from ordinary skiing gear, interest for racing and endurance classic skis, along with metal-edge touring skis, is increasing
Covid-19 Impact & Market Status
COVID-19 has had disastrous effects for various businesses throughout the world, as well as cross-country equipment sales. Likewise, the industrial sector declined, with a demand-supply imbalance impeding firm progress. The effect is predicted to last for a short time, and demand is projected to rise once lockdowns are lifted. The COVID-19 epidemic has had an impact on a variety of businesses, including the ski gear and equipment market. Various surveys have shown that over 70% of ski equipment firms saw decreased sales owing to the early conclusion of the season, with two-thirds seeing lower than average winter sales. Furthermore, before the conclusion of the winter, Switzerland had shut down all of its ski resorts and cancelled all remaining season vacations.
Recent boom in outdoor recreation like as skis and other winter sports, increased government programmes to encourage skiing participation, and a spike in the proportion of ski areas are among some of the primary reasons driving worldwide sales of ski wear and equipment. Suppliers of equipment are increasingly focused on creating and marketing new and creative items that employ modern technology to match the current needs and desires of consumers. Since the proportion of women involving in different activities, particularly snow sports, has expanded in current history, companies are increasingly supplying women-only ski clothes and equipment.
Growing recreation activities to propel the market growth
The cross-country ski equipment market is heavily reliant on the snow season, during which engagement appears to have trained up or is retaining slight growth in traditional territories such as Europe, the UK, and the USA; however, there is growing focus among residents of nations such as India and Russia. The industry in the United Kingdom is about three billion pounds, with a little more than half of skiers aged 35 to 62. Chamonix and other well-known European resorts have catered to the region's winter sports industry. The region contains 3,543 ski resorts in total, with budget resorts becoming increasingly popular in recent years. The capacity of facilities has also altered due to increased customer demand for covering greater distance and territory in a day.
In the cross-country ski equipment market, Europe will be at the top of all regions
For many decades, Europe seems to be the world's primary ski destination, with resorts peppered over the Alps garnering acclaim. There are several ski resorts in France, and that each resort delivers winter sports for beginners, families, and ski experts. According to one study, over 28% of European travelled France for their most recent ski vacation, making this one of the preferred ski locations. In addition, over 7.5 Billion people in the country enjoy skiing. Adding to that, skiing is regarded as one of the most important sports in Germany, accounting for 17 percent of overall consumer spending on sports. Additionally, ski lifts are accessible in Germany for winter sports lovers, offering enough opportunity for snow gear and outfit producers to target fans in this region.
North America is likely to generate an absolute numbers opportunity after Europe throughout the projection period. North America's market is poised to acquire a sizable part of the industry. The United States accounts for the bulk of snowfall in North America since it contains the greatest snowfall-receiving location, Mount Baker, which receives 16.5 m of snowfall annually. In contrary, the Middle East and Africa have the smallest market share and are expected to rise in the next years. Climate differences in the region are to blame for the region's low market share.
The cross-country ski equipment market is expected to be of worth USD 8.8 billion at a CAGR of 3.4% during 2022-2029.
In today's globalised world, long working hours and a high-intensity lifestyle have strengthened the demand for adventure sports tourism. Cross-country skiing is a quick and attractive outdoor activity. Furthermore, the growing athletic lifestyle among the youth is expected to bolster them to join in target sports, benefiting the equipment business.
Increasing popularity of social media impact and entrepreneurship in the tourist sector in many locations have exacerbated market inflammation. People are becoming more aware of various tourist destinations, which is assisting the global tourism market's expansion. With an emphasis on the incorporation of health safety elements in cross country skiing equipment, this is generating a beneficial environment for industry players.
New investments in sports, and even the accessibility of travel allowances for individuals from diverse organisations, are helping to augment corporate growth. This will contribute in the development of a solid infrastructure, attracting additional tourists to this activity. Northern hemisphere locations, including Europe enjoy the geographical benefit of having suitable cross-country skiing terrain. Furthermore, greater government investments as well as improved population living standards have resulted in increased spending on recreational activities.
However, because the activity may be deadly, strong safety rules are limiting market expansion. Cross country skiing is much more prone than downhill skiers to suffer from ruptured thumb tendons, fractured bones, and back injuries, and these can be hazardous if not treated swiftly. In addition, the massive price of these equipment is anticipated to limit market expansion in terms of recruiting a diverse client base. The low cost of alternative challenging or elevated sports exercise is putting a strain on this sector.
Climate change has a significant impact on market expansion. Climate factors restrict viability to a given time period. Cross country skiing is believed to exhibit a periodic developmental trajectory over the length of a year due to meteorological circumstances. Demand is likely to be higher throughout the season but owing to a lack of clients during the off-season, equipment costs frequently skyrocket. Furthermore, the distance between the most populous districts and the most important locations influences tourist frequency. Some of the finest places to enjoy cross country skiing include Alaska regions, which are remote from most inhabited areas. Travel distance has an impact on expenditures and is one of the primary worries of visitors.
The increasing number of visitors worldwide, along with individual's opportunity to explore skiing and the inadequate knowledge of the sport, is encouraging them to choose touring skis. In compared to others, ski areas have a well-established setup as well as sufficient equipment for touring skis. Cross country skiing equipment is believed to be expensive due to the usage of modern hardware, which is likely to be a key market constraint. Producers, on either hand, have devised the idea of offering a subscription service, which would be more premium for consumers.
Europe is currently the most attractive location in the business, and both are considerably contributing to market growth. The price of cross-country skiing equipment varies according on the kind of equipment, as well as its application and use. In addition to the aforementioned variables, international trade barriers and trade wars between major economies have had a considerable impact on worldwide average prices. As a result, prices are expected to grow at a marginal rate during the next five years.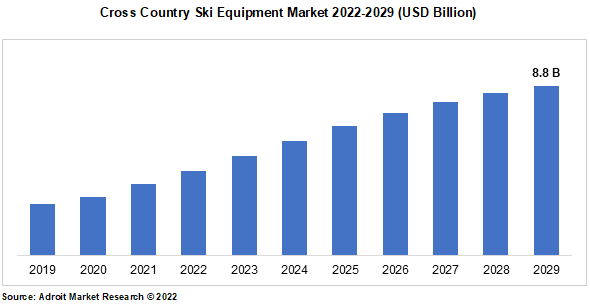 The key market players in the cross country ski equipment market includes Fischer Sports GmbH, Alpino DOO, Amer Sports Corporation, Tecnica Group, Clarus Corporation, Kneissl Tirol GmbH, K2 Sports, Skis Rossignol, etc.
Major Developments in the Cross-Country Ski Equipment Market: A Snapshot
Fischer Sports has introduced Alpine product portfolios including both resort and mountain skiing and boots.
Cross Country Ski Equipment Market Scope
| | |
| --- | --- |
| Metrics | Details |
| Base Year | 2020 |
| Historic Data | 2018-2019 |
| Forecast Period | 2021-2028 |
| Study Period | 2018-2028 |
| Forecast Unit | Value (USD) |
| Revenue forecast in 2028 | USD 8.8 billion. |
| Growth Rate | CAGR of 3.4% during 2021-2028 |
| Segment Covered | Type, Distribution Channel, Regions |
| Regions Covered | North America, Europe, Asia Pacific, South America, Middle East and South Africa |
| Key Players Profiled | Fischer Sports GmbH, Alpino DOO, Amer Sports Corporation, Tecnica Group, Clarus Corporation, Kneissl Tirol GmbH, K2 Sports, Skis Rossignol & among others. |
Key Segments of the Cross Country Ski Equipment Market
Type Overview, 2022-2029 (USD Billion)
Poles
Skis
Touring Skis
Boots
Others
Distribution Channel Overview, 2022-2029 (USD Billion)
Regional Overview, 2022-2029 (USD Billion)
North America
Europe

UK
Germany
France
Rest of Europe

Asia Pacific

China
Japan
India
Rest of Asia Pacific

South America

Brazil
Mexico
Rest of South America

Middle East & Africa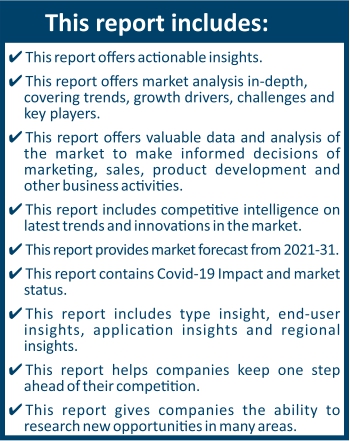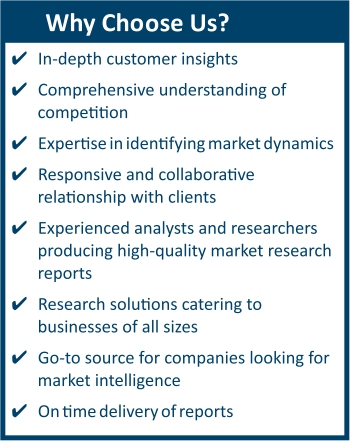 Frequently Asked Questions (FAQ) :
The market value of cross country ski equipment market in 2029 was USD 8.8 billion.
The cross country ski equipment market is growing at a CAGR of 3.4% over the forecast period.
The application of the cross country ski equipment market Dairy Cow Feed, Beef Cattle, Sheep Feed, Horse Feed, Camel Feed and other.
Europe dominated the market for cross country ski equipment market and accounted for the largest revenue share.
The top companies that hold the market share in cross country ski equipment market are Fischer Sports GmbH, Alpino DOO, Amer Sports Corporation, Tecnica Group, Clarus Corporation, Kneissl Tirol GmbH, K2 Sports, Skis Rossignol & among others.
To get latest version of cross country ski equipment market report can be obtained on demand from the website.