Increasing stringent government regulations to increase the adoption of CIP solutions and rising security breaches and attacks pose a threat to physical systems to magnify growth in the global Critical Infrastructure Protection Market
Covid-19 Impact & Market Status
The report offers an exhaustive overview of the business dynamics and new investment strategies that are being adopted by business leaders across countries and regions to overcome the acute challenges and financial instabilities that have emerged in the post pandemic times.
The report highlights some of the best industry strategies and practices that are adopted by the players across local and global markets. Ever since the Covid-19 broke out in 2019, it has spread aggressively, resulting in rapid declaration by the WHO affirming Covid-19 as a global pandemic and an emergency.
The impact of the pandemic is widespread and the aftermath is well pronounced, gravely affecting the global critical infrastructure protection market. The sudden pandemic and its implications have posed significant challenges such as travel bans, quarantines, and lockdowns.
These developments are hampering operations resulting in supply chain breaches, stock market inefficiencies, and vendor chaos. These are constantly interfering with the normal functioning of industries.
Ever since the outbreak of the global crisis, impact on upstream, downstream, and midstream industries have been appalling. The report delivers a quick ready-to-deploy approach to counter such crisis and steer the global critical infrastructure protection market towards steady growth and systematic progression.
Amidst the pandemic, aligning with new dynamics, global critical infrastructure protection market has been witnessing new dynamics which are further necessitating new business models and approaches to recoup growth and revenue streams.
In this report, inquisitive business players would be provided with sufficient guidelines regarding business transformation, integral to sustain stiffening competition in the pandemic and beyond pandemic era global Critical Infrastructure Protection market.
Physical Safety and Security Solution Services to be the Most Lucrative
Physical safety and security will have the largest market size by solution over the forecast period. Physical safety and security is the protection of physical assets from physical dangers, such as hardware, software, premises, and personal data. Ignoring these hazards might result in significant damage or loss to owners and users. To ensure physical protection, every important infrastructure necessitates the use of several physical barriers. Terrorism and natural catastrophes continue to be the most difficult concerns for CIP. Crowds in public places and businesses can be monitored using video surveillance devices and video analytics software. Increased adoption of video surveillance enabled by face recognition technology has been noted in a variety of application domains, including border control, law enforcement, government, and public utilities.
Commercial Sector to Generate More Revenue
During the forecast period, the commercial sector will increase at the fastest CAGR. Hospitals, stadiums, theatres, auditoriums, malls, workplaces, and holy places are all examples of sensitive zones in the commercial sector. Protecting these infrastructures is critical for a country's security and economy. These places are teeming with people. Even with the deployment of CCTV cameras and the screening of people accessing facilities, it is not enough to assure effective security. A little oversight can result in massive losses.
APAC to Sweep the Largest Revenue Streams
The North American region comprises the country-wise analysis of the US and Canada. Public-Private Partnerships (PPPs) and international collaborations have led to effective critical infrastructure security and resilience in the region. As per the Department of Homeland Security (DHS), 85% of the US' critical infrastructures such as oil and gas, banking and finance, transportation, utilities, electric power grids, and defense are owned by the private sector and the rest is regulated by the public sector. The National Infrastructure Protection Plan (NIPP) enables state, regional, federal, local, and international governments to work within and with their private partners for a networked community to maintain effective risk management and security of the region's critical infrastructure.
Rise in the adoption of cloud technology and IoT devices and R&D investments by governments and enterprises to develop robust CIP solutionsto offer new opportunities in the global critical infrastructure protection market
Critical infrastructure protection (CIP) refers to a security solution used for safeguarding systems, assets and networks from potential threats. It consists of various solutions, such as firewalls, identity and access management, risk and compliance management, antiviruses, intrusion detection systems and encryption systems. These systems protect information related to power grids, railways, nuclear plants and hydro plants from cyberattacks that can threaten public safety, attack national security or cause environmental disasters.
Despite a minor growth dip owing to Covid-19 implications, the global critical infrastructure protection market is expected to recoup growth and register over USD 249.60 billion by 2028 ticking at a CAGR of 7.40 %.
Further, the increasing instances of security breaches and cyber-attacks that pose a threat to infrastructural development across the globe are expected to ravel new growth opportunities in the global critical infrastructure protection market during the forecast period.
In present times, the rising concerns for the security and safety of government information and the increasing trend of Bring-Your-Own-Devices (BYOD) across industries have enhanced the requirement for CIP systems. The rapidly expanding internet and interconnected network architecture have influenced federal and security organizations to safeguard cyberspace and minimize threat vulnerabilities. Additionally, various technological advancements, such as the advent of the Internet of Things (IoT), big data, cloud computing and artificial intelligence (AI) solutions, are acting as other growth-inducing factors.
Forward-looking players in the global cloud professional service market are furthering investments towards developing advanced critical infrastructure protection. Due to rapid urbanization across the world, there has been immense stress on infrastructure in cities, and the governments are focusing on improving the infrastructure, such as transport, energy, and water, in order to provide better livability stature. The information and the telecommunications sector also play a very crucial role in CIP.
The financial services sector is a vital component of the nation's critical infrastructure. Recent natural disasters, large-scale power outages, and an increase in the number and sophistication of cyberattacks demonstrate the wide range of potential risks facing the sector. Owing to the presence of a large networking framework, coupled with sensitive and critical data, the BFSI sector is facing several data breaches and cyberattacks, due to the large customer base served by the industry.
Disruptions in the electricity system, manufacturing, information technology, and transportation have a significant influence on a country's economic stability, national security, safety, and health. Several governments have enacted federal laws and regulations to develop cybersecurity requirements for critical infrastructure protection. President Donald Trump directed the Cyber Security and Infrastructure Security Agency (CISA) to discover weaknesses in the country's critical infrastructure on November 16, 2018.
Cloud and Internet of Things (IoT) play a significant role in accelerating the demand for critical infrastructure protection solutions. The cloud technology offers reliable, cost-effective, and scalable solutions, due to which critical infrastructure industries such as communication, IT, energy, and financial services have adopted cloud solutions to store personal and confidential data. According to a report by DHS, 86% of the owners and operators of critical infrastructure in high-tech industries have deployed cloud solutions. The report has revealed the spending of different sectors on critical infrastructure using cloud services; there is an increase expected from USD 152 billion in 2020 to USD 223 billion by 2025. IoT initiatives such as smart city, smart infrastructure, and smart grid are advancing exponentially.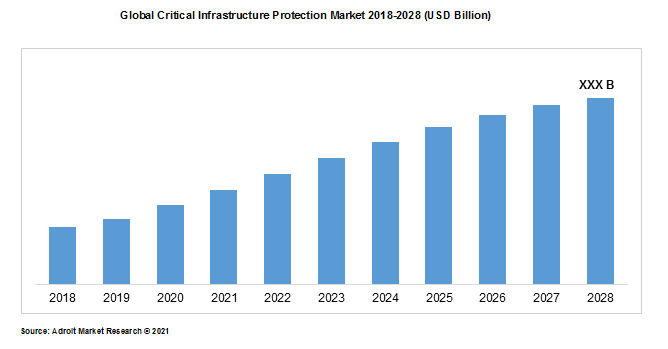 The major players of the global critical infrastructure protection market are BAE Systems, Lockheed Martin, General Dynamics, Northrop Grumman, Honeywell, Airbus, Raytheon, Thales, Hexagon AB, and Johnson Controls.
The Critical Infrastructure Protection market is a rapidly progressing industry and is characterized to have industrial frontliners as well as aspiring new players aiming to penetrate into the aggressive competitive landscape across global and local markets. Additionally, various new and aspiring players are improving their product lines and upgrading technological capabilities to improve revenue streams amidst Covid-19 impact.
Latest Innovations in the Global Critical Infrastructure Protection Market: a Snapshot
In May 2021, BAE Systems would supply receiver modules that enable military to use a jam-resistant GPS signal known as M-code or military code. The modules would be used to build military-grade GPS receivers for precision-guided munitions and handheld devices.
In June 2020, the company and Kuwait Integrated Petroleum Industries Company (KIPIC) have participated in strategic collaboration, signing a five-year, multi-million dollar contract for services to protect, optimize and maintain operations at the Al Zour refinery and liquefied natural gas import (LNGI) terminal in southern Kuwait.
In Jan 2020, the company partnered with Amossys at International Cybersecurity Forum (FIC). The partnership has three focus areas i.e. detecting vulnerabilities, studies, and innovation work (AI) and the development of Airbus's cyber range platform.
Critical Infrastructure Protection Market Scope
| | |
| --- | --- |
| Metrics | Details |
| Base Year | 2020 |
| Historic Data | 2018-2019 |
| Forecast Period | 2021-2028 |
| Study Period | 2018-2028 |
| Forecast Unit | Value (USD) |
| Revenue forecast in 2028 | USD 249.60 billion |
| Growth Rate | CAGR of 7.40 % during 2021-2028 |
| Segment Covered | Component, Solution, Vertical, Region |
| Regions Covered | North America, Europe, Asia Pacific, Middle East and Africa, South America |
| Key Players Profiled | BAE Systems, Lockheed Martin, General Dynamics, Northrop Grumman, Honeywell, Airbus, Raytheon, Thales, Hexagon AB, and Johnson Controls. |
Key Segments of the Global Critical Infrastructure Protection Market
Component Overview, 2018-2028 (USD Billion)
Solution
Services

Professional Services
Managed Services
Solution Overview, 2018-2028 (USD Billion)
Physical Safety and Security
Cybersecurity
Vertical Overview, 2018-2028 (USD Billion)
Financial Institution
Government
Defense
Transport & Logistics
Energy and Power
Commercial Sector
Telecom
Manufacturing
Chemical and Manufacturing
Oil and Gas
Others
Regional Overview, 2018-2028 (USD Billion)
North America
Europe
Germany
France
UK
Rest of Europe
Asia Pacific
China
India
Japan
Rest of APAC
South America
Mexico
Brazil
Rest of South America
Middle East and South Africa
UAE
South Africa
Saudi Arab
Rest of MEA
Frequently Asked Questions (FAQ) :
The global critical infrastructure protection is poised to grow at a CAGR of around 7.40% by 2028.
The verticals assessed in the market research report are BFSI, IT & Telecom, Healthcare, Manufacturing, Retail, and Others.
The key manufacturers are Financial Institution, Government, Defense, Transport & Logistics, Energy and Power, Commercial Sector, Telecom, Chemical and Manufacturing, Oil and Gas, other Vertical
APAC Region is projected to rank higher in terms of market share than other regions of the global market for critical infrastructure protection.