The rapid advancement in 5G technology and telecom sector is projected to magnify growth in the global Convergent Billing Market
Covid-19 Impact & Market Status
The report offers an exhaustive overview of the business dynamics and new investment strategies that are being adopted by business leaders across countries and regions to overcome the acute challenges and financial instabilities that have emerged in the post pandemic times.
The report highlights some of the best industry strategies and practices that are adopted by the players across local and global markets. Ever since the Covid-19 broke out in 2019, it has spread aggressively, resulting in rapid declaration by the WHO affirming Covid-19 as a global pandemic and an emergency.
The impact of the pandemic is widespread and the aftermath is well pronounced, gravely affecting the global convergent billing chip market. The sudden pandemic and its implications have posed significant challenges such as travel bans, quarantines, and lockdowns.
These developments are hampering operations resulting in supply chain breaches, stock market inefficiencies, and vendor chaos. These are constantly interfering with the normal functioning of industries.
Ever since the outbreak of the global crisis, impact on upstream, downstream, and midstream industries have been appalling. The report delivers a quick ready-to-deploy approach to counter such crisis and steer the global convergent billing market towards steady growth and systematic progression.
Amidst the pandemic, aligning with new dynamics, global convergent billing market has been witnessing new dynamics which are further necessitating new business models and approaches to recoup growth and revenue streams.
In this report, inquisitive business players would be provided with sufficient guidelines regarding business transformation, integral to sustain stiffening competition in the pandemic and beyond pandemic era global convergent billing market.
Convergent Billing for Customer Relationship Management segment to Sustain the Highest Revenues, Followed by mediation
Customers benefit from the enhanced real-time experience provided by cloud-based services, which allows them to monitor bills and track service records. Another element influencing the industry's rise is the increased demand from a new generation of telecom operators.
Growing need to better manage customer relationships are expected to expedite the adoption of Convergent Billing in the nearing times. Fuerhtermore, the growing digitalization and evolution of 5G technology is expected to boost the market growth. Covergent billing system also plays a vital role in payment settlement management, and voucher management. The mediation segment is anticipated to grow at the significant CAGR over the forecast period.
Mobile Convergent Billing application Segment to be the Most Lucrative
Fixed Convergent Billing application is likely to witness maximum adoption in the forecast timeline as it offers improved billing functions. Other potential drivers driving market expansion include an increase in mobile users, a surge in demand for high-speed data connectivity, and an increase in demand for value-added managed services. These factors are estimated to boost the growth of mobile segment in convergent billing market.
APAC to Sweep the Largest Revenue Streams Followed by North America
APAC is the largest contributor to this market, followed by Europe and then North America. In Asia, the presence of nations like China and India, with their massive subscriber bases and constantly shifting regulatory and competitive landscapes, has raised demand for convergent billing systems. North America, on the other hand, is confronted with the challenges of a deregulated telecom sector.
Further, applications such as the customer relationship management is one of the fastest growing segment in application which in turn is favoring rampant expansion of the global Convergent Billing market across regions such as North America and Asia Pacific. Consumer preferences for enhanced customer service with real-time billing experience is expected to gain traction in the global Convergent Billing market.
Increasing digitalization and growing trend of real-time billing is expected to offer new opportunities in the global Convergent Billing market
The integration of all service charges onto a single customer invoice and a unified view of the client is referred to as convergent billing. Customers should contact a call centre to obtain complete account information for all of the services they have chosen. For all services, the customer receives a single bill and pays a single payment. The Communication Services Providers' (CSPs) comprehensive service offerings are supported by a convergent billing platform. With real-time charging, it has aided CSPs in reducing time to market for new services and improving user experience. Cloud-based convergent billing solutions are currently available from CSPs. This market is constrained by the continued use of old technologies that are incompatible with today's converged networks, but CSPs are banding together to address this issue by investing in new infrastructure and working with over-the-top service providers.
Despite a minor growth dip owing to Covid-19 implications, the global Convergent Billing market is expected to recoup growth and register a CAGR over the forecast period.
The worldwide convergent billing system for the telecom market is predicted to increase significantly due to the growing use of telecom services by individuals all over the world. Furthermore, the development of a single billing platform offers the convenience of displaying all products and services under one roof, which is likely to accelerate the rate at which the global convergent billing system for the telecom sector grows. Furthermore, the usage of such technology has aided operators in improving the quality of their services and reducing the time required to advertise new offerings, hence fostering market growth.
Other potential drivers driving market expansion include the expanding number of mobile users, the rising demand for high-speed data connectivity, and the growing demand for value-added managed services. Customers currently choose Over-The-Top (OTT) channels for a multitude of reasons, the most significant of which being the amount of viewing alternatives and cost given. Switching from antiquated communications equipment to UCaaS can save a lot of money. The service provider hosts the equipment at their location and gives cloud-based access to the service. Cloud computing's adoption as a technology and a paradigm for the future era of computing has grown in popularity and appeal among businesses and service providers. It has also taken off with end-users, who are increasingly storing their personal data in the cloud.
The adoption of service convergent billing systems has aided service providers in improving the quality of their communication services by minimising the time it takes to advertise new services and by providing real-time charging to better tailor the telecom experience. However, legacy systems' incompatibility with converged networks may limit the convergent billing market's growth potential to some extent. To address this issue, communication service providers are collaborating with over-the-top service providers and investing in new infrastructure.
Other ideal elements strengthening the industry picture include a growing focus on cost-cutting throughout production and maintenance processes, as well as the increasing adoption of single-window billing solutions.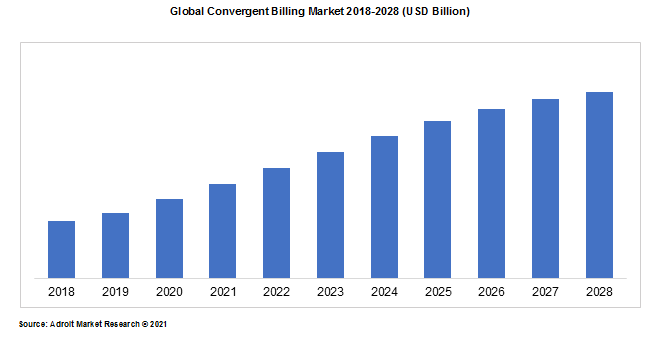 The major players of the global Convergent Billing market are Amdocs, Huawei, Comverse, Alcatel-Lucent, IBM, Redknee, SAP, Elitecore Technologies, CSG International, and Orga Systems.
The Convergent Billing market is a rapidly progressing industry and is characterized to have industrial frontliners as well as aspiring new players aiming to penetrate into the aggressive competitive landscape across global and local markets. Additionally, various new and aspiring players are improving their product lines and upgrading technological capabilities to improve revenue streams amidst Covid-19 impact.
Latest Innovations in the Global Convergent Billing Market: a Snapshot
In March 2021, Huawei unveiled CBS R21, a brand-new cloud-native architecture-based convergent billing system with a 5G monetization mode to aid in the promotion of 5G-related services.
In December 2020, To strengthen its position across its 14-country footprint in Africa, CSG International has expanded its billing agreement with Airtel Africa to offer managed services such as convergent pricing, billing solutions, and customer relationship management.
Convergent Billing Market Scope
| | |
| --- | --- |
| Metrics | Details |
| Base Year | 2020 |
| Historic Data | 2018-2019 |
| Forecast Period | 2021-2028 |
| Study Period | 2018-2028 |
| Forecast Unit | Value (USD) |
| Segment Covered | Type, Application, Regions |
| Regions Covered | North America, Europe, Asia Pacific, Middle East and Africa, South America |
| Key Players Profiled | Amdocs, Huawei, Comverse, Alcatel-Lucent, IBM, Redknee, SAP, Elitecore Technologies, CSG International, and Orga Systems. |
Key Segments of the Global Convergent Billing Market
Type Overview, 2018-2028 (USD Billion)
Customer Relationship Management
Mediation
Settlement and Payment Management
Voucher Management
Application Overview, 2018-2028 (USD Billion)
Regional Overview, 2018-2028 (USD Billion)
North America
Europe
Germany
France
UK
Rest of Europe
Asia Pacific
China
India
Japan
Rest of Asia Pacific
South America
Mexico
Brazil
Rest of South America
Middle East and South Africa
Frequently Asked Questions (FAQ) :
The forecast period of convergent billing market is 2021-2028.
The application of the convergent billing market are Fixed, Mobile, Camera, TV.
Modern Times Group, Activision Blizzard, FACEIT, Total Entertainment Network, Gfinity, Turner Broadcasting System, CJ Corporation, and Valve Corporation are the top players in convergent billing market.
The Asia-Pacific region generates the higher convergent billing share for the forecast period.
To get latest version of convergent billing market report can be obtained on demand from the website.