In today's world, connected cars are rapidly becoming the norm. The growth of the connected car market is driven by the evolving technological landscape and an ever-growing demand for increased safety, convenience, and performance capabilities
Drivers of the Connected Car Market
1. Increasing demand for enhanced comfort and convenience: Consumers are increasingly demanding greater comfort and convenience when it comes to their vehicles, such as access to smart systems, voice commands, and personalized experiences. This is driving the growth of connected car services and products in the market.
2. Growing need for increased safety features: With the help of advanced technologies like sensors, machine learning, and artificial intelligence, connected car manufacturers are able to provide a much safer driving experience for users. Connected car services allow for real-time alerts about potential hazards on the road, blind spot monitoring, automatic emergency braking systems, lane departure warning systems, and more.
3. Technological advances in communication technology: Advances in communication technology have enabled connected cars to communicate with each other via vehicle-to-vehicle (V2V) or vehicle-to-infrastructure (V2I) networks. This helps improve safety on roads by providing timely information about road conditions that can be used to avoid collisions or accidents.
4. Demand for reduced congestion: Connected car technology also allows drivers to access real-time traffic data which can help them plan better routes and reduce congestion on roads. This helps reduce emissions levels on
Advantages of the Connected Car Market
1. Improved Safety: Connected cars have the ability to send and receive data, which can be used to alert drivers of potential hazards on the road. This could potentially reduce accidents, making roads safer for everyone.
2. Increased Efficiency: Connected cars are able to communicate with each other, as well as traffic signals and other infrastructure, allowing for a more efficient driving experience. This could lead to shorter travel times and reduced fuel consumption.
3. Enhanced User Experience: Connected car technologies give users access to a range of features that make their driving experience more comfortable and convenient. For example, they can access navigation systems, climate control systems, entertainment systems, and even hands-free calling capabilities.
4. Reduced Carbon Footprint: With connected vehicles being able to communicate with each other and infrastructure, it is possible that traffic flow could be improved, resulting in fewer cars idling on roads and reducing emissions overall.
Market Value and CAGR of the Connected Car Market
The market value and CAGR of the Connected Car Market is expected to reach US$94.9 billion by 2032, registering a CAGR of 20.2% during the forecast period (2020-2032). In terms of revenue, it is estimated that the market will grow at a compound annual growth rate (CAGR) of 18.8% from 2019 to 2032.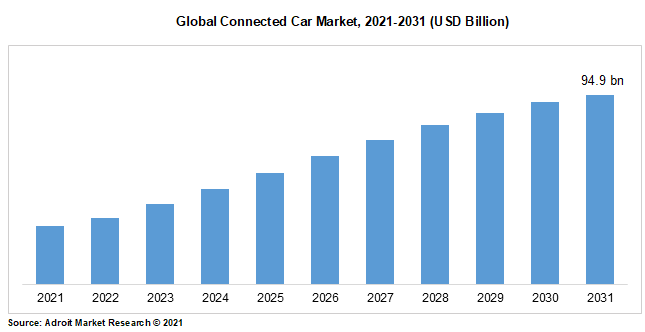 This is attributed to the increasing number of connected car services and products, rising demand for cloud-based services, and increasing investments in connected car technology. Moreover, technological advancements such as 5G networks, artificial intelligence (AI), and machine learning (ML) are expected to further drive the market growth during the forecast period.
Challenges of the Connected Car Market
Some of the challenges of the Connected Car Market are as follows:
1. Cybersecurity and Privacy: Connected cars are particularly vulnerable to cyber-attacks. This is due to the increased level of connectivity which provides an opportunity for malicious actors to access the car data, control, or even manipulate its functions. Additionally, since these cars have access to personal information (location, speed etc.), there is a risk of this data being used for unintended purposes such as marketing or fraud.
2. Lack of Standardization: The connected car market is still in its early stages, and there is a lack of standardization in terms of protocols and interfaces between different hardware components and software applications. This makes it difficult for automakers and suppliers to develop cost effective solutions that can be readily utilized by all customers across the world.
3. Regulatory Uncertainty: The legal landscape surrounding connected cars remains uncertain as governments try to figure out how best to regulate them without stifling innovation or infringing on privacy rights. This can create difficulties for businesses seeking to invest in this area without knowing what regulations will apply in their country or region.
Key Players
The key players of the Connected Car Market are Delphi Automotive PLC (U.K.), Verizon Communications Inc. (U.S.), Vodafone Group PLC (U.K.), AT&T Inc. (U.S.), Apple Inc. (U.S.), Microsoft Corporation (U.S.), Google LLC (U.S.), Hyundai Mobi's Co., Ltd. (South Korea), Denso
Market Analysis
The most demanded product of the Connected Car Market is expected to be Telematics systems, which accounted for the largest market share in 2017. This trend is expected to continue over the forecast period. The telematics system is an integrated digital vehicle network that primarily uses wireless communication technologies. It helps to track and monitor activities inside and outside the vehicle, providing a variety of features such as navigation, location services, performance monitoring, tracking services and others.
The application segment of the Connected Car Market is divided into infotainment systems, safety & security systems, powertrain management systems and others. The infotainment segment held the largest market share in 2017 and is expected to maintain its lead over the forecast period as the demand for cars is increasing.
By end user, the Connected Car Market can be divided into OEMs (Original Equipment Manufacturers) and aftermarket users. The OEMs segment held the largest market share in 2017 due to increasing demand for connected car technology from automobile manufacturers for better driving experience.
Geographically, North America holds a large share of the Connected Car Market due to high penetration of connected cars in this region.
Impact of Covid-19 on the Connected Car Market
The impact of Covid-19 on the connected car market has been significant. The pandemic has forced automakers to revaluate their production strategies and focus on more efficient and cost-effective ways to produce vehicles. This has led to a shift in the demand for connected cars, as consumers are now more interested in value-for-money options that offer features such as remote start, keyless entry, and hands-free operation.
While the pandemic has had a negative impact on the overall automotive industry, it is expected that the connected car market will recover quickly and continue to grow at a rapid pace. This is due to the increasing demand for vehicles with advanced connectivity features that can improve safety, efficiency, and convenience.
Key developments
In January, 2020, key developments in the connected car market include:
1. Increasing Adoption of 5G Technology: With the advent of 5G technology, there is an increased adoption of connected cars. This is because 5G has faster data transfer speeds, better latency and improved network reliability. As a result, automakers are now able to offer features such as remote diagnostics and over-the-air software updates for their vehicles with greater ease.
2. Growing Demand for Autonomous Vehicles: The increasing demand for autonomous vehicles has been one of the major drivers of the connected car market recently. Companies like Tesla and Waymo have been leading the way in offering fully autonomous vehicles with their respective self-driving systems and technologies.
Connected Car Market Scope
Metrics

Details

Base Year

2022

Historic Data

2020-2021

Forecast Period

2022-2032

Study Period

2020-2032

Forecast Unit

Value (USD)

Revenue forecast in 2032

US$94.9 billion

Growth Rate

CAGR of

20.2

% during 2021-2032

Segment Covered

Type, Application, Regions

Regions Covered

North America, Europe, Asia Pacific, South America, Middle East and Africa

Key Players Profiled

Delphi Automotive PLC (U.K.), Verizon Communications Inc. (U.S.), Vodafone Group PLC (U.K.), AT&T Inc. (U.S.), Apple Inc. (U.S.), Microsoft Corporation (U.S.), Google LLC (U.S.), Hyundai Mobi's Co., Ltd. (South Korea), Denso
Key Segment of Connected Car Market
By Type Overview 2021-2031, (USD Billion)
• Embedded solutions
• Integrated solutions
• Tethered solutions
By Application Overview 2021-2031, (USD Billion)
• Infotainment Navigation
• Telematics
By Region Overview 2021-2031, (USD Billion)
North America
• USA
• Canada
Asia Pacific
• China
• India
• Japan
• Rest of Asia Pacific
South America
• Mexico
• Brazil
• Rest of North America
Europe
• Germany
• France
• UK
• Rest of Europe
Middle East and Africa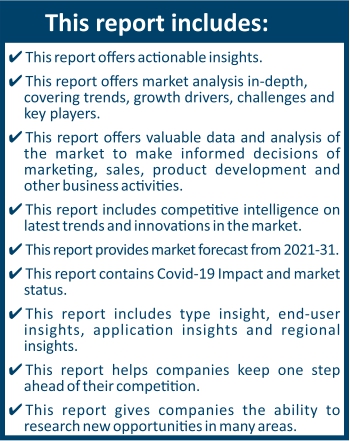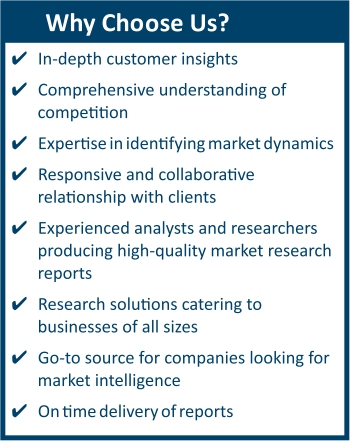 Frequently Asked Questions (FAQ) :
Connected Car Market is projected to reach US $ 94.9 billion by 2032, growing at a CAGR of 18.8%