Rising promotional activities among businesses to promote their brands to attract client attention and so boost sales is one of the significant factors driving demand for printed promotional materials, therefore encouraging growth in the global Commercial Printing Outsourcing market.
Covid-19 Impact & Market Status
Business practices are being modified to line up with current business dynamics and to address all of the challenges that have arisen as a result of the ongoing Covid-19 pandemic and its associated implications. Market players in the global Commercial Printing Outsourcing market are assertively trying to find new possibilities to emerge from the pandemic-induced growth downturn and reverse financial vulnerabilities. In addition, well-known industry companies are developing new product lines and technological innovations to strengthen the market in the wake of Covid-19. The blockchain, cloud services, Internet of Things (IoT), and Machine learning, Artificial Intelligence (AI), technologies boost internet accessibility from around the world and have significantly accelerated economic growth in the past decades. More than 4.5 billion enabled by the internet as of April 2021. Similarly, among other improvements to economies around the world, the expansion of the Industry has contributed significantly to rises in GDP, productivity improvement, and R&D spending. A further role in the growth and advancement of the economy is the production of services and goods in the ICT sector.
Gravure printing to Emerge as the Most Lucrative Segment
Commercial printing companies are increasing their product offerings to also include media and document management services, which should enable businesses to improve their capacity for both print and non-print distribution and promotion. Green commercial printers, which utilize environmentally friendly paper, inks, and chemicals and promote waste reduction and reprocessing, also are anticipated to contribute to the company's continued growth.
Advertising Field to Remain Atop
Global production growth for the industry is predicted. In countries like India, China, and Japan, business expansion in this sector is predicted to be aided by the rising need for packaging and advertising printing methods. North American nations are seen as early adopters of the technology, which benefits the local industry there. Examples of these nations are the US and Canada.
Asia Pacific Region to Render Ample Investment Avenues
Asia Pacific market will hold the largest share of all of these regions. Some of the key factors expected to drive the market expansion include rising demand for commercial printing solutions from nations like India, China, Vietnam, and Thailand among others, as well as the region's expanding use of innovative printing technologies. The value of the Indian printing market was predicted to be close to USD 4 billion in 2019. India is positioned to be one of the key markets for commercial printing due to the number of publishing houses that operate there and meet the daily demands of several enterprises. Because of its large population, the country is expected to become one of the major consumer markets in the coming years.
Due to the substantial significance of print publications, organizations are emphasizing so much on enhancing their product communication through print channels, which is anticipated to accelerate market growth over the forecast period. The market is also prospering since printing service providers are becoming increasingly concerned about the necessity to minimize the adverse effects of the printing industry on the environment and the adoption of organic or vegetable-based inks in substitute of solvent-based inks.
Retail, financial institutions, publishing, and the food and beverage industries each play a key role in propelling the commercial printing market. The food and beverage industries' demands for packaging, wide-format printing, digital printing, and other marketing materials is a significant market drivers.
Customers are more inclined to employ electronic versions of printed documents, such as e-reports, vouchers, and catalogues, or online platforms, including email, or websites, rather than printing materials for consumers, which has an impact on the market for print-related items. Service providers are providing value-added services including data management, consulting, and e-publishing to their clients in an attempt to fend off the effects of the digitization of commercial print. Books for academic institutions, labels, and packaging materials are among the essential parts that remain to have strong demand.
At a CAGR of 6.1% over the forecast period, the market for commercial printing outsourcing is anticipated to increase from USD 36.06 billion in 2019 to USD 49.48 billion by 2029. This market is expanding as a result of increased need for personalised and customised printing, growing preference for digital printing, and growing desire for affordable printing options.
The market for commercial printing outsourcing is largely constrained by two factors: a high initial investment cost and the necessity for qualified labour. The large initial investment cost is related to buying machinery and tools, such as printers, inks, paper, and other raw materials. Also, these machines have significant maintenance costs, which restrains the development of the commercial printing outsourcing market to some extent. Nevertheless, during the anticipated period, the growing popularity of digital printing is anticipated to open up new prospects for the market for commercial printing outsourcing.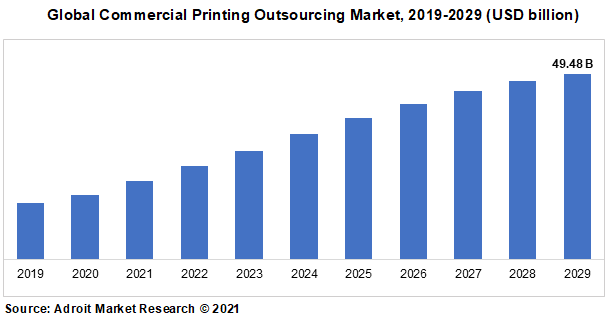 Acme Printing, Toppan Printing Co. Ltd, Transcontinental Inc., Quad/Graphics, Inc., and Dai Nippon Printing are among the key companies in the worldwide Commercial Printing Outsourcing market. There are well-established global behemoths in the commercial printing outsourcing sector, as well as competitive new entrants who are dominating local and regional marketplaces. This report offers a comprehensive analysis of the many changes that have occurred along the value chain of the commercial printing outsourcing business as a result of both upstream and downstream market conditions.
Latest Innovations in the Global Commercial Printing Outsourcing Market: a Snapshot
On February 15, 2021, R.R. Donnelley & Sons Company announced the establishment of a strong commercial print centre of excellence in Northern California, spanning 136,000 square feet. ft.
On July 15, 2020, Dai Nippon Printing Ltd announced that it had established a photomask that can assist 5nm Extreme Ultra-Violet (EUV) lithography. The company would send semiconductor chip manufacturers, material manufacturers, and semiconductor development confederations these photomasks for lithography.
Commercial Printing Outsourcing Market Scope
| | |
| --- | --- |
| Metrics | Details |
| Base Year | 2021 |
| Historic Data | 2019-2020 |
| Forecast Period | 2022-2029 |
| Study Period | 2019-2029 |
| Forecast Unit | Value (USD) |
| Revenue forecast in 2029 | USD 49.48 billion |
| Growth Rate | CAGR of 6.1% during 2021-2029 |
| Segment Covered | Type, Application, Regions |
| Regions Covered | North America, Europe, Asia Pacific, Middle East and Africa, South America |
| Key Players Profiled | Acme Printing, Toppan Printing Co. Ltd, Transcontinental Inc., Quad/Graphics, Inc., and Dai Nippon Printing |
Key Segments of the Global Commercial Printing Outsourcing Market
Type Overview, 2019-2029 (USD Billion)
Offset Lithography
Flexography
Gravure
Screen
Inkjet
Application Overview, 2019-2029 (USD Billion)
Publishing
Advertising
Packaging
Regional Overview, 2019-2029 (USD Billion)
North America
Europe
Germany
France
UK
Rest of Europe
Asia Pacific
China
India
Japan
Rest of Asia Pacific
South America
Mexico
Brazil
Rest of South America
Middle East and South Africa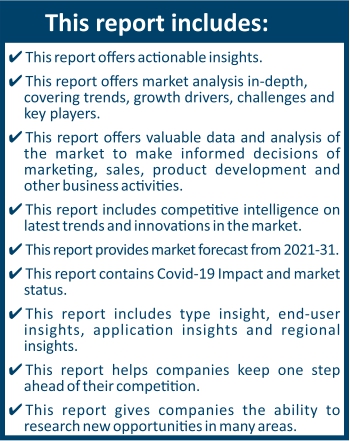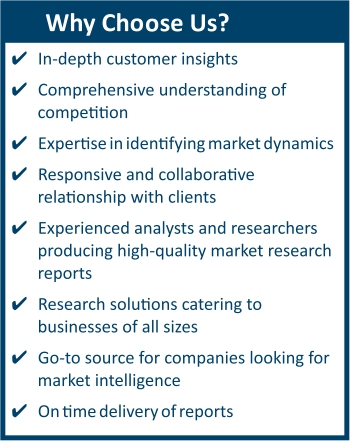 Frequently Asked Questions (FAQ) :
The market value of commercial printing outsourcing market in 2029 was USD 49.48 billion.
The commercial printing outsourcing market is growing at a CAGR of 6.1% over the forecast period.
The application of the commercial printing outsourcing market Publishing, Advertising, Packaging and other.