The expansion of food service businesses and the rising popularity of grilled food consumption among consumers domestically and internationally are both factors contributing to the growth of this industry. Due to time restraints, user convenience, busy lifestyles, and the use of less oil, while cooking the meal, the working people of society may benefit from using charbroilers for cooking such food items. This has greatly increased the demand for charbroilers.
The construction of numerous new commercial buildings, such as cafes, hotels, and restaurants, necessitates the purchase of numerous appliances, including charbroilers, to efficiently carry out their daily operations. In order to turn their passion into a living, many entrepreneurs are opening new cafes and eateries. Numerous hotels are also being built, and significant hotel brands are expanding their operations into newer areas. The opening of more new businesses is encouraging consumers to buy more charbroilers. Such establishments employ charbroilers and other types of gadgets to speed up their work because they need constant, quick cooking operations. Smaller restaurants and cafes can maintain a balance between orders and deliveries with the use of these gadgets.
Charbroilers' technological developments will increase energy efficiency and lower their carbon footprint. Food that has been grilled removes excess fat since cooking at high temperatures causes fat to melt, which means fewer calories are consumed. Since there is no need for butter or oil in the preparation of grilled meals, the calorie count is further reduced, attracting customers who are mindful of their calorie consumption. Vegetables and meat that have been grilled preserve the nutrients that are lost during cooking. These elements are anticipated to enhance consumer demand for grilled food in cafeterias and restaurants, resulting in higher sales of commercial grills.
Grills and charbroilers generate radiant heat by lighting a gas flame beneath an electric heating element or lava rocks. Different items can be cooked and grilled using this product. Cooking equipment known as a charbroiler is used to grill and cook a range of foods. They are made up of a number of small grates or one big grate on which the meal is placed.
In 2021, the charbroiler market was worth $997.2 mln; by 2031, that number is expected to have increased to $4770.3 mln, a CAGR of 7.9%.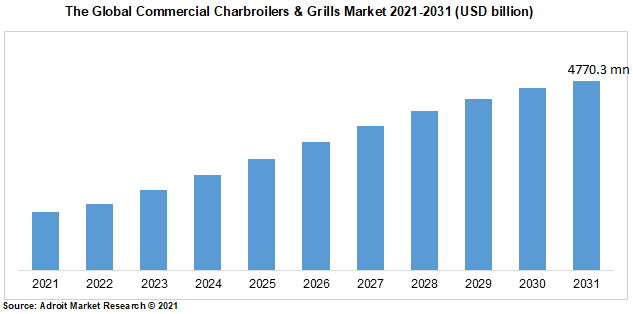 Unfortunately, fat drops down and produces chemical-filled smoke when you cook meat on the barbecue. According to Bon Appetit, the char itself contains a different chemical called heterocyclic amines. Both drugs have been associated with increased cancer risks.
The Montague Company, MagiKitch'n Inc., Southbend, Wells Bloomfield LLC, S. BLODGETT CORPORATION, Castle Stove, Toasted, ITW Food Equipment Group LLC. (Vulcan), Bakers Pride, The Montague Company, MagiKitch'n Inc.
SEGMENT ANALYSIS
By Type:
Depending on the fuel or energy source utilized for heating, there are three primary varieties of charbroilers: charcoal, gas, and electric. Charcoal charbroilers, on the other hand, see extensive use in outdoor settings, and electric charbroilers are gaining ground in the kitchen. Outdoor and indoor grillers alike favor gas charbroilers for their convenience and versatility. When broken down by product category in 2021, the electric charbroiler sector held the largest share. This market category, which is also the one with the highest growth, is anticipated to rule the charbroiler market for the duration of the forecast. The usage of renewable energy sources like solar panels, which customers are installing in their homes to save electricity bills, can be credited to the expansion of this market sector. Additionally, they produce significantly fewer pollutants and smoke. Throughout the forecast, the gas charbroiler is anticipated to expand at a moderate CAGR of 5.1%.
By Application:
The business sector was anticipated to be the largest and fastest-growing use for charbroilers. The increase in fast-service restaurants, motels, and other food service businesses around the world is responsible for this segment's expansion. Throughout the forecast period, the household segment is anticipated to experience a modest increase. During the lockdowns, more people were trying out new, nutritious cuisine and eating a lot of home-cooked meals, which led to a surge in the sales of household charbroilers. Now that these charbroilers are steadily gaining popularity in the Asian continent, more home charbroilers may become available. In 2020, the indoor market for charbroilers was worth more than double the outside market, according to a market analysis of charbroilers by product type. The indoor category, which has shown the greatest growth during the projection period, is anticipated to maintain its leadership position. Compared to the outdoor market, this one is more practical, which has contributed to its growth.
By Region:
North America contributed the most to overall revenue in 2021 and is anticipated to expand at a CAGR of 5.2%. According to estimates, Asia-Pacific will grow at the fastest rate (6.1%). Together, North America and Europe made up almost half of the worldwide share in 2021, and it is anticipated that this trend would continue during the projected period.
The cooking equipment and other consumer electronics industries had been impacted by the COVID-19 outbreak.
Appliance and consumer electronics sales had decreased in April through June as a result of the lockdown, but a rebound is anticipated in the second quarter. The primary market for charbroilers is the food service sector, but the pandemic COVID-19 had a catastrophic effect on food service in the high-potential markets, which may have an influence on charbroiler sales.
Restaurants have been forced to shut down operations due to the lockdown and social isolation measures, and some may never be able to reopen for business. All throughout the world, this has impacted the demand for charbroilers. The user will be compelled to alter their buying habits as many of these changes become more permanent. As a result, charbroiler manufacturers will need to alter the structure of their supply chains as well as their overall market as consumers continue to adapt. Major electronic firms' global supply chains were also in danger from COVID-19.
China is the world's top producer and exporter of a range of materials used as inputs in the production of finished electronic equipment. Due to supply chain disruption, the other manufacturers with facilities in the United States and Europe were forced to suspend production as a result of the ongoing production shutdown in China.
A commercial griddle, a type of grill, has the versatility to cook a wide variety of foods, including pancakes, bacon, grilled cheese sandwiches, hamburgers, salmon, and steaks.
These prepared foods fit the trend for quick meals and are tastier. Customers who are working more often tend to prefer the staple meals that fulfill their requirements for ease. Commercial grills give commercial kitchens a variety of cooking options, which increases demand. Garland Group, Stmaster Corp.
Commercial Charbroilers & Grills Market Scope
| | |
| --- | --- |
| Metrics | Details |
| Base Year | 2021 |
| Historic Data | 2020-2021 |
| Forecast Period | 2022-2031 |
| Study Period | 2021-2031 |
| Forecast Unit | Value (USD) |
| Revenue forecast in 2031 | $997.2 mln |
| Growth Rate | CAGR of 7.9 % during 2021-2031 |
| Segment Covered | By Type, By Application, Product Category, Regions |
| Regions Covered | North America, Europe, Asia Pacific, Middle East and Africa, South America |
| Key Players Profiled | The Montague Company, MagiKitch'n Inc., Southbend, Wells Bloomfield LLC, S. BLODGETT CORPORATION, Castle Stove, Toasted, ITW Food Equipment Group LLC. (Vulcan), Bakers Pride, The Montague Company, MagiKitch'n Inc. |
Key Segments of Commercial Char broilers & Grills Market
By Type Overview, 2021-2031 (USD Billion)
• Electric Charbroiler
• Gas charbroiler
• Charcoal Charbroiler
By Application Overview, 2021-2031 (USD Billion)
• Indoor
• Outdoor
By Regional Overview, 2021-2031 (USD Billion)
North America
• U.S
• Canada
Europe
• Germany
• France
• UK
• Rest of Europe
Asia Pacific
• China
• India
• Japan
• Rest of Asia Pacific
South America
• Mexico
• Brazil
• Rest of South America
Middle East and Africa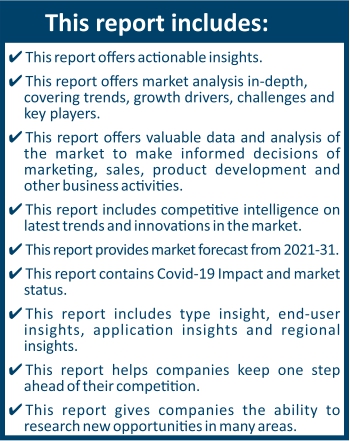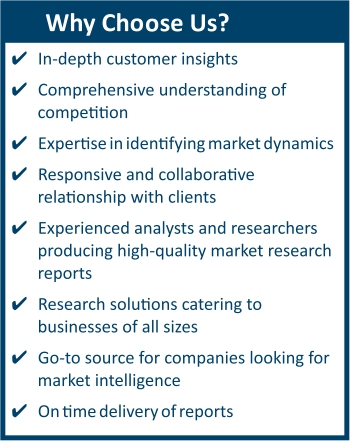 Frequently Asked Questions (FAQ) :
Commercial Charbroilers & Grills Market is projected to reach $4770.3 mln by 2031, growing at a CAGR of 7.9.