The global coconut milk market is one of the largest in the world and its market worth is expected to reach USD 3.7 billion by 2028 with an annual growth rate of 19.5%. This can be attributed significantly to the restructuring of the market creating room for growth and improvement. Additionally, the rising awareness about the benefits of consuming natural and healthier plant-based milk alternatives, instead of dairy are some of the key reasons for growth in global coconut milk market.
However, the negative impact of Covid-19, price fluctuations, and shrinking research and development budgets could affect the global coconut milk market growth. Several allergies related to coconut milk consumption, high prices as compared to regular dairy products have constricted full-fledged growth However, growing application areas, market gaining momentum due to ease in lockdown restrictions as well as coconut milk used as immunity boosters during the Covid era is anticipated to accelerate the market growth.
The coconut milk is a liquid derivative of the coconut fruit which can be obtained after the pulp of the coconut is ground. It is not obtained from unripe coconuts. Coconut milk is used in many food products or as an additive. The coconut milk has therapeutic properties that are used in the development of heath care, body care, and beauty care products. For example, coconut milk created hair conditioners or moisturizers. In terms of skin and hair treatment, the coconut milk promotes healthy hair, treats skin conditions, and more.
Whereas, in terms of health conditions, the coconut milk lowers blood pressure and maintains cholesterol levels, and also treats many other health conditions. The market players are introducing new coconut milk products with increased production rate around the world to become competitive and stay relevant to the industry trends. To benchmark against other major producers the small and medium manufacturers are introducing competitive and quality coconut milk products to export it in potential markets.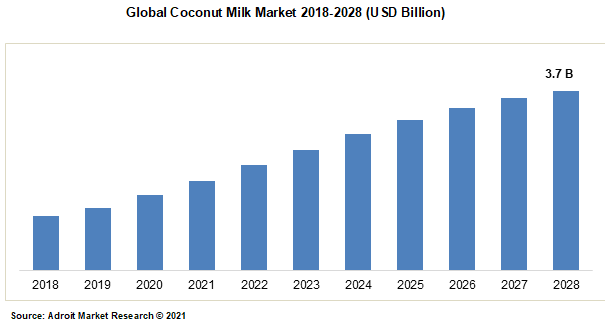 The major producers and exporters of coconut milk and products are Dabur, Thai Coconut, Pureharvest, Danone, Thai Agri Foods, Celebes Coconut, Vita Coco, Goya Foods, and McCormick & Company among all other small and larger scale producer. These companies manufacture quality coconut milk products such as milk powder, coconut milk moisturizer, etc and value- added products.
Coconut Milk Market Scope
| | |
| --- | --- |
| Metrics | Details |
| Base Year | 2020 |
| Historic Data | 2018-2019 |
| Forecast Period | 2021-2028 |
| Study Period | 2018-2028 |
| Forecast Unit | Value (USD) |
| Revenue forecast in 2028 | USD 3.7 billion |
| Growth Rate | CAGR of 19.5% during 2021-2028 |
| Segment Covered | Packaging Type, Category, End-User, Distribution, Regions |
| Regions Covered | North America, Europe, Asia Pacific, Middle East and Africa, South America |
| Key Players Profiled | Dabur, Thai Coconut, Pureharvest, Danone, Thai Agri Foods, Celebes Coconut, Vita Coco, Goya Foods, and McCormick & Company among all other small and larger scale producer |
Key Segments of the Global Coconut Milk Market
Packaging Type Overview, 2018-2028 (USD Billion)
Plastic/glass bottles
Tetra packs
Cans
Category Overview, 2018-2028 (USD Billion)
End-User Overview, 2018-2028 (USD Billion)
Household
Food Services
Catering Services
Others
Distribution Overview, 2018-2028 (USD Billion)
Regional Overview, 2018-2028 (USD Billion)
North America
Europe
Germany
UK
France
Rest of Europe
Asia Pacific
China
Japan
India
Rest of Asia Pacific
South America
Brazil
Mexico
Rest of South America
Middle East and Africa
Reasons for the study
To portray the industry trends in global coconut milk market before the onset of Covid and the post-pandemic situation.
To present the opportunities opening up in the post-pandemic world for the farmers and other actors in the value chain.
To study the markets that have been hit by the Covid-19 calamity but are believed to have the potential to overcome the challenges within a short span of time.
To discuss the scope for your products considering the current and future market scenarios in the complex competitive arena.
What does the report include?
Crucial market information such as market size, future growth forecasts, current industry trends for the above mentioned segments.
Study of the existing and emerging coconut milk derivatives which have impacted the global coconut mill market positively.
Applications of coconut milk in a variety of products that are anticipated to fuel the overall Coconut Milk powder market.
Study of potential market destinations.
Market segments for better returns on investment and that are equipped for capturing international markets.
Who should buy this report?
This latest report on global coconut milk market and industry trends is useful all the entities in the supply chain from raw material providers like farmers, retailers, wholesalers, to coconut milk and coconut milk producers, marketers, end users.
Policymakers, R&D experts focusing on product diversification and by-product innovation.
There has been a constant demand for coconut milk produced food, health, and skin care items for the world over. The growing significance and increasing demand globally are the key factors boosting the global coconut milk market. The current industry trends state that the diversified applications of coconut milk products in pharmaceutical, nutraceutical, and cosmaceutical segments is driving the global coconut milk market on a wider scale.
The existing and emerging derivatives of coconut milk products have greatly impacted the industry trends. Besides, newer products are being developed at a faster rate to complement market progression. Though, the Covid-19 initially deprived the market growth, now the rising awareness for using coconut milk as an immunity booster is positively impacting the market growth. Moreover, coconut milk facilitates immunomodulation bene­fits and antimicrobial ability which are anticipated to be strong opportunity for the global coconut milk market.
Packaging Segment
The plastic or glass bottles segment has captured the largest market share as its demand is increasing in the local and international markets. Ease of use, storage, and consumption are high for bottles as compared to other packaging solutions. Thus, in the coming years as well the bottle-based packing segment is likely to incur the largest market shares.
Category Segment
The organic segment held the largest share and is projected to dominate the global coconut milk market in the forecasted years. Lucrative opportunities for the segments are expected due to rising consumer awareness about organically sourced coconut milk and its exuberant benefits across end-use industries such as food-based and cosmetic-based.
Distribution Segment
Wholesale distribution and retail distribution are the two prominent channels based on distribution. The retail segment held significant share in the global coconut milk market due to increasing demand of coconut milk products for retail distribution in supermarkets, convenience stores, and on the shelf stores. As consumers are highly optimistic about shopping experiences in hypermarkets, supermarkets and convenience stores, the retail segment would accrue the largest revenue shares in the forthcoming years of the projected timeline.
The North America dominated the market in 2020 and gathered maximum share. It is likely to dominate the coconut milk market in years 2021-2028 as well owing to rampant reliance on plant-based milk variants. APAC also accounted for the highest market share due to presence of major producers and exporters of coconut milk and coconut milk powder such as India, Philippines, Thailand, Sri Lanka, etc.