Chocolate and cocoa provide flavour, texture, and taste to meals. The fermenting seeds of the cocoa tree are known as cocoa beans.
The size of the global market for Cocoa and Chocolate is expected to reach USD 115.91 billion by 2029, expanding at a compound annual growth rate (CAGR) of 5.7%.
Covid 19 Impact & Market Status
The COVID-19 epidemic's low sales volumes and supply-side issues with quality and certification hurt the chocolate sector. The Fine Cacao and Chocolate Institute (FCCI) conducted a survey to determine the effect of the COVID-19 pandemic on exports. The outcomes were concerning. According to accounts, growers and agricultural workers were unable to travel to the plantations for several weeks due to the Dominican Republic's strict lockdown before the government finally permitted exceptions. Due to the disturbance in the chain of suppliers of raw materials, followed by the lockout, fewer specialised shops remained open for longer, which decreased the amount of luxury chocolates that were consumed. For example, Barry Callebaut, a Swiss maker of premium chocolates and cocoa goods, reported a slowdown in the first half of the year, with volume dropping by 143 percent in the third quarter (ending May 31, 2020).
Demand for single-origin and certified chocolate is growing
The demand for excellent taste cocoa is increasing rapidly in places like Europe and North America. Gourmet chocolates are made from premium and ultra-premium beans. The growing interest in health and the need for more distinctive items are driving this development. Due to sustainability certification and single origin, the premium cocoa market contributes to the overall expansion of the industry under investigation. Manufacturers are creating single-origin and premium chocolate lines in response to the rising demand. They also contribute to the local economy. These tactics aid firms in increasing profit margins and developing a more favourable brand image. Nestle, for example, has opened a new chocolate moulding and packing factory in Ecuador. This enabled the firm to create value-added chocolates for export and domestic consumption using the single-origin particular variety "Arriba cocoa" beans.
Europe Dominates the Market
Due to growing health concerns over cheaper chocolates in the region and a surge in the popularity of fine cocoa, European chocolate consumers place a stronger premium on quality. As a result, European customers are willing to spend more for chocolate that meets their requirements. A significant force behind the European chocolate industry's growth is consumers' paradigm change in favour of high-quality chocolate products (such as single-origin chocolates, artisan chocolates, handcrafted chocolates, organic chocolates, and so on). Dark chocolate is popular because it has less sugar and has a strong bitter flavour from the rich cocoa. The most popular option appears to be plain chocolate. Premium chocolates, on the other hand, are gaining popularity, with consumers increasingly preferring premium dark chocolate. Furthermore, confectionery sales in the United Kingdom have increased, with an increase in demand for chocolate aimed at a specific group of customers. To meet the increased demand, companies are working on manufacturing free-from and vegan chocolates.
Cocoa items include cocoa liquor, cocoa butter, and cocoa powders, whereas chocolate products include dark, white, and milk chocolates with fillings.
The worldwide cocoa and chocolate market produced $49,757 million in sales in 2022 and is expected to reach $61,602.9 million by 2029, increasing at a CAGR of 4.4 percent. The industry has also been fuelled by the growing desire for chocolate among people of all ages throughout the world. Raw cocoa beans are processed into cocoa goods, which are then distributed to the confectionery industry both locally and globally. Fine-flavoured cocoa accounts for around 5% of global cocoa output and is rising at a quicker pace as premium chocolate products become more popular. Hot chocolate beverages, cakes, and other bakery goods all include cocoa powder.
Drinkable chocolate has been used to heal ailments and sicknesses for many years. By decreasing blood pressure, enhancing heart health, boosting blood flow, and improving cholesterol levels, cocoa helps to treat obesity, constipation, bronchial asthma, cancer, chronic fatigue syndrome, and a variety of neurological disorders. Hot cocoa has two to three times as many antioxidants as red wine, two to three times as many antioxidants as green tea, and four to five times as much antioxidants as black tea. The antioxidant qualities of chocolate bars are high, but the health advantages are offset by the presence of saturated fats.
Due to rising health consciousness among consumers, the global chocolate market is likely to maintain its upward trend over the forecast period, owing to a massive increase in consumption of dark, organic, sugar-free chocolates. Changes in packaging designs and colours are one of the most recent improvements in the chocolate sector. The worldwide cocoa market is witnessing high demand as people become more aware of cocoa's anti-aging and therapeutic benefits.
Chocolate syrup is in high demand all around the world. Chocolate syrup is made from cocoa beans; hence the cocoa market is expected to rise.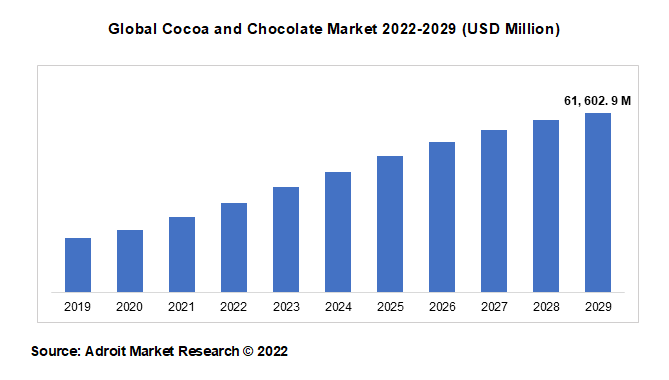 Latest Innovation in the Cocoa and Chocolate Market: A Snapshot
Citrus tastes, vegetables, nuts, cereals, unique fruits, rare cocoa, flowers, a mix of flavours, and others are among the latest inventive components utilised in the chocolate business. The diabetic population has been drawn to chocolate products that contain healthful components such as stevia, honey, lactose-free chocolate ingredients, non-hydrogenated fats, and others.
With regional and worldwide competitors like Mars Incorporated, Yildiz Holdings, and Ferrero International SA, the chocolate industry is fragmented. With the emergence of luxury chocolates throughout the world, the leading manufacturers are continually focused on product innovation. For instance, the Ferrero Group subsidiary Ferrero India has announced the launch of "Ferrero Rocher Moments," a low-cost luxury gifting brand that takes inspiration from Ferrero Rocher, in October 2020. Furthermore, producers in the market analysed have been focused mostly on chocolates for special events, such as Valentine's Day, Easter, and Christmas, by delivering unique chocolates in a variety of colours and forms that correspond to the celebration's theme.
• In January 2022, Cadbury, a brand owned by Mondelez International, unveiled the Twist Wrap packaging solution for its Duos line, enabling consumers to nibble on small bits by simply twisting and shutting the container after consuming half of the chocolate bar.
• In preparation for Veganuary in January 2021, Mars launched two new vegan chocolate bars to its lineup. The brand has now developed vegan versions of two of its most well-known chocolate bars, Bounty and Topic, following the release of Galaxy Vegan, its first free-from chocolate.
Cocoa and Chocolate Market Scope
| | |
| --- | --- |
| Metrics | Details |
| Base Year | 2020 |
| Historic Data | 2018-2019 |
| Forecast Period | 2021-2028 |
| Study Period | 2018-2028 |
| Forecast Unit | Value (USD) |
| Revenue forecast in 2028 | US$ 61,602.9 million |
| Growth Rate | CAGR of 4.4 % during 2021-2028 |
| Segment Covered | Type, Product Type, Distribution Channel, Regions |
| Regions Covered | North America, Europe, Asia Pacific, Middle East and Africa, South America |
| Key Players Profiled | Cargill, Incorporated, Nestle S.A., and Mars Incorporated are some of the other major firms. |
Key Segments of the Cocoa and Chocolate Market
Type Overview, 2022-2029 (USD Million)
Dark Chocolate
Milk/White Chocolate
Product Type Overview, 2022-2029 (USD Million)
Softline/ Selflines
Contlines
Moulded Chocolates
Other Products
Distribution Channel Overview, 2022-2029 (USD Million)
Specialist Retailers
Convenience Stores
Supermarkets/ Hypermarkets
Online Channels
Regional Overview, 2022-2029 (USD Million)
North America
Europe
Germany
France
UK
Rest of Europe
Asia Pacific
China
India
Japan
Rest of Asia Pacific
South America
Mexico
Brazil
Rest of South America
Middle East and South Africa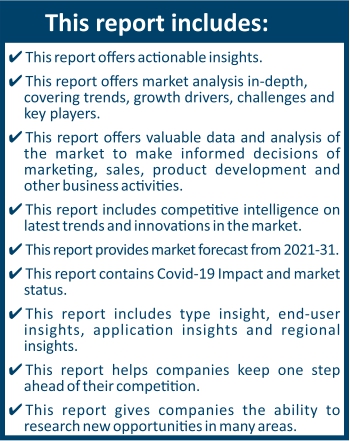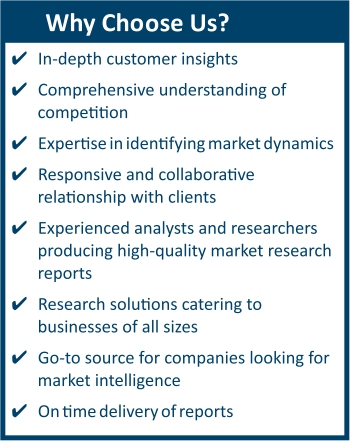 Frequently Asked Questions (FAQ) :
The market value of Cocoa and Chocolate market projected to reach USD 61,602.9 million.
The Cocoa and Chocolate market is growing at a CAGR of 4.4 % over the forecast period.
To get latest version of Cocoa and Chocolate market report can be obtained on demand from the website.
The top companies that hold the market share are Cargill, Incorporated, Nestle S.A., and Mars Incorporated are some of the other major firms.