It's being expected that by 2030, the Cochlear Implant Systems market cap will hit $3,203.8 Million at a CAGR growth of about 9.86%.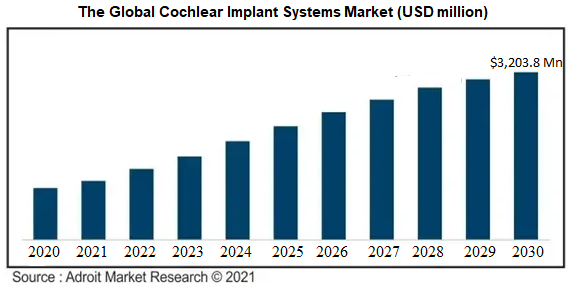 The market is expected to develop as the number of people with hearing loss rises, as well as the elderly population grows.
Covid 19 Impact & Market Status
Initially, the COVID-19 epidemic had a greater impact on the lives of cochlear implanted patients seeking rehabilitation and experiencing technical difficulties with their implants. A study article titled "Impact of COVID-19 on access to hearing health care services for children with cochlear implants: a survey of parents" was published in July 2020, and it examined the difficulties faced by children with cochlear implants during the pandemic. Health services and training for auditory sense development were found to be delayed, according to the research. Furthermore, 79 percent of parents stated that the implant's speech processor had failed, causing the auditory way of communication to be harmed. As a result of these investigations, it appears that demand for cochlear implants decreased during the COVID-19 epidemic. Despite the fact that the epidemic impacted cochlear implant surgery and related services, it sparked new research initiatives. In July 2020, ENT physicians and researchers at Nottingham University Hospitals created a personal protective equipment solution for cochlear implantation procedures that helped speed up the procedure.
The unilateral implant segment is expected to grow significantly
Because of the low cost of unilateral implants, favourable reimbursement, and quicker operation time, the unilateral implant sector is expected to increase at a 7.4% annual rate through 2027. The rising prevalence of single-sided deafness is driving product demand. In the United States, around 60,000 people suffer single-sided deafness each year. The growing prevalence of single-sided hearing loss in children is also fueling the market. Single-sided deafness is most commonly caused by heredity, although it can also be caused by sickness or ear damage. As a result, a larger patient pool will boost demand for unilateral cochlear implants.
The adult segment is accounted for the highest market share
In 2021, the adult sector of the cochlear implant devices market was worth USD 780.9 million. The industry's growth is being influenced by the growing senior population pool and the rising usage of cochlear implants in adults. According to the World Bank, in 2019, the total number of persons aged 65 and up made up around 9% of the overall population. One of the most prevalent causes in adults is hearing loss. Hearing loss affects almost one out of every three adults aged 65 to 74. In addition, further technical advancements in cochlear implants, as well as improved clinical outcomes of implant surgery in adults, will drive market growth in the future years.
The Cochlear Implants Market is expected to be dominated by North America
Due to technological advancements in implant technology, increased hearing impairment among Americans, the presence of major market players operating in the industry, and the increased battery life of cochlear implants, the United States is expected to hold a significant share of the market in North America. Furthermore, the country's rising prevalence of hearing loss is fuelling demand for cochlear implants. According to a June 2021 report from the Centres for Disease Control and Prevention (CDC), over 6,000 United States new-borns born in 2019 were found to have a permanent hearing loss at an early age.
Furthermore, businesses are taking steps to produce new items to expand their position in the market under consideration. For example, in June 2021, the US FDA awarded Oticon Medical premarket approval (PMA) for its Neuro System (cochlear implant system) to treat adults 18 and older who have bilateral severe-to-profound sensorineural hearing loss and obtain minimal improvement with adequately fitting hearing aids. Soon, such advancements are projected to have a beneficial influence on market growth.
Hearing loss affects more than 5% of the world's population, according to the WHO. Furthermore, expanding government attempts to reduce the impact of hearing loss and product approvals are increasing market share.
Hearing implants are surgically implanted hearing aids that assist people who are deaf or hard of hearing. Hearing implants may be beneficial for patients who are unable to hear when wearing a hearing aid. The four basic types of hearing implants are auditory brainstem implants, cochlear implants, middle ear implants, and BAHS (bone-anchored hearing systems).
A high prevalence of hearing diseases, technical developments in hearing implants, expansion in the senior population, and an increase in patient preference for minimally invasive treatments are driving the worldwide hearing implants market. However, the exorbitant cost of these gadgets limits their expansion (especially in developing nations). During the projected period, growth possibilities in Asia-Pacific and LAMEA rising economies are likely to support market growth. A cochlear implant works by bypassing damaged regions of the ear to send sound impulses to the auditory nerve. It worked by placing a sound processor behind the ear that captured noises and sent them to a receiver, which then sent signals to electrodes implanted in the cochlea. People with a cochlear implant can detect danger signs, hear noises in their surroundings, and understand in-person discussions. The FDA has authorized cochlear implants for use in adults and children who are deaf or have significant hearing loss.
Favorable reimbursement circumstances for cochlear implant surgery and therapy are expected to be one of the primary drivers of market revenue growth throughout the forecast period. As congenital hearing loss grows more common, cochlear implants are becoming more popular than hearing aids. These are the two primary variables that are likely to drive future market expansion. During the projection period, however, a scarcity of qualified specialists, the availability of alternative treatment alternatives, and high costs of cochlear implants and therapies are projected to stymie market expansion.
According to the newest analysis, the global cochlear implant market is estimated to reach USD 4.21 billion in 2029, with a CAGR of 10.9 percent. The rising prevalence of hearing loss in children and the elderly, as well as the availability of low-cost cochlear implants and technical advancements in cochlear implants such as enhanced signal transmission and battery life, are expected to fuel market revenue growth throughout the forecast period.
Medtronic plc, William Demant Holding A/S, Cochlear Limited, Sonova Holding AG, MED-EL, Sivantos Pte. Ltd., IntriCon Corporation, GN Store Nord A/S, Starkey Hearing Technologies, and Widex A/S are among the prominent firms mentioned in the research.
Latest Innovation in the Global Cochlear Implants Market: A Snapshot
• Auditory Verbal UK established the Cochlear Implant International Community of Action in February 2021.
• The SULLIVAN artificial cochlear implant will be introduced during the "CES 2022" in Las Vegas in January 2022, according to TODOC, a Korean firm that specializes in neural prosthesis and neuromodulation devices.
Cochlear Implant Systems Market Scope :
| | |
| --- | --- |
| Metrics | Details |
| Base Year | 2022 |
| Historic Data | 2020-2021 |
| Forecast Period | 2022-2030 |
| Study Period | 2020-2030 |
| Forecast Unit | Value (USD) |
| Revenue forecast in 2030 | USD 3,203.8 Million |
| Growth Rate | CAGR of 9.86 % during 2020-2030 |
| Segment Covered | Type, Application, Regions |
| Regions Covered | North America, Europe, Asia Pacific, South America, Middle East and Africa |
| Key Players Profiled | Medtronic plc, William Demant Holding A/S, Cochlear Limited, Sonova Holding AG, MED-EL, Sivantos Pte. Ltd., IntriCon Corporation, GN Store Nord A/S, Starkey Hearing Technologies, and Widex A/S. |
Key Segments of the Cochlear Implants Market
Type Overview, (USD Billion)
Unilateral Implant
Bilateral Implant
Application Overview, (USD Billion)
Beryllium Oxide
Beryllium Metal
End User Overview, (USD Billion)
Regional Overview, (USD Billion)
North America
Europe
Germany
France
UK
Rest of Europe
Asia Pacific
China
India
Japan
Rest of Asia Pacific
South America
Mexico
Brazil
Rest of South America
Middle East and South Africa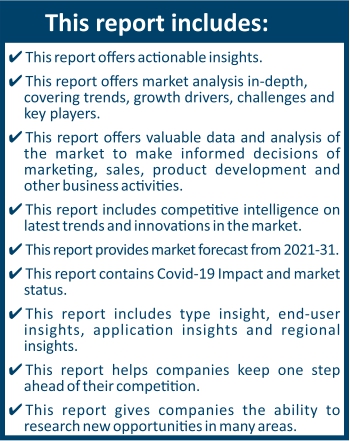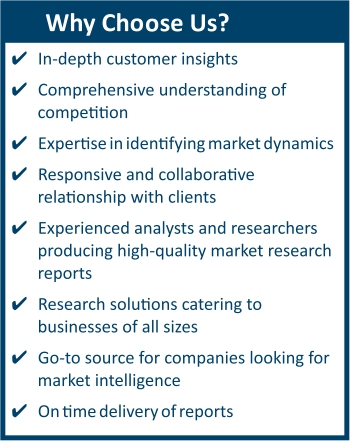 Frequently Asked Questions (FAQ) :
The market value of cochlear implant systems market in 2030 was $3,203.8 Million
The cochlear implant systems market is growing at a CAGR of 9.86 % over the forecast period.
The application of the cochlear implant systems market beryllium oxide, beryllium metal and Other.
North America dominated the market for cochlear implant systems market and accounted for the largest revenue share.
The top companies that hold the market share in cochlear implant systems market are Medtronic plc, William Demant Holding A/S, Cochlear Limited, Sonova Holding AG, MED-EL, Sivantos Pte. Ltd., IntriCon Corporation, GN Store Nord A/S, Starkey Hearing Technologies.