The CNC Tube Bending Machine Market is expected to reach USD 6.2 Billion during the forecast period at a 2.8% CAGR.
Owing to the benefits Tube and pipe benders employ technology to provide a uniform and dependable bending process, making them an excellent investment. Pipe bending can be customized to meet a range of needs, depending on the needs of the client. Using a specialized process, pipes and tubes may be produced into very tiny radius without crinkles or distortions. The ability of CNC tube bending machines to preserve the overall robustness and solidity of tubes and pipes despite the bends is a significant benefit. In both industrial and domestic settings, specialized pipes are used in a wide range of applications. A CNC tube pipe bending machine is incredibly adaptable and may be used for a spectrum of uses.
Covid-19 Impact & Market Status
In 2020, the COVID-19 epidemic will have a substantial impact on the worldwide CNC Pipe Bender market. Aircraft delays, restrictions on all indoor and outdoor events, and quarantines, restaurant closures are just a few of the effects of the COVID-19 epidemic. The declaration of a health emergency and state of lockdown by more than fifty countries has caused a significant decline in business confidence, increased public dread, and future uncertainty. Manufacturing, supply chain management, transportation, import and export, and other market operations have all been significantly impacted by all of these elements. COVID-19 Outbreak- CNC Tube Bending Machine Market revenue has increased significantly during the six years to 2022 as a consequence of improving macroeconomic conditions and stronger demand, although with the present economic slump, revenue has dropped. Market players are noticing a significant impact in their operations and are looking for strategies to maintain momentum. Due to the decrease in price fluctuation in the expanding demand and supply imbalance, market estimations for CNC Tube Bending Machines rely heavily on both volume and value.
Fully Electric CNC Pipe Bender to Emerge as the Most Lucrative Segment
The market is segmented into three types hydraulic NC pipe benders, fully electric CNC pipe benders, and hybrid CNC pipe benders. Due to globalization and urbanization, many nations are increasingly embracing new technology with totally electric appliances, and the contemporary world has changed dramatically as a result of this sort of market.
Automotive to Remain Atop
In the application market, CNC pipe benders can be used in aerospace, automotive, household appliances, general industry, and other industries, with automotive accounting for 41% of the market share because of the new inventions in technology in the automotive sector and worldwide demand for this is also increasing.
The Asian Pacific regions to Render Ample Investment Avenues
Asian Pacific dominate this region. India contributes the most to the CNC pipe bender market, thanks to increased industrialization and urbanization. Due to a unique machine idea, CNC control technology delivers new operating software and maximum flexibility. CNC pipe benders with such properties help the market develop in nations like China and Japan, providing new potential to produce demand in any of those areas.
CNC tube benders can achieve consistent, exact bends by controlling bending angles, sophisticated bend formulae, and tool parameters. These elbows are commonly used in transportation applications. The use of CNC bending machines not only ensures high-quality goods, but it also allows service providers to accomplish the same high-quality outcomes again and over again. Additionally, the CNC tube bender can automate the tube bending process, negating the requirement for numerous welding experts.
The CNC bending machine bends cold metal sheets into various geometric cross-sectional forms using the supplied Mold (generic or customized Mold). The bending machine is usually controlled by a customized CNC system, which also controls the bending machine's coordinates. The sliding depth control, sliding left and right tilt adjustment, back gauge backward and forth adaptation, left and right adjustment, pressure tonnage modification, and slider approaching speed adjustment are all automated by the CNC system.
The bending machine can simply do the slide down, jog, continuous, pressure holding, return, and midway stop operations, and several elbows may be bent at the same time at different degrees. To guide tubes and pipes through the bending process, CNC controlled tube bending machines typically employ a mix of presses and rollers. CNC bending is bending that has been automated to make it more productive and efficient. CNC tube benders are used in a range of sectors, including HVAC, aerospace, automotive, and furniture, for both general and precise bending.
In 2029, the worldwide CNC Tube Bending Machine market will be USD 639.2 million. This industry will continue to grow in the future due to advances in technology.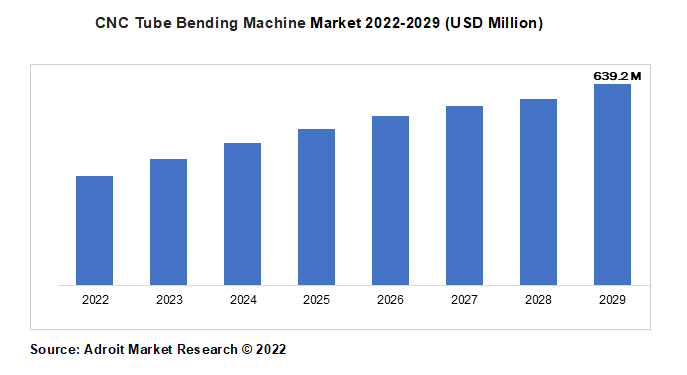 The key players in this market are Schwarze-Robitec, Opton, COMCO, King-Mazon Machinery, Numalliance, YLM Group, CSM, Herber Engineering AB, Transfluid Maschinenbau GmbH, Taiyo Corporation, BLM GROUP, and Crippa. These are the global players in the cnc tube bending machine market.
Latest Innovations in the CNC Tube Bending Machine Market
Electric machines are the most recent additions to this market. The Ce CNC R series of AMOB Electric CNC tube benders are the pinnacle of efficiency and ecological technology. This cutting-edge line of bending machines sprang from developing concerns about rising energy prices and manufacturing expenses, as well as a goal to intelligently minimize energy use. They are available in single stack, double stack, or multi-stack arrangements, as well as variable and fixed radiuses in the same cycle. When equipped with some more than one stack feature, they also allow bends with no straight between them.
The new BLM ETURN-52 tube bending machine is the best of its kind. Folds tubes with a diameter of 8 mm to 52 mm. Right-handed and left-handed bending in the process, with fixed or variable radius, two or more distinct radius mode. The ETURN is so versatile that it may be used in any business, from interior design to automotive production. A rare level of adaptability means you can always come up with new ideas. The VGP3D three-dimensional programming software makes all the difference since it double-checks part feasibility and decreases the likelihood of collisions that occur during the initial practical tryout. It determines the actual production cycle time ahead of time, reducing the time required to generate client bids or assess feasibility. It produces the machine software automatically.
CNC Tube Bending Machine Market Scope
| | |
| --- | --- |
| Metrics | Details |
| Base Year | 2020 |
| Historic Data | 2018-2019 |
| Forecast Period | 2021-2028 |
| Study Period | 2018-2028 |
| Forecast Unit | Value (USD) |
| Revenue forecast in 2028 | USD 639.2 million |
| Segment Covered | Application, Type, Regions |
| Regions Covered | North America, Europe, Asia Pacific, Middle East and Africa, South America |
| Key Players Profiled | Schwarze-Robitec, Opton, COMCO, King-Mazon Machinery, Numalliance, YLM Group, CSM, Herber Engineering AB, Transfluid Maschinenbau GmbH, Taiyo Corporation, BLM GROUP, and Crippa. |
Key Segments of the CNC Tube Bending Machine Market
Type Overview, 2022-2029 (USD Million)
Hydraulic NC Pipe Bender
Hybrid CNC Pipe Bender
Fully Electric CNC Pipe Bender
Application Overview, 2022-2029 (USD Million)
Aerospace
General Industry
Automotive
Home Appliances
others
Regional Overview, 2022-2029 (USD Million)
North America
Europe

UK
Germany
France
Rest of Europe

Asia-Pacific

China
Japan
India
Rest of Asia-Pacific

South America
Mexico
Brazil
Rest of South America
Middle East and South Africa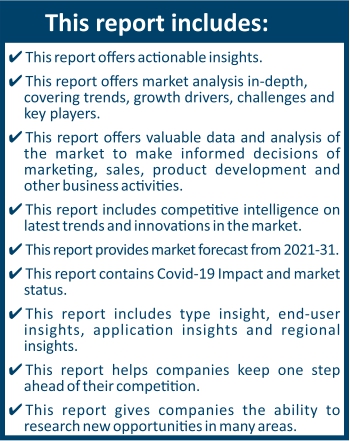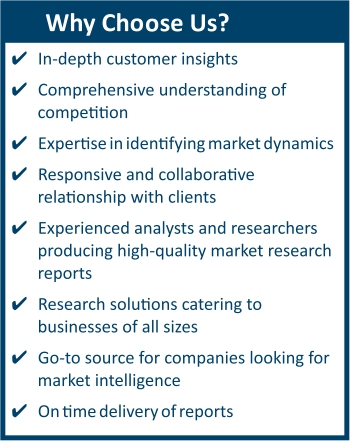 Frequently Asked Questions (FAQ) :
The market value of CNC Tube Bending Machine market projected to reach USD 639.2 million.
To get latest version of CNC Tube Bending Machine market report can be obtained on demand from the website.
The top companies that hold the market share are Schwarze-Robitec, Opton, COMCO, King-Mazon Machinery, Numalliance, YLM Group, CSM, Herber Engineering AB, Transfluid Maschinenbau GmbH, Taiyo Corporation, BLM GROUP, and Crippa.
The Asia Pacific region has a comparatively higher market stake in the CNC Tube Bending Machine market