In 2018, the global cloud computing in healthcare market was valued at USD 22.09 billion and is expected to grow at a compound annual growth rate of over 6% over the forecast period. Interest of healthcare companies to invest in R&D of cloud based solutions to minimize paper work and promote utilization of digital platforms is likely to drive the global market in near future. In spite of cloud services being launched within the healthcare industry years ago, lower adoption rates have resulted in sluggish growth for cloud within the industry. However in recent years, improvement in connectivity, efficient training of healthcare professionals for digital platforms has resulted in surge in adoption rate of these techniques. Furthermore, cloud computing has become an industry standard and future of businesses.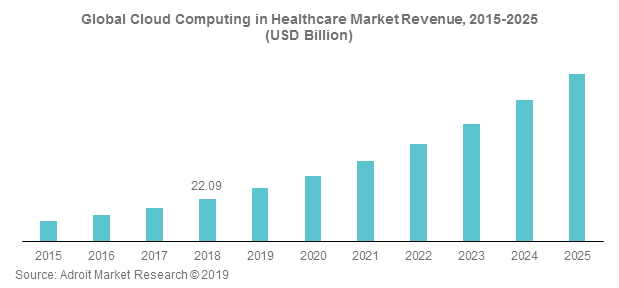 With rising demand for integrated healthcare facilities, adoption of cloud computing services with other digital platforms is likely to become a necessary investment portion for the budget of any healthcare organizations. As of now, regions such as North America and Europe have the highest adoption rates for cloud platforms whereas emerging economies such as China, India are likely to show tremendous growth pertaining to nascent stage.
The value of the Cloud Computing in Healthcare market is projected to grow to USD 127.04 billion with an estimated CAGR of 17.2% by 2030
Moving healthcare systems to a centralized storage place is very distinct from merely moving or merging healthcare information. EMRs can readily bring together healthcare systems because, while continuing to use the invested system, one also gains access to data across other healthcare systems because they are linked via cloud infrastructure-based application programming interfaces (API). This technology provides a fresh, safely linked personal healthcare network on the cloud. The information itself will never leave its initial systems, so that individuals can receive emergency care without regard to their location or health care system.
There is an ever-changing environment in which healthcare organizations operate. There are also a lot of internal pressures, whether it is regulatory enhancements, funding reform, competition, or clinical quality projects. In addition, organizations are continuously implementing reforms with respect to programs, places, and employees to help their care models. Organizations are compelled into the process of attempting to maintain up with hardware purchases and maintenance in order to sustain these modifications in a standard self-hosted model. Cloud-based services on the other hand, permit companies to tackle fluctuating needs. If conditions demand a scale down, cloud computing permits the companies to modify their model with complete flexibility. This can be a real competitive advantage if patient safety and budget are affected by every second loss.
Larger companies see different benefits of specific clouds, particularly solutions for Platform as a Service (PaaS). Healthcare organizations are gaining trust with efficiently partnering with more than one cloud provider. Instead of perceiving multi-cloud as distinct cloud suppliers for various apps, cloud provider diversity or disaster recovery, 2019 will see an emphasis on a cohesive multi-cloud healthcare approach for the same implementation around various public cloud services.
Cloud Computing in Healthcare Market Scope
| | |
| --- | --- |
| Metrics | Details |
| Base Year | 2022 |
| Historic Data | 2020-2021 |
| Forecast Period | 2022-2030 |
| Study Period | 2020-2030 |
| Forecast Unit | Value (USD) |
| Revenue forecast in 2030 | USD 127.04 billion |
| Growth Rate | CAGR of 17.2 % during 2022-2030 |
| Segment Covered | By Cloud Deployment, By Application, Region. |
| Regions Covered | North America, Europe, Asia Pacific, South America, Middle East and Africa |
| Key Players Profiled | Cisco Systems Inc, Allscripts Healthcare Solution Inc, Microsoft Corp, Iron Mountain Inc, Qualcomm Inc, AthenahealthInc, GNAX Health, Dell Inc, EMC Corp, IBM Cor, VMware Inc, Oracle Corp |
Key Segment Of The Cloud Computing in Healthcare Market
By Cloud Deployment, 2022-2030 (USD Million)
• Public
• Private
• Hybrid
By Application, 2022-2030 (USD Million)
o Clinical Information System
• Telehealth Solutions
• Computerized Physician Order Entry
• Population Health Management (PHM) Solutions
• Electronic Medical Records
• Pharmacy Information System
• Radiology Information System
• Others
o Non-clinical Information System
• Revenue Cycle Management (RCM)
• Billing & Accounts Management Solutions
• Claims Management
• Others
By Service, 2022-2030 (USD Million)
• Platform as a service (Paas)
• Infrastructure as a service (Iaas)
• Software as a service (Saas)
By End Users, 2022-2030 (USD Million)
• Healthcare providers
• Healthcare payers
Regional Overview, 2022-2030 (USD Million)
North America
• US
• Canada
Europe
• Germany
• France
• UK
• Rest of Europe
Asia Pacific
• China
• India
• Japan
• Rest of Asia Pacific
South America
• Mexico
• Brazil
• Rest of South America
Middle East and South Africa
Frequently Asked Questions (FAQ) :
the cloud computing in healthcare market is growing at a CAGR of 6% during the forecast period.
The market value of cloud computing in healthcare market in 2025 was 80 billion
The base year for the report is 2019 in cloud computing in healthcare market
Hospitals and medical institutions handle huge amounts of data simultaneously pertaining to large number of patients visit hospitals on a daily basis. Cloud computing will enable doctors to monitor whether the patients consume medications on time and treatment adherence, following nutritional directions, visiting doctor for appointments, and many more. Cloud technology also enables real-time activity objective reporting, and helps healthcare providers to track patient conduct remotely. Cloud-based adherence systems assist with reminders, including prompts to follow the prescribed drug regimen, which is presently one of the major causes of preventable readmissions, to assist patients abide by doctor orders.
Security and Blockchain
Security is a major factor for the next generation of clouds moving forward by suppliers of cloud technology and customers of healthcare organizations alike. Besides safety, various EHRs can cause issues in patient detection and patient safety within the same health scheme. Simultaneously, blockchain's promise of safety and documents technology is gaining momentum and melding into the cloud. Never before has the need for cybersecurity measures been more critical, and it is organic in the development of cloud computing for health care. As more and more hospitals have started offering specialty treatments, requirements for enhanced IT infrastructure for efficient functioning have grew making wide array of opportunities for cloud computing within the healthcare industry.
Hybrid clouds
A hybrid cloud is a combination of private and public cloud technology to make a secure cloud computing environment easier. Some specialists think cloud setups of the next generation will depend strongly on hybrid technology. Currently, an enormous barrier facing most healthcare organizations is that they want to run their own private environments and do not trust public cloud providers to secure their data. Trusting internal cloud professionals who specialize, study and invest in creating a capable and safe cloud will remove from the healthcare organizations a significant burden of constructing and maintaining whole environments, thereby enabling them to concentrate elsewhere.
Healthcare organizations that look to the next generation of cloud technology will also need to design flexibly. When healthcare organizations, in a hybrid model, bind private and public clouds together, they can position apps based on particular demands for resources.
Introduction of cloud computing is likely to have a remarkable effect on providing medical services in rural areas. Connectivity problems was one of the major drawback of traditional healthcare platforms, which can be overcome using cloud based services. Combinations of smart health devices and IoT is anticipated to offer enhanced solutions to rural population in the coming years. Patients wearing IoT medical devices can be monitored remotely using the technology and doctors will be able to offer niche treatment services in case of rare diseases if diagnosed.
IoT healthcare systems can extend the reach of current networks by interfacing with an edge data center, allowing medical staff to access critical patient information even in fields with bad connectivity. This is just one of the most advanced instances of computing that have the ability to significantly expand the outreach of health facilities and services.
In 2018, hospitals contributed to a noticeable market share and is expected to maintain its position in the market over the forecast period. Large number of patients getting admitted is likely to create tremendous amount of data. High adoption rates of EHR in multispecialty hospitals is anticipated to create huge demand for cloud computing within the hospital segment.
In 2018, North America dominated the global market by contributing over 30% and is expected to grow over USD 25 billion by 2025. Stringent regulations imposed after implementation of Health Information Technology for Economic and Clinical Health (HITECH) act in 2009, almost all hospitals have been using EHR within their organization. Such early adoption has been one of the major factor for such market dominance. As of now, more than 80% of the hospitals within the U.S. have adopted basic system and the list of potential users is expected to increase in multiple folds.