Rise in disposable income of consumers in developing countries to magnify growth in the global Child Safety Lock Market
The global Child Safety Lock market is expected to develop US$ 1.29 Bn by 2032, at a compound annual increase in price (CAGR) of 5.6% throughout the forecast period.
Covid-19 Impact & Market Status
The report offers an exhaustive overview of the business dynamics and new investment strategies that are being adopted by business leaders across countries and regions to overcome the acute challenges and financial instabilities that have emerged in the post pandemic times.
The report highlights some of the best industry strategies and practices that are adopted by the players across local and global markets. Ever since the Covid-19 broke out in 2019, it has spread aggressively, resulting in rapid declaration by the WHO affirming Covid-19 as a global pandemic and an emergency.
The impact of the pandemic is widespread and the aftermath is well pronounced, gravely affecting the global Child Safety Lock market. The sudden pandemic and its implications have posed significant challenges such as travel bans, quarantines, and lockdowns.
These developments are hampering operations resulting in supply chain breaches, stock market inefficiencies, and vendor chaos. These are constantly interfering with the normal functioning of industries.
Ever since the outbreak of the global crisis, impact on upstream, downstream, and midstream industries have been appalling. The report delivers a quick ready-to-deploy approach to counter such crisis and steer the global cloud professional serices market towards steady growth and systematic progression.
Amidst the pandemic, aligning with new dynamics, global child safety lock market has been witnessing new dynamics which are further necessitating new business models and approaches to recoup growth and revenue streams.
In this report, inquisitive business players would be provided with sufficient guidelines regarding business transformation, integral to sustain stiffening competition in the pandemic and beyond pandemic era global child safety lock market.
Child Safety Lock to Sustain the Highest Revenues
The Child Safety Lock vendors offer Magnetic Cabinet Locks, Cord Cabinet Locks, Sliding Cabinet Locks, and Others. The use of locks is significantly increasing over the forecast period. More and more companies are investing in this market to provide secure locks.
Safety Locks to Generate More Revenue
The safety locks are segmented into Household, Automobile, and Others. The use of safety locks are increasing whether they are used for automobile or household.
North America to Sweep the Largest Revenue Streams Followed by Asia Pacific
North America is the largest market due to the presence of key companies into the region and high technological advancement. Asia-Pacific region is also contributing in the market due to the developing economies such as China and India.
Growing concerns about safety and security of babies, change in patterns of living, and concerns about deaths and injuries to babies and infants at home are increasing to offer new opportunities in the global child safety lock market
Baby safety locks are a special purpose locks which are used to lock drawers, cabinets, bottles, etc. for safety purpose of the baby. These are specially designed such that they prevent children from any dangerous things or contents. Children with curious in nature about their surroundings are prone to some unexpected situations that will harm them. Though, they are unaware of dangerous substances or situations, therefore the need for safety locks has become highest importance.
Rise in population of working women is creating significant opportunity for baby proofing products, as women want their babies to be safe in their absence. Additionally, almost 80% of all child deaths occur at home, due to poisoning, choking, burning, or drowning. Most baby and child injuries are preventable by thorough safety and consultation with a baby-proofing expert. Therefore, currently, parents are opting for baby proofing services and are consulting specialists for the safety of their kids.
Further, rise in number of government initiatives in different countries to reduce a rise in death incidents among babies is projected to drive the market. Increase in consumer awareness about infant protection, higher inclination toward nuclear families, and increasing consumer purchasing power are a few other factors propelling the baby proofing market.
In present times, child safety lock market is steadily replacing the traditional method as It offers flexibility, reduces cost, increases productivity and reduces risk as opposed to the earlier used methods. Other factor such as recent developments in cloud providers are adding new Products frequently that can help companies sustain in a highly competitive market, thus fostering growth in the global cloud professional Product market.
Forward-looking players in the global child safety lock market are furthering investments towards developing advanced child safety lock.
Baby and child proofing has become essential and numerous government and voluntary organizations (NGOs) are guiding and encouraging customers to adopt baby and infant proofing products. Stringent guidelines are obligatory on makers as well as for product standardization. The International Association for Child Safety (IAFCS) is one such organization that regulates the specialized childproofing market with its members who instruct parents, appraise homes for child safety, and mount safety products.
The growing awareness about child safety among parents have boosted the demand for baby safety locks around the globe. Globally, market is expected to generate massive revenue over the forecast period, providing many opportunities for industry participants to invest in R&D of baby safety locks market.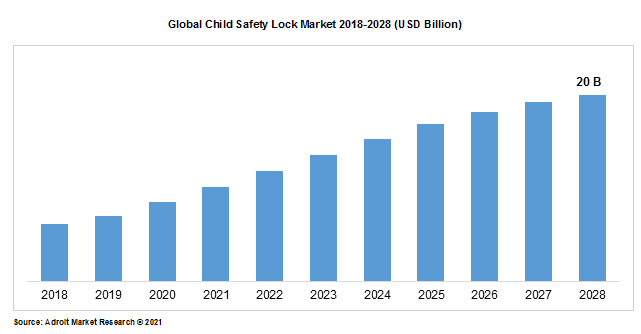 The major players of the global Child Safety Lock market are Dreambaby, KidCo, Lindam, Mag Security, Mommy's Helper, Munchkin, Safety First, Summer Infant, and Tv Guard.
The Child Safety Lock market is a rapidly progressing industry and is characterized to have industrial frontliners as well as aspiring new players aiming to penetrate into the aggressive competitive landscape across global and local markets. Additionally, various new and aspiring players are improving their product lines and upgrading technological capabilities to improve revenue streams amidst Covid-19 impact.
Child Safety Lock Market Scope
| | |
| --- | --- |
| Metrics | Details |
| Base Year | 2022 |
| Historic Data | 2021-2022 |
| Forecast Period | 2022-2032 |
| Study Period | 2021-2032 |
| Forecast Unit | Value (USD) |
| Revenue forecast in 2032 | US$ 1.29 Bn |
| Growth Rate | CAGR of 5.6% during 2021-2032 |
| Segment Covered | by Gate Type, by Lock System, by Gate Width, Regions |
| Regions Covered | North America, Europe, Asia Pacific, South America, Middle East and Africa |
| Key Players Profiled | BabyDan,Bella Baby,Cardinal Gates,Carlson,Dreambaby,Evenflo,Graco,LA Baby,Munchkin,North States,Perma,Qdos,Regalo,Safety 1st,Summer Infant |
Key Segments of the Global Child Safety Lock Market
Product Type Overview, 2018-2028 (USD Billion)
Magnetic Cabinet Locks
Cord Cabinet Locks
Sliding Cabinet Locks
Others
Application Overview, 2018-2028 (USD Billion)
Household
Auotomobile
Other
Regional Overview, 2018-2028 (USD Billion)
North America
Europe
Germany
France
UK
Russia
Italy
Spain
Rest of Europe
Asia Pacific
China
Japan
India
Korea
Southeast Asia
Australia
South America
Mexico
Brazil
Colombia
Rest of South America
Middle East and South Africa
Saudi Arab
UAE
Egypt
South Africa
Rest of MEA
Frequently Asked Questions (FAQ) :
Avail the COVID-19 imapct analysis on market evolution during 2021 to 2028
The major players of the global Child Safety Lock market are Dreambaby, KidCo, Lindam, Mag Security, Mommy's Helper, Munchkin, Safety First, Summer Infant, and Tv Guard.
The Child Safety Lock market in North America is estimated to grow at the quickest rate throughout the forecast period.