Significant factors such as a increased industrialisation, growing use of polishing agents, are driving the cerium oxide market. Additionally growing understanding of bio-relevant characteristics and their applications in biomedical and catalytic processes will have a significant impact on the ceria industry's growth
Covid-19 Impact & Market Status
The Novel Coronavirus epidemic is rapidly spreading over the world and disrupting many parts of life. Since everyone was locken in their homes and the market main application is catalysis which is permformed in most of the chemical based factories and plants however due to the stringent government policies the factories were shut down which indirectly brought a dent in the ceria market during COVID-19. Due to the imposed lockdown in the majority of countries, money generating has ceased as a result of dormant infrastructure projects. The companies actually were shut and suffered a loss of sales due to closure of factories & unavailaibility of manpower, which was already on the decline. A drop in consumer expenditure would have a significant impact on the Ceria industry. Government projects would be impacted as well, since governments have announced rescue packages and constrained their spending power. Furthermore, the demand for Ceria will be constrained until global economic development accelerates.
The spread of the new coronavirus has had an influence on many different areas of the global economy. The government has taken a number of steps to combat the pandemic's impact on this market. As a result, increased business is projected. We are hopeful that the market will soon develop as predicted. COVID-19 has three primary effects on the global economy: decreased output and demand, supply chain and market disruption, and negative financial impact on enterprises and financial markets.
Ulta Pure Ceria Is Expected To Drive The Ceria Market Growth
2N stands for 99 percent purity, 2N5 for 99.5 percent, 5N8 for 99.9998 percent, 6N for 99.9999 percent, and so on. The purity of rare earth goods is determined only by their purity in comparison to other rare earths. Rare earth metals may also be contaminated by reducing chemicals and/or crucible materials, which is unavoidable.
Pure ceria is utilised in a variety of chemical processes, including alcohol dehydration, aromatic compound alkylation, ketone production, and aldolization, as well as redox reactions. Many unsaturated substances can be hydrogenated using ceria-supported metal catalysts. They can also be utilised in reactions that involve coupling or ring-opening. To enhance the capacity of zeolites and mesoporous catalyst material, cerium atoms can be introduced as doped element or impregnate onto them.
Because of its remarkable redox characteristics, ceria is commonly employed in catalytic converters for exhaust gases. The oxygen storage capacity (OSC) of ceria is its ability to store oxygen during the lean phase (when there is an excess of oxygen) and to return oxygen to metal particles during the rich phase (when there is almost no O2 in the gas phase).
Catalysis Application Gains The Highest Market Share In Ceria Market
The topic of catalysis is the principal growing application of applied CeO2 materials. The lower energy planes dominated the surfaces of ceria in its most stable fluorite phase, which have lower surface energy. The water gas shift process, which involves the oxidation of carbon monoxide, is the most prevalent reaction catalysed by cerium. Ceria has been investigated for the catalysis of a variety of hydrocarbon conversion processes, including CO2 methanation and hydrocarbon catalytic oxidation.
As mentioned earlier ceria is used for various chemical processes as a catalyst since it has good oxygen storage capacity, it is an versatile redox characteristics. CeO2's surface utility is mostly due to its inherent hydrophobicity, which is prevalent among rare earth oxides. Hydrophobicity tends to confer susceptible to water at catalyst surfaces, hence enhancing organic compound adsorption. Hydrophobicity, also known as organophilicity, is often related with better catalytic performance and is required in organic chemical and selective synthesis applications.
Its usage as a hydrocarbons oxidation catalyst inside the walls of self-cleaning ovens during the high-temperature cleaning process is one tiny but illustrative use. Another well-known but small-scale example is its function in natural gas oxidation.
North America Region Is Dominating The Ceria Market Growth.
Because the area is home to several worldwide car manufacturers and the government is trying to encourage with augmented investment policies, highly qualified labour, and infrastructure support, North America dominated the global market and taken into account for over 34.2 percent in 2020. This is supposed to propel the fine chemicals market in the region is anticipated. By 2029, the European ceria market is expected to increase multifolds.
The recovery of Europe's economy is expected to enhance automotive sales in the area, driving the ceria industry forward. Furthermore, the automobile industry in the area is a major contributor to GDP and is anticipated to remain so in the future due to expanding demand and technological improvement.
The growth of the cerium oxide market would be aided by the development of end-user sectors like semiconductors & healthcare. Additionally, increased government expenditure on pharmaceuticals R&D activities in emerging nations.
In 2022, ceria market was worth USD 78.8 million & by 2029 it is expected to grow to USD 135.2 million, the ceria arket will carry a CAGR of 6.7 percent in the forecast period.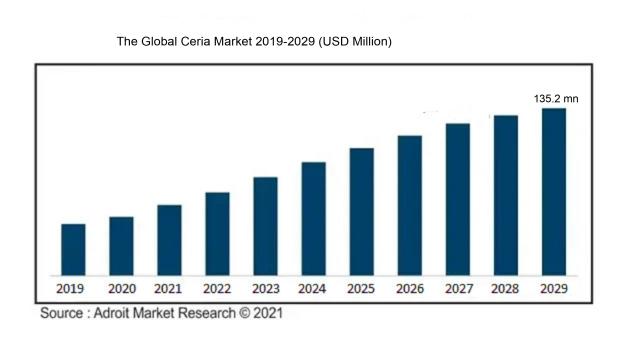 Ceria is a rare-earth metal oxide also known as cerium dioxide, ceric oxide, cerium oxide, cerium oxide, or ceric dioxide. It has the chemical formula CeO2 and is a pale yellow-white powder. It's a valuable marketable product as well as plays an important step in the research process of extracting the element from its ores.
Cerium oxide (CeO2) is an n-type semiconductor with a 2.9 eV band gap. Ceria is gaining popularity not only for its band characteristics, but also because of its irradiation stability and high adsorption capacity. Due to its narrow band gap, CeO2 may be stimulated by visible light (near violet) despite being less active than titania. Furthermore, unlike TiO2, CeO2 may mineralize toluene entirely without deactivating the catalyst. CeO2 outperformed TiO2 in the breakdown of the azo dye, acid orange 7, when exposed to visible light. This was ascribed to CeO2's greater adsorption property. CeO2 particles have a low surface area in general. MCM-48 (Mobil Composition of Matter No. 48) was used to create mesoporous ceria with cubic symmetry to increase surface area.
Cerium oxide, often known as ceria, is a super photocatalytic material that may be used to degrade a variety of organic contaminants. It's a neutral photocatalyst that's also thermally stable. The calcination temperature has a significant impact on the photocatalytic activity of ceria Nanoparticles. When used for the destruction of organophosphorous pesticides, a low calcination temperature allows for the access to a greater number of hydroxyl groups, that allows for a faster rate of adsorption as well as photocatalytic activity.
Ceria's applicability in the visible light area is limited by a number of limitations, including a high rate of recombination of photogenerated electron-hole pairs and a poor quantum yield. Ceria-based heterostructures were developed to alleviate these disadvantages.
Cerium Oxide is indeed a thermally stable, highly insoluble cerium source that may be used in glass, optics, and ceramics. The calcination of cerium oxalate or cerium hydroxide produces cerium oxide. The visual quality of super high purity and high purity compounds improves their value as research benchmarks. As an alternate high surface area form, nanoscale cerium oxide might be studied. Cerium has a wide range of commercial uses, including glass and glass polishing, metallurgy, ceramics, and phosphors. It is used in steel manufacture to eliminate free oxygen and sulphur by producing stable oxysulfides from High Purity (99.999 percent) Cerium Oxide (CeO2) Powder and binding up undesired trace elements like lead and antimony. For precise optical polishing, it is thought to be the most effective glass polishing agent. In most cases, Cerium Oxide is readily available in most amounts.
Nevertheless, the high cost of manufacturing cerium oxide, as well as the toxicity it produces, would limit the cerium oxide market's development pace. Furthermore, rigorous federal regulations will hinder the expansion of the cerium oxide industry. The negative influence of cerium oxide on the ecosystem will function as a key restraint, and the development of adverse conditions as a result of the COVID-19 epidemic will further stifle the cerium oxide market's growth rate.
Key players such as Solvay, HEFA Rare Earth, Meliorum Technologies, SkySpring, NovaCentrix, Reinste, Nanophase, Nyacol, DuPont and others. These companies' main growth strategies include expansion, new product development, and cooperation in order to improve their product range and geographical presence to address the rising demand for sports rifle market from emerging nations.
Ceria Market Scope
Metrics

Details

Base Year

2022

Historic Data

2019-2020

Forecast Period

2022-2029

Study Period

2019-2029

Forecast Unit

Value (USD)

Revenue forecast in 2029

USD 135.2 million

Growth Rate

CAGR of

6.7

% during 2019-2029

Segment Covered

Type, Application, Regions

Regions Covered

North America, Europe, Asia Pacific, South America, Middle East and South Africa

Key Players Profiled

Solvay, HEFA Rare Earth, Meliorum Technologies, SkySpring, NovaCentrix, Reinste, Nanophase, Nyacol, DuPont & among others.
Key Segments of the Global Ceria Market
Type Overview (USD Million)
Purity ≤2N
Purity 3N-4N
Purity ≥5N
Application Overview (USD Million)
Catalysis
Polishing
Glass Additives
Others
Regional Overview (USD Million)
North America
Europe
Germany
France
UK
Rest of Europe
Asia Pacific
China
India
Japan
Rest of Asia Pacific
South America
Mexico
Brazil
Rest of South America
Middle East and South Africa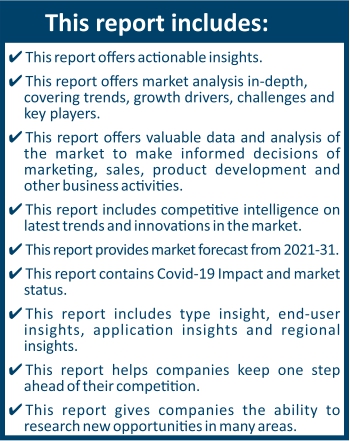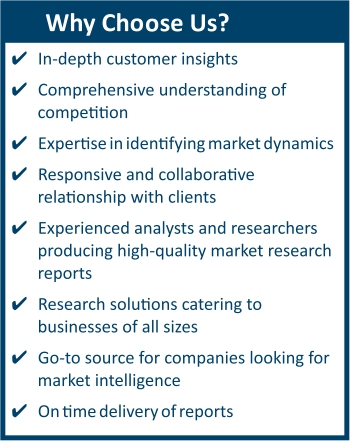 Frequently Asked Questions (FAQ) :
The market value of ceria market in 2029 was USD 135.2 million.
The ceria market is growing at a CAGR of 6.7% over the forecast period.
North America dominated the market for ceria market and accounted for the largest revenue share.
The top companies that hold the market share in ceria market are Solvay, HEFA Rare Earth, Meliorum Technologies, SkySpring, NovaCentrix, Reinste, Nanophase, Nyacol, DuPont & among others.
The base year for the report is 2022 in ceria market.